Desta Beriso Morkama was in a hurry. After winning the Marine Corps Marathon last October, Morkama quickly packed up his belongings, accepted his trophy and rode his bike home, where he made himself a quick meal and jumped into bed for a 30-minute power nap.
A few hours later, he would be reporting to his first shift at the local 7-Eleven convenience store. The celebration would have to wait.
"Before I work, I just push myself, 'Desta, go, go, go, go work,'" Morkama said. "I push my mind that I have to work."
Marine Corps Marathon
Oct. 28, 2018
Arlington, Va. and Washington, D.C.
7:45 Handcycle start
7:55 Runners start
The 43rd Marine Corps Marathon will bring tens of thousands of runners and spectators to D.C., Arlington and the National Harbor.  Whether they're gunning for the win, hoping for a personal record or just trying to cross the finish line, they'll be making memories along the way.
Roughly 25,000 runners will line up for the marathon (starting near the Pentagon) and the 10k (starting on the National Mall). The marathon course will weave through Arlington County before crossing the Key Bridge into Georgetown, taking a trip up and down Rock Creek Parkway, around Hains Point and the National Mall before crossing back into Arlington, where runners will finish by climbing the hill to the Iwo Jima Memorial in Rosslyn. The 10k follows the last 6.2 miles of the marathon route.
You can track runners here.  Read on to learn about the best way to watch the race, why you shouldn't run using someone else's bib, who has run every Marine Corps Marathon and find out about the time the race was a day away from cancellation.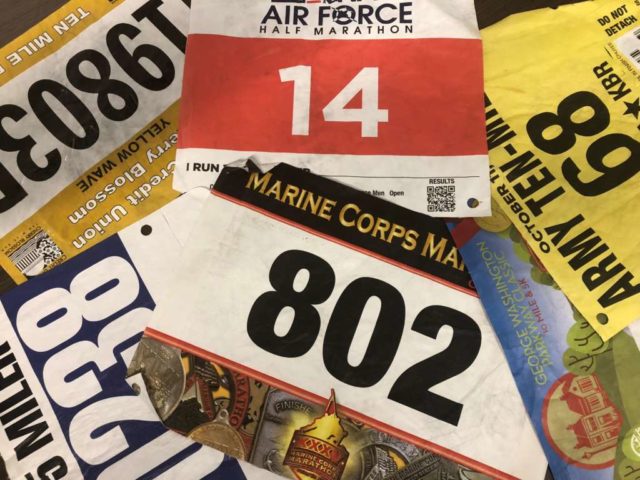 The call went out on a Saturday — "does anyone have an Army Ten-Miler bib?" The race was the next day.
Responses on a message board wished the runner luck and others tried to start an impromptu waiting list. After a while, the sober voice of reason spoke up.
"Not allowed since it's past the transfer period."
It can be an unpopular opinion, but it's backed up by the forms runners sign when they register for races.
Chris Pellegrini has spent almost half of his life coaching at West Springfield High School.
After he graduated from the Fairfax County school, he returned to his alma mater to serve as an assistant coach to the cross country program he cherished.
Now, 17 years later, Pellegrini leads three sports, coaches more than 200 high school students and maintains a nearly year-round sports schedule. On top of that, Pellegrini is leading a girls' cross country team that could be in contention to win a state title. Perhaps the boys, too.
D.C.'s Kerry Allen punched her ticket to the U.S. Olympic Marathon Trials in decisive fashion Oct. 7, running 2:41:33 for a seventh place finish at the Twin Cities Marathon in Minneapolis, nearly four minutes faster than the minimum qualifying time of 2 hours, 45 minutes. It makes her the second fastest full-time female D.C.-area resident to qualify for the 2020 trails, Feb. 29 in Atlanta.
The 30-year-old Senate health policy advisor succeeded after three previous attempts at a qualifying time went sour midway through. Over the two years prior, she was the first (2016) and first-ranked (2017) runner in RunWashington's rankings, but she hadn't made it past 16 miles in the New York, Grandma's or California International marathons without faltering. But Twin Cities was different.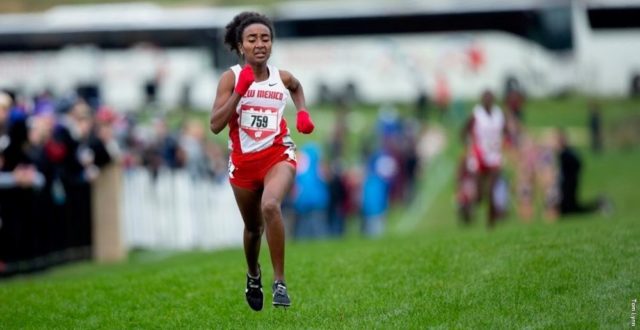 The U.S. Track and Field and Cross Country Coaches Association named Weini Kelati, a sophomore at the University of New Mexico, as its women's Division I National Athlete of the Week. Kelati attended Heritage High School in Leesburg for three years and competed for the Pride for two years, including 2015, when she won the Foot Locker Cross Country Championships. She won the women's White race at the Division I Pre-National meet last weekend.
The Arlington County Department of Parks and Recreation reports the bridge on Donaldson Run Trail in Zachary Taylor Park, at the North Upton Street entrance, has been damaged from a fallen tree and is currently closed to pedestrian traffic.
Repairs to the Arlington Memorial Bridge will force detours for pedestrians, alternating at noon and 4 a.m.
Get ready! 3 of 6 lanes & 1 sidewalk on Arlington Memorial Bridge close Monday, Oct. 15. Everyone shifts to the N. side of the bridge. 4am-noon = 2 lanes to DC & 1 lane to VA Noon overnight to 4am = 2 lanes to VA & 1 into DC. More at https://t.co/rLYiXg5FFC #MoreThanABridge pic.twitter.com/HoOE1HyVAA

— Jenny A-S NPS (@NPSJennyAS) October 11, 2018
We all know that runners can get intense. But for most runners, there is a finish line at the end where the intensity comes to a stop. That was not the case for us. For 101 straight days in the heat of D.C. summer, my friend Brian McElhaney and I competed in a grueling run streak competition, all for the prize of a $30 dessert.
Brian and I are both Arlington residents and coworkers at Potomac River Running. One day in the early summer, Brian proposed seeing how many days we could run idea of having a run streak competition between the two of us. I thought it sounded fun, so I agreed. At the time, neither of us really understood what we were getting into.
Loudoun Valley hasn't truly flexed its cross country muscle yet.
Not in winning the Great American Cross Country Festival a week ago and not in scoring 18 points to win the Third Battle Invitational, taking six of the top seven spots in the process. The defending Nike Cross Nationals champions haven't even figured out who their top seven will be, and two runners who raced in Winchester did well enough to only make coach Marc Hunter's job harder as the Vikings pick their seven runners who will compete in postseason races.
"It's a good problem to have," he said. "I'm always amazed at how the boys do. It's a revolving door for 6-7-8-9, and it's been a short season, so we'll have to make some tough decisions. When they run well like this, it makes it harder."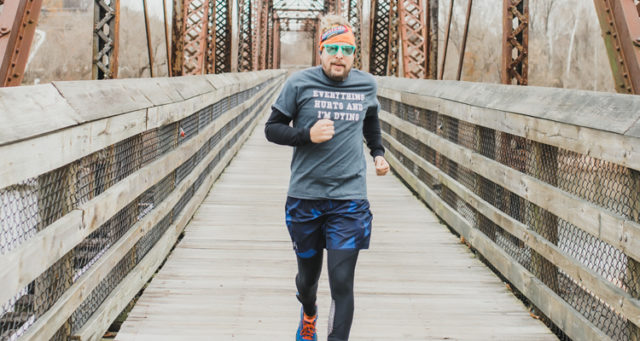 Our hosts are back for another episode, where we talk not politics with the presidential cell phone alert, the Clarendon day race, the Chicago marathon, bird scooters, Survivor and more. Our guest this week is Survivor Hall of Famer Jonny Fairplay, who has experienced an extreme life pivot and is now an avid runner.