It's as inspiring as it is a little naughty.
T-shirts that say "Run like Schmidt," worn by dozens of runners at Rock Ridge High School in Ashburn.
Parents love it, though. The shirts aren't as self deprecating as you think, because Brian Schmidt, the school's cross country and track coach, is running again despite a traumatic injury a few years ago. He had been an avid road racer and ultramarathoner, and before Rock Ridge opened, had coached at Dominion and W.T. Woodson.
"I've been running since 1983 and when something gets taken away from you that you've been doing for 34 years, it's very difficult to come to grips with it," he said.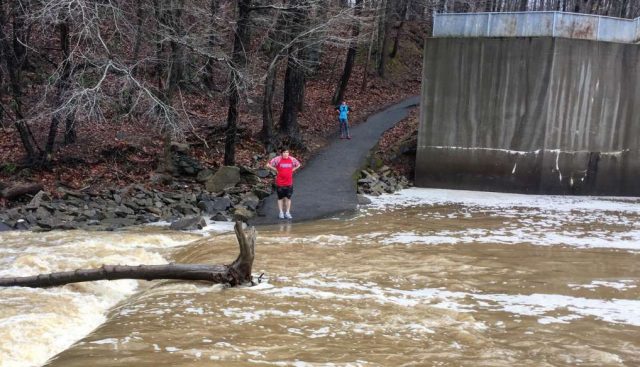 The last few days' worth of heavy, sustained rain has caused Lake Accotink to flood a little. It's not a huge problem, and affects only the area near the dam, but you should not try to cross it. In fact, don't try to cross any flooded trails, you have no idea what might be under there. At the very least you'll probably twist your ankle.
For the 2017 season, the local Gatorade Players of the Year for cross country include, for D.C. Gonzaga sophomore Gavin McElhennon and National Cathedral School senior Page Lester, for Maryland Walter Johnson senior Abbey Green and for Virginia, Loudoun Valley junior Sam Affolder and South Lakes senior Olivia Beckner.
The U.S. Track & Field and Cross Country Coaches Association named Loudoun Valley coach Marc Hunter boys' coach of the year.
Washington, D.C. consultant Jonathan Terrell completed the World Marathon Challenge, in which runners complete marathons on every continent over the course of seven days.
The transfer period for the Cherry Blossom Ten Mile Run is open through 11:59 p.m. Feb. 29.
South Lakes alumnus Alan Webb will be one of the inaugural inductees to the National High School Track and Field Hall of Fame.  Webb, the American record holder in the mile since 2007, will join 29 other inductees, including former U.S. Rep. Jim Ryun (R-Kan.) who has lived in Washington, D.C. Here's his July 2017 appearance on Pace the Nation.
The Advisory Neighborhood Commission 4B voted to approve a 1.6 mile segment of the Metropolitan Branch Trail, which will connect Fort Totten to Takoma Park, Md.