Patriot alumna Rachel McArthur ran the 800 meter leg of Villanova's winning distance medley relay team at the Penn Relays. Bullis' Masai Russell won the high school girls' 400 meter hurdles in 59.49.
Shauneen Werlinger, a Springfield resident and a Thomas Jefferson alumna, qualified for the 2020 Olympic Marathon Trials, finishing fourth at the Eugene Marathon April 29 in 2:44:35. She's the fourth local runner to qualify for the race, which will be held in Atlanta, with several additional runners living nearby or having connections to the D.C. area.
Arlington's Jamie Watts finished the New Jersey Marathon Sunday.
Results for RunWashington's Runner Rankings have been loaded and are current as of late March, with updates coming this week.
Boston Marathon runner-up Sarah Sellers talks about her race and sudden fame after finishing second in a marathon major in her second try at the distance.
Since his first days coaching at George Washington University, Terry Weir has identified the Atlantic 10 Conference crown as the goal for the men's cross country program. But so far, the team has faltered each year.
"For one reason or another, we've stunk at that meet," said Weir, head coach for both the men's and women's cross country programs.
Conference peers predicted the same for the 2017 schedule.
"It's like anything else on paper," he said. "We were picked to be 10th. We should have been picked to be 10th. That's where we've been stuck."
Marooned, really.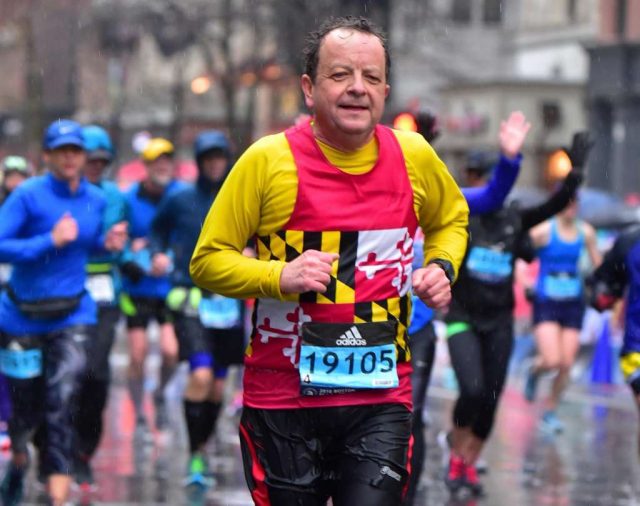 Name: Frank Prusik
Self-described age group: 55-59
Residence: Gaithersburg
Occupation: Business Operations Manager
Why you run: Running has become an integral part of my life. I run to stay fit, both physically and mentally, and I run for the personal challenge. A run at the end of the work day helps me decompress from the stress of sitting behind a desk all day and coping with deadlines. I've solved many problems on long runs, other times my problems go away during the run. I also enjoy competing in races to see if I can improve my performance. There's a great quote from Gail Kislevitz that sums it up, "I don't know when I made the transformation from running as a sport to running as part of my life. I can't separate the two."
What started as an innocent IKEA chair purchase in 2014 has turned into quite the display of race medals for Mike Katz of D.C.
His springy bentwood Poäng, which he pronounces POE-ayng, is adorned with 32 pieces of hardware from marathons, half marathons, relays, ten milers, and more. He layers them on with the completion of each race, hoping (with mixed success) they stay in chronological order.
His favorite? The 2014 Rock 'n' Roll USA (now Rock 'n' Roll DC) Half Marathon medal has good aesthetics and was the first medal he draped onto the Poäng while unpacking in an otherwise unfurnished apartment in 2014.
Another notable design includes the 2015 Parks Half Marathon medal featuring a wine stopper welded onto the bottom.
His memento from the 2016 Santa Barbara Veterans Day Half Marathon is a round aluminum pendant that a friend hung on a candy necklace with "Good Job Running Boy" written on it in Sharpie.
The Poäng makes an appearance on Katz's social media accounts from time to time, captioned with some variation of "Another medal for the Poäng!" and the occasional race report.
"I'm gonna need a new medal chair soon if I keep making these terrible choices," he wrote in 2015.
If it gets to that point, he has his sights set on the children's version of the Poäng as a contingency.
Spring is here along with signs of the season: blooming flowers, warmer temperatures and dwellings yearning to be cleaned.
Spring cleaning is an opportunity to purge and get organized, and runners may too find themselves trying to clear their homes of unneeded items such as old shoes, ill-fitting race shirts or shabby shorts. Some area organizations and business can help runners get rid of mementos gathering dust and help others in the process. (more…)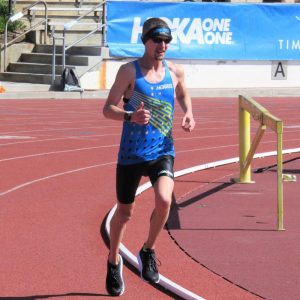 Arlington's Tyler Andrews ran a world record track 50k, 2:46:06, in Santa Barbara April 13.
Bethany Sachtleben won the Collegiate Running Association 10k championship Saturday at the Monument Avenue 10k in Richmond, running 33:37 for a 1:47 margin over second place.
Loudoun Valley alumnus Drew Hunter won the B.A.A. Mile in Boston, running 4:07.
Georgetown alumnus Andrew Bumbalough finished fifth at the Boston Marathon, running 2:19:52 to place third among Americans.
Matt Rodjom will represent the United States in the World Para Athletics Marathon World Cup, part Sunday's London Marathon. He runs despite Leber's Hereditary Optic Neuropathy, which distorts most of his vision directly ahead.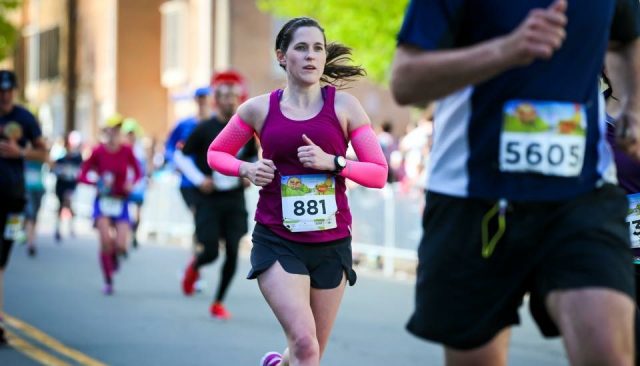 Name: Meghan Maloney
Self-described age group: The dreaded super competitive 30s group
Residence: Old Town Alexandria
Occupation: Project Manager
Why you run: Mostly to stay healthy and active, but I just love the feeling of running far and fast
In 2017, race crews across the country set up clocks, finish lines, traffic control and water stops for 703 marathons. D.C-area runners finished more than 291 of those races. In fact, more than 14,091 times, a local runner has crossed the finish line. That's nearly 500 more than 2016, when the region notched 13,576 finishes, but down from 2013's 15,950 local finishes.
The two biggest local marathons claimed the most local finishers, including the winners.
That all adds up to 369,184.2 miles of racing, not counting extra distance tacked on when runners didn't hit the tangents.