Arlington's Graham Tribble finished 23rd to lead local finishers Monday at the Boston Marathon, running 2:30:06. Sean Kinne led Washington, D.C. residents in 2:37:23 and Laurel's Eric Schuler led local Maryland men.
D.C's  Breana Avalos's 3:03:42 was the first local female finisher, Germantown's Erin Kelman ran 3:05:33 led local Maryland finishers and Falls Church's Christie Wetzel ran 3:08:49 to lead Northern Virginia finishers.
Of the more than 600 local entrants, 521 finished.
The race was cold, windy and rainy. Cabin John's Chris Bain, who finished his 21st straight Boston, said it was the worst weather he had seen for the race. Bethesda's Ben Beach finished his 51st straight Boston, extending his own record.
The race also saw Desiree Linden become the first American woman to win since Lisa Weidenbach Rainsberger in 1985. Georgetown alumnus Andrew Bumbalough finished fifth at the Boston Marathon, running 2:19:52 to place third among Americans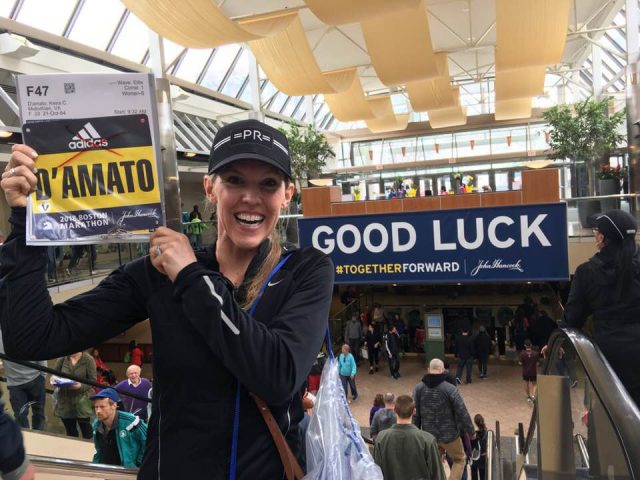 We open up with some coffee talk and anniversaries.
At (7:40) we Joanna and Farley are headed to Boston.  At (9:05) we talk about the Cherry Blossom 10 miler, where Farley notices the Cherry Blossoms for the first time.
At (20:11) we are joined by American University Hall of Famer Keira D'Amato who is running the Boston Marathon.  After discussing the pronunciation of her last names, we start out (21:29) talking about her time at Oakton High School and at (24:35) her transition and time at American University.
Talk of race strategy and pacing petered off last week as the Boston Marathon weather forecast grew more dire. Cold, with freezing rain and a headwind. That means even more thought paid to what you're going to wear out there. A few local runners shared their race-time wardrobe with RunWashington. May they each make it to the finish line in one, thawed piece.