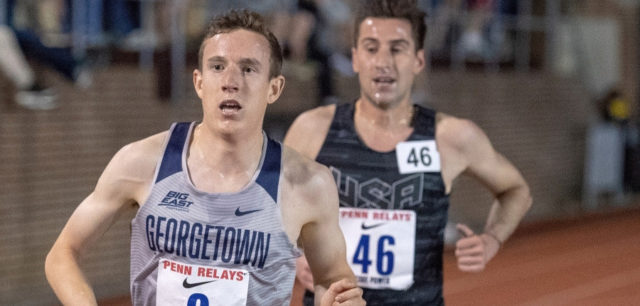 As a freshman at Georgetown, Mike Crozier didn't see himself leading the workouts and trying to make a name for himself.
He wanted to show up, shut up and be patient.
"Just give myself time and work my way up," he said.
He did that, but it took longer than he planned. Robbed of more than two years by persistent injuries, Crozier is about to finish his sixth year on the team in the grandest way possible – on the track at the NCAA championships, running the 10,000 meters Wednesday night in Eugene, Ore. His race is scheduled for 10:08 Eastern.
Based on his medical hardship, the NCAA awarded him a sixth year of eligibility for track. He used his extra time to earn a master's degree in public policy.
Though a hockey player in his youth in Arlington, his steeplechaser father suggested he try out cross country when he started his freshman year at Gonzaga. A way to make friends at his new school. His first practice in the summer of 2018 was a loop around the National Mall.
"What better way to get a kid sold on the sport," Crozier said. "I've seen the monuments hundreds of times, but this was different."
So was the next morning. He was so sore he couldn't walk without pain. And he loved it.
NCAA Track and Field Championships
June 6-9, 2018
Eugene, Ore.
Watch the races on various ESPN channels
Who's running?
From Chantilly High School:
Sean McGorty – Stanford – 5k
From George Mason:
Sarah Moore – 400m – Blake High School
From Georgetown:
Amos Bartelsmeyer – 1,500 m
Nicholas Wareham – 1,500 m
Jonathan Green – 10k
Mike Crozier – 10k
From Good Counsel HS:
Rachel Pocratsky – Virginia Tech – 1,500 m
From Heritage HS:
Weini Kelati – New Mexico – 5k
From Lake Braddock Secondary:
Katy Kunc – Kentucky – 3k steeplechase
From Northwest HS:
Deigo Zarate- Virginia Tech – 1,500 m
From Heritage HS
Weini Kelati – New Mexico – 5k
From West Springfield HS
Caroline Alcorta – North Carolina – 10k
From Westfield HS
Sara Freix – Virginia Tech – 10k
"I thought, 'this is cool, this is badass,'" he said. "I didn't know a five mile run could kill someone."
Upperclassmen Billy Ledder and Collin Leibold encouraged Crozier to do what it took to contribute to the varsity team, teaching him how to be a serious runner.
"We also had some fun, too," he said. "When you have 60 or 70 guys on the team, they aren't always all as focused but they still have a lot to contribute to the team atmosphere. Coach (John) Ausema appreciated that and kept a good environment on the team."
With Leibold and Ledder at college, Ausema said Crozier's senior year took some creativity, but his work ethic and tricks like having him chase down other runners during workouts helped prepare him for a 13th place finish at Nike Cross Nationals. That opened the door to scholarship money from Georgetown.
Not so fast
After recovering from some growth spurt injuries, Crozier adjusted to his collegiate program. He ran a sub-25-minute 8k as an unattached runner for his first race, but soon after he started feeling worn down.
"It was a great start for a freshman," said Georgetown distance coach Brandon Bonsey. "He showed a flash of what he was capable of."
The mystery ailment kept him in the pool and on the bike throughout the rest of his first year. As summer approached, more testing found the answer.
A hernia. A stress reaction in his public bone. His rectus abdominis had torn away from his pelvis. One of his hip adductors had torn away from public bone. Surgery in July 2013 would take care of all of that.
Crozier was alternating walking and jogging by November, and got back to a light training load by the end of the year. Then in March, on his way to more cross training in the Yates Field House, he slipped on some icy steps and landed on his hip.
"I knew in a second it wasn't good," he said. "I re-fractured it. It was going to be eight more weeks of no running and two more cortisone shots."
By the end of his second year, Crozier had one college race to his name.
"It was frustrating for him, he spent more time in the Yates field house cross training than anyone in Georgetown history," Bonsey said. "He was gun shy for about a year after that, which is understandable when you've dealt with such a long injury."
After his sophomore year, Crozier went for a walk on the C&O Canal Towpath and had to lift his leg over a fallen tree branch. When he did, he felt no pain. For a guy who spent two years limping up stairs, it was a big step in the right direction.
"I missed so much training when I was 18 and 19, which a really critical time if you're hoping to be good when you're 21 and 22," he said. "When I came back, I needed to balance my expectations versus reality, because times I was hoping to run by now might not come so easily."
It took until Crozier's fourth year before he looked like the runner who showed up in shape in 2012. With his time in undergrad coming to a close, Crozier asked Bonsey what it would take to keep him on the team longer. The answer was an NCAA qualifier in the 10k, which meant running under 29:40.
"I got a great night at the Penn Relays – we came through 5k in 14:55, it felt easy – and closed in 29:32," he said. His first trip to the NCAA first round and a ticket to two more years of track. It was the first race where he really put pressure on himself – the NCAA time was a major inducement, and he performed well.
"That's when he really started to get back to where we thought he'd be, before the injury," Bonsey said.
His advice to Crozier was simple – consistency and focus.
"He told me to live every day like the elite athlete I wanted to be," Crozier said. "Live like you're going to race NCAAs next week even if you won't qualify for Big East. And that was important to me – I wanted to perform on the track, not just be 'good locker room guy' because I stuck with it through all the injuries."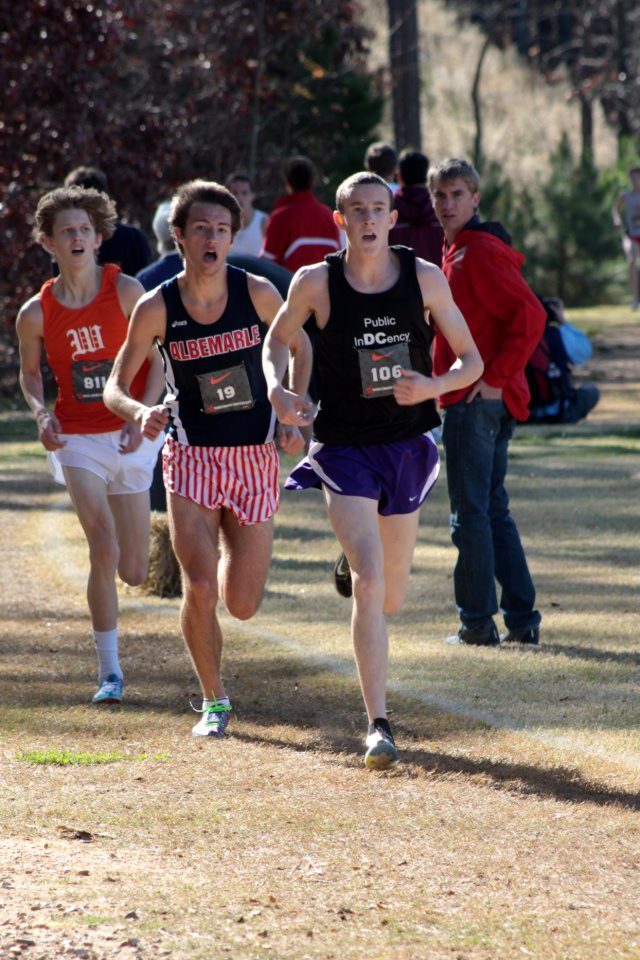 Training to hold a stopwatch
He was still seen a little differently, though. By his sixth year, he was 24, compared to 18-year-old freshmen.
"It's a huge age gap," Crozier said. "Some of the guys look at me as more of a coach than a teammate because I'm so old and I've been around the block."
Some athletes treat him like a liaison to the coaching staff, and he is able to fall back on his experiences to help his teammates.
"He's been good with pulling guys aside when they're having trouble and working them through that," Bonsey said. "He's probably had more frustrations than any of them. He figures out ways to motivate them."
It's helped Crozier land on getting into coaching formally, which he will next year as a volunteer assistant coach at Georgetown. But for all the help he's provided, Bonsey doesn't want him growing up too fast.
"There are times I've had to hold him back, had him focus on his own running first," he said. "There's plenty of time after the season for that."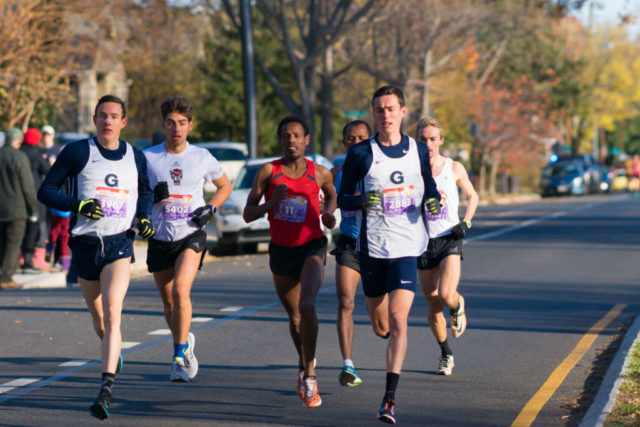 Saving the best for last
Before Crozier coaches, there's the matter of his 10,000 meter race at nationals. After lowering his best time to 29:14 at the Stanford Invitational, he had his hopes high for making the NCAA final. The first round of the championships were held in sweltering Tampa two weeks ago, where the heat and humidity could take a lot out of the runners over the course of 30-plus minutes. It was Crozier's third try at the race and he aimed to hang with the top 10 runners, with the top 12 advancing.
Water stops along the back stretch offered a respite from the air, which was in the upper 70s even at 10:30 p.m.
"Usually it starts out really slow and in the second half people start goinghard," he said. "This time it went out at an honest pace – 14:57 for 5k, and even when we sped up six kilometers in, the 68s, the 69s felt easy."
Then his foot was clipped, and he woke up to a race that suddenly felt a lot harder.
"I took a lap to drop back and feel things out," but he was still in the top 13 or 14.
With 600 meters left, he pulled up along Virginia Tech's Peter Seufer, who was breathing heavily with 350 meters to go and holding onto 12th place. Half a lap and a massive surge later, Crozier's double-take showed Seufer was nowhere to be found.
He crossed the finish line and fell to the ground, laughing.
"I made it much more dramatic than I needed to but coaches were watching," he said. "They waited long enough, so I gave them a show."
After five minutes to be "super stoked," he was back to business and focused on Eugene, where he will close out his career days before historic Hayward Field is demolished.
"I try to stay even keeled," he said. "Never too high, never too low. I know what I'm doing every day, and it doesn't matter if I'll be an All-American on Wednesday or 24th, I know I'm going to get up the next day and run."
Knowing himself
Ten years into his competitive running career, Crozier has a good feel for what has needed to improve. Two years of cross training bolstered his aerobic capacity, which ended up being his recipe for success even when he came back.
"I had a lot of time to figure it out," he said. "I can do 90-100 miles a week, but I can't handle a lot of intense track sessions."
He's particularly fond of long slogs, including two four-mile workouts minute apart. Starting at the bottom of the Custis Trail near the Key Bridge, he alternated 90 seconds hard, 30 seconds moderate to run 20:50 for the first segment. He recovered briefly,jogging from the Quincy Street exit and finished with four miles on the Washington-Lee High School track, starting at 5:00 mile pace and picking it up until he finished in 4:50.
As the season comes to a close, Crozier is also looking forward to taking time away from competition after NCAAs and having a beer while in Oregon.
"I haven't had one since my friend's wedding in July," he said. "I go 'full monk' when I'm training."
It's the kind of focus that has taken a two-year-long injury case to the highest level of collegiate competition. He'll ease up and take a break from competition after NCAAs.
"Mike knows himself and he's a student of the sport (including 10 years working the sales floor at Pacers) and I give him a lot of autonomy," Bonsey said. "He runs higher mileage than anyone but he knows what his body can handle."
Bonsey had Crozier independently write a week of his training leading up to the NCAA meet, and the results were stunningly close to what his coach cooked up.
"I think he has a bright future in coaching if this is what he plans to do," Bonsey said.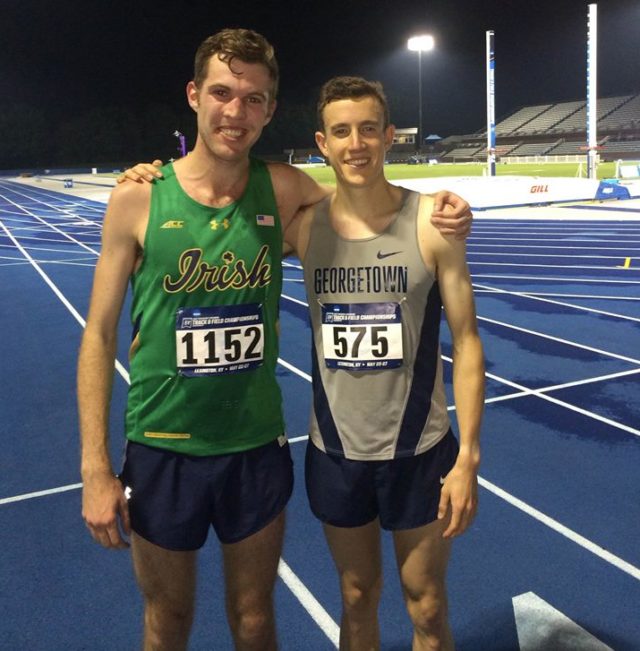 0
Comments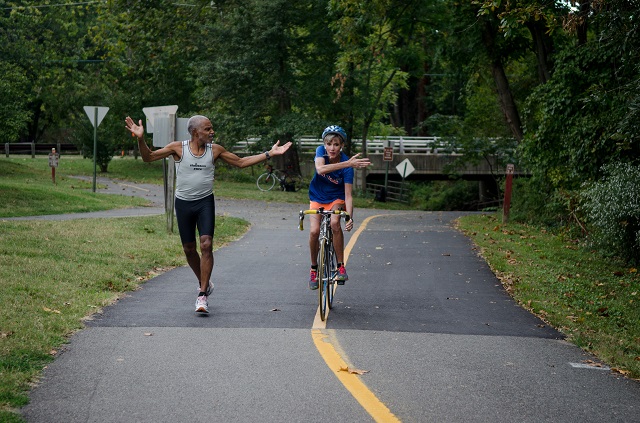 It's not me. It's you.
Let's hang some laundry before we pack it away until next spring: Runners think cyclists are aggressive, dangerous road hogs, and cyclists think runners are inattentive, unpredictable road blocks.
Trotting out the old tropes is easy. Fortunately, runners and cyclists have never been afraid of some hard work. Sharing the same space means that the intersection of rights for runners and cyclists has the potential to stoke passionate arguments on each side. Yet neither the rhetoric nor the reality always match the stereotypes.
Among a dozen cyclists and runners, the two most common words used to describe the relationship between the athletic communities were "annoying" and "respect."
The friction
Rick Amernick, founder and president of the D.C. Capital Striders, says conflicts between cyclists and bikers come down to familiarity with the other sport.
"People who participate in both have very valid reasons to feel the way do," he says. "It's a matter of exposure. Runners probably say, 'Aw biking's so easy. Come out here, and run 20 miles with me.' Bikers who are biking half and full centuries will say, 'Ah, those runners who do those 5ks, that's nothing.'"
A triathlete himself, Amernick says he doesn't correct people who express those sentiments. But he will respond. "I oftentimes say, 'Well, I'm not that way.'"
More and more, cyclists and runners aren't that way either.
"Overall, I think it's a fairly positive relationship," says Elyse Braner. She's led running groups for the past seven years.
"A few years ago I felt there were a lot more complaints," Braner says. "So many more people are participating in both sports. It's not as much of a conversation now. It's rare to find someone who's just a runner or just a biker. There's more understanding."
Chris Walsh heads out for a 30-mile ride once a week, but he's also been running consistently for five years.
"When I'm running, the last thing I want to do is slow down," he says. "When I'm cycling, the last thing I want to do is clip out or slow down. Anybody who might cause you to do that is going to be an annoyance."
Models of inconvenience include the runner who is plugged into music or the cyclist who barrels by with zero notification and little room to spare. Irritating, too, are out-of-place individuals who roll through crowds on sidewalks or runners who take to the bike lane with no regard for its dedicated users.
Yet these examples of bad behavior represent a thin slice of a hearty pie that is this region's athletic-minded population.
Walsh represents a growing number of people who regularly run and ride. Whether it's a harrier who grabs the handlebars for a triathlon or a cyclist who ditches the derailleur for a road race, each group receives benefits beyond the physical realm.
The safety issue
"I think I've gained better perspective," says Sarah Sladen, a collegiate runner who now splits her time evenly between wheels and feet.
"As a runner it can be nerve-wracking when cyclists come up without warning," she says. Now, as an active cyclist, she says she's more aware of how important audible indicators are for runners. "It's a question of trail awareness and courtesy."
Problems flare, she says, with "the runner who's all over and unaware and the cyclist who's trying to bomb the Capital Crescent at 25 mph."
Boris Espinoza used to cover ground on the Capital Crescent Trail four or five times a week. A biker collided with him about three years ago as a result of miscommunication. The rider said, "On your right."
"You're not expecting to hear that," Espinoza says. "I moved to the right. It's something you do automatically when you hear a biker say 'On your left.'"
Safe riding means that alerting runners has to accompany the equally important component of speed.
Several near misses forced Tom Lahovski to abandon the Mount Vernon Trail.
"Bikes would go whizzing by," he says. "They would say 'On your left.' By the time you hear and react, they're by you. You wouldn't get within a foot or two in your car. Why would you do that on your bicycle?"
Lahovski says he appreciates the need to go fast, whether for the thrill or just for a good workout, but that the desire to break away shouldn't preclude smart riding.
"Time is a premium for all of us," he says. "It feels good to be in shape, to be healthy, but you've got to use a little care, concern and judgement, where you're not making other people feel in danger."
The trails
Mount Vernon, Capital Crescent, Custis, WO&D. Trails provide vital paths for recreation and commuting, but cyclists and runners I interviewed don't view the routes with positive marks.
"They're all difficult," Chuck Harney, who owns the Bike Rack in Logan Circle, says of area trails. "As a cyclist," he says, "I don't like to ride the trails."
Cyclist Jaime Watts says her problems more often arise with other riders. he has had to deal with a potential head-on crash because the other person wanted to pass a runner.
"The trails are just clogged," she says. "You can't go out there and just hammer on the trail. Mount Vernon is terrible. I try to avoid it at all costs."
Trails have become math equations, case studies in density and volume. Runners and cyclists join joggers with baby strollers, tourists with a day to browse, tykes on trikes, dog walkers, rollerbladers and skateboarders.
Perceptions from local runners and cyclists match the traffic numbers.
Just prior to its three-year anniversary in September, Capital Bikeshare recorded its five millionth ride.
Arlington County has placed real-time sensors that count bicycles and pedestrians on multi-use trails such as Mount Vernon, though the trail itself is under National Park Service jurisdiction. One sensor on that trail is located near Reagan National Airport. David Patton, a bicycle and pedestrian planner for the county, says that node consistently records the highest numbers of any spot in the county.
He says weather plays a significant role in overall trail usage. For example, the first six months of 2013 show a 10 percent decrease in compared to that same period a year ago, attributable to a wet early summer. Still, Patton says he sees "genuine increases" year over year.
The solutions
Runner Kelsey Woodard commutes to work in D.C. She says bikes tend to stay in the road or in bike lanes, and runners stick to the sidewalks. The stark separation means fewer opportunities for conflict.
Similar to other athletes, she's less than enthusiastic about the trails but says there are improvements.
"I was impressed by the number of people who alerted me they were near me," she says after a sunny September outing on the Mount Vernon Trail.
Woodard grew up with active parents, so she learned the etiquette for running and cycling early.
That type of basic education will continue to remain important. Even though many cyclists and runners say the groups hold a mutual respect for one another, mixing other trail users could mean difficulties for everyone involved.
The region's leaders could invest in the venerated split trails, with one lane solely for fast cyclists and another reserved for comparatively slower runners. Typical municipal budgets mean this isn't likely to happen.
Education, on the other hand, might provide an effective modification for less money.
Limits on area trails cap cyclist speeds at 15 mph. The legal element exists, though as with any society, laws are enforced by a common agreement to obey them, not by a constant police presence.
BikeArlington and WalkArlington suggest several tips for overall safety. Cyclists need to slow down and give runners at least an arm's length when passing. Riders should also provide a common verbal courtesy or ring a bell several seconds in advance.
As a standard, pedestrians always have the right of way. However, runners should stay to the right on trails and step off the path to stop for any reason.
More visible rules posted at more frequent intervals could also improve the situation for everyone, says Harney, the bike shop owner.
"Paint it on the road," he says. "Put signs up. That's one way to educate people where you don't have to get a mass group of people together to go talk to them."
Sladen, the former collegiate runner who frequently bikes, summarizes the argument for mitigating tensions: "I've had runners say thank you when you warn them. I appreciate it if a cyclist yells, 'On your left.' That's all that's necessary.
"Both cyclists and runners are just looking for space to do the sport they love."
7
Comments