Jenny Mendez Suanca won a face-off among three Marine Corps Marathon champions, running 2:40.19 for her second title, following her win in 2015. Defending champion Sarah Bishop, of Dayton, Ohio finished fourth in 2:49:49 and 2013 winner Kelly Calway, of McLean dropped out after 10 miles with hamstring concerns.
Suanca's time is the fifth-fastest winning time for the race and bests Calway's record for this course layout, 2:42:16.
Suanca, 38, of Costa Rica took the women's led early and stretched it out to a six-plus-minute lead over San Antonio's 1st Lt. Lindsay Gabow, who was second in her first marathon, running 2:46:34.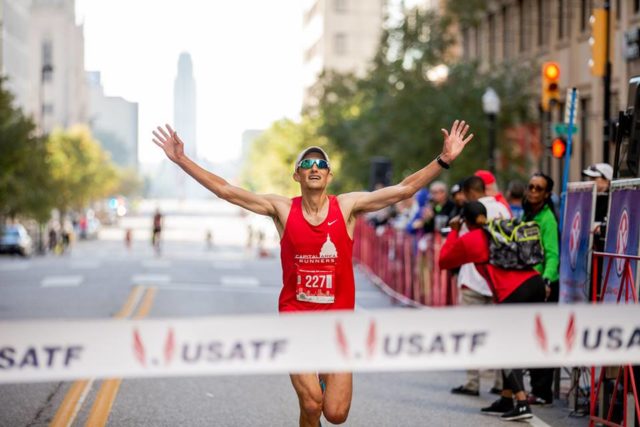 McLean resident Philippe Rolly won the USATF Masters 15k championship, running 50:40 at the Tulsa Run Oct. 27.
West Springfield alumna Caroline Alcorta won the Big East Cross Country Championships, followed in second by Patriot alumna Rachel McArthur. The two run for Villanova.
Georgetown's men won the Big East Cross Country Championships.
Heritage alumna Weini Kelati won the Mountain West Conference Championship. She runs for New Mexico.
The Walk  and 5k to End HIV has been postponed to Dec. 1.
Jeff Stein spent the afternoon following last year's Marine Corps Marathon recovering in the hospital after heat stroke finishing in eighth place. He fared considerably better this year, breaking the tape in 2:22:49 for his first marathon victory.
True to his buildup this year, it was a race that, for him, seemed decided only at the end.
"When I was in the last mile, I heard the announcer say the leader had someone right on his tail," Stein said. "I got pretty worried because I knew Patrick (Hearn) was a strong second-half runner, and I was wasn't sure how much my legs could take. I was fleeing him for the last few miles."
Northwood made history at Bohrer Park in Gaithersburg, winning the school's first Montgomery County Championship behind Obsaa Feda's individual championship. If that wasn't enough, fellow Northwood senior Eldad Mulageta finished second.
"We tried to just cruise, but our pace wasn't matching our effort because of the mud," Feda said. After two miles, Mulageta told Feda to go on ahead. "It was just me against the mud."
Desta Beriso Morkama was in a hurry. After winning the Marine Corps Marathon last October, Morkama quickly packed up his belongings, accepted his trophy and rode his bike home, where he made himself a quick meal and jumped into bed for a 30-minute power nap.
A few hours later, he would be reporting to his first shift at the local 7-Eleven convenience store. The celebration would have to wait.
"Before I work, I just push myself, 'Desta, go, go, go, go work,'" Morkama said. "I push my mind that I have to work."
Marine Corps Marathon
Oct. 28, 2018
Arlington, Va. and Washington, D.C.
7:45 Handcycle start
7:55 Runners start
The 43rd Marine Corps Marathon will bring tens of thousands of runners and spectators to D.C., Arlington and the National Harbor.  Whether they're gunning for the win, hoping for a personal record or just trying to cross the finish line, they'll be making memories along the way.
Roughly 25,000 runners will line up for the marathon (starting near the Pentagon) and the 10k (starting on the National Mall). The marathon course will weave through Arlington County before crossing the Key Bridge into Georgetown, taking a trip up and down Rock Creek Parkway, around Hains Point and the National Mall before crossing back into Arlington, where runners will finish by climbing the hill to the Iwo Jima Memorial in Rosslyn. The 10k follows the last 6.2 miles of the marathon route.
You can track runners here.  Read on to learn about the best way to watch the race, why you shouldn't run using someone else's bib, who has run every Marine Corps Marathon and find out about the time the race was a day away from cancellation.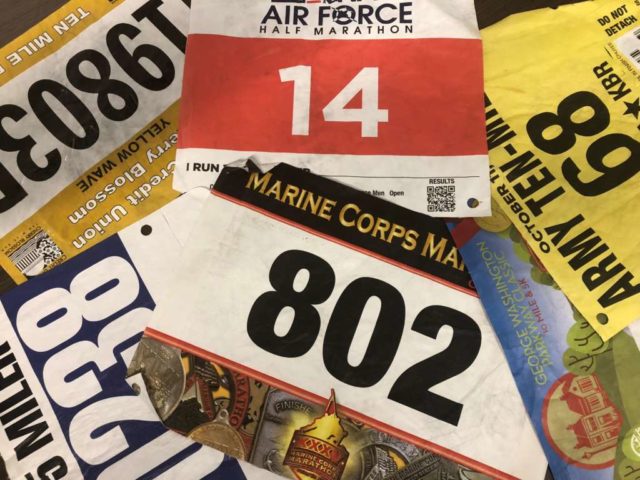 The call went out on a Saturday — "does anyone have an Army Ten-Miler bib?" The race was the next day.
Responses on a message board wished the runner luck and others tried to start an impromptu waiting list. After a while, the sober voice of reason spoke up.
"Not allowed since it's past the transfer period."
It can be an unpopular opinion, but it's backed up by the forms runners sign when they register for races.
Chris Pellegrini has spent almost half of his life coaching at West Springfield High School.
After he graduated from the Fairfax County school, he returned to his alma mater to serve as an assistant coach to the cross country program he cherished.
Now, 17 years later, Pellegrini leads three sports, coaches more than 200 high school students and maintains a nearly year-round sports schedule. On top of that, Pellegrini is leading a girls' cross country team that could be in contention to win a state title. Perhaps the boys, too.
D.C.'s Kerry Allen punched her ticket to the U.S. Olympic Marathon Trials in decisive fashion Oct. 7, running 2:41:33 for a seventh place finish at the Twin Cities Marathon in Minneapolis, nearly four minutes faster than the minimum qualifying time of 2 hours, 45 minutes. It makes her the second fastest full-time female D.C.-area resident to qualify for the 2020 trails, Feb. 29 in Atlanta.
The 30-year-old Senate health policy advisor succeeded after three previous attempts at a qualifying time went sour midway through. Over the two years prior, she was the first (2016) and first-ranked (2017) runner in RunWashington's rankings, but she hadn't made it past 16 miles in the New York, Grandma's or California International marathons without faltering. But Twin Cities was different.