Setting a PR in the 10k seems like it would make most people happy. Especially if they do it at age 34, more than a decade after the conclusion of an All-American running career.
Not Keira D'Amato. She was third at mid-April's Monument Avenue 10k in Richmond, and she was pissed. Winner Bethany Sachtleben gapped her by almost a minute.
"I got crushed," she said the next day. "I ran the best I could and I didn't even last a mile with them."
She acknowledged the obvious.
"I'm just a competitive person," she said. "I know I should be happy, it was a lifetime PR (33:37)," she said. "I'm now in better shape than I ever was in college."
Local runners picked up some gold watches at the Penn Relays:

Georgetown's 4×800 meter relay team Kenneth Rowe (1:52.46), Ian Delgado (1:52.25), Ruach Padhal (1:49.57), Joseph White (1:50.91)
Sprint medley relay  (200m / 200m / 400m / 800m)  3:17.53       Nate Alleyne, D'Andre Barriffe, Lawrence Leake (48.2), Joseph White (1:46.45)
Two Northern Virginia natives ran on Villanova's winning 4×1500 meter team: Patriot alumna Rachel McArthur (4:18.4) and West Springfield alumna Caroline Alcorta (4:28.0).
Northwood senior Eldad Mulgeta won the high school boys' 3,000 meter championship in 8:29.05.
Oakton and American University alumna Keira D'Amato won the Olympic Development 10,000 meters in 33:43.86.

Vienna's Perry Shoemaker qualified for the 2020 U.S. Olympic Marathon Trials, running 2:43:33 at the Eugene Marathon.
Herdon alumna Hiruni Wijavaratne broke her own Sri Lankan marathon record at the Dusseldorf Marathon, running 2:34:09.
Road reconstruction in Rock Creek Park has reached Wise Road, which is now closed. This will interrupt the Western Ridge Trail, and runners will have to detour west to Oregon Avenue NW to avoid trespassing.
The Rock Creek Hiker-Biker Trail near Ray's Meadow Local Park and Jones Mill Road will experience intermittent closures through May 2 to accommodate Purple Line Project construction.
Construction of a pedestrian bridge over Route 29 in Falls Church is forcing a detour near mile 5.5 of the W&OD Trail through Fall 2019.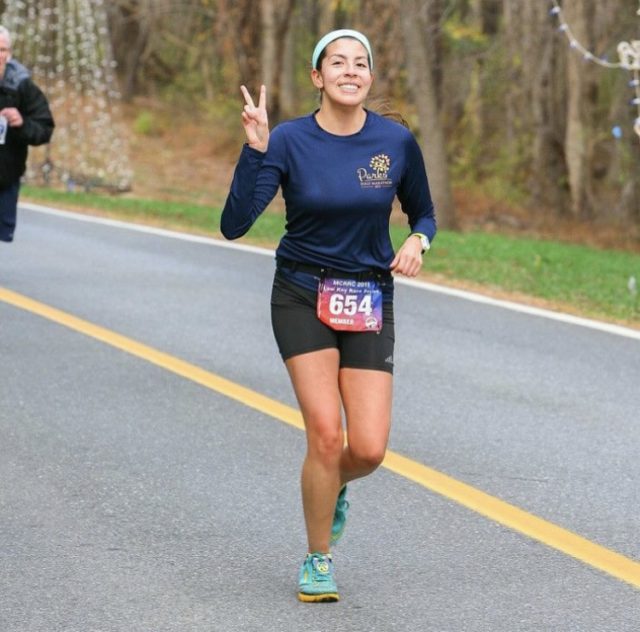 Name: Amanda Pinzon
Self-described age group: 25-29
Residence: Washington, D.C.
Occupation: Public school teacher
Volunteer roles in the running world: Girls on the Run coach at my school!
Why you run: I run because it makes me feel powerful and makes me push myself. I've never been the most competitive person, but I do love setting new goals for myself. Even on days when I feel lazy, I finish my runs feeling happier, healthier, and fulfilled for the day.
When did you get started running: I started my freshman year of high school when I joined the cross country team. I had always enjoyed running the mile in middle school and felt like running was the only sport I felt comfortable doing. Spoiler alert, I threw up after my first practice. But it was one of the best decisions I've ever made. This is when my love of distance running began (back when I considered 5k distance!). That team holds a special place in my heart.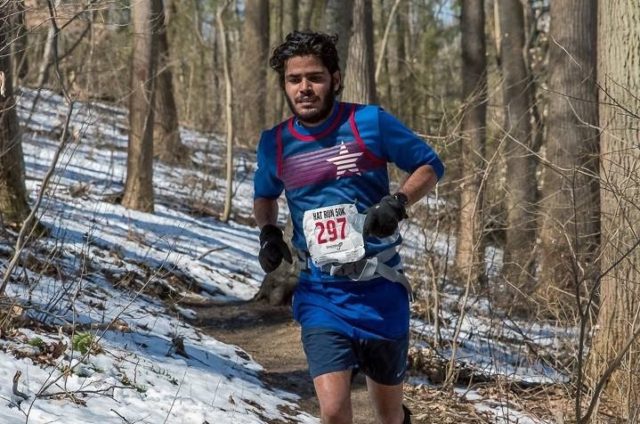 Lokesh Meena had just moved to D.C. to work as a diplomat for the Embassy of India when he started to notice the city's active running scene.
At the time, running as a lifestyle choice was a foreign concept to him.
"Look at them," he remembers thinking. "And look at me."
Meena weighed nearly 200 pounds, and his doctor was lecturing him about his high blood pressure and cholesterol. Then 27 years old, the Rockville resident began to think more seriously about taking up running to lose weight.
Since then, 31-year-old Meena has dropped about 80 pounds and has racked up an impressive collection of running accolades. He holds a world record for Asian runners in the indoor men's marathon, set last June at the Grant-Pierce Indoor Marathon in Arlington after he won the race in 3:13:19.
Christine Westcott started out the Boston Marathon with a 2:59:59 pace band on her left wrist and a 3:03:16 pace band on her right wrist. She wanted to break three hours at the race, but a secondary goal was to set a personal record.
She was about five seconds off for the first mile, and it felt like she was running a little too hard, she said. Around the five-mile mark, she made an adjustment.
"I actually literally took the 2:59:59 band, swapped it onto my right wrist, took the 3:03:16, put it onto my wrist with my watch on the left wrist, and settled in and said, you know what, I'm just going to try to PR," said Westcott, 49, who lives in Chantilly.
And then, she just decided to run, checking her watch every so often, but not focusing on a pace band.  
Westcott finished in 2:58:48.
In addition to earning a new personal record and her first sub-3:00 time, Westcott was the fastest Washington-area woman to finish the race on April 15. She also earned third place in the female 45-49 age group at Boston.
Pacers Running Race Director Lisa Reeves describes kicking people out once the 2018 GW Parkway Classic afterparty ended.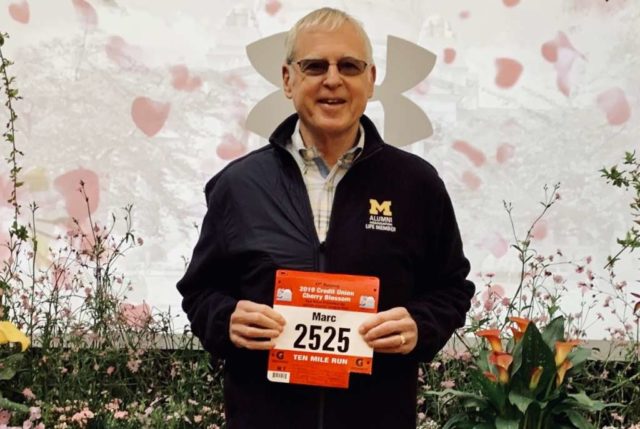 Name: Marc Wolfson
Self-described age group: Men 65-69 (and looking forward to "aging up" to the 70-74 age group in November!)
Residence: Olney
Occupation: Retired Coast Guard Officer and civil servant for a total of 42 years of federal government service
Volunteer roles in the running world: I've volunteered for numerous MCRRC races at water stops, course marshal, and finish line announcer. I have also served as a pace group leader for the Baltimore Marathon several times
Why you run: I love the way running makes me feel physically, mentally and emotionally. My training runs are often an exercise in what I like to call "moving meditation." Racing is the icing on the cake. Its an opportunity to gather with fellow runners and celebrate the sport that brings us together.
Giovanni Reumante's experience as a freshman at Northwood High School was a little different than most. His school had recently reopened after being used for offices for the previous 19 years, but rather than siphoning students from other schools, he and his peers were the only class in the school. The Gladiators could have been called the Trailblazers.
He was one of the first members of the school's track team in 2005, and the cross country team in 2006.
"It was an interesting year. My freshman year, we only had freshmen," he said. "We were always the top of the class. We didn't have upperclassmen until we were the upperclassmen."
A little more than a year ago, Chris Neblett underwent a kidney transplant. This month he ran the Credit Union Cherry Blossom Ten Mile race with his kidney donor in an effort to bring awareness to the importance of organ donation.
Neblett and Ana Knott share a special bond: they are longtime friends, Knott donated her kidney to Neblett, and now they are running buddies, too. Neblett, Knott and her husband all ran the 10-mile race this past weekend, during which Neblett achieved his personal best; Knott and her husband both ran their longest distances ever.
But for them, the race was about so much more than just running. The trio all wore T-shirts with the name and phone number of a person who desperately needs an organ donation in hopes of encouraging others to get tested and donate to someone in need. Neblett said Knott's sacrifice is immeasurable, and he hopes others come to know that feeling.
"I was inspired [during the run] by the gift that Ana gave me; she gave me the gift of getting back to running and being healthy," he said.
On a humid morning and afternoon, almost 500 D.C.-area runners finished the Boston Marathon. Jordan Tropf, a 27-year-old medical resident from Silver Spring, led local finishers in 61st place, 58th among men, in 2:27:21. McLean's John Brough, 23, a Bishop O'Connell alumnus, ran 2:29;33 to lead Northern Virginians in 93rd, 87th among men. Steven Mance, 34, was the top man from D.C., finishing 99th overall, 92nd man, in 2:30:21.
Chantilly's Christine Westcott, the 49-year-old winner of February's George Washington Birthday Marathon, was the top local woman, running 2:58:48 for 148th woman and 2348th overall. Montgomery Village's Elizabeth Conlon, 27, who ran at Good Counsel and Georgetown, was the 160th woman across the finish line and 2476th overall, running 2:59:20. Annyck Besso was D.C.'s first woman, 267th place and 3361st overall in 3:04:36.
Kenya's Lawrence Cherono won the men's race in 2:07:57 and Ethiopian Worknesh Degefa won the women's race in 2:23:31.
Bethesda's Ben Beach ran his record 52nd Boston Marathon. Lindsay Flanagan, formerly of Silver Spring, was the ninth woman across the line in 2:30:07.
As always, please let me know if we've left anyone out or used clock times instead of chip times.  Residences are as reported to the Boston Athletic Association on race registrations, so some people may have moved in the meantime. After a second check of results, I believe we're "there" now.