A misplaced set of cones marking a turnaround in the fourth mile cut the Credit Union Cherry Blossom Ten Mile short by 240 feet. That invalidates both Stanley Kebenei's 46:00 finish that would have been an American record for 10 miles and Rosemary Wanjiru's 50:54 course record, which was also the fastest time in a women's only race run in the United States.
A series of construction projects have altered the course over the last three years, first the loss of the Arlington Memorial Bridge and then the loss of a lane on each side of Rock Creek Parkway this year, forcing runners to take new routes to each 10 miles – this year, a return trip south on Potomac River Freeway. Race Director Phil Stewart said the approval for the 2019 course came only in the last two weeks.
"The course we had certified would have been an accurate 10 miles, but the course wasn't laid out as certified," Stewart said. "It was one of those things, like many things in life, where there were several miscommunications. Ultimately, as race director, it's my responsibility."
Simply put, nobody checked to make sure the course was laid out as certified.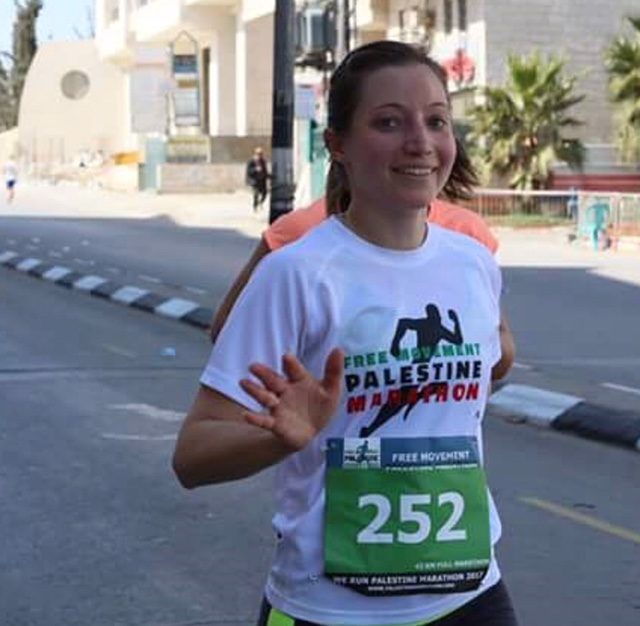 Name: Sara Burback
Self-described age group: 33
Residence: Washington, DC
Occupation: Nonprofit, international development sector
Volunteer roles in the running world: Leader of D.C.'s Christ City Church mission team to Israel and Palestine, where nine team members completed the half marathon.
Why you run: I run to process my day. I run to set goals and realize I'm capable of more than I think I am. I run to bond with my sister and nephews when I visit them. I run to exercise my right to movement. I run because I want to set an example that girls and women can do this, and there is power in our numbers. I run because it is act of nonviolent resistance. I run because it is an embodied metaphor of overcoming, endurance, and being a bad-ass when facing new and ongoing challenges. I run because it's a way to explore the world. I run because I love the friends I have made in the running community. I run to tell a different story.
Marie Kondo may not be a Boston Marathoner's best friend this year. Given the forecast currently calls for a repeat of 2018's cold, windy deluge, throwaway clothes that might not spark joy the rest of the year are probably going to be invaluable this year. If you cleared out your closet in the past few months, now is a good time to get to a local thrift store, before you get to Boston and everyone else has the same idea. Here's what some of our runners wore last year.
This year, 567 local runners have registered for Boston, but not all will race. Bethesda's Ben Beach will be going for his 52nd Boston finish- extending his own record. In 2018,  Graham Tribble (Arlington, 2:30:06), Sean Kinne (D.C., 2:37:23),  Eric Schuler (Laurel, 2:41:31), Breana Avalos (D.C.,  3:03:42) Erin Kelman (Germantown, 3:05:33) and Christie Wetzel (Falls Church, 3:08:49) led local finishers. Kelman and Wetzel are registered this year. Despite the conditions, 96.9 percent of D.C. runners who started the race finished, as did 95.5 percent of Maryland runners and 96.7 percent of Virginia runners, though the latter two statistics cover those entire states. He have the complete list of entrants at the bottom here. (more…)
Conroy Zien celebrated finishing the 2016 Rehoboth Beach Seashore Marathon at a post-race party surrounded by some of his closest friends he's made through running and with another medal around his neck to add to his extensive collection of race souvenirs.
His time of 3 hours, 35 minutes, and 14 seconds placed him 138th overall out of 872 total finishers and top 25 in his age group. As the co-director of Montgomery County Road Runners Club's First Time Marathon Training Program, Zien has helped hundreds of novice runners, including this reporter, accomplish their dream of completing 26.2 miles. RunWashington readers voted him Best Running Coach in 2015.
But a prevailing feeling of disappointment persisted. It didn't help that at the party, a man who recognized Zien asked him the one question he had hoped to avoid.
"He said, 'Have you run Boston?'" Zien recalls. "I said, 'No I haven't.'"
Credit Union Cherry Blossom Ten Mile
April 7, 2018 – Washington, D.C
Stanley Kebenei could pick from a few comeback stories on his way to setting the American record at the Credit Union Cherry Blossom Ten Mile. A year ago, he was sitting at home nursing an Achilles tendon injury that left him in despair. A week ago, he had just run a miserable race for the world cross country championships. But none of that mattered when he crossed the line Sunday in 46:00, breaking Greg Myer's 1983 record of 46:13, also run at Cherry Blossom.
"It's a dream come true," Kebenei said. "You should never lose hope."
Note: Five days later. race officials announced that due to a misplaced set of cones marking the course, the race distance was 9.96 miles and ineligible for records.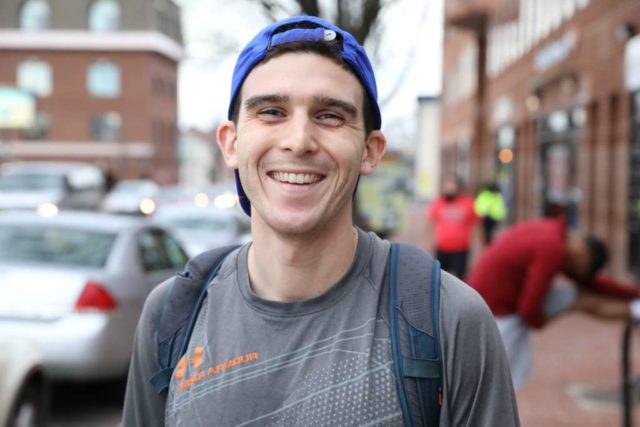 Name: Tyler Kameh
Self-described age group: 20 somethings
Residence: Falls Church
Occupation: Cardiac Technician (think EKG's and stress tests)
Volunteer roles in the running world: I am a volunteer/mentor with Teens Run D.C., an awesome D.C.-area non-profit that facilitates youth mentorship and healthy habits through running. I also try to volunteer at local races when I can. I hope to pace in local races to come.
Last March, I caught a toe while running the Catoctin trail near Maryland's Gambrill State Park. The fall was so quick and so hard — face first into very pointy rocks — that it took me a few minutes to realize just how badly I'd hurt myself.
Once I got myself sitting upright it was immediately clear that my wrist was broken; the bones were not where they usually were.
Also immediately clear? I was 13 miles from the car.
It's been more than two decades since Jackie Gruendel was in college, but the 44-year-old runner still competes — and excels — at college meets.
Gruendel, who lives in Clifton, is able to participate in meets as an unattached runner, and she ran 5:17.51 to place fifth in the women's mile at the George Mason Patriot Games in January.
"I literally get on the line and I could, no joke, be these girls' moms," Gruendel said.
She said she's slowed down some since she ran as a student-athlete at the University of Michigan, but she feels like her post-collegiate running career has been better than her college one.
For the last 19 weeks, Stephanie Lasure has been running every street in the City of Alexandria. She is weaving her way through every nook and cranny — down every block in Old Town, around every cul-de-sac in Seminary Hill and up every ascent in Rosemont.
Over 151,000 residents call the City of Alexandria home, nestling themselves into an area that's only a little over 15 square miles. But as Lasure has slowly checked street after street off her list, she's logged nearly 240 miles –and she's not done yet.
Lasure was inspired by a professional ultrarunner she follows on Instagram, a man named Rickey Gates. On Nov. 1, 2018, he set out to run every street in San Francisco, ultimately covering over 1,300 miles in 47 consecutive days. His effort spawned a mini-movement of sorts, complete with its own hashtag — #EverySingleStreet — that now stretches across the globe, spanning from San Francisco to New Zealand, South Africa, Germany, and Brazil. The number of runners tackling new cities seems to grow every week.