Though she had kept a relatively low profile since winning the 2016 Marine Corps Marathon, Perry Shoemaker is back after qualifying for the 2020 Olympic Marathon Trials April 28 at the Eugene Marathon. Her 2:43:33 was a PR of more than eight minutes.
"I'm still shocked that I did it," Perry said a little over a week after the race. "And of course I'm still very excited."
For years, Perry, 48, has challenged the notion that results slow down with age. She says that qualifying for the Trials became a dream when she realized she could do it with the right conditions and without injuries. "Without injuries" turned out to be a key challenge.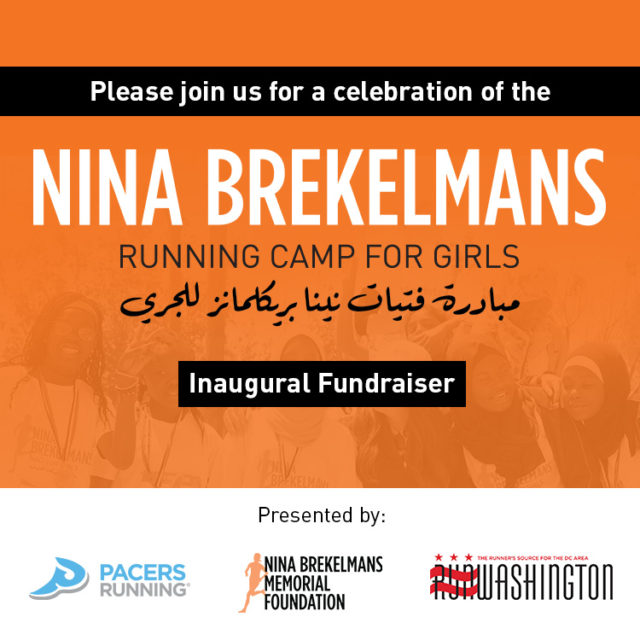 Seeing a female runner in that country was rare, something Nina hoped to change.
These words come from Maggie Lloyd's 2016 RunWashington remembrance of Nina Brekelmans, a runner, scholar and activist who was killed four years ago in an apartment fire near Dupont Circle.
As Lloyd noted in her article, Nina's story "is still far from complete." But thanks to family members, friends and supporters, Nina's vision is indeed moving forward.
In Amman, Jordan, where she had studied, Nina envisioned empowering young women through running. That's happening today, as last month, a fourth annual camp and race named in her honor culminated with record participation.
As the Nina Brekelmans Memorial Foundation, Fulbright U.S. Student Program, and Jordanian partners gear for their 5th season, a fundraising event for the camp and race will be held in partnership with Pacers Running and RunWashington.
Experience a joyous evening featuring appetizers and drinks, raffles and silent auction items ranging from Nationals tickets to yoga classes and entries to the Credit Union Cherry Blossom 10 Mile Run. All proceeds will benefit the Nina Brekelmans Memorial Foundation and its programs supporting young female runners and refugees in Jordan.  
Register: http://ninabrekelmansmemorial.org/dc19
Several distance runners with local connections will compete in the  NCAA Track and Field Championships June 5-8 in Austin, Texas.
1,500 meters – Ryan McGorty – William and Mary / Chantilly High School
Rachel Pocratsky – Virginia Tech/ Our Lady of Good Counsel
Alexandra Lucki – Maryland
3,000 meter steeplechase – Fitsum Seyoum – Virginia Tech / Tuscarora High School
5,000 meters – Caroline Alcorta – Villanova/ West Springfield High School
Weini Kelati – New Mexico/ Heritage High School
Josette Norris – Georgetown
10,000 meters – Caroline Alcorta – Villanova/ West Springfield High School
Weini Kelati – New Mexico/ Heritage High School
In high school state meet action, Washington Latin's Luke Tewalt won the 800, 1600, 3200 and ran a leg of the winning 4×800 meter relay team at the DCSAA championships and Loudoun Valley's boys swept the top seven places in the Virginia 4A 3200 meters.