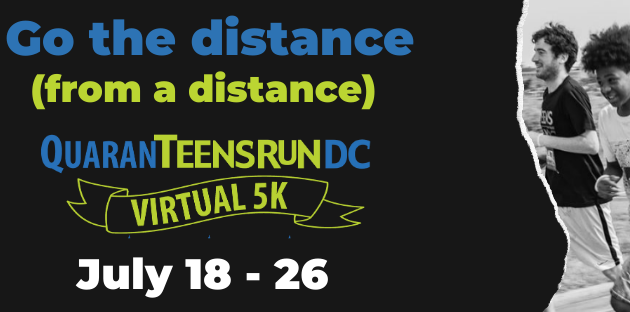 Join us for our first QuaranTeens Run DC Virtual 5K! Join us in running or walking 3.1 miles at any location and time of your choosing between July 18 and July 26. Because we had to cancel our 5th Annual Mentoring Matters 5K this May, we wanted to offer a celebration of the power of mentoring and community (while adhering to social distancing guidelines)! This event is open to everyone.
Run for fun. Run for health. Run to honor someone who has played an important mentoring role in your life.
Registration for this event is free. With the challenges presented from the COVID-19 health crisis on our financial future, such as the cancellation of our MM5K and the loss of program funding, Teens Run DC, now more than ever, needs your support to help sustain our long distance running, group mentoring, and social emotional learning program benefitting DC youth through either virtual or in-person programming this coming school year. Donate here- https://teensrundc.networkforgood.com/projects/102396-run-fund
TRDC will not collect time results, but we would love to see your pictures from your 5K!
Our TRDC Staff, coaches, and students will be voting to determine the winner of the following categories:
-Favorite 5K Fashion
-Most Creative QuaranTeens Run DC 5K Picture
-Cutest Four-Legged Runner
-Best Family Photo
Post your photo(s) on Instagram and/or Facebook by tagging @TeensRunDC and using the hashtag #quaranteensrundc5K. You can also email pictures to [email protected]
Cost:
Free (Donations accepted- https://teensrundc.networkforgood.com/projects/102396-run-fund). Registration open until July 26