–
Virtual
3333 14th St NW, Suite M120
Washington, D.C. 20010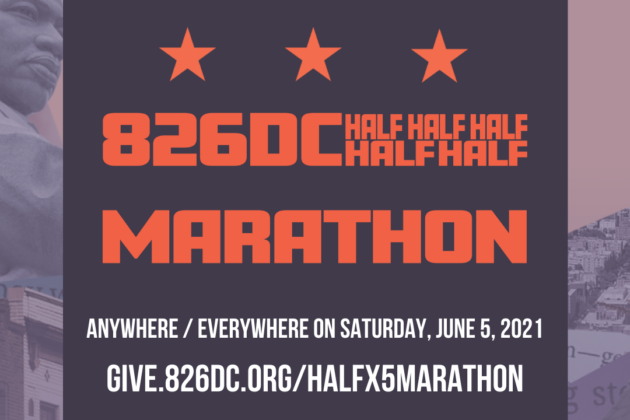 On June 5th, you're invited to book it for youth literacy at 826DC's Half-Half-Half-Half-Half Marathon, an 0.826 mile experience for running enthusiasts, couch potatoes, and everyone in between. It's an unusual virtual fundraiser from an unusual DC nonprofit!
826DC supports local students ages 6-18 with their writing skills and helps teachers inspire their students to write. The Half-Half-Half-Half-Half Marathon will help fund 826DC's 100% free writing workshops, homework help, and publishing opportunities in classrooms across the city and in their Columbia Heights writing center, accessible through a secret door in their magic shop storefront.
This is a completely distanced, remote fundraiser and race. Anyone can join, no matter where they are!
Participants have until June 5th to raise as many donations as possible for 826DC. No minimums; you just raise what you can.
We know how tough it's been to meet new friends during the pandemic, so we'll have optional virtual "trainings" each week where you'll get to meet one another, share fundraising tips, and just have a blast as you support this community.
We'll also send you playlists, prizes, and other inspiration leading up to the big day, June 5th, when you'll do your 0.826 mile walk/read/walk/jog/nap/dance/et cetera, whenever and wherever you feel like it.
On your mark, get set…join us!