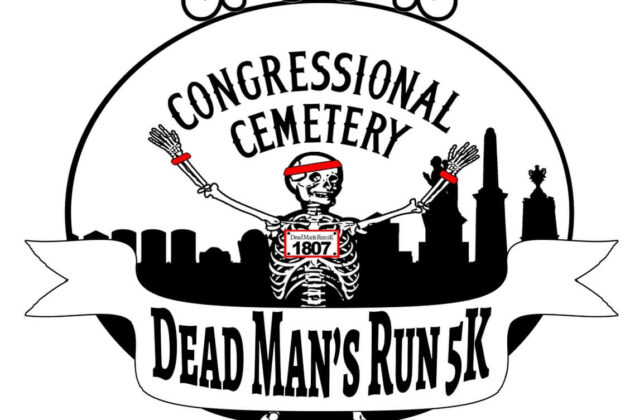 Dead Man's Run is Congressional Cemetery's annual 5k race.
As the funeral bell tolls, runners bound around the cemetery and continue out onto the Anacostia Trail for a ghostly evening 5K run.
Costumes are encouraged, with prizes for the best individual and team costumes. Dogs and strollers are allowed in the race, however, they are required to start at the back of the group to minimize hazards. All participating dogs must be vaccinated and well-socialized. No retractable dog leashes please.
We are also offering a children's race prior to the start of the 5k. Participation is free for any child who comes with a registered race participant. Children without a registered race participant can still join for a $5 fee. Registration for the children's race is done in person at the race. A parent or guardian must sign a waiver.
Dead Man's Run has a registration fee of $35 . All proceeds support our non-profit 501(c)(3) organization and fund the preservation of this National Historic Landmark.
The start time is 5:30 pm sharp. All runners must be checked in and at the starting line by 5:30PM. Congressional Cemetery is a certified 5K course. Family and friends can come for free with any registered runner to cheer you on from the side lines.