–
Freedom Plaza
1455 Pennsylvania Avenue, NW
Washington, D.C. 20004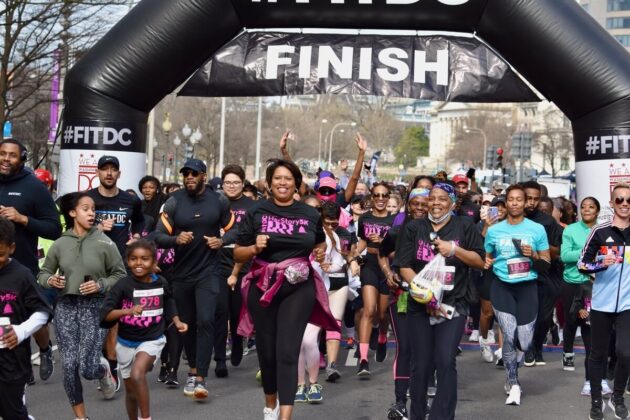 FITDC TO HOST FIFTH ANNUAL HERSTORY 5K CELEBRATING WOMEN'S HISTORY MONTH ON SATURDAY, MARCH 4
Free 5K Run/Walk at Freedom Plaza to Honor
D.C.'s History-Making Women
#FITDC #HerStory5K #CelebrateWomen
Runners take your mark! In celebration of Women's History Month, Mayor Muriel Bowser and the DC Department of Parks and Recreation is hosting the fifth annual FITDC HerStory 5K Run/Walk at Freedom Plaza on Saturday, March 4 at 9:00 a.m.
The FITDC HerStory 5K is free of charge, open to all DC residents and for all race levels. Residents can submit race registrations at: http://herstory5k.com.
Downtown DC's flat running course along Pennsylvania Avenue will again serve as the perfect backdrop for the race event, which highlights panoramic views of the U.S. Capitol and national monuments. Both dog and stroller friendly, the FITDC HerStory 5K is geared toward families, kids, weekend athletes and fitness enthusiasts alike.
Events and prizes for the FITDC HerStory 5K include:
• Free commemorative HerStory T-Shirt and Race Bib for all race participants while supplies last (courtesy of AETNA)
• Post-Race Finish Festival with music, giveaways and vendors from local women-owned businesses.
• Freedom Plaza adorned with quotes for HerStory making women
• Pop-up exhibits about women's history
WHAT: Fifth Annual FITDC HerStory 5K Run/Walk
• Free and Open to DC Residents
• Free commemorative T-Shirt & Race Bib for All Participants
• Post-Race Finish Festival: Music, Giveaways, Vendors from Women-Owned Businesses
• Freedom Plaza Featuring Exhibits and Quotes from HerStory Making Women
WHEN: Saturday, March 4, 2023.
Registration 9:00am | 5K Begins 10:00 a.m.
WHERE: Freedom Plaza – 1455 Pennsylvania Avenue, NW
Race Route: Downtown DC along Pennsylvania Avenue, NW
PACKET
PICK-UP: Wednesday, March 1 & Tuesday, March 2
12:00 p.m. – 5:00 p.m.
Two Locations:
• SteadFast Supply at 301 Tingey Street, SE
• Hook Hall at 3400 Georgia Avenue, NW
Registrants please specify pick-up location and T-shirt size
Race Day: Saturday, March 4 at 9:00 a.m. (Freedom Plaza)