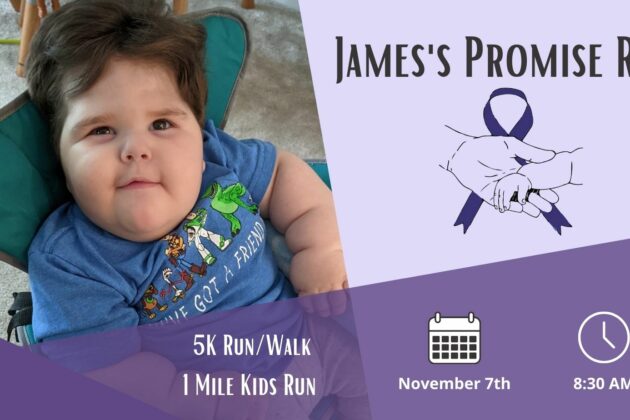 DESCRIPTION
Help our little fighter live his best life!
Please join us on Sunday, November 7th, 2021 for our 2nd annual race for James's Promise.
James's Story
James is a 2 yr. old pediatric stroke survivor. Shortly after James was born alongside his twin brother he suffered a devastating stroke. Approximately 90% of James brain is damaged, leaving him blind, nonverbal, immobile, unable to eat by mouth, and very medically complex.
Not expected to live more than a few days, his parents promised him that if he survived they would do everything they could to help him thrive. He kept his end of the bargain starting a very complex and heartening journey for the Shahryary family. James fights for survival every day and Tom, Paige and Lucas are so proud of
their warrior.
Having spent half of his life hospitalized there's a lot of work to be done! Please help the Shahryary family give James the best quality of life possible.
All of the proceeds will go to James's Promise and be used for therapy and medical expenses, special needs equipment, and other costs that help James live his best life!
Follow along with James story at https://www.facebook.com/ourpromisetojames
Race Details
Please join us as a participant, donor or volunteer!
RACE DAY SCHEDULE:
7 am – 8:00 am: Early Registration/Packet pick-up. Packets include a t-shirt, water bottle, bibs, and a wristband.
7:45 am: Commencement speaker to address Pediatric Stroke Awareness & the powerful story of James.
8:00 am: Kid's Fun Run
8:15 am: Warm up
8:30 am: Race begins
Raffle & award ceremony following race
Virtual Race Dates: Mon, 11/01 – 11/07
In-Person Race Date: Sun, 11/07
Race Start: 8:30 AM
Location: Nottoway Park, 9537 Courthouse Rd, Vienna, VA 22181
https://www.alltrails.com/explore/map/fri-02-apr-2021-21-53-f6e0664
2021 Registration Pricing:
Please note there are no refunds, all registrations are final.
1 Mile Kid's Fun Run (10 and under): $25
5k Run & Walk Registration: $35
5k Run & Walk Day Of Registration: $45
Raffles
Don't miss out on our available raffles during race registration.