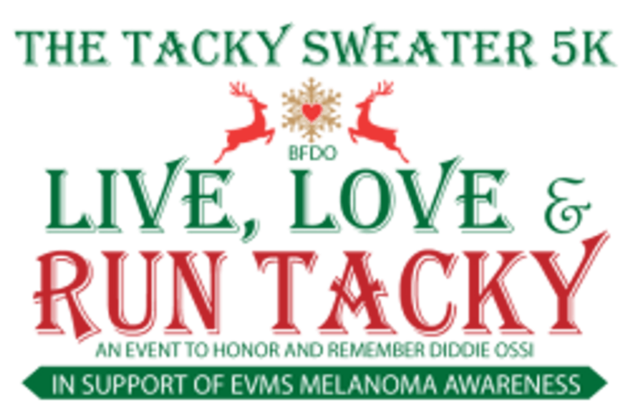 Come out and participate to be a part of the seventh annual fun festive holiday event that features a 5K run and a 5K walk. Live, Love, Run or Volunteer Tacky in support of EVMS Melanoma Awareness.
We have a great course in store for you this year.  The race will start and finish in front of Smartmouth Brewery in the Chelsea District of Norfolk.  Part of the course will be along the scenic Elizabeth River Trail through scenic West Ghent, over the Mid-Town Tunnel, through Plum Point Park on the Elizabeth River and back to Smartmouth Brewery. All finishers receive a custom finisher medal.
The Tacky Sweater 5K raises money for EVMS Dermatology and the Dermatology Student Group. Our mission is to provide the highest level of dermatologic care to all, while fostering a culture of excellence in education, discovery, and service to our community.
Early packet pickup and opportunity to register on Friday, December 1st from 5PM to 7PM, at Smartmouth Brewing Company 1309 Raleigh Ave, Norfolk, VA 23507. Stick around for a festive party in Chelsea and a special visit by the Krampus parade.
Be sure to stick around at Smartmouth Brewery for a festive post race party with Food, entertainment, Smartmouth beer, Awards, Giveaways and Tacky Sweater contest
The race starts and finishes in front of Smartmouth Brewery and loops around West Ghent and Plum Point Park on the Elizabeth River Trail