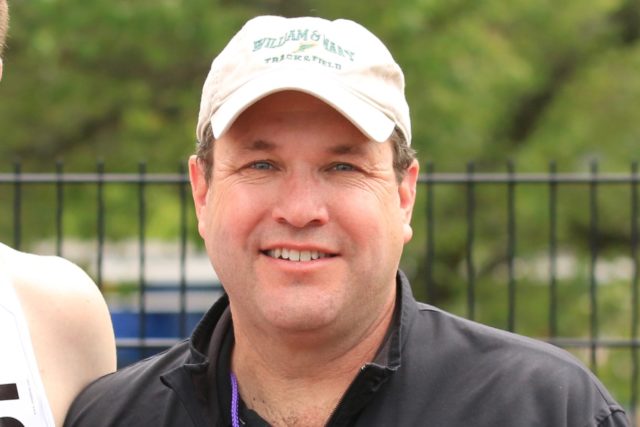 Name: Ed Lull
Self-described age group: 39 & older
Residence: Fairfax
Occupation: Banker
Volunteer roles in the running world: Ed Lull Northern Region Track & XC Photography (free, quality pictures for Northern Region high school runners (10 years), Founder and Director of Chantilly Youth Association Youth Track (16 years), Lake Braddock Track & XC Hall of Fame member and Director (11 years)
Why you run: Physical, mental and emotional well-being.
When did you get started running: 7th grade track at Lake Braddock Secondary School
Have you taken a break from running:  Only when I had to.
Training shoe: Nike Monarch (big comfortable shoe for old guys)
Coach or training group: solo
The hardest race you've ever run: W&M HS XC Invitational in 100 degree heat and humidity
Most adventurous decision you've made with your running: To try a marathon
Running mentors: Ed Trimm, Chris MacDonald, Jeanne Lull, Jim Lull, Dan Huskerson, Brian Robinson
My favorite place to run in the D.C. area is:  Burke Lake
Favorite local trail:  Burke Lake
My best race was: Northern Region 1,000 yard run (yes, I said "yard")
Favorite local race: CYA Track Trophy Mile
Ideal post-run meal: Burger, fries & an ice cold beverage
Favorite flavor of gel, gu, etc: Still searching, can't find a low-carb option..
Pet peeve: Doggy doo on trails
Goals: Keep moving, listen to my body to avoid injury
Your advice for a new runner:  New shoes every season! (give away or recycle the old ones)
Favorite running book: Unbroken
Song in your head during a run: Baby shark (just kidding, now try and get if out of your head)
Have you dealt with a major injury: Yes, hip, knee and ankle
Running quote: "Pain is inevitable, suffering is optional"
Why is the D.C. area a great place to be a runner: So many memorable places to run, Get out there and experience them!!! 
0
Comments