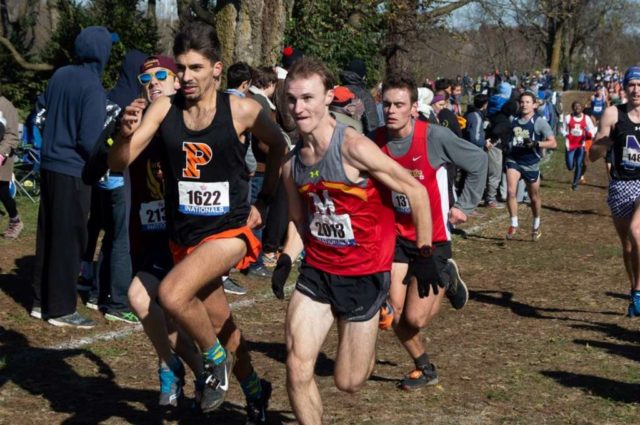 When Zach Gallin wants to hang out with some of his closest friends on any given day, he knows to show up at the Bishop John Carroll Statue in Georgetown at 5 pm.
That's where the Georgetown University Running Club, which has about 80 active members this year, meets to log some miles and have lots of fun along the way.
"It was one of the first things I joined at Georgetown," said Gallin, a junior who recently became the club's president. "It became the centerpiece of my life."
For college students like Gallin who love to run and crave a team-like environment, club running has become a popular alternative to joining the varsity track or cross country team.
Here's a selection of superlatives awarded by local running clubs.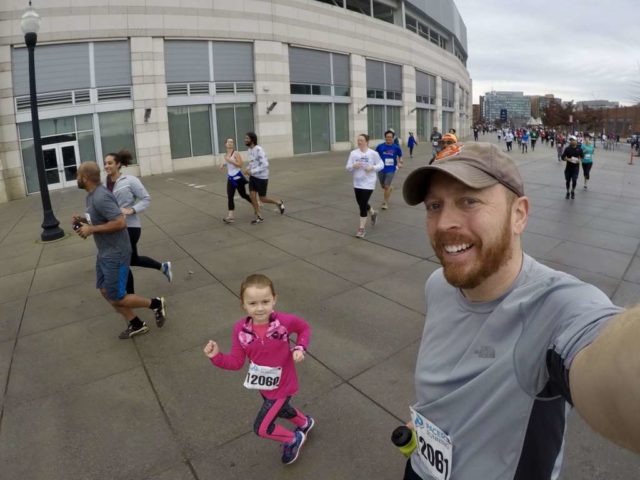 Name: Mike J. Grinnell (@MikeJGrinnell)
Self-described age group: My head says 20's, but my last race told me I was the second fastest in the Master's Division
Residence: West Springfield, Va.
Occupation: Design and Construction Consultant
Volunteer roles in the running world: Water bottle holder/ iPhone DJ for my wife and daughters in their races
Why you run:  It's a great way to stay in shape and long runs serve as great therapy for anything going on in your life.
When did you get started running:  I was late to come over to the sport.  As I got into my 30's I needed to find sports that didn't take a toll on my body as much.  That's when my friends Amy and Kate invited me to run the Rock 'n' Roll Half Marathon in Virginia Beach with them.  Immediately after the race, I swore I was done.  Now here I am.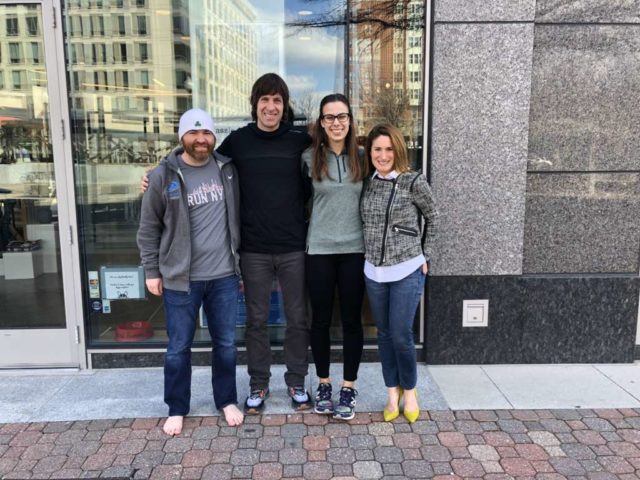 Courage to Run (April 13) Race Director Freida Edgette shares her personal journey to race director and the mission her race advances.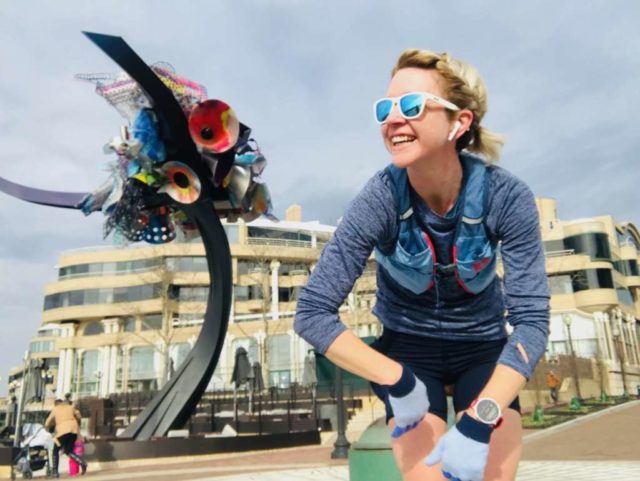 Name: Meg Ryan
Self-described age group: F 35-39
Residence: Takoma Park
Occupation:  Designer at darbstudio, mother, creative maven
Volunteer roles in the running world: I started a local running club – Takoma Park Road Runners – this past fall to bridge a connection to many of my fellow neighbors I would pass along our footpaths and trails. Since my return to running last spring, I was excited to grow my running community all over again and feel a sense of camaraderie in numbers. I also co-captain the spring running club at my daughters' elementary school which aims to get kids ready to participate in the TKPK Safe Routes to School race in early May. We work on the basic FUNdamentals of running but most of all its exciting to see them enjoy racing each other down the field.
Why you run: I believe the majority of the reasons remain the same but now as a mother of two little energetic girls, it's added new meaning. I run as meditation (never been a sit down "ohm" type). I run to reclaim my time and embrace the power of me. I run to be a stronger, more positive and supportive member of my family. I run to challenge the extent of my capabilities and of course, we all love the fact that here in the district the journey is sometimes best done on foot.
You may not know their names, but you probably know their brands.
If you've been to a race expo, attended a brand-sponsored event, or even participated in a fun run at your local running store, odds are you've encountered a footwear brand representative. They are the hidden people behind your favorite running shoe brands, working across the region to make sure their brand and products are properly celebrated and understood.
The job description of a footwear brand rep is not easy to describe, admits D.C.'s Brennan Schwab, who will soon be celebrating his two-year anniversary as a Brooks rep this April. "It's kind of a mix between sales, education, and marketing."
Put in simple terms, the job of a footwear brand rep is to interact with stores who sell that brand's product. Reps ensure that the sales associates at those stores understand the product, know how to sell it, know what's coming up next, and to assist with any events, education or promotion.
In November of 2010–fewer than four months after he conquered the legendary Western States 100 mile endurance run in under 27 hours, and about a month after being diagnosed with stage four lung cancer–Mike Broderick passed away peacefully just days shy of his 54th birthday.
Those closest to Mike, knew him as an avid ultra-runner with a sharp wit, a big smile and an abundance of enthusiasm for all things running. For the rest of the running community, he was best known as a coach, a mentor and a teacher. He was a bit of an evangelist, preaching his love of running to everyone who made his acquaintance. Mike, to his running disciples, was well known for his ability to respond in deep scientific detail to very simple yes or no questions.
That legacy has kept a popular training group in his honor – Broderick to Boston, going eight years after his passing.
Three Loudoun Valley relay teams won national championships over the weekend, with two setting national indoor records.

Distance Medley Relay: 9:54.41 (national record): Jacob Hunter (1200 in 3:01.331) Akere Simms (400 in 50.908) Connor Wells (800 in 1:55.96) and Sam Affolder (1600 in 4:06.205)
4xMile: 17:01.81 (national record): Kevin Carlson (4:22.26),  Connor Wells (4L21.456), Sam Affolder (4:06.192) and Jacob Hunter (4:11.901). Loudoun Valley also had two other relay teams in the top eight.
4×800 7:40.49: Jacob Windle (1:57.453), Connor Wells (1:57.046), Sam Affolder (1:51.368) and Jacob Hunter (1:54.619).

At the NCAA Division I Indoor Track and Field Championships, Heritage alumna Weini Kelati (New Mexico) finished second in the 5,000 meters and third in the 3,000 meters, the Georgetown distance medley relay team of Jack Salisbury, Lawrence Leake, Ruach Padhal and Nick Wareham finished third; Patriot alumna Rachel McArthur ran on the Villanova distance medley relay team that finished fourth and Georgetown's Joe White finished fifth in the 800 meters.
Montgomery County Parks Natural Surface Trail Manager Bob Turnbull was named "Trail Builder of the Year" by Mid-Atlantic Off Road Enthusiasts, a mountain bike riding and trail building organization.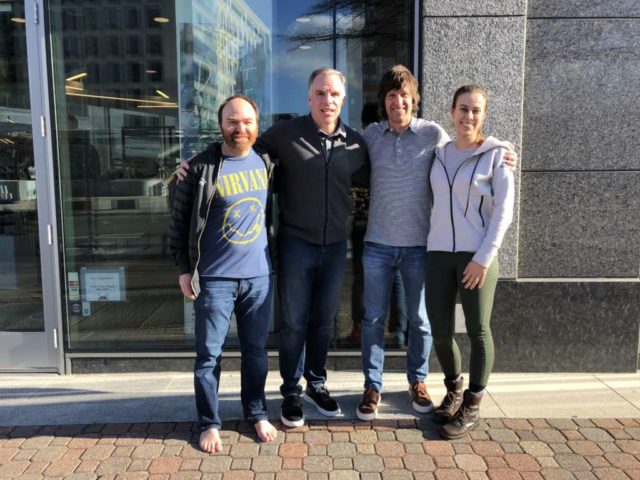 Dan Sullivan, the national sales manager for men's performance at Skechers, takes us through his career from college football player and coach to running retail enthusiast and career at Saucony to his latest stop in the industry.