What started as an innocent IKEA chair purchase in 2014 has turned into quite the display of race medals for Mike Katz of D.C.
His springy bentwood Poäng, which he pronounces POE-ayng, is adorned with 32 pieces of hardware from marathons, half marathons, relays, ten milers, and more. He layers them on with the completion of each race, hoping (with mixed success) they stay in chronological order.
His favorite? The 2014 Rock 'n' Roll USA (now Rock 'n' Roll DC) Half Marathon medal has good aesthetics and was the first medal he draped onto the Poäng while unpacking in an otherwise unfurnished apartment in 2014.
Another notable design includes the 2015 Parks Half Marathon medal featuring a wine stopper welded onto the bottom.
His memento from the 2016 Santa Barbara Veterans Day Half Marathon is a round aluminum pendant that a friend hung on a candy necklace with "Good Job Running Boy" written on it in Sharpie.
The Poäng makes an appearance on Katz's social media accounts from time to time, captioned with some variation of "Another medal for the Poäng!" and the occasional race report.
"I'm gonna need a new medal chair soon if I keep making these terrible choices," he wrote in 2015.
If it gets to that point, he has his sights set on the children's version of the Poäng as a contingency.
Spring is here along with signs of the season: blooming flowers, warmer temperatures and dwellings yearning to be cleaned.
Spring cleaning is an opportunity to purge and get organized, and runners may too find themselves trying to clear their homes of unneeded items such as old shoes, ill-fitting race shirts or shabby shorts. Some area organizations and business can help runners get rid of mementos gathering dust and help others in the process. (more…)
Arlington's Tyler Andrews ran a world record track 50k, 2:46:06, in Santa Barbara April 13.
Bethany Sachtleben won the Collegiate Running Association 10k championship Saturday at the Monument Avenue 10k in Richmond, running 33:37 for a 1:47 margin over second place.
Loudoun Valley alumnus Drew Hunter won the B.A.A. Mile in Boston, running 4:07.
Georgetown alumnus Andrew Bumbalough finished fifth at the Boston Marathon, running 2:19:52 to place third among Americans.
Matt Rodjom will represent the United States in the World Para Athletics Marathon World Cup, part Sunday's London Marathon. He runs despite Leber's Hereditary Optic Neuropathy, which distorts most of his vision directly ahead.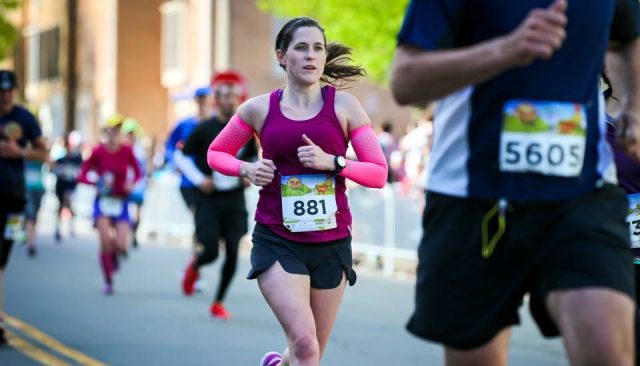 Name: Meghan Maloney
Self-described age group: The dreaded super competitive 30s group
Residence: Old Town Alexandria
Occupation: Project Manager
Why you run: Mostly to stay healthy and active, but I just love the feeling of running far and fast
In 2017, race crews across the country set up clocks, finish lines, traffic control and water stops for 703 marathons. D.C-area runners finished more than 291 of those races. In fact, more than 14,091 times, a local runner has crossed the finish line. That's nearly 500 more than 2016, when the region notched 13,576 finishes, but down from 2013's 15,950 local finishes.
The two biggest local marathons claimed the most local finishers, including the winners.
That all adds up to 369,184.2 miles of racing, not counting extra distance tacked on when runners didn't hit the tangents.
Arlington's Graham Tribble finished 23rd to lead local finishers Monday at the Boston Marathon, running 2:30:06. Sean Kinne led Washington, D.C. residents in 2:37:23 and Laurel's Eric Schuler led local Maryland men.
D.C's  Breana Avalos's 3:03:42 was the first local female finisher, Germantown's Erin Kelman ran 3:05:33 led local Maryland finishers and Falls Church's Christie Wetzel ran 3:08:49 to lead Northern Virginia finishers.
Of the more than 600 local entrants, 521 finished.
The race was cold, windy and rainy. Cabin John's Chris Bain, who finished his 21st straight Boston, said it was the worst weather he had seen for the race. Bethesda's Ben Beach finished his 51st straight Boston, extending his own record.
The race also saw Desiree Linden become the first American woman to win since Lisa Weidenbach Rainsberger in 1985. Georgetown alumnus Andrew Bumbalough finished fifth at the Boston Marathon, running 2:19:52 to place third among Americans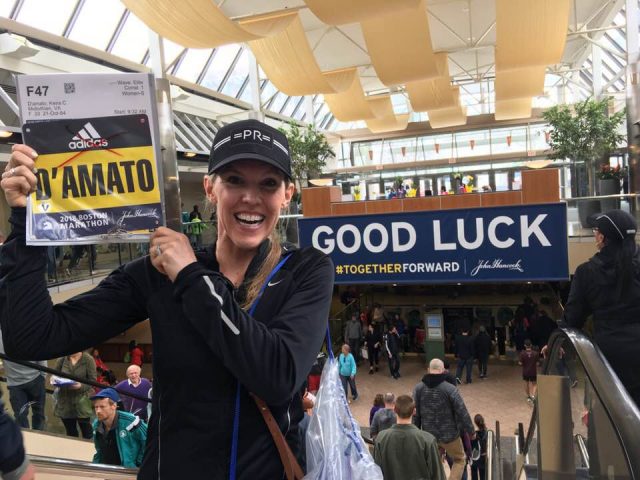 We open up with some coffee talk and anniversaries.
At (7:40) we Joanna and Farley are headed to Boston.  At (9:05) we talk about the Cherry Blossom 10 miler, where Farley notices the Cherry Blossoms for the first time.
At (20:11) we are joined by American University Hall of Famer Keira D'Amato who is running the Boston Marathon.  After discussing the pronunciation of her last names, we start out (21:29) talking about her time at Oakton High School and at (24:35) her transition and time at American University.
Talk of race strategy and pacing petered off last week as the Boston Marathon weather forecast grew more dire. Cold, with freezing rain and a headwind. That means even more thought paid to what you're going to wear out there. A few local runners shared their race-time wardrobe with RunWashington. May they each make it to the finish line in one, thawed piece.
Name: Shlomo Fishman
Self-described age group: Competitive Open Male Division
Residence: Silver Spring
Occupation: Wellness Fitness Specialist
Volunteer roles in the running world:  My volunteering ranges from being course marshal, to assisting with the City of Rockville youth track meets, and any other roles as needed within the Montgomery County and D.C. area.
Why you run: Running allows me to be the best person I can be. When I push myself during a workout or a run, it allows me to apply it to any challenges or stressors I may face in day-to-day living.