Christine Westcott started out the Boston Marathon with a 2:59:59 pace band on her left wrist and a 3:03:16 pace band on her right wrist. She wanted to break three hours at the race, but a secondary goal was to set a personal record.
She was about five seconds off for the first mile, and it felt like she was running a little too hard, she said. Around the five-mile mark, she made an adjustment.
"I actually literally took the 2:59:59 band, swapped it onto my right wrist, took the 3:03:16, put it onto my wrist with my watch on the left wrist, and settled in and said, you know what, I'm just going to try to PR," said Westcott, 49, who lives in Chantilly.
And then, she just decided to run, checking her watch every so often, but not focusing on a pace band.  
Westcott finished in 2:58:48.
In addition to earning a new personal record and her first sub-3:00 time, Westcott was the fastest Washington-area woman to finish the race on April 15. She also earned third place in the female 45-49 age group at Boston.
Pacers Running Race Director Lisa Reeves describes kicking people out once the 2018 GW Parkway Classic afterparty ended.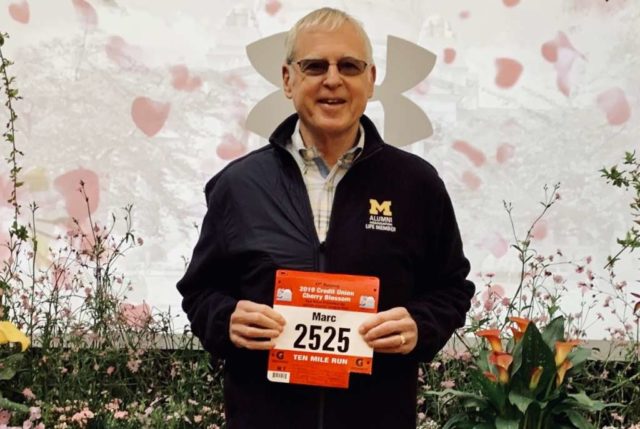 Name: Marc Wolfson
Self-described age group: Men 65-69 (and looking forward to "aging up" to the 70-74 age group in November!)
Residence: Olney
Occupation: Retired Coast Guard Officer and civil servant for a total of 42 years of federal government service
Volunteer roles in the running world: I've volunteered for numerous MCRRC races at water stops, course marshal, and finish line announcer. I have also served as a pace group leader for the Baltimore Marathon several times
Why you run: I love the way running makes me feel physically, mentally and emotionally. My training runs are often an exercise in what I like to call "moving meditation." Racing is the icing on the cake. Its an opportunity to gather with fellow runners and celebrate the sport that brings us together.
Giovanni Reumante's experience as a freshman at Northwood High School was a little different than most. His school had recently reopened after being used for offices for the previous 19 years, but rather than siphoning students from other schools, he and his peers were the only class in the school. The Gladiators could have been called the Trailblazers.
He was one of the first members of the school's track team in 2005, and the cross country team in 2006.
"It was an interesting year. My freshman year, we only had freshmen," he said. "We were always the top of the class. We didn't have upperclassmen until we were the upperclassmen."
A little more than a year ago, Chris Neblett underwent a kidney transplant. This month he ran the Credit Union Cherry Blossom Ten Mile race with his kidney donor in an effort to bring awareness to the importance of organ donation.
Neblett and Ana Knott share a special bond: they are longtime friends, Knott donated her kidney to Neblett, and now they are running buddies, too. Neblett, Knott and her husband all ran the 10-mile race this past weekend, during which Neblett achieved his personal best; Knott and her husband both ran their longest distances ever.
But for them, the race was about so much more than just running. The trio all wore T-shirts with the name and phone number of a person who desperately needs an organ donation in hopes of encouraging others to get tested and donate to someone in need. Neblett said Knott's sacrifice is immeasurable, and he hopes others come to know that feeling.
"I was inspired [during the run] by the gift that Ana gave me; she gave me the gift of getting back to running and being healthy," he said.
On a humid morning and afternoon, almost 500 D.C.-area runners finished the Boston Marathon. Jordan Tropf, a 27-year-old medical resident from Silver Spring, led local finishers in 61st place, 58th among men, in 2:27:21. McLean's John Brough, 23, a Bishop O'Connell alumnus, ran 2:29;33 to lead Northern Virginians in 93rd, 87th among men. Steven Bance, 34, was the top man from D.C., finishing 99th overall, 92nd man, in 2:30:21.
Chantilly's Christine Westcott, the 49-year-old winner of February's George Washington Birthday Marathon, was the top local woman, running 2:58:48 for 148th woman and 2348th overall. Montgomery Village's Elizabeth Conlon, 27, who ran at Good Counsel and Georgetown, was the 160th woman across the finish line and 2476th overall, running 2:59:20. Annyck Besso was D.C.'s first woman, 267th place and 3361st overall in 3:04:36.
Kenya's Lawrence Cherono won the men's race in 2:07:57 and Ethiopian Worknesh Degefa won the women's race in 2:23:31.
Bethesda's Ben Beach ran his record 52nd Boston Marathon. Lindsay Flanagan, formerly of Silver Spring, was the ninth woman across the line in 2:30:07.
As always, please let me know if we've left anyone out or used clock times instead of chip times.  Residences are as reported to the Boston Athletic Association on race registrations, so some people may have moved in the meantime. After a second check of results, I believe we're "there" now.
A misplaced set of cones marking a turnaround in the fourth mile cut the Credit Union Cherry Blossom Ten Mile short by 240 feet. That invalidates both Stanley Kebenei's 46:00 finish that would have been an American record for 10 miles and Rosemary Wanjiru's 50:54 course record, which was also the fastest time in a women's only race run in the United States.
A series of construction projects have altered the course over the last three years, first the loss of the Arlington Memorial Bridge and then the loss of a lane on each side of Rock Creek Parkway this year, forcing runners to take new routes to each 10 miles – this year, a return trip south on Potomac River Freeway. Race Director Phil Stewart said the approval for the 2019 course came only in the last two weeks.
"The course we had certified would have been an accurate 10 miles, but the course wasn't laid out as certified," Stewart said. "It was one of those things, like many things in life, where there were several miscommunications. Ultimately, as race director, it's my responsibility."
Simply put, nobody checked to make sure the course was laid out as certified.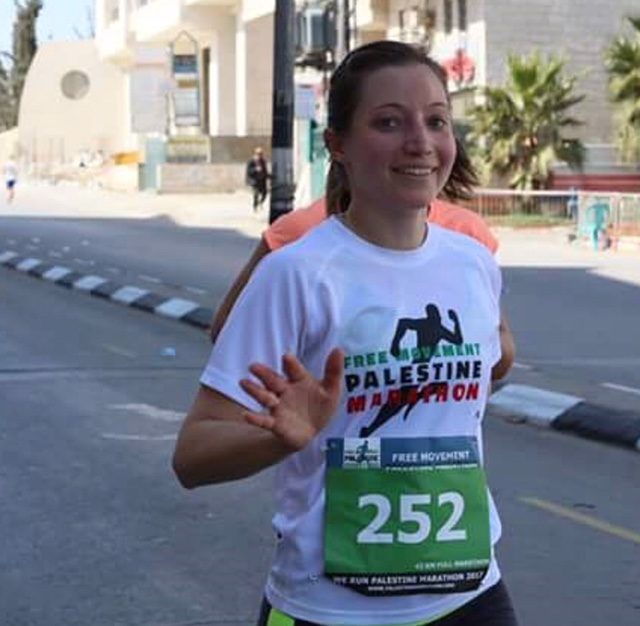 Name: Sara Burback
Self-described age group: 33
Residence: Washington, DC
Occupation: Nonprofit, international development sector
Volunteer roles in the running world: Leader of D.C.'s Christ City Church mission team to Israel and Palestine, where nine team members completed the half marathon.
Why you run: I run to process my day. I run to set goals and realize I'm capable of more than I think I am. I run to bond with my sister and nephews when I visit them. I run to exercise my right to movement. I run because I want to set an example that girls and women can do this, and there is power in our numbers. I run because it is act of nonviolent resistance. I run because it is an embodied metaphor of overcoming, endurance, and being a bad-ass when facing new and ongoing challenges. I run because it's a way to explore the world. I run because I love the friends I have made in the running community. I run to tell a different story.
Marie Kondo may not be a Boston Marathoner's best friend this year. Given the forecast currently calls for a repeat of 2018's cold, windy deluge, throwaway clothes that might not spark joy the rest of the year are probably going to be invaluable this year. If you cleared out your closet in the past few months, now is a good time to get to a local thrift store, before you get to Boston and everyone else has the same idea. Here's what some of our runners wore last year.
This year, 567 local runners have registered for Boston, but not all will race. Bethesda's Ben Beach will be going for his 52nd Boston finish- extending his own record. In 2018,  Graham Tribble (Arlington, 2:30:06), Sean Kinne (D.C., 2:37:23),  Eric Schuler (Laurel, 2:41:31), Breana Avalos (D.C.,  3:03:42) Erin Kelman (Germantown, 3:05:33) and Christie Wetzel (Falls Church, 3:08:49) led local finishers. Kelman and Wetzel are registered this year. Despite the conditions, 96.9 percent of D.C. runners who started the race finished, as did 95.5 percent of Maryland runners and 96.7 percent of Virginia runners, though the latter two statistics cover those entire states. He have the complete list of entrants at the bottom here. (more…)
Conroy Zien celebrated finishing the 2016 Rehoboth Beach Seashore Marathon at a post-race party surrounded by some of his closest friends he's made through running and with another medal around his neck to add to his extensive collection of race souvenirs.
His time of 3 hours, 35 minutes, and 14 seconds placed him 138th overall out of 872 total finishers and top 25 in his age group. As the co-director of Montgomery County Road Runners Club's First Time Marathon Training Program, Zien has helped hundreds of novice runners, including this reporter, accomplish their dream of completing 26.2 miles. RunWashington readers voted him Best Running Coach in 2015.
But a prevailing feeling of disappointment persisted. It didn't help that at the party, a man who recognized Zien asked him the one question he had hoped to avoid.
"He said, 'Have you run Boston?'" Zien recalls. "I said, 'No I haven't.'"