Several runners with local connections will be competing at the NCAA Division I Cross Country Championships, held Saturday, Nov. 17 at the University of Wisconsin-Madison. Please let us know if we missed someone.

Caroline Alcorta – Villanova – West Springfield (Mid-Atlantic region champion)
Tai Dinger – Stanford – St. Albans
Abbey Green – Virginia – Walter Johnson
Weini Kelati – New Mexico – Heritage (Mountain region champion)
Taylor Knibb – Cornell – Sidwell Friends School
Rachel McArthur – Villaonva – Patriot
Jack Van Scoter – Georgetown
Nicholas Wareham – Gerogetown
To the northeast, at least seven local runners will be competing at the NCAA Division III Cross Country Championships the same day at the University of Wisconsin-Oshkosh. Please let us know if we missed someone.

Tristan Colaizzi – Williams – Georgetown Day School
Genevive DiBari – Pomona – Stone Ridge
Zoe Friedman – Emory – Montgomery Blair
Jeff Gibson – Mary Washington – Edison
Abigail Levine – Carnegie Mellon – Bethesda-Chevy Chase
Adam Nakasaka – Carleton – Bethesda-Chevy Chase
Abigail Shoemaker – Chicago – Thomas Jefferson
Three Virginia teams won their first state championships Saturday at Great Meadow, while two regulars kept their annual appointments on the podium.
Tuscarora girls and defending national champion Loudoun Valley boys repeated as team champions in 5A and 4A, respectively, but Loudoun Valley and West Springfield's girls an W.T. Woodson's boys (6A) were both new to hoisting a trophy. LV's Sam Affolder repeated and his teammate Ricky Fetterolf won her first individual title. Three Northern Virginia runners finished in second: Broad Run's Ellie Desmond in 5A, and West Springfield's Chase Kappeler and Woodson's Jack Leech in 6A.
Seniors Obsaa Feda and Eldad Mulugeta led their Northwood High School cross country team to a second-place finish on Saturday at the Maryland state meet. It was also a D.C.-area school's top finish in the 4A boys' race since Walter Johnson's runner-up finish in 2012.
The teammates ran together toward the finish line in the 4A boys' race, but Feda crossed first, running the hilly three-mile course at Hereford High School in 15:44.05. Less than a second later, Mulugeta finished the race, earning a time of 15:44.29.
The third- and fourth-place runners finished 18 seconds after Feda and Mulugeta.  
Northwood  Coach Giovanni Reumante was amazed by what his team was able to accomplish.
"We set this goal at the end of last cross country season," he said. "And so throughout indoor, outdoor and the entire summer, they worked toward this goal of being a competitor at the state meet."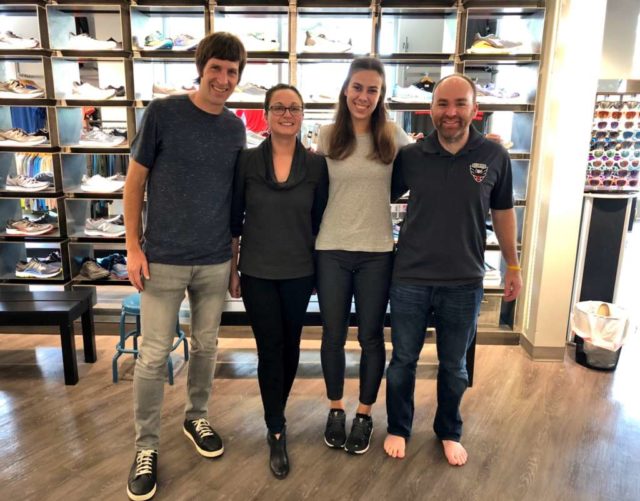 We open with a Halloween recap and an unfortunately optimistic DC United preview. We are joined by guest Ashley Lambdin, the marketing and sales director for the DC Stars Gala (@DC_DancingGala), which our own Chris Farley will be competing in for the Jennifer Bush-Lawson Foundation.
The U.S. Secret Service is always ready to protect foreign leaders on American soil — even if it involves running a marathon in the process.
Last week, Assistant Special Agent in Charge Mason Brayman and Lieutenant Bill Uher received an assignment unlike anything they'd ever encountered: run the TCS New York City Marathon with President Kersti Kaljulaid of Estonia.
As the Montgomery Blair High School cross country team geared up for its weekly long run, Morgan Casey felt a pang of hunger. She would silently grind through the discomfort, and eventually it went away. This habit only worsened as the year wore on. By the end of her junior year, Casey was at least seven pounds lighter than the beginning of the year, a state champion, and anorexic.
She is not an anomaly. A 2007 study found that around 20 percent of female high school athletes self-reported disordered eating. Athletes tend to underestimate disordered eating and eating disorders, however, so the actual number could be much higher. This problem continues, and may even intensify, in college. One Columbia University study found that 35 percent of female college athletes were at risk of developing anorexia nervosa, and 58 percent were at risk of developing bulimia nervosa. Those with eating disorders face worsened physical health and a are also a high risk of suicide. With a mortality rate of about 10 percent, anorexia has been called the "most fatal mental health disorder" by the National Institute of Mental Health.
George Marshall cross country coach Darrell General, winner of two Marine Corps Marathons, is in the running for a $25,000 prize from the 2018 Hometown Heroes Award. Voting closes Friday, Nov. 16.
General is the only cross county or track coach among the finalists and the only East Coast finalist. For years, General has maintained a rigorous work schedule to support his family and his competitive running career, which included five Olympic Marathon Trials qualifications and two Marine Corps Marathon victories. Read all about that here.
He has been coaching cross country at George Marshall High School, and aside from his coaching of the 2016 state 5A championship team, two individual state championships and a handful of Foot Locker finalists, has had a hand all of his athletes' developments. Check out a video produced for the contest, located below the ballot.
In the last five years, D.C. state championships have had the most drama in the middle, where teams' fourth and fifth runners battle on the margins while Taylor Knibb or Page Lester run away with the individual title. Spectators got better shows this year, The race this year stayed interesting much, much longer, with Woodrow Wilson sophomore Ava Nicely kicked past Washington Latin sophomore Zoe Edelman in the last tenth of a mile to win the individual title, 19:41-19:43.
Nicely and fourth-place finisher Claire Wigglesworth (20:03) led the way for Wilson upset of defending champion St. John's, 44-49. It made Wilson the first public school to win a title since the DCSAA championship race started in 2013.
Jenny Mendez Suanca won a face-off among three Marine Corps Marathon champions, running 2:40.19 for her second title, following her win in 2015. Defending champion Sarah Bishop, of Dayton, Ohio finished fourth in 2:49:49 and 2013 winner Kelly Calway, of McLean dropped out after 10 miles with hamstring concerns.
Suanca's time is the fifth-fastest winning time for the race and bests Calway's record for this course layout, 2:42:16.
Suanca, 38, of Costa Rica took the women's led early and stretched it out to a six-plus-minute lead over San Antonio's 1st Lt. Lindsay Gabow, who was second in her first marathon, running 2:46:34.