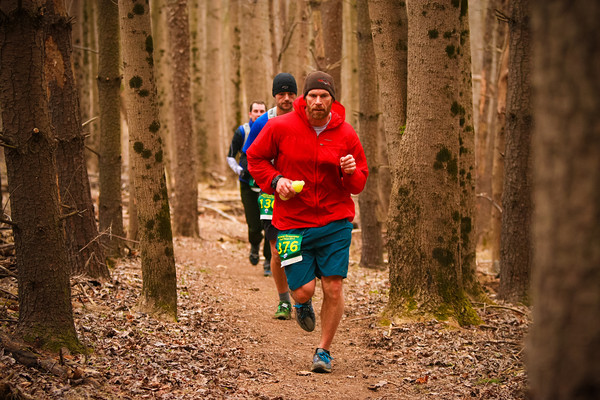 Runners of all ages turned out for the Seneca Greenway Trail Race, which took runners through a rolling course consisting of a mostly smooth dirt path in the Damascus Regional Park. The two scenic courses turned out to be 29.71 miles for the "marathon" distance and 32.6 miles for the "50k" distance. With a cool temperature of 32 degrees Fahrenheit and snow flurries, competitors started out in the Lower Magruder Branch Side Trail out of Damascus. This connected them to the Seneca Creek Greenway Trail and followed the Potomac River at "Riley's Lock."
[button-red url="http://results.active.com/events/seneca-greenway-trail-race/trail-marathon/expanded" target="_self" position="left"] Marathon Results [/button-red]"That was the hardest thing I've ever done," said Alex Roederer, 15 of Bethesda, Md., as he tried to refuel his body with fluids just moments after the race.
Roederer made Seneca Greenway Trail Race history as the youngest marathon winner to-date. With a time of 4:19:27, Roederer ran with the leading pack for most of the race until the 50k and marathon courses split. Before today, his longest race-distance had only [button-red url="http://results.active.com/events/seneca-greenway-trail-race/seneca-greenway-50k/expanded" target="_self" position="left"] 50k Results [/button-red]been 13 miles. That's the same point in the race at which Roederer said he "stopped thinking."
Training for the high school track season ahead, Roederer is just getting started. He said he plans to do more marathons in the future.
Finishing close behind Roederer and leading the 50k race pack were brothers Tyler Burke, 27 of Washington and Shaun Burke, 25 of Chicago. Tyler, who had completed three 50ks before the Seneca Greenway Trail Race, was just seconds ahead of his brother with a time of 04:27:11. Shaun, with a finishing time of 4:27:44, said he enjoyed the break from running in the windy city.
"Being from Chicago, it was a nice change of pace being in the foothills and mountains," Shaun said.
Shaun began running shortly after college where he needed a change in lifestyle.
"When I had five math classes, nothing but frozen pizzas and lots of beer, I decided I needed to do something, so running was the way to go," he said.
After experiencing the Seneca Greenway Trail course, Shaun said he plans to take a break from triathlons and focus solely on running.
"For a $70 pair of shoes and $20 pair of shorts, I can go out and have fun," he said.
Both of the brothers plan on competing in the North Face 50 Miler in June.
Though racing in beautiful foothills and mountains was rewarding for most runners, planning for the race was no easy task. Race Director Harvey Sugar of Montgomery County Road Runners Club insisted that nobody take photos of him—he hadn't had any time to shave in two days and had been up since 4 a.m. preparing for the race. With nearly 270 runners competing, Sugar said runners come out for the course and for the "spirit of the race."
"We try to keep it low key and down to the basics–trail runners like that," Sugar said. "We'll have people do this race over and over again."
Sugar thanked the hard-working volunteers from the Montgomery Road Runners Club and the Virginia happy trails running club. In total more than 100 volunteers helped run the race. He also said the race would not have been possible without Ed Schultze, who passed the torch on to Sugar and had directed it for the past 10 years.
Clemence Vauzelle, 24 of Annadale and originally from France was the first-place marathon female finisher with a time of 4:55:16. She described the course as "playful."
"This is really my favorite type of trail," Vauzelle said. "It's a little rocky, muddy and had some roots, but you can still go fast."
The course was familiar for Vauzelle who runs these trails every Sunday morning and usually sees foxes and deer and hears birds chirp.. She has been training with the Montgomery County Winter Trail Running Club in preparation for the race. Not expecting to win, Vauzelle was told at the aide station at the 30-mile mark, she was the first woman to come by.
For David Welch, 44 of Frederick Md., the Seneca Greenway Trail was his first long trail race. Welch, who crossed the finish line with his young son who ran with him the last 100 yards of the race, explained why his shoes looked the way they did at the end of the race.
"I fell in the stream," Welch said. "But it at least got my shoes clean."
Close to the finish, runners crossed a cold and rocky creek. Runners had the option of using a rope to help them cross, but some didn't need it.
"I took a little ice bath in between," said Cori Brindle, 31 of Mechanicsburg, Pa., who kneeled in the creek to cool off her leg.
Brindle won the 50k female division with a time of 4:59:05. The Seneca Greenway Trail was only Brindle's second trail race. She is headed to the Boston Marathon in April.
"I was planning on doing the marathon distance but a woman at the water station convinced me I'd feel better at the end if I did the 50k, so I sucked it up," Brindle said.
Most runners had to follow suit and "suck it up" to finish the two courses that ended up being a longer distance than they had planned for. But this is part of the trade-off to compete on smooth, scenic paths through the woods.
0
Comments