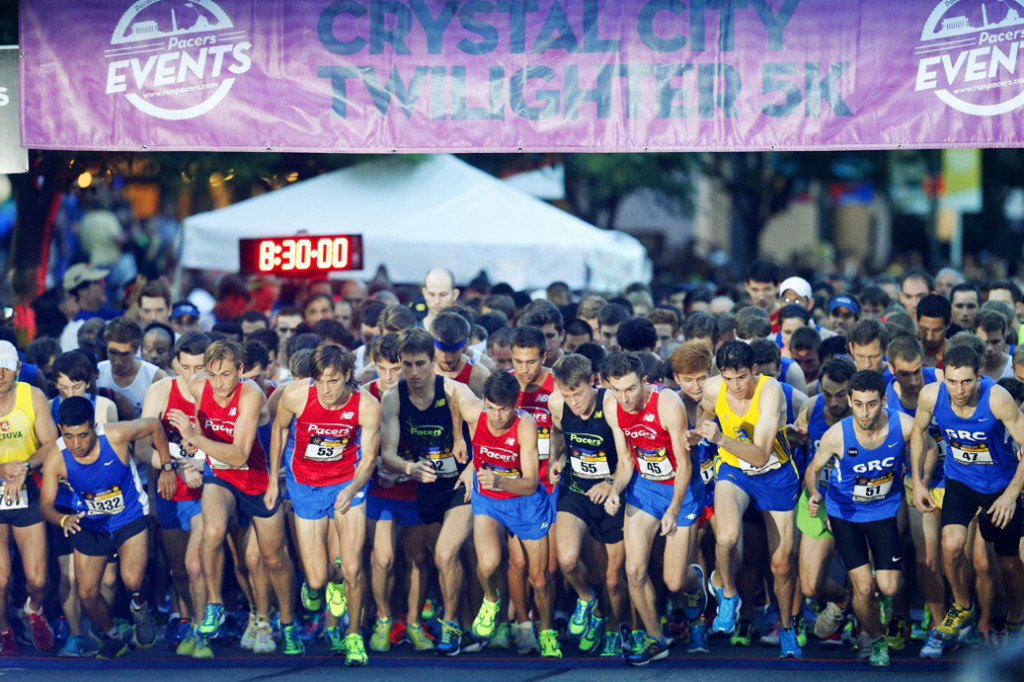 The Crystal City Twilighter 5k's seventh running was a who's who of the regional running scene.
Area running clubs emptied their stables. The course was new – faster, with fewer turns. And conditions, while not good for racing, exactly, were about as good as they get for late July in downtown Arlington. No 98 degrees (2011) or downpours (2013).
[button-red url="http://www.zippyraceresults.com/search.php?ID=4127″ target="_self" position="left"] 5k Results [/button-red]All told, 28 men broke 16 minutes, with Chris Kwiatkowski, RunWashington's top-ranked runner in 2013, breaking the tape in 14:37. Kwiatkowski, 25, also led his Pacers/New Balance team to victory in the co-ed club team competition, a squad that included women's winner Kerri Gallagher, who came through in 17:22. (In the women's race, by the way, the top 23 broke 20 minutes, with 11 going under 19.)
"It's a great atmosphere," Kwiatkowski, who ran close-to-even 4:40 miles, said. "This was my first time doing this. I have been a part of this for four years – coming to watch, helping out – but never to race. So it was an excellent day to come out and compete and have some fun."
Kwiatkowski was followed by Pacers-New Balance teammates Landon Peacock (14:47), Leoule Degfae (14:50), and Frank Devar (14:51). Kevin McNab, in 14:55, was the fifth and final runner under 15 minutes, leading Georgetown Running Club to second in the team standings. GRC was followed by DC Road Runners Club, Northern Virginia Running Club, and Capital Area Runners.
Last year, Claire Hallissey led Gallagher through a too-quick first mile. Gallagher faded to third, she recalled.
This year she had a very different strategy. "The plan," Gallagher's roommate and training partner, Amy Laskowske, said, "was that she could help me through the first mile. And then I kept telling her to go, and she wouldn't go."
At the three-mile mark, Gallagher finally gave in, while Laskowske still finished just three seconds back. Lindsay O'Brien, of Georgetown Running Club, was third in 17:56.
"It was really good to kind of go in with a better plan and be a little more conservative," Gallagher said.
Kwiatkowski and Gallagher each earned $200 for their efforts. The top three teams each received $250.
In the masters division, Patrick Kuhlmann, 43, won in 16:12. Shannon Smith, 48, was top female master in 21:20.
"I'm the old guy," the unassuming Kuhlmann, said, as a way of identifying himself at the award's stage. He took the same honor last weekend at the Rockville Twilight.
***
If you think racing in the summer can be tough, try two in one day. That's what Mike Cannon, 56, of Fairfax Station, did as part of his quest to run more than 100 races in 2014.
Asked how his race went, Cannon said, "I ran a 5k up in Baltimore this morning so I didn't have the legs for it."
Andrew Gray and Alan Bornbusch, two Arlington runners and members of one of Pacers' Tuesday night running groups, enjoyed the race, they said, though perhaps for slightly different reasons.
Bornbusch, 53, said his 22:39 finish served him well in training for his first half marathon this fall.
"It's a nice little piece of speed work," he said.
For Gray, 31, who came in just a few seconds shy of breaking 20 minutes, the race was more like a piece of cake, even if a head cold made it difficult.
"It's a good way to spend my birthday," he said. "That way I can make room for brunch tomorrow."
***
He finally had it.
After years of trying, Arlington's Matt Deters broke 16 minutes by a clump of hairs – 15:58. He confirmed his time at a laptop at the registration table.
"When I was in high school, if you ran under 16 you were a god," he said. "I didn't think I'd be able to do it, after a torn Achilles and knee surgery."
He was close on the fourth of July, running 16:06 at the Firecracker 5k in Reston.
At Crystal City, he split 4:49 and 10:03 before hanging on as the heat, and the hurt, turned up.
***
Look out for Thomas Edison High School's cross country team.
The Edison Club won its second-straight title in the high school team competition. Gonzaga, Annandale, Wilson, and J.E.B. Stuart also fielded clubs.
The Walt Whitman Club won in the high school girls division, followed by Annandale, Lake Braddock, Wilson, and Georgetown Visitation.
Brandon Rockers, a rising senior at Edison who was third for his club in 17:47, said running the Crystal City Twilighter has become a team tradition. "The race has always been before a running camp" members of the team attend, Rockers said.
In the high school results, Aviad Gebrehiwot, 17, of Annandale High School, was top male in 16:44. Sonya Butseva, 16, and teammate Kate Murphy, 14, both running for Lake Braddock Club, were the top females, both finishing in 20:49.
Look out, as well, in the 11 to 14 age group.
Madalyn Wright, 11, was 3rd in the female division behind Murphy and Angelica Gaughran, also 14. Her time was 22:57.
Wright was wearing a tutu, and said she has now run about half-a-dozen races between 5k and 10k.
"I love running," said Madalyn, whose mother, Myra Wright, ran in high school and is a longtime runner.
Madalyn was 6 when she ran her first race. "I kept saying," Myra Wright recalled, as they ran together that first time, "the tortoise wins: slow and steady finishes the race. And she kept saying, 'Mom, I want to go faster.' So at two and a half I said, 'Madalyn, 'Go!' and she just took off.'
That's how it has been ever since, said Wright, who had a finishing time of 24:16 on her watch.
"I tell you, it motivates me to run faster when you know your little girl is up there."
3
Comments