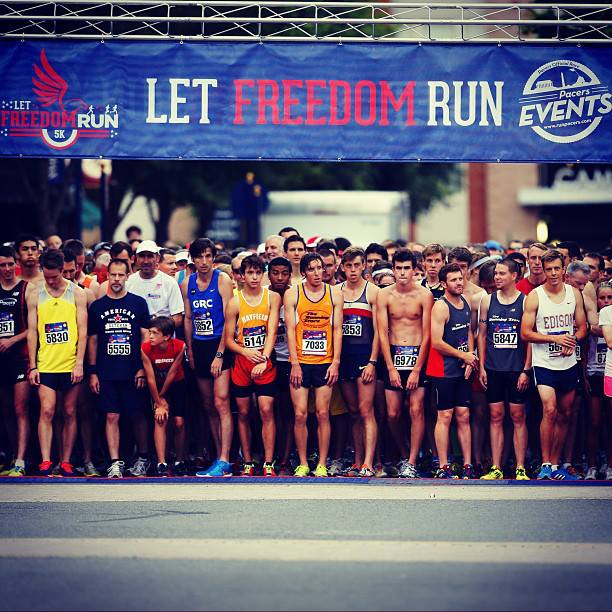 Ansley Howell seems ready for a real pair of running shoes. The 8-year-old from South Riding – running with tiny American flags behind her ears – was third in her age group this morning at the third annual Let Freedom Run 5k in Fairfax.
[button-red url="http://results.bazumedia.com/event/results/event/event-4601″ target="_self" position="left"] Results [/button-red]Howell was paced by her father, Gregg, while her sister, Grace, 12, was paced by her mother, Ann. Her older brother, Noah, 14, who runs cross country for Freedom High School – "too fast for the rest of the family," Gregg said – was on his own, finishing around 20 minutes.
"We do a lot of 5Ks together," Gregg said. "My wife and I have done marathons, and our two older ones are running cross country, so running is a big part of our lives."
The Howell family were among 1,304 finishers.  And on Independence Day, a holiday generally filled with relaxing, trips to the pool, cookouts, and fireworks, Gregg said they could think of no better way to start the day.
"We just wanted to do something together," Gregg said, "and [running a race] is the first thing that comes to mind for us."
Same for Dixon Hemphill of Fairfax Station, and his son and grandson, Peter and Joshua, who live in Centreville.  You kick off a long weekend with a race – a sense of accomplishment – and from there everything else just falls into place.
"We'll go out to breakfast," Peter said, "that's the first thing we'll do. Then we'll go home, take a shower, relax."
Dixon started running at 50, he said, and has been at it for close to four decades. He has been running races with his son for many years, and now the tradition is being passed on to Joshua, who this morning finished his fourth 5k at a time of about 35 minutes with his dad at his side. Peter, special for the nation's birthday, sported a pair of Texas-themed red, white, and blue racing shorts.
In the lead packs – on an overcast, humid morning – the defending champs were back to defend their titles, with Jordan McDougal aiming for a three-peat.
McDougal, of Linden, Va., ran his best time yet for this race, 15:43, but had to settle for second to Paul Thistle, 26, of D.C., who won in 15:30.
The top four places on the men's side were all under last year's winning time of 16:06. The top master, Rockville'sJean–Christ Arcaz, came through in 18:03.
On the women's side, last year's winner, Manassas' Bethany Sachtleben, a rising sophomore at George Mason University, took an early lead and went on to clock 17:53, more than 30 seconds under her winning time from 2012.
When Barb Fallon Wallace, 39, of Alexandria, reeled her in, the veteran local road racer knew she'd better keep pushing.
"I knew that she had been running in college … I didn't want to get in a kick with her," she said, laughing.
Little more than a year ago, Fallon Wallace ran a new personal best for 10k not long after giving birth to twin girls. Wallace's daughters are now two, while her 10k personal best is now about a minute faster.
Alisa Harvey, who was 2nd in the inaugural race, returned this year to finish 3rd overall and win the master's division. Harvey, 47, of Gainesville, finished in 19:07, not much slower than what she ran in 2011.
The 5k starts and finishes at the same spot in Fairfax Corner Shopping Center, and is held on a rolling, challenging course. Afterward, runners and families gathered for refreshments, treats, and dips in the water fountain. And regardless of whether you attended the packet pickup-slash-beach party at Pacers Fairfax on July 2, participants, rather than a free t-shirt, received a colorful beach towel to kick off summer.
0
Comments
By Dickson Mercer
Washington, DC
December 11, 2011
For the Washington Running Report
It only took the Jingle All the Way 10K six years to outgrow its out-and-back course in Washington, DC's West Potomac Park. This year, with more than 6,000 registered runners, Capital Running Company moved the race downtown to the same venue that hosts its annual St. Patrick's Day 8K. The new 8K, which starts on Pennsylvania Avenue and, as with Occupy DC, is staged at Freedom Plaza, was held in cold, yet calm conditions that probably seemed perfect to those who braved last year's cold drizzle.
If you are wondering how a road race typically held on a frigid day has become such a popular race, look no further than the costumes. At the Jingle All the Way 8K, Santa got the top-seeded number and knee-high candy cane socks paired with elf caps were the opposite of an exception. Today's oddballs were ever-serious front-runners wearing their usual racing kits.
On the other hand, Claire Hallissey, who won today's race in 29:18 while sporting candy cane socks, antlers, and the race's complimentary bells in the laces of her racing flats, is only seriously fast.
Hallissey also sported a pink stripe of KT tape on her leg to aid an aching knee that has lately limited her training. Injuries have bothered the 28-year-old Arlington resident and England native all year. And while they did not stop her from running 2:29:27 in October at the Bank of America Chicago Marathon – the time put her 6th overall and made her eligible to run for England in the 2012 Olympics – it has yet to fully heal from the effort.
Treating today's race like a tempo run, Hallissey ran purely for enjoyment and to give her knee a bit of a test. She won last year's Jingle All the Way 10K in 35:17.
If all goes according to Hallissey's hopes, England's third and final selection for the Olympic Marathon will be her. In the meantime, a good Christmas-themed costume helped her maintain a low-key race day. "It keeps me from going crazy out there," she said.
Barb Fallon Wallace, 38, of Alexandria was second in 29:50. Nikeya Green, 29, of Centreville, VA was third in 30:21. The top master, Alisa Harvey of Manassas, VA, was fifth overall in 30:52.
Shortly before the 9:00 a.m. start time, race organizers announced that the Metropolitan Police Department had requested a 10 to 15 minute delay. At 9:22, runners cheered when it was announced that the race would start in two minutes.
The delay did not seem to affect Michael Banks, 25, of Washington, DC Early on, the men's distance coach at Georgetown University ran smoothly with a front pack that included Temesgen Ilanso, 24, of Silver Spring, Brian Flynn, 28, of Bridgewater, VA, Seife Geletu, 29, of Washington, DC, and Esmetu Tilahun, 31, of Washington, DC.
After coasting through 3 miles in around 15:30, Banks gradually picked up the pace, accelerating ahead of Ilanso on the final turn to win by 8 seconds in 24:45. The former all-American at Georgetown focused on triathlons after graduating in 2009. Recently his focus has shifted back to running.
Flynn was third in 25:02. The top master, Kevin Lynch of Chantilly, VA, ran 29:32.
There were plenty of other ways to take home a prize. All it took to be eligible for a random prize – a heart rate monitor, say – was to submit your race number into a random drawing.
Of the 64 teams entered in the team competition, names ranged from the winning Georgetown University Running Club, which took top honors, to Egg Kissers and Grandma Got Run Over … By Us. Georgetown's co-ed squad averaged 30:22, topping Capital Area Runners' 13-member average of 31:10.
At the post-race ceremony at Freedom Plaza, some Jingle All the Way teams – some official, some not official – learned that the competition for Best Costume was as tough as any other.
While standing in line for pictures with Santa, Daphne Kiplinger, 26, and David Shepard, 34, both of Washington, DC, and Dave Steadman – all wearing some sort of red and green, Christmas-themed getup – explained that they had tried to put a team together but their friends had bailed at the last moment. As for the stylish green, holly leaf-style sunglasses that made her outfit pop, Kiplinger said she got those in her Christmas stocking last year.
If you have ever wondered what it is like to run in a Santa suit, let Mike McNiff, 23, of Fairfax tell you: "It was a little hot," he said. His Santa's Run Deer team included his sister Katie McNiff plus Tiona Bland, Amanda Hamilton, and Kelly Jamieson. The women wore antlers picked up from a dollar store and wrote their deer names on pieces of paper they taped to their backs. Rather than stay around for the best costume content, the group headed off for brunch.
The team who won for best costume did not mention a team name. They did, however, mention a captain: Libby Wile, 29, of Washington, DC. Their group included Ashley Schambach, Amy Levine, Ellen Taverna, and Katie Robbins. Present among them were a present, a nutcracker, and a dreidel.
Moments before all runners dispersed, two toy soldiers (Terri Crutchman and Ginger Kopecky, both of Woodbridge) posed for a photograph with as many Christmas trees (Jessica Connelly and Abigail Op, both of Washington, DC.)
"We wanted something to run in that would look festive for the holidays," Crutchman said. "What better than toy soldiers to wake us up and run?"
For Connelly and Op, though, costumes are becoming the norm. Op, who has run marathons, recently roped her friend into running her first race on Thanksgiving. For that, they dressed as Pilgrims. For the Hot Chocolate 15K, they went with a 1980s theme.
According to Op, "This is just more fun: being a goofball."
Awards Listing
MALE 
    1  4910 Michael Banks            25 M WASHINGTON DC           24:45 
    2  5346 Temesgen Ilanso          24 M SILVER SPRING MD        24:53 
    3  5202 Brian Flynn              28 M BRIDGEWATER VA          25:02 
    4  5374 Seife Geletu             29 M WASHINGTON DC           25:42 
    5     5 Dickson Mercer           30 M WASHINGTON DC           26:18 
    6  5381 Esmetu Tilahun           31 M WASHINGTON DC           26:37 
    7  4665 Tom Dichiara             34 M NEW YORK NY             26:46 
    8     3 Stephan Kolata           30 M WASHINGTON DC           26:56 
    9  4860 Matthew Thomas           37 M ALEXANDRIA VA           27:20 
   10  3735 Dan Herman               27 M WASHINGTON DC           27:23 

MALE AGE GROUP: NET TIME - NET PACE 01 - 19
    1   719 Justin Ahalt             17 M College Park MD       27:54 27:54  5:37 
    2  2989 Alexander Waldt          18 M Baltimore MD          28:25 28:25  5:43 
    3  5039 Matt Chung               19 M Bloomfield Hills MI   29:51 29:43  5:59 

MALE AGE GROUP: NET TIME - NET PACE 20 - 24
    1  5038 Jordan Megna             21 M Bloomfield Hills MI   29:31 29:23  5:55 
    2  5213 Alexander Sciacca        20 M Fairfax Station VA    29:38 29:32  5:57 
    3  5034 Tim Doughtery            20 M Bloomfield Hills MI   30:44 30:35  6:09 

MALE AGE GROUP: NET TIME - NET PACE 25 - 29
    1   721 Alec Friedhoff           27 M Washington DC         28:21 28:20  5:42 
    2  1624 Barry McCarron           29 M Washington DC         28:36 28:35  5:45 
    3  3644 Sean Wilson              25 M Sterling VA           29:42 29:39  5:58 

MALE AGE GROUP: NET TIME - NET PACE 30 - 34
    1  1497 Kevin Foley              32 M Bethesda MD           28:46 28:45  5:47 
    2  4044 James Du Vernay          31 M East Rutherford NJ    29:24 29:22  5:55 
    3  2527 Monte Hawkins            34 M Arlington VA          29:54 29:52  6:01 

MALE AGE GROUP: NET TIME - NET PACE 35 - 39
    1  4808 Keith Freeburn           37 M Centreville VA        28:11 28:11  5:41 
    2  1086 Marc McDonald            38 M Alexandria VA         28:13 28:12  5:41 
    3  2977 Brian Beary              36 M Washington DC         28:57 28:56  5:50 

MALE AGE GROUP: NET TIME - NET PACE 40 - 44
    1  4311 Jose Diaz                40 M Bethesda MD           30:01 29:59  6:02 
    2  3121 Chris McKee              43 M Vienna VA             30:53 30:51  6:13 
    3  2118 David Venables           44 M Bethesda MD           31:18 31:12  6:17 

MALE AGE GROUP: NET TIME - NET PACE 45 - 49
    1  3115 Kevin Lynch              45 M Chantilly VA          29:32 29:31  5:57 
    2  2903 George Lane              45 M Ashburn VA            30:22 30:21  6:07 
    3  3528 Howard Frost             46 M Falls Church VA       30:30 30:28  6:08 

MALE AGE GROUP: NET TIME - NET PACE 50 - 54
    1    23 Jean-Christophe Arcaz    50 M Rockville MD          28:44 28:43  5:47 
    2   863 Paul Ingholt             51 M Vienna VA             33:12 33:08  6:40 
    3  5111 Wiliam Coquelin          52 M Alexandria VA         33:53 33:45  6:48 

MALE AGE GROUP: NET TIME - NET PACE 55 - 59
    1  3535 Dave Buzzell             57 M Middletown MD         32:36 32:34  6:33 
    2  1088 Lennie Carter            58 M Washington DC         33:45 33:43  6:47 
    3  4664 John McMackin            59 M Chevy Chase MD        36:15 35:58  7:15 

MALE AGE GROUP: NET TIME - NET PACE 60 - 64
    1    21 Malcolm Senior           60 M New Market MD         32:41 32:39  6:34 
    2  1012 Robert Taylor            61 M Alexandria VA         37:14 36:59  7:27 
    3  2121 Charles Divan            61 M Washington DC         39:10 39:07  7:52 

MALE AGE GROUP: NET TIME - NET PACE 65 - 69
    1  2731 Jim Noone                67 M Fairfax VA            34:09 34:05  6:52 
    2  5532 Bob Chase                66 M Falls Church VA       35:58 35:53  7:13 
    3  5390 John Sullivan            66 M Washington DC         42:56 39:59  8:03 

MALE AGE GROUP: NET TIME - NET PACE 70 - 74
    1    25 Gerry Ives               72 M Washington DC         36:25 36:22  7:19 
    2    28 Chan Robbins             74 M Arlington VA          40:45 40:42  8:12 
    3  1228 John Gluck               74 M Alexandria VA         41:15 41:10  8:17 

MALE AGE GROUP: NET TIME - NET PACE 75 - 79
    1   491 Alan Rider               75 M Reston VA             44:29 44:27  8:57 

MALE AGE GROUP: NET TIME - NET PACE 80 - 99
    1    59 Edward Green             80 M Washington DC         68:54 65:39 13:13 

MALE FIRST TIME RACER: NET TIME - NET PACE 1 - 99
    1  3622 Brad Serwer              38 M Bethesda MD           29:22 29:20  5:54
FEMALE 
    1     2 Claire Hallissey         28 F ARLINGTON VA            29:18 
    2     9 Barb Fallon Wallace      38 F ALEXANDRIA VA           29:50 
    3  4577 Nikeya Green             29 F CENTREVILLE VA          30:21 
    4     6 Kelly Swain              26 F ARLINGTON VA            30:35 
    5    12 Alisa Harvey             46 F MANASSAS VA             30:52 
    6  3585 Elizabeth Laseter        23 F WASHINGTON DC           31:03 
    7  2491 Emily Buzzell            26 F WASHINGTON DC           31:15 
    8  3760 Mijiko Phelps            41 F OAK HILL VA             31:54 
    9   625 Cristina Burbach         37 F WASHINGTON DC           31:55 
   10  5694 Laura Zeilinger          39 F WASHINGTON DC           32:16 

FEMALE AGE GROUP: NET TIME - NET PACE 01 - 19
    1  5045 Clare Murphy             18 F Bloomfield Hills MI   32:31 32:23  6:31 
    2  3310 Katriona McNeill         14 F Chevy Chase MD        36:05 35:53  7:13 
    3  5042 Elyssa Skeirik           18 F Bloomfield Hills MI   37:29 37:20  7:31 

FEMALE AGE GROUP: NET TIME - NET PACE 20 - 24
    1  2183 Danielle Schaub          24 F Washington DC         37:54 33:17  6:42 
    2  4033 Monique Girard           21 F Billerica MA          33:33 33:23  6:43 
    3   324 Jessica Girard           23 F Washington DC         33:38 33:27  6:44 

FEMALE AGE GROUP: NET TIME - NET PACE 25 - 29
    1  1988 Phoebe Markle            27 F Alexandria VA         32:33 32:30  6:33 
    2   420 Alison Deboer            25 F Arlington VA          33:01 32:58  6:38 
    3  1698 Caitlin Catella          26 F Washington DC         33:26 33:21  6:43 

FEMALE AGE GROUP: NET TIME - NET PACE 30 - 34
    1  5612 Jen Yip                  31 F Washington DC         32:32 32:23  6:31 
    2  4061 Rebecca Powell           34 F Alexandria VA         34:48 34:42  6:59 
    3   716 Lindsay Hauer            31 F Washington DC         35:34 35:29  7:09 

FEMALE AGE GROUP: NET TIME - NET PACE 35 - 39
    1  5367 Jen Sober                38 F McHenry MD            32:26 32:25  6:32 
    2   494 Nancy Eiring             38 F Washington DC         32:46 32:43  6:35 
    3  4077 Julie Sapper             38 F Rockville MD          34:16 34:12  6:53 

FEMALE AGE GROUP: NET TIME - NET PACE 40 - 44
    1  3946 Samantha Cole            43 F Arlington VA          32:36 32:34  6:33 
    2  4891 Anne Bliss               44 F Burlington VT         33:04 33:02  6:39 
    3  3402 Sandrine Falgon          40 F Washington DC         33:19 33:18  6:42 

FEMALE AGE GROUP: NET TIME - NET PACE 45 - 49
    1   570 Karen Kalber             46 F Crofton MD            36:02 35:41  7:11 
    2   833 Teresa Lent              49 F Arlington VA          36:12 36:02  7:15 
    3  2240 Joanna Schmickel         49 F Arlington VA          37:35 37:11  7:29 

FEMALE AGE GROUP: NET TIME - NET PACE 50 - 54
    1  4743 Deedee Loughran          53 F Herndon VA            33:20 33:17  6:42 
    2    22 Win Persina              51 F Washington DC         34:59 34:56  7:02 
    3  5151 Linda Rotunno            52 F Washington DC         38:23 38:03  7:40 

FEMALE AGE GROUP: NET TIME - NET PACE 55 - 59
    1  2912 Ofelia Perotti           55 F Alexandria VA         39:11 38:45  7:48 
    2   733 Merrilee Seidman         57 F Alexandria VA         41:01 41:01  8:15 
    3   520 Marcy Foster             57 F Reston VA             45:59 41:09  8:17 

FEMALE AGE GROUP: NET TIME - NET PACE 60 - 64
    1  2971 Ginny Hughes             61 F Warrenton VA          38:34 38:33  7:46 
    2  1786 Jane Sparnon             60 F Arlington VA          42:52 42:38  8:35 
    3  3974 Mary Fredlake            61 F Washington DC         51:30 45:20  9:08 

FEMALE AGE GROUP: NET TIME - NET PACE 65 - 69
    1  5638 Linda Kearney            65 F Oak Hill VA           44:35 42:52  8:38 
    2  3090 Pat Welch                67 F Vienna VA             49:31 47:47  9:37 
    3  1581 Nancy Malan              66 F Washington DC         53:44 53:25 10:45 

FEMALE AGE GROUP: NET TIME - NET PACE 70 - 74
    1  5232 Helenann Phillips        74 F Arlington VA          56:40 53:27 10:46 
    2  2679 Susan McGregor           70 F Washington DC         77:57 71:45 14:26 

FEMALE AGE GROUP: NET TIME - NET PACE 75 - 79
    1  5112 Ann Coquelin             77 F Alexandria VA         61:57 57:31 11:35 

FEMALE FIRST TIME RACER: NET TIME - NET PACE 1 - 99
    1  4033 Monique Girard           21 F Billerica MA          33:33 33:23  6:43
0
Comments