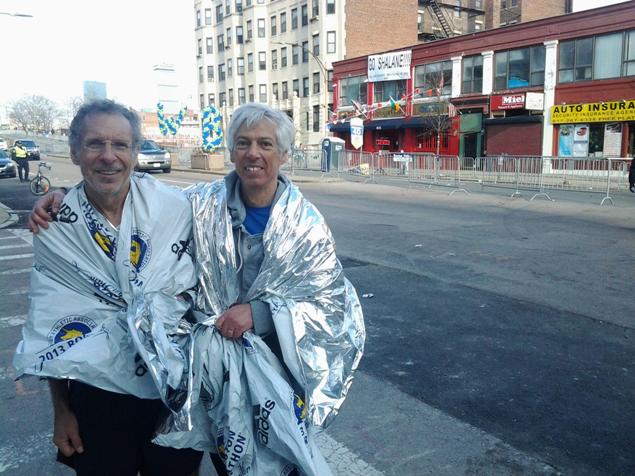 Don't feel sorry for Ben Beach.
Yes, his goal of a string of 45 consecutive Boston Marathon finishes seemed to end on a closed course just miles from the finish line last year, where two bombs rocked the city and the nation. And yes, a 46th consecutive finish would have made Beach, from Bethesda, the sole record holder for consecutive finishes, an achievement he had worked toward all of his adult life. He didn't get to cross the finish line as planned and for two months, his streak's fate was in limbo.
But the Boston Athletic Association decided to consider the more than 5,000 runners on the course after the race was cut prematurely short, "finishers."
"I think all of us with long streaks take the BAA's view that our streaks grew by one year in 2013," he said, a week before he starts number 47.
But Beach, a man who embodies the tradition and ideals of the Boston Marathon, is defined by neither the race nor his remarkable streak. Given the gravity of that day, he can look past what would have been a culmination of 1,205.2 racing miles on the same stretch of roads.
"First of all, we're talking about a day on which three people lost their lives and 270 others were injured, many severely," Beach says. "So for me to talk about my run and the streak feels hollow."
Perhaps. But the Boston Marathon, before the bombs, anyway, was a nice little race in its own right, with champions – anyone remember Lelisa Desisa and Rita Jeptoo? – thousands of qualifiers and hallowed, not hollow, history and records.
Beach was set to own outright a remarkable piece of that history with this year's run. Since his first Boston as an 18-year-old Harvard freshman in 1968, Beach competed in lockstep – albeit one year behind – with Pennsylvanian Neil Weygandt, each runner doggedly starting and finishing every year. But age and injuries finally caught up to Weygandt, who ended his streak by sitting out the 2012 race. Upon completion of the marathon last year, Beach tied Wygandt's record at 45 straight finishes.
As if it were that easy. The early decades featured a string of sub-2:40 finishes, including his Boston-best of 2:27 in the 1983 race. But 11 years ago Beach developed a hitch in his stride, diagnosed as dystonia, a neurological disorder related to Parkinson's Disease. The problem made training difficult and forced Beach to curtail his weekly mileage. In more recent years, pre-marathon long runs have been no longer than the Cherry Blossom Ten Mile Run in Washington just prior to Boston.
Beach credits the streak's current longevity to treatment at the nearby National Institutes of Health, where he is part of a long-term study and receives regular Botox injections that partially block spasm signals from the brain to the left hamstring. Beach walks with a slight limp and his training runs have grown necessarily shorter; these days he maintains most of his cardiovascular fitness through cycling and an elliptical trainer. Fifteen days before this year's Boston, Beach completed his Cherry Blossom long run in 1:30:33. Would anyone be surprised to learn that Beach is the only runner to have completed every Cherry Blossom race since its inauguration in 1973?
So with family and friends scattered along the Boston course, Beach set out from Hopkinton with longtime friend, training partner and Cherry Blossom race director Phil Stewart. "We had planned on running in the 4:30 to 4:45 range, a time that would have put us at the finish a half hour after the bombs went off," Stewart said. "But Ben was nursing a calf problem, and at 10 miles he felt a sharp jolt of pain through his calf, reducing us to a quick walking pace. At 17 miles, two of his three kids and a daughter-in-law joined us – I felt as if we had a guided escort into town."
But by the time the entourage reached the 21 Mile mark, it was past 2:50 p.m. and the area around the finish line had devolved into chaos. As Beach and his crew passed Boston College, volunteers joined hands in the middle of the road, halting the race and announcing a temporary suspension.
"We had heard something about explosions near the finish line," Beach said. "At first we didn't know how seriously to take it. Then we heard sirens, saw police motorcycles, trucks and cars blow by us. Something was clearly not right…. We were on pace to finish in less than six hours, which is the last official time recorded. When the course was sealed off, we gathered, stood, sat and scratched our heads."
The gravity of the situation slowly became clear. With a fading cell phone signal and before all such transmissions were halted, Beach's son Carter accounted for Beach's wife, brother, sister-in-law and friends waiting near the finish line. "That was a tremendous relief," Beach said. "We had some close calls but overall we were very lucky." But for a blown-out calf, Beach, his family and friends could have found themselves in the middle of serious trouble.
"It was a good day to be bad," Stewart said.
"I'll abide by whatever [BAA officials] say," Beach said. "Boston has been such a wonderful part of my life and the BAA is always so accommodating for those of us who don't technically qualify anymore. No matter what happens to the streak, I'll be back."
Actually, when pressed, Beach admits he's got his sights set on another Boston milestone – one perhaps even more Ruthian than consecutive finishes. The great Johnny Kelley started 61 Boston Marathons and finished a record 58 times; depending upon how the 2013 race is officially recorded, and, of course, what the future holds, Beach would be 76 when he lines up for what could be his 59th finish.
"Now I'm not comparing myself to Johnny Kelley," Beach added quickly. "He was a two-time Olympian and twice won Boston. [His starts and finishes] are a mind-blowing pair of numbers, in a different era, with different shoes, different everything."
Beach has already matched Kelley at 17 for the number of sub-2:40 finishes. "But I don't expect to run an 18th," he said.
Look for Ben Beach at the starting line of next year's marathon. And the one after that, and after that, and….
"My plan has always been to run Boston as long as I can do it," Beach said. "It's conceivable I'll still be going but the body's got to hold up. At each stage, you never know what's going to happen."
Now he's in his best condition of the last few years. On April 21, he'll get that chance to do what has hasn't in two years — cross the finish line.
"It'll feel better than usual, I know that," he said. "It'll feel a lot better.
0
Comments
By Dickson Mercer
Washington, DC
April 1, 2012
For the Washington Running Report
Main field gets underway.
A year after Frank Shorter took gold at the 1972 Munich Olympics and ignited the first running boom, fewer than 200 people showed up on a muggy day for the inaugural Cherry Blossom Invitational Run. Billed as a final tune-up for the Boston Marathon, the founders believed 10 miles was the perfect distance. Ten miles. It was long enough to provide an adequate test. It was not, however, long enough to [button-red url="http://www.cherryblossom.org/aboutus/results.php" target="_self" position="left"] Results [/button-red]leave runners feeling "too pooped out," according to the Credit Union Cherry Blossom Ten Mile Run's 40th anniversary race program.
One runner tearing up the local scene back then was Phil Stewart. Stewart, in fact, was this region's top finisher at the 1975 Boston Marathon.
Stewart is now race director of the Credit Union Cherry Blossom Ten Mile Run, a race that now attracts tens of thousands in celebration of "the Runner's Rite of Spring" and over the years has showcased the best of the best – be it in the world, in America, or within the local scene.
Bethesda's Ben Beach today finished his 40th Credit Union Cherry Blossom, a feat he shares with no one else.
This year's event celebrated that history and more. Past champions who spoke at the expo Friday and Saturday and raced today included Bill Rodgers, who, in addition to winning the New York City and Boston marathons four times apiece between 1975 and 1980, won four Cherry Blossoms in a row starting in 1978.
There was Greg Meyer, who set the American record (46:13) here in 1983 before becoming the last American to win Boston.
There was Carl Hatfield, who won the race in 1974 and 1975.
There was Credit Union Cherry Blossom course recorder Colleen De Reuck and 1984 Olympic Marathon gold medalist Joan Benoit Samuelson (left).
Samuelson was 28th today in 1:02:27. At 54, her time was almost 10 minutes faster than the inaugural winning time set by women's running pioneer Kathrine Switzer.
Today, 174 women ran faster than Switzer's time from 1973. Today, Dave Burnham's time of 51:23 would have put him right on the heels of Sam Bair, the inaugural men's winner.
Burnham, who lives in Arlington and races for Georgetown Running Company, was 17th.
Men's race: Training partners set the pace
Last year it was nine miles of back-and-forth battling with Ethiopia's Lelisa Desisa, a battle that Kenya's Allan Kiprono (photo below of Kiprono winning in 2012) ultimately lost.
At this year's Credit Union Cherry Blossom, it was Kiprono's turn to take the lead, and the win. By the time he and his training partner Lani Kiplagat passed the one-mile mark, they already held a decent-sized lead on the rest of the field. But as that lead on Kenya's John Korir – a three-time Credit Union Cherry Blossom winner – increased, Kiplagat turned to his teammate and offered a suggestion.
"I told him, 'Allen, let's maintain the pace. Don't reduce the pace. Let's push," Kiplagat said.
Push they did – but the day ultimately proved to be Kiprono's. Taking advantage of perfect racing conditions, the 22-year-old soared to the lead shortly after 5K and lowered the event record to 45:15, this year's fastest time in the world for 10 miles. Kiplagat, meantime, came through in 46:28.
Korir, who at 36 has more than a decade of racing in his legs than Kiprono and Kiplagat, was third in 47:33. Still, he was unfazed. "Now I know these guys are so tough," he said. "I'll catch up in other races."
After falling off the pace set by Kiprono and Kiplagat, Korir fell back to the chase pack, then managed to hold off Ian Burrell, 27, of Tucson, AZ by just a second. This was Burrell's first race since January's U.S. Olympic Marathon Trials, where he was 15th in 2:14:04.
Burrell said he struggled with allergies. In other words, as he settled into a pack with Korir and Jesse Cherry, 24, of Blowing Rock, NC, the best he could do was hang on while Cherry did most of the leading. Then, at the 800 meters to go sign, Burrell dug up some leg speed. "I was just kind of gritting my teeth and thinking about all the diapers I could buy with the prize money," he said.
As top American, he earned an extra $1,000 in prize money.
Cherry, who finished fifth in 47:40, was also running his first race since the Trials, where he was 16th in 2:16:31.
Top American runners Josh Moen, 29, of Minneapolis, MN and Patrick Rizzo of Boulder, CO finished 7th and 8th in 48:38 and 49:14, respectively. They were followed by two runners from Washington, DC, Pacers' Stephen Hallinan (left), ninth in 50:18 and Paolo Natali, 10th in 50:44.
A top local runner and Olympic Trials qualifier, Hallinan's 10-mile best is more than a minute faster than what he ran today. As with Burrell though, Hallinan cited allergy difficulties.
"I knew kind of a mile in, it was going to have to be one of those days where I tough it out, so I was trying to hang on to five-minute pace the best I could," said Hallinan, who ran alone starting a quarter mile into the race.
Women's race: Tinega repeats
In the elite women's race, which started 10 minutes before the rest of the field, Kenya's Jelliah Tinega dismissed her competitors even earlier in the race than Kiprono to win in 54:02.
It was her second straight title. Tinega said she will return next year to go for a three-peat.
Places two through five were separated by just 13 seconds with Malika Mejdoub, 29, of Ethiopia coming out ahead in 54:24.
Mejdoub was followed by Yihunlish Delelecha, 30, of Ethiopia in 54:33 and Agnieszka, 26, of Poland in 54:36.
The top local finisher, Claire Hallissey, 29, of Arlington, who was fifth, was just a second behind Agnieszka. The next race for the England native is the Virgin London Marathon on April 22. There, Hallissey, who has a marathon best of 2:29:27, is hoping to put up a performance that establishes a solid case for claiming a spot on England's Olympic marathon team.
Still, this race holds special meaning for her, Hallissey said. Credit Union Cherry Blossom was her first race in the District after she moved here a couple of years back and she would like to return one day with fresher legs.
"I want to come back and finish in the top three," she said.
Top American honors went to Stephanie Pezzullo, 29, of Charlotte, NC, who finished sixth in 55:16. Pezzulo was followed by Kristen Zaitz of Boulder, CO, who ran 55:24, and Emily Harrison, formerly of Front Royal, VA, who ran 56:04. Harrison now trains in Flagstaff, AZ.
After Hallissey, the next local was Georgetown Running Company's Andrea Garvue. The 27-year-old Chevy Chase resident caught a side stitch early in the race. In the second half, feeling stronger, she hooked up with a pack that pulled her along to a time of 58:50, good for 12th overall.
Meanwhile, in the master's division, competition was stiff. Fourteen years ago, DeReuck (below) set a world record time here of 51:16. Today, at 47, the Boulder, CO was top master – and 10th overall – in 58:14.
0
Comments