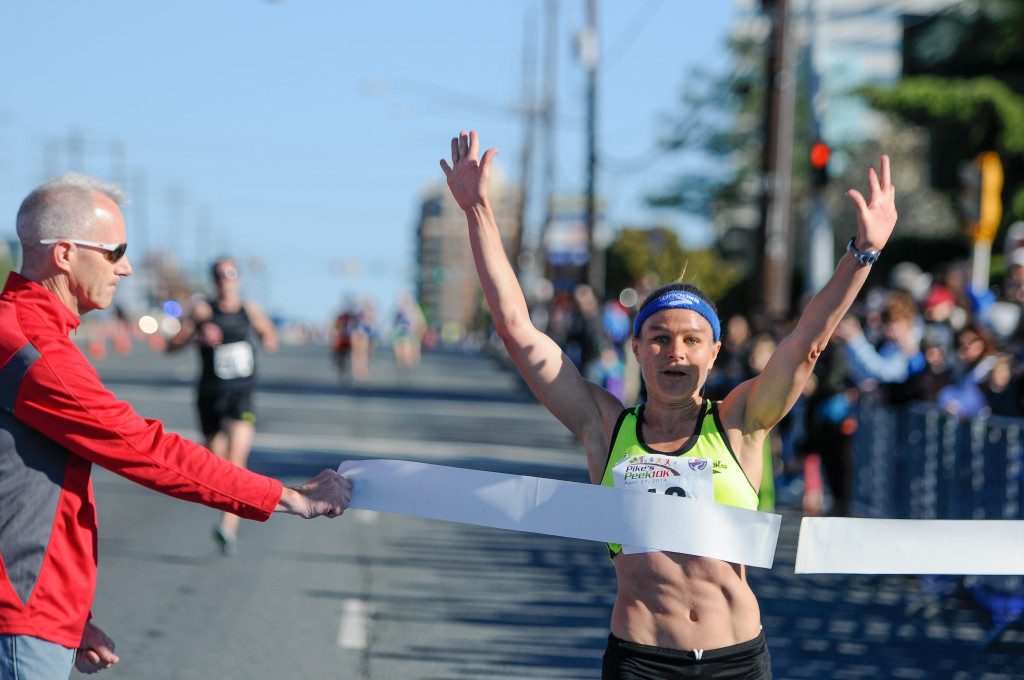 The fourth try was the charm for Christine Ramsey, who broke the tape at the Pike's Peek 10k Sunday morning in 34:43.
The Baltimore runner debuted here in 2008, finishing 5th in 36:19.  Four years later, she returned, running more than 90 seconds faster but finishing two spots lower. Last year, another solid showing got her 11th.
Enter 2014.  This morning, two miles in, Ramsey, 31, found herself in the lead pack with about half a dozen women all running well under six minutes per mile. "I felt pretty strong, so I picked it up," she said. "They were still pretty close behind me, but nobody went with me."
[button-red url="https://www.mcrrc.org/pikes-peek-10k-8″ target="_self" position="left"] 10k Results [/button-red] At mile 4, Ramsey surged again, holding onto a slim lead over Alexandria's Lindsay O'Brien, on the way to a new personal best of 34:43 and a $500 pay day. "It was great because we pushed each other," she said of her competitors.
Ramsey, as of late, has been more focused on reaching the finish line of her PhD program than on trying to win races. She recently turned in her dissertation; the defense is in two weeks. "So it felt good to have a good race," said Ramsey, who will move to New Haven, Conn., soon to start a post-doctoral position.
All but 70 seconds separated Ramsey from Selamawit Lemma in 5th. O'Brien was 2nd; it was her second-straight sub-35-minute showing here. Columbia's Julia Roman-Duval was 3rd in 35:05, followed by Loring Crowley of Winston Salem, N.C., in 35:23. Kensington's Cindy Conant, 53, was the top master in 38:08.
On the men's side, Nahom Mesfin, running his first Pike's Peek, took the lead early and never looked back. He was all alone, pumping his arms on the long downhill to the finish line and waving to the crowd, winning in a net time 28:28, 22 seconds off Julius Kogo's event record set in 2011.
Mesfin, a former Olympic steeplechaser, is living in Alexandria, and is transitioning to longer races, he said.  To that end, he recently returned from a four-month training trip to his native Ethiopia.
Early in the race, Mesfin questioned the feedback he was getting from his watch, he said. He was seeing kilometer splits in the low 2:30s, but the pace felt a slower than that, he said. "I was not in a good mood."
Less than a half hour later, his mood had changed.
"I am so excited, and so happy," said Mesfin, who had been disappointed with his performance at the Cherry Blossom Ten Mile Run earlier this month.
Baisa Moleta, also of Alexandria, was 2nd in 29:04, followed by Dereje Deme of Silver Spring in 29:09. Gurmessa Megerssa, a Washington, D.C., resident via Ethiopia who reigned supreme over the local roads in 2006 and 2007, closed hard down the final straight to clock 29:19. Getachew Asfaw of Silver Spring rounded out the top five.
Bethesda's Conrad Laskowski, 7th in 30:12, ran with the lead pack early on alongside Gaithersburg's Chris Sloane, 8th in 30:33.
"I was trying to run under 30," Laskowski said. "Came up a little short, but I am happy with it. It's a PR."
Philippe Rolly, 41, of McLean, was top master in 31:37.
Downhill, fast, and cool
For Pike's Peek, runners start on Redland Road near the Shady Grove Metro station, make a quick left on Route 355 and bee-line it south past the White Flint station, where a big downhill covers the last .2 miles. "It is probably the fastest 10k you can get without going on the track," Ramsey said.
That, as it happens, is only part of its appeal. In addition to professional-level competition, former race director Jean Arthur can only remember two years when this Montgomery County Roads Runners event had bad weather. This year, the temperature was cool, and the way the finish line banner was flapping, you knew the wind was at runners' backs.
"I ran it for the first time last year, and I thought it was so good I came back again," said Brian Carlson, a nine-time marathoner who started running in 1988. The Reston Runners member, who is 67, likes the net-downhill course. Plus, he said, "It's a very well-run race."
"You know it's net downhill, so you know you're going to get a pretty good time," said Jody Gil, who came close to achieving her goal of breaking 53 minutes.
Gil ran with her longtime friend Jared Sher for six-plus miles. "He turned on the guns at the end," she said.
Leland Hao ran the race with his son, Kelvin Hao, 11. It was Kelvin's first 10k, and the smile on his face afterward suggested he'll have no problem finishing the Disneyland 10k in late August.
When Kelvin's younger sister was hospitalized for cephalitis, he met other kids his age fighting a rare childhood disease called ataxia-telangiectasia, also referred to as Louis-Bar syndrome, Leland Hao said. In Anaheim, Calif., Kelvin's race will raise money for the A-T Children's Project, which seeks a cure.
The race had a wave start to accommodate about 2,500 participants, and for the first time offered pacing teams. Bethesda's Danny George, typically a 36-minute 10k runner, helped about 10 runners meet their goal of breaking 45 minutes.
"I just wanted to stay even and give them a little head start," George said. "That way, once they got to the top of the hill, they could just coast right in."
0
Comments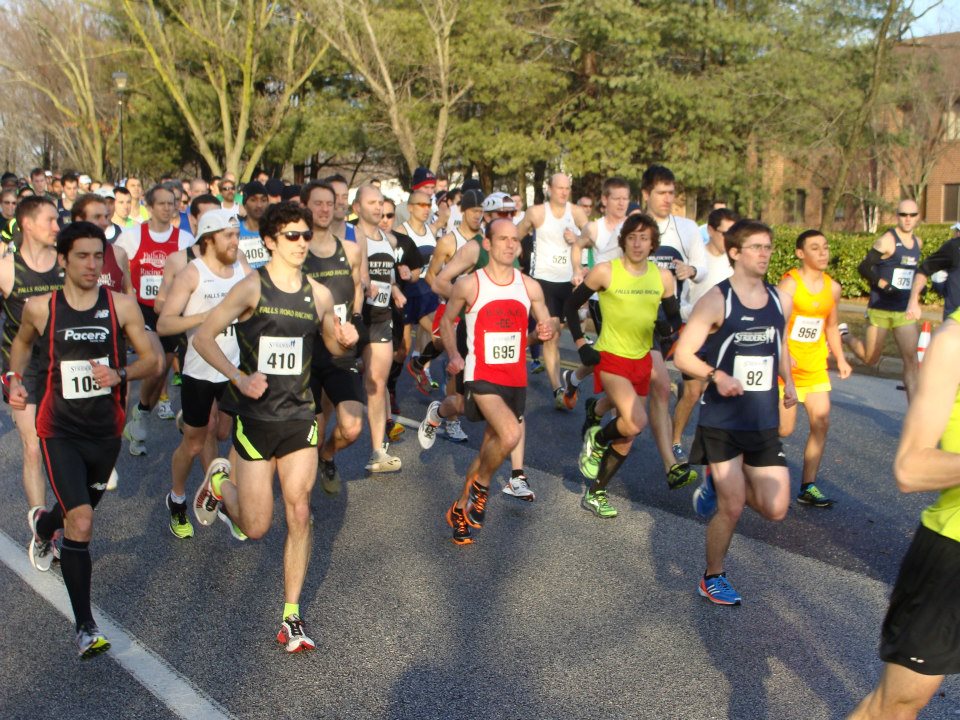 In 1980, Dave Tripp, then Howard County Striders' president, was out for a Sunday morning run near the Howard Community College when he spotted dozens of runners. Shocked to see a race he didn't know about on Howard County Strider turf, Tripp went to investigate. It turned out that the Baltimore Road Runners Club and DC Road Runners Club were competing in a challenge race [button-red url="http://www.striders.net/races/rrca/2013″ target="_self" position="left"] Results [/button-red]located halfway between Baltimore and Washington.
"I went up to the president and said, 'look, if you're going to come out here and run, you have to let us run,'" Tripp said.
In exchange for a promise to host the race, the Howard County Striders were allowed to compete the following year. Thirty-three years later, the RRCA Ten Mile Challenge is now open to several Maryland-based running clubs and the DC Road Runners Club.
The Falls Road Running team scored a narrow victory over the Howard County Striders, 557-559. The Falls Road duo ofMelissa Majumdar and Christine Ramsey helped the Baltimore-based club prevail over the strong lead the host men's team scored with four of the top five men's spots, lead by Ellicott City native Brian Harvey's 51:00 victory.
Harvey lives in Boston, following a stellar career at Carnegie Mellon University, but has been a Striders member since he was four.
"My mom still runs for the club and she  and other members encouraged me to come home and race this with them," he said. "It was overall a fun experience and cool to catch up with a lot of people."
Harvey took the race out in 4:50 and went through 2.5 miles with teammate Kyle Stanton and Falls Road's Dave Berdan before breaking away on a long downhill. After averaging five minutes per mile for the first half, he slowed to 26 minutes in the hillier second half.
"You couldn't have asked for better running weather," said Trish Cunningham, 49 of Annapolis, Md. "It's not cold and it's not hot."
Though it was Cunningham's first time competing in the RRCA Ten Mile Club Challenge, she competes in several Annapolis Striders events every year—and she doesn't compete alone.
She inspired her daughter, Avery, 14, and son Ben, 17, to also get involved with the Annapolis Striders Club and compete in this race. The three of them waited together at the finish line for Cunningham's husband who wasn't far behind.
With a 40-degree temperature, clear blue sky and plenty of sunshine to go around, the RRCA Ten Mile Challenge was not only a sneak preview of spring weather but also of spring season competition.
"This club challenge is a good warm-up race for April competition," said James Blackwood, 28 of Ellicott City, Md. "We're six weeks out from Cherry Blossom, I know where I'm at now and can set a reasonable goal."
A long-time member of the Howard County Striders, this year marked Blackwood's 10th RRCA Ten Mile Club Challenge.
"There were good vibes all around," said Nicole Deziel, 36 of Columbia, Md. "The local clubs keep coming back because it's a good tune-up for the season."
After five years of competing in the RRCA Ten Mile Club Challenge with the Montgomery County Road Runners Club, Deziel said it's her favorite race.
"There are hills, a bunch of twists and turns," Deziel said. "The course makes for great racing."
After eight years of competing in the RRCA Ten Mile Club Challenge, Kimberly Price, 40 of Gaithersburg, Md. enjoyed the healthy competition between all of the teams.
"The Howard County Strider volunteers cheered for everyone," Price said. "They were very supportive."
With nearly 1,000 runners competing in 17 clubs, it's a good thing Tripp stumbled on a race that went on to become one of the largest club competitions in Maryland and one that leaves many runners with an optimistic view of the season ahead.
0
Comments
By Brenda Barrera
Washington, DC
March 26, 2011
For Washington Running Report
Long lines of racers get underway.
Under clear skies, chilly race temperatures in the 30s, and the backdrop of the RFK Stadium, more than 13,000 runners finished this year's SunTrust National Marathon, CareFirst BlueCross BlueShield National Half Marathon, and United Way National Team Relay in the Nation's Capital, setting an all-time record number of participants.
SunTrust National Marathon
While it may not have been a surprise to local fans that Michael "Mr. National Marathon" Wardian earned his fifth SunTrust National Marathon title in six years, this running icon never takes anything for granted. Coming off a disappointing third place finish at the Yuengling Shamrock Marathon last week, the Arlington runner had a look of determination as he lined up at the start.
"I was not happy with my last race so I took off my watches for this one," said Wardian who usually wears more than one watch when he races. His strategy of "attacking each mile" paid off with a 2:23:01 victory, but his main goal is to run a 2:19:00 qualifying time for the U.S. Olympic Marathon Team Trials.
How is this win compared to his other four at this event? "This was really special," said Wardian as he held his two boys, Pierce and Grant, in each arm after completing the 26.2-mile race.
Canadian Greg Wieczorek, 29, finished five minutes later in 2:28:08.  Compared to racing in the far north Wieczorek quipped, "This is beach weather!" He stayed at the finish to greet his wife, Maura, 29, who notched a seven minute PR with her 3:06:05 finish. Another familiar runner from the local scene is Wilson Komen. He finished third in 2:31:00, despite missing the marathon split-off and ran with the half marathoners before realizing his mistake and turning back to get on the right course.
In the women's competition, Russian Nadezhda Tuptova, 35, who is training in Gainesville, FL, won in 2:50:53. Virginia Beach's Renee High, 29, (photo) took second place in 2:53:05 and Beth Woodward, 35, from Orrville, OH rounded out the top three in 3:01:26.
Chris McDonald, 51, from South Riding, VA was the lone wheelchair competitor. He completed the marathon in 3:08:17.
For Yvette Ju (Rockville, MD) today's race was extra special. She celebrated her birthday with 2,866 other marathoners, finishing in 4:29:42. It was also Casey Simpson's (Columbia, MD) birthday and she  ran a 1:55:42 half marathon to celebrate her big day. Other half marathon birthday runners included Douglas Edgecomb (Washington, DC) who finished in 1:52:24 and Sam Hadley (Arlington, VA) who ran 2:39:31. Ryan Leirvik (Arlington, VA) also completed the half marathon and wanted to let everyone know it was his big day. He wore a t-shirt that had this on it: "My name is Ryan and today is my birthday!"
CareFirst BlueCross BlueShield National Half Marathon
As with the marathon, it was a local finisher who broke the tape first followed by a Canadian. Gurmessa Mergerssa, 31, from Washington, DC (photo) finished just ten seconds ahead of Canadian Adam Hortian, 1:07:16 to 1:07:26. Mergerssa also won the Scope It Out 5K in 14:55 last weekend. Defending champion Mark Fruin, 25, from Bloomington, IN did not run nearly as fast as he did last year and had to settle for third place in 1:08:15.
Christine Ramsey described 2010 as an "off" year. If this race is any indication, 2011 looks to be an "on" year. The 28-year-old from Baltimore won in 1:17:01. Tezeta Dengersa, 30, from Butsonville, MD finished second in 1:17:15. Local ace Maggie Infeld, 24, from Washington, DC was all smiles after today's race with her 1:18:28 finish.
To see Rachael Holt and Christina Glasener, 16, (photo below) together you might think they were related since they look alike and both finished in 1:42. Holt was beaming as she introduced Glasener, "I'm so proud of her!" But they aren't related. Holt mentors Glasener in the popular Teens RunDC program, which empowers at-risk youth to envision and work toward achieving their personal goals through mentoring and a distance running program.
Many of the participants in today's events support various charities like T.J. Senker, 34, from Baltimore who was running in support of Back On My Feet Baltimore, a nonprofit organization that works with the homeless to build confidence, strength, and self-esteem through running. "Volunteering with this group is really rewarding and inspiring," he said after finishing the half marathon.
In addition to these two events were the Kids RunDC Monumental Mile and the United Way National Team Relay consisting of three participants with two runners completing 5 miles and the final runner finishing the last 3.1 miles. The Excella-Team from Arlington won in 1:26:34 (6:37 pace). In all, 274 teams competed this year.
For additional coverage, be sure to check out the May/June issue ofWashington Running Report: The Runner's Source for DC, MD & VA.
Marathon

Top Five Men Overall

Place Guntime Name                    Age Bib#  City State                  
===== ======= ======================= === ===== =========================== 
    1 2:23:01 Michael Wardian          36     1 Arlington VA                
    2 2:28:08 Greg Wieczorek           29     8 Halifax NS CAN              
    3 2:31:00 Wilson Komen             33     5 Washington DC               
    4 2:31:31 Dustin Whitlow           24     6 Arlington VA                
    5 2:33:42 Joe Kelly                25  3692 Arlington VA                
Record 2:21:17.6 by Patrick Moulton in 2009

Top Three Men Masters

Place Guntime Name                    Age Bib#  City State                  
===== ======= ======================= === ===== =========================== 
    1 2:49:10 Steven Peterson          45  2365 Fairfax Station VA          
    2 2:50:53 Thomas Jensen            47  1558 Oakton VA                   
    3 2:51:16 Sean Reilly              42  4283 Toms River NJ               

Top Five Women Overall

Place Guntime Name                    Age Bib#  City State                  
===== ======= ======================= === ===== =========================== 
    1 2:50:53 Nadezhda Tuptova         35    20 Gainesville FL              
    2 2:53:05 Renee High               29    28 Virginia Beach VA           
    3 3:01:26 Beth Woodward            35    17 Orrville OH                 
    4 3:03:12 Lisa Reichmann           36    16 Gaithersburg MD             
    5 3:03:39 Amanda West              34  3198 New York NY                 
Record 2:48:38.1 by Jeannette Seckinger in 2009

Top Three Women Masters

Place Guntime Name                    Age Bib#  City State                  
===== ======= ======================= === ===== =========================== 
    1 3:07:57 Karine Falgon            40    62 3100 Montlucon FRA          
    2 3:10:44 Cheri Fine               46  1069 Atlanta GA                  
    3 3:11:05 Claudette Augert         47   299 Edmonton AB CAN             

Half Marathon

Top Five Men Overall

Place Guntime Name                    Age Bib#  City State                  
===== ======= ======================= === ===== =========================== 
    1 1:07:16 Gurmessa Mergessa        31  5218 Washington DC               
    2 1:07:26 Adam Hortian             26  5221 Waterloo ON CAN             
    3 1:08:15 Mark Fruin               25  5233 Bloomington IN              
    4 1:08:25 Charlie Hurt             27  5223 Richmond VA                 
    5 1:08:36 Craig Schmidt            27  5257 Sheboygan WI                
Record 1:05:02 by Mark Fruin in 2010

Top Five Women Overall

Place Guntime Name                    Age Bib#  City State                  
===== ======= ======================= === ===== =========================== 
    1 1:17:01 Christine Ramsey         28  5226 Baltimore MD                
    2 1:17:15 Tezeta Dengersa          30  5219 Burtonsville MD     
    3 1:18:28 Maggie Infeld            24  5212 Washington DC               
    4 1:20:07 Laura Onderko            24  5214 Philadelphia PA             
    5 1:20:51 Emily McGregor           24  5209 Philadelphia PA             
Record 1:15:35.9 by Hirut Mandefro in 2009
0
Comments