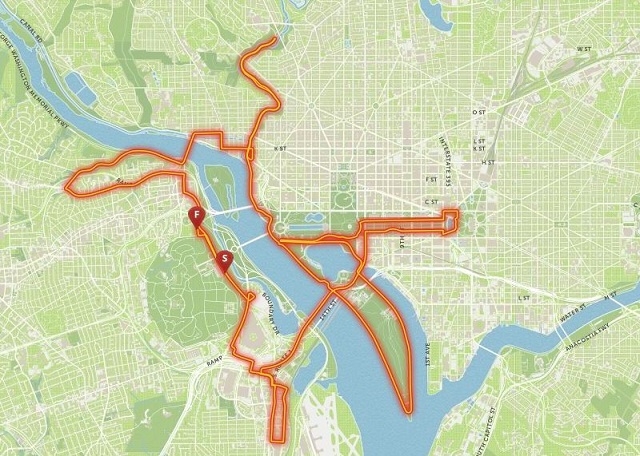 Changes to the Marine Corps Marathon course are exciting local runners and likely going to mean faster times this October.
Runners will not have to endure a big hill around the Georgetown Reservoir between miles seven and eight. Instead, from miles six through nine, runners will run up Rock Creek Parkway to the bottom of Calvert Street and back, a stretch used in the Navy and Nike Women's half marathons, as the MCM course returns to a pre-2007 design.
Race director Rick Nealis said in a press release that the new course offers "more spacious and flatter roadways."
"Georgetown," he added, "especially M Street, remains important to our runners and, annually, the hot spot for spectators and supporters."
Previously, runners turned left onto Canal Road off of the Key Bridge to Georgetown on the way to the big climb up Reservoir Road into the Palisades, past the Georgetown Reservoir and down McArthur Boulevard and Foxhall Road.  On the new course, runners will hit Georgetown's M Street earlier in the race, in mile five, before they head down to Rock Creek and Potomac Parkway and then around Hains Point.
Another change, though minor, occurs late in the race as runners loop around the National Mall. The marathon will now cover 3rd Street to Constitution Avenue. It previously routed through a parking lot on Pennsylvania Avenue alongside the Capitol reflecting pool.
Public Relations Coordinator Tami Faram said  MCM organizers "made an operational decision to make the course both safer and more scenic." Rock Creek and Potomac Parkway had been a part of the race course from 2001 to 2006.
In 2007, MCM had 20,622 finishers, about three thousand less than in 2012. The growth in participants, Faram said, made the hairpin turn at Canal Road both more difficult and congested.
In one of George Banker's binders packed with Marine Corps Marathon results, notes, clippings, and other assorted memorabilia, the race historian has a page of splits from the 1987 race.  While the MCM historian can't recall who gave him these splits, he knows they correspond to Jeff Scuffins' course record-setting victory in 2:14:01. (Scuffins went through halfway, according to Bankers' notes, in 1:06:49. Conditions were actually less than ideal, with a rising race time temperature of 60 degrees.)
Banker, who has run MCM 28 times, was nice enough to dig through this binder recently when we asked him what he thought about flatter course.  As Banker recalls, the course when Scuffins set his record, had runners starting on Route 110 in Virginia and heading south in Crystal City up 15th Street. You would end up looping back across the starting line at about 7 miles and take Route 66 over the Key Bridge to Georgetown's M Street, he explained.
Back then, you hit Mile 20 out on Hains Point; the one real hill was behind the U.S. Capitol on C Street.
"That was definitely a faster course," he said. "I would say, after that" – as construction and other factors began to require route changes – "they all become a little more difficult."
Does MCM returning to its pre-2007 design – sending runners out-and-back on Rock Creek and Potomac Parkway – make it a significantly faster course?
Two-time winner and RunWashington contributor Jim Hage told the Washington Post, "Anytime you can knock out some hills it's a good thing."
Two local runners aiming to set new personal bests in the marathon agree.
Michael Rohlf, who ran MCM from 2010 (his first marathon) through 2012, said he paid the toll of those early hills later in the race. The hills, he added, also made it tough to settle into a good early rhythm.
In his first attempt to break three hours last fall, Rohlf tired late in the race, he said, and ran 3:12. This fall, in an attempt to achieve his goal, he signed up for the Philadelphia Marathon, which he figured would give him a better shot.
"But now that the MCM course has been changed, and in my opinion improved, I really look forward to running it again – maybe next year," he said.
Colleen Lerro is entered in her third MCM this year and hopes the course change will give her a better shot at qualifying for the Boston Marathon. She ran her first MCM in 2006, before the course change.
If Lerro does not achieve her goal this year, she will be "much pickier next year" and choose a flatter course.
Regardless of the layout, though, MCM is Lerro's favorite marathon, and "the course I would love to get my BQ on," she said.
2
Comments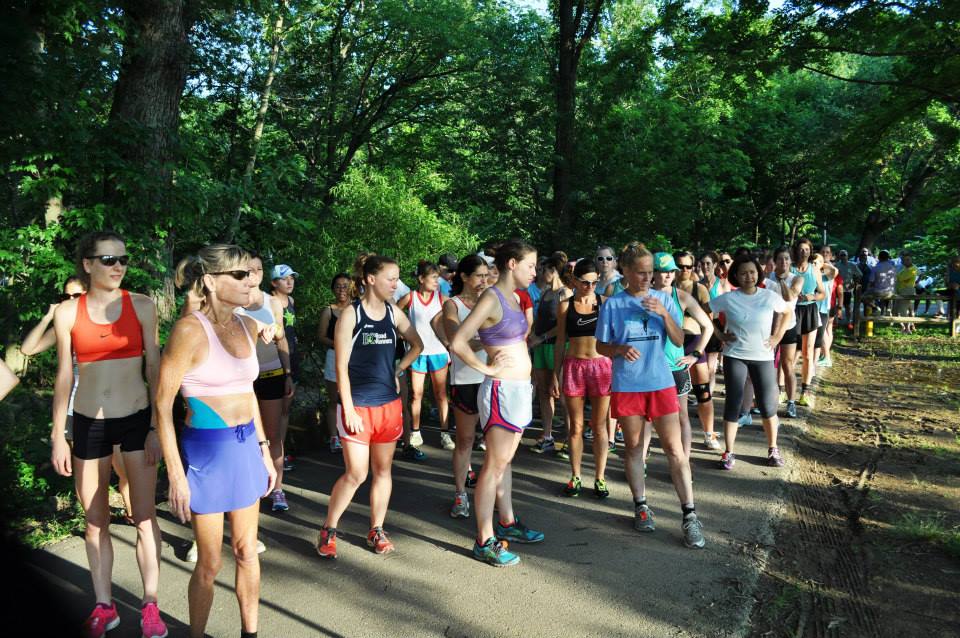 [button-red url="http://www.dcroadrunners.org/races/race-results/2013-results/2077-2013-womens-distance-festival.html" target="_self" position="left"] Women's Race Results [/button-red][button-red url="http://www.dcroadrunners.org/races/race-results/2013-results/2078-2013-run-after-the-women-5k.html" target="_self" position="left"] Men's Race Results [/button-red]
Despite already rescheduling the Women's Distance Festival 5k and Run After the Women 5k due to a scheduling conflict at Bluemont Park, dangerous temperatures nearing 100 degrees throughout the day almost left race director Alex Albertini with another predicament.
"If it was five degrees warmer, the race would have been called off for safety reasons," Albertini said. "But everyone seemed to enjoy the race in tough conditions."
The two races were part of the DC Road Runners Club's Bunion Derby Series, consisting of eight races throughout June, July and August—some of the hottest months of the year. The series is free to the club's members but in order to be eligible for a Bunion Derby age-group award in the fall, participants must volunteer with the club at least once.
Runners competed on the out and back course on the partly shaded Bluemont Park Trail in Arlington, Virginia. Though several runners had to dodge bikers on the trail, runners were satisfied with the low-key race that consisted of a steady uphill on the way out. Runners also seemed to enjoy the second half of the race, which started out with a water station and then took off on a steady downhill on the way back to the finish line.
First place finisher Anna Holt-Gosselin of Vienna, Va. did not seem bothered by the scorching temperatures while she bolted off the staring line from the rest of the pack. Holt-Gosselin held on to the lead all the way through the finish line, with a time of 19:44.
A graduate from the Massachusetts Institute of Technology, Holt-Gosselin felt well hydrated after the race, adding that she drank much more water than usual to prepare for the heat.
The men's race started 15 minutes after the women's race, dubbing it the "Run After the Women 5K." Rising senior Christopher Hoyle of Gonzaga College High School finished first in the men's race, with six of his cross country teammates close behind him.
"This is my first road race of the summer," Hoyle said. "I just wanted to go out and see what kind of shape I was in."
The DC Road Runners Club, which was voted the best 2012 running club in the Washington area by RunWashington readers, is among several running organizations in the Washington Metropolitan Area. Well known for their Saturday long-runs that kick off at the Iwo Jima Memorial in Rosslyn, Va., runners noted that they chose DCRRC out of other clubs partly because of perks like competing in the Bunion Derby Series races.
"It's an excuse to get out and meet people while having a great atmosphere," said Adam Pearlman. "And I like the friendly competition during the races."
Pearlman found some "friendly competition" during the evening race as he went head to head with another participant, each of them competing back and forth for 2.5 miles.
The Women's Distance Festival 5k and Run After the Women 5k took place on one of the hottest days of the year so far. Participants' goals in the two races varied throughout but one goal seemed to remain the same: get through the toughest months of the year to the fall running season.
Colleen Lerro is in the beginning stages of her training for the Marine Corps Marathon. She aims to qualify soon for the Boston Marathon—a goal she came short of two minutes in her most recent marathon. Lerro said that training and racing through the toughest months of the year won't be as much as a challenge for her as it is for some.
"I'm the crazy one who likes the heat," Lerro said.
Though Lerro does not dread the heat like others, she noted that she does take precautions, like eating pretzels in an effort to raise her salt intake.
As runners came in to the finish on the Bluemont Park Trail, many were groaning out-loud in pain caused by the heat. But many runners will continue to endure this type of pain that comes from the heat with an expectation that they will be rewarded later on in the cooler months of the year, when marathons take place. Even after they moan and chug down gallons of water throughout the summer months, runners all over the Washington Metropolitan Area will keep training and racing in events like the Women's Distance Festival 5k and Run After the Women 5k to become more resilient.
"If we can get through this", said DC Road Runners Club member Erica Holmes of Germantown, Md. "We can get through anything."
0
Comments