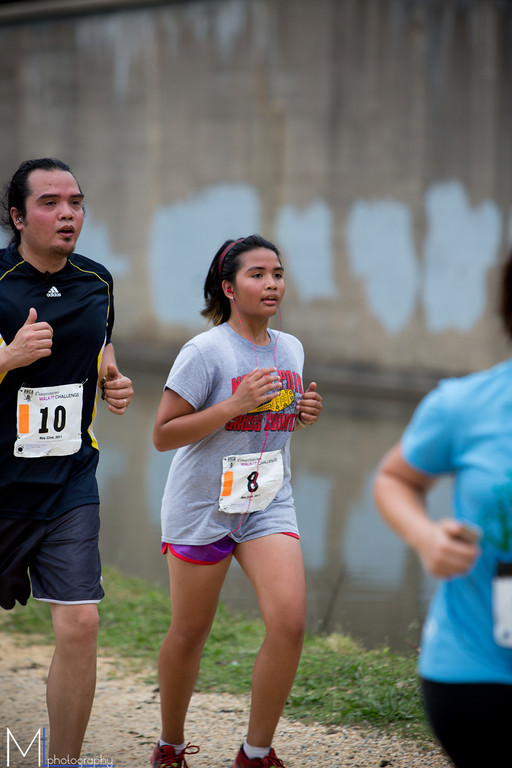 The Plank family spent most of Father's Day exploring Georgetown, kicking off a two-week vacation in Washington, D.C. Come evening, they were with more than 300 runners charging out and back on the C&O Canal Towpath for the fourth annual Father's Day 8k."I just grew up running. We all went on runs together," said Povi Plank, 13, of Flagstaff, Ariz., who was joined in the race by her father, Gary, and her younger sister, Sayti. [button-red url="http://www.safetyandhealthfoundation.org/20130616.html" target="_self" position="left"] Results [/button-red]
It was Povi and Sayti's first 8k.  And while Povi won her age group in 38:15, Gary, 56, was the top master in 30:05, making the duo the top father-daughter team.
Gary Plank, by the way, owns the second-fastest 1500 meter this year for his age group.
"4:34," Povi said proudly. "And that was just two weeks ago."
The top father-son team, Matthew and Dan Wittendorf of Alexandria, Va., started off with Matthew finishing second in his age group.
Meanwhile, another father-daughter team, Jeff Bernstein, 53, of Silver Spring, and
Julie Bernstein, 24, of D.C., typically run together three or four times a year. When it comes to racing, Jeff prefers 5Ks, while Julia has run half marathons.
"She can run further, so I bring her here to do an 8K," Jeff joked in the finish line area, where families-slash-sweaty runners reunited for cupcakes and checked out the Men's Health Network stand.
Running her third Father's Day 8K, Paula Fergusson, 56, of Vienna, Va., won her age group in 53:44. Her daughter, Elena, who runs cross country for Langley High School, finished in 49:07. Dad, though injured, was there to cheer them on, and for family dinner at Chadwicks, which hosted the awards ceremony.
Andrew Morton, 44, and his son Ari, who won the 9-and-under age group in 43:41, ran every step of the way together, just as they always do.
And for the Arya family, the Father's Day 8k was something of a reunion. Sisters Monisha and Anita and their father Suresh used to run a lot of local races together.  But Monisha now lives in Houston, while Anita lives in Las Vegas.
"It's a nice tradition to run on Father's Day with our father, so we both flew in," Monisha said.
Anita added: "We start together, end up separate, then we always go back for everybody."
Ryan Witters, 24, of D.C. and Claire Hallissey, 30, of Arlington, both defended their titles.  Witters clocked 25:47, while Hallissey's time of 28:15 was good for fourth overall.
Scott Anderson, 39, of D.C. was 2nd in 27:16, with Brian McMahon, 30, of D.C. taking 3rd in 27:37.
GRC's Avril Ogrodnick, 26, of D.C. was second female in 30:32. Arielle Elyse Davanzo, 23, of D.C. was 3rd in 33:48.
For Witters, one of GRC's top runners, Father's Day 8K was, on one hand, the last race of a long spring track season in which he lowered his 5K personal best to 14:31.  On the other, it's his way of remembering his father, who died when Witters was 13.
It was a humid night, and Witters suffered from it. Having his teammate Sebi Devlin–Foltz on the lead bike helped keep him focused, he said. When chills set in, he intentionally slowed down a bit.
"This is a way to really pay tribute," Witters said. "Even though it is the end of the season and I am ready to take a break, I can always muster something up for this race just because it means so much to me."
Count on him to return in 2014 and go for a three-peat.
0
Comments