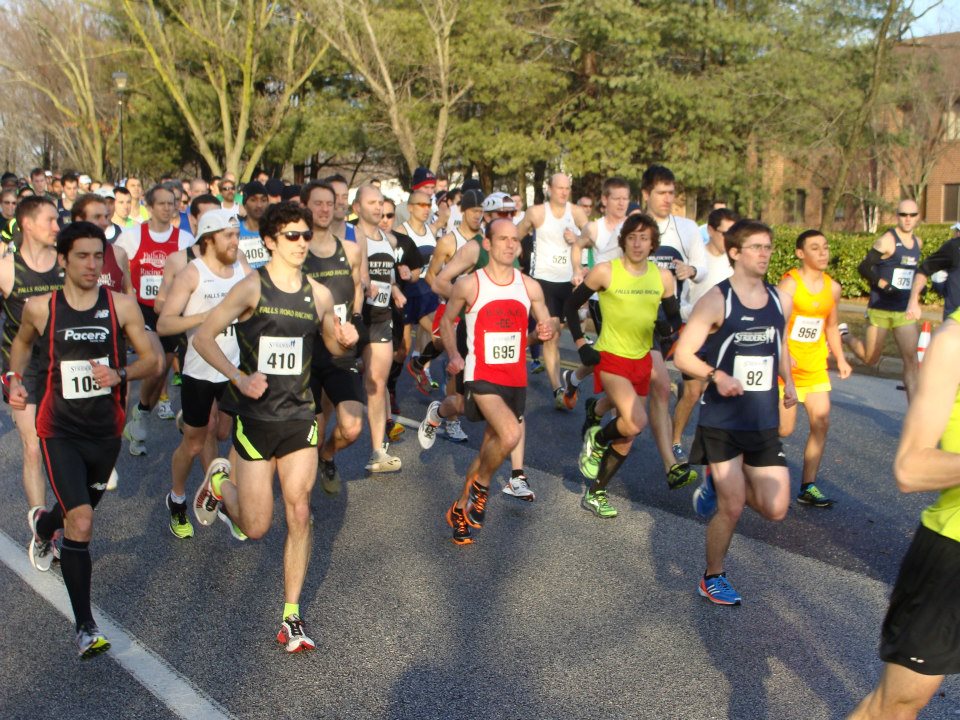 In 1980, Dave Tripp, then Howard County Striders' president, was out for a Sunday morning run near the Howard Community College when he spotted dozens of runners. Shocked to see a race he didn't know about on Howard County Strider turf, Tripp went to investigate. It turned out that the Baltimore Road Runners Club and DC Road Runners Club were competing in a challenge race [button-red url="http://www.striders.net/races/rrca/2013″ target="_self" position="left"] Results [/button-red]located halfway between Baltimore and Washington.
"I went up to the president and said, 'look, if you're going to come out here and run, you have to let us run,'" Tripp said.
In exchange for a promise to host the race, the Howard County Striders were allowed to compete the following year. Thirty-three years later, the RRCA Ten Mile Challenge is now open to several Maryland-based running clubs and the DC Road Runners Club.
The Falls Road Running team scored a narrow victory over the Howard County Striders, 557-559. The Falls Road duo ofMelissa Majumdar and Christine Ramsey helped the Baltimore-based club prevail over the strong lead the host men's team scored with four of the top five men's spots, lead by Ellicott City native Brian Harvey's 51:00 victory.
Harvey lives in Boston, following a stellar career at Carnegie Mellon University, but has been a Striders member since he was four.
"My mom still runs for the club and she  and other members encouraged me to come home and race this with them," he said. "It was overall a fun experience and cool to catch up with a lot of people."
Harvey took the race out in 4:50 and went through 2.5 miles with teammate Kyle Stanton and Falls Road's Dave Berdan before breaking away on a long downhill. After averaging five minutes per mile for the first half, he slowed to 26 minutes in the hillier second half.
"You couldn't have asked for better running weather," said Trish Cunningham, 49 of Annapolis, Md. "It's not cold and it's not hot."
Though it was Cunningham's first time competing in the RRCA Ten Mile Club Challenge, she competes in several Annapolis Striders events every year—and she doesn't compete alone.
She inspired her daughter, Avery, 14, and son Ben, 17, to also get involved with the Annapolis Striders Club and compete in this race. The three of them waited together at the finish line for Cunningham's husband who wasn't far behind.
With a 40-degree temperature, clear blue sky and plenty of sunshine to go around, the RRCA Ten Mile Challenge was not only a sneak preview of spring weather but also of spring season competition.
"This club challenge is a good warm-up race for April competition," said James Blackwood, 28 of Ellicott City, Md. "We're six weeks out from Cherry Blossom, I know where I'm at now and can set a reasonable goal."
A long-time member of the Howard County Striders, this year marked Blackwood's 10th RRCA Ten Mile Club Challenge.
"There were good vibes all around," said Nicole Deziel, 36 of Columbia, Md. "The local clubs keep coming back because it's a good tune-up for the season."
After five years of competing in the RRCA Ten Mile Club Challenge with the Montgomery County Road Runners Club, Deziel said it's her favorite race.
"There are hills, a bunch of twists and turns," Deziel said. "The course makes for great racing."
After eight years of competing in the RRCA Ten Mile Club Challenge, Kimberly Price, 40 of Gaithersburg, Md. enjoyed the healthy competition between all of the teams.
"The Howard County Strider volunteers cheered for everyone," Price said. "They were very supportive."
With nearly 1,000 runners competing in 17 clubs, it's a good thing Tripp stumbled on a race that went on to become one of the largest club competitions in Maryland and one that leaves many runners with an optimistic view of the season ahead.
0
Comments