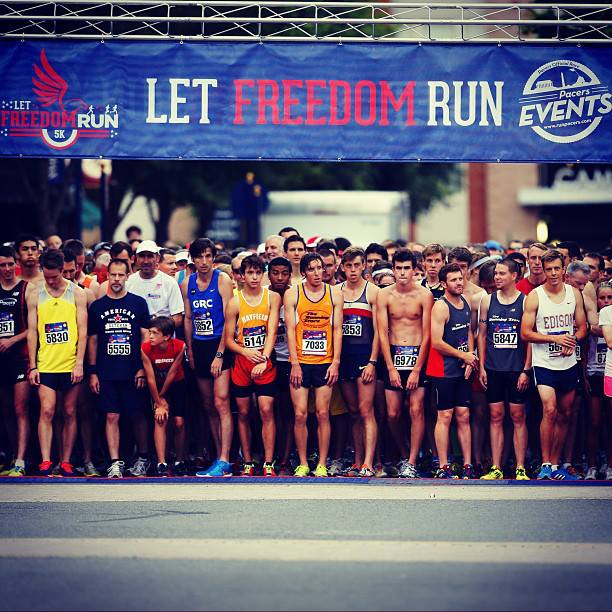 Ansley Howell seems ready for a real pair of running shoes. The 8-year-old from South Riding – running with tiny American flags behind her ears – was third in her age group this morning at the third annual Let Freedom Run 5k in Fairfax.
[button-red url="http://results.bazumedia.com/event/results/event/event-4601″ target="_self" position="left"] Results [/button-red]Howell was paced by her father, Gregg, while her sister, Grace, 12, was paced by her mother, Ann. Her older brother, Noah, 14, who runs cross country for Freedom High School – "too fast for the rest of the family," Gregg said – was on his own, finishing around 20 minutes.
"We do a lot of 5Ks together," Gregg said. "My wife and I have done marathons, and our two older ones are running cross country, so running is a big part of our lives."
The Howell family were among 1,304 finishers.  And on Independence Day, a holiday generally filled with relaxing, trips to the pool, cookouts, and fireworks, Gregg said they could think of no better way to start the day.
"We just wanted to do something together," Gregg said, "and [running a race] is the first thing that comes to mind for us."
Same for Dixon Hemphill of Fairfax Station, and his son and grandson, Peter and Joshua, who live in Centreville.  You kick off a long weekend with a race – a sense of accomplishment – and from there everything else just falls into place.
"We'll go out to breakfast," Peter said, "that's the first thing we'll do. Then we'll go home, take a shower, relax."
Dixon started running at 50, he said, and has been at it for close to four decades. He has been running races with his son for many years, and now the tradition is being passed on to Joshua, who this morning finished his fourth 5k at a time of about 35 minutes with his dad at his side. Peter, special for the nation's birthday, sported a pair of Texas-themed red, white, and blue racing shorts.
In the lead packs – on an overcast, humid morning – the defending champs were back to defend their titles, with Jordan McDougal aiming for a three-peat.
McDougal, of Linden, Va., ran his best time yet for this race, 15:43, but had to settle for second to Paul Thistle, 26, of D.C., who won in 15:30.
The top four places on the men's side were all under last year's winning time of 16:06. The top master, Rockville'sJean–Christ Arcaz, came through in 18:03.
On the women's side, last year's winner, Manassas' Bethany Sachtleben, a rising sophomore at George Mason University, took an early lead and went on to clock 17:53, more than 30 seconds under her winning time from 2012.
When Barb Fallon Wallace, 39, of Alexandria, reeled her in, the veteran local road racer knew she'd better keep pushing.
"I knew that she had been running in college … I didn't want to get in a kick with her," she said, laughing.
Little more than a year ago, Fallon Wallace ran a new personal best for 10k not long after giving birth to twin girls. Wallace's daughters are now two, while her 10k personal best is now about a minute faster.
Alisa Harvey, who was 2nd in the inaugural race, returned this year to finish 3rd overall and win the master's division. Harvey, 47, of Gainesville, finished in 19:07, not much slower than what she ran in 2011.
The 5k starts and finishes at the same spot in Fairfax Corner Shopping Center, and is held on a rolling, challenging course. Afterward, runners and families gathered for refreshments, treats, and dips in the water fountain. And regardless of whether you attended the packet pickup-slash-beach party at Pacers Fairfax on July 2, participants, rather than a free t-shirt, received a colorful beach towel to kick off summer.
0
Comments