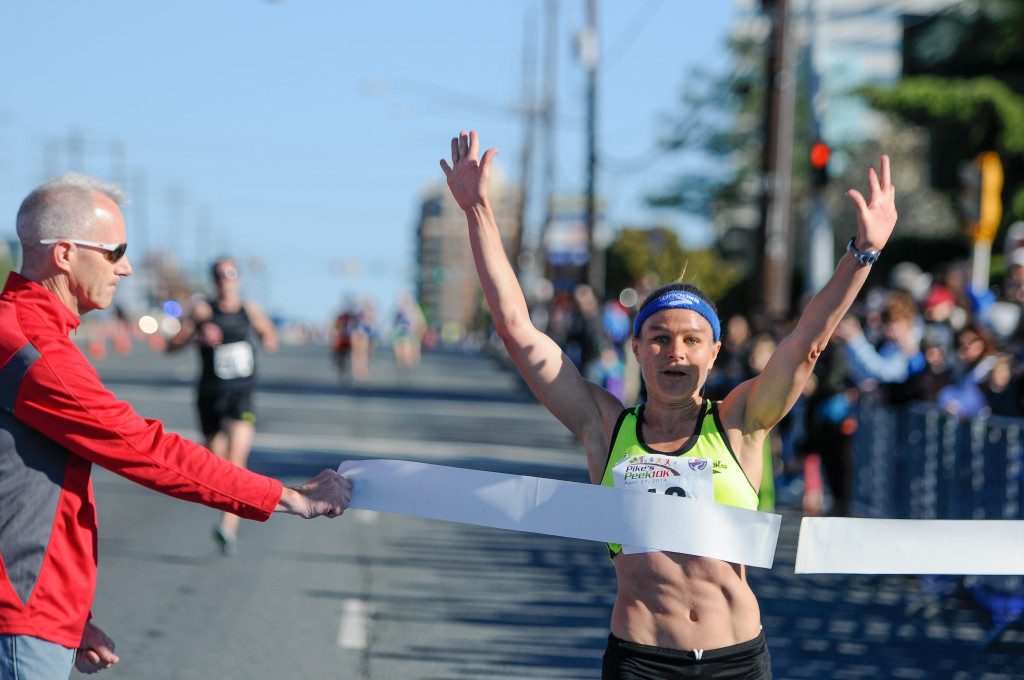 The fourth try was the charm for Christine Ramsey, who broke the tape at the Pike's Peek 10k Sunday morning in 34:43.
The Baltimore runner debuted here in 2008, finishing 5th in 36:19.  Four years later, she returned, running more than 90 seconds faster but finishing two spots lower. Last year, another solid showing got her 11th.
Enter 2014.  This morning, two miles in, Ramsey, 31, found herself in the lead pack with about half a dozen women all running well under six minutes per mile. "I felt pretty strong, so I picked it up," she said. "They were still pretty close behind me, but nobody went with me."
[button-red url="https://www.mcrrc.org/pikes-peek-10k-8″ target="_self" position="left"] 10k Results [/button-red] At mile 4, Ramsey surged again, holding onto a slim lead over Alexandria's Lindsay O'Brien, on the way to a new personal best of 34:43 and a $500 pay day. "It was great because we pushed each other," she said of her competitors.
Ramsey, as of late, has been more focused on reaching the finish line of her PhD program than on trying to win races. She recently turned in her dissertation; the defense is in two weeks. "So it felt good to have a good race," said Ramsey, who will move to New Haven, Conn., soon to start a post-doctoral position.
All but 70 seconds separated Ramsey from Selamawit Lemma in 5th. O'Brien was 2nd; it was her second-straight sub-35-minute showing here. Columbia's Julia Roman-Duval was 3rd in 35:05, followed by Loring Crowley of Winston Salem, N.C., in 35:23. Kensington's Cindy Conant, 53, was the top master in 38:08.
On the men's side, Nahom Mesfin, running his first Pike's Peek, took the lead early and never looked back. He was all alone, pumping his arms on the long downhill to the finish line and waving to the crowd, winning in a net time 28:28, 22 seconds off Julius Kogo's event record set in 2011.
Mesfin, a former Olympic steeplechaser, is living in Alexandria, and is transitioning to longer races, he said.  To that end, he recently returned from a four-month training trip to his native Ethiopia.
Early in the race, Mesfin questioned the feedback he was getting from his watch, he said. He was seeing kilometer splits in the low 2:30s, but the pace felt a slower than that, he said. "I was not in a good mood."
Less than a half hour later, his mood had changed.
"I am so excited, and so happy," said Mesfin, who had been disappointed with his performance at the Cherry Blossom Ten Mile Run earlier this month.
Baisa Moleta, also of Alexandria, was 2nd in 29:04, followed by Dereje Deme of Silver Spring in 29:09. Gurmessa Megerssa, a Washington, D.C., resident via Ethiopia who reigned supreme over the local roads in 2006 and 2007, closed hard down the final straight to clock 29:19. Getachew Asfaw of Silver Spring rounded out the top five.
Bethesda's Conrad Laskowski, 7th in 30:12, ran with the lead pack early on alongside Gaithersburg's Chris Sloane, 8th in 30:33.
"I was trying to run under 30," Laskowski said. "Came up a little short, but I am happy with it. It's a PR."
Philippe Rolly, 41, of McLean, was top master in 31:37.
Downhill, fast, and cool
For Pike's Peek, runners start on Redland Road near the Shady Grove Metro station, make a quick left on Route 355 and bee-line it south past the White Flint station, where a big downhill covers the last .2 miles. "It is probably the fastest 10k you can get without going on the track," Ramsey said.
That, as it happens, is only part of its appeal. In addition to professional-level competition, former race director Jean Arthur can only remember two years when this Montgomery County Roads Runners event had bad weather. This year, the temperature was cool, and the way the finish line banner was flapping, you knew the wind was at runners' backs.
"I ran it for the first time last year, and I thought it was so good I came back again," said Brian Carlson, a nine-time marathoner who started running in 1988. The Reston Runners member, who is 67, likes the net-downhill course. Plus, he said, "It's a very well-run race."
"You know it's net downhill, so you know you're going to get a pretty good time," said Jody Gil, who came close to achieving her goal of breaking 53 minutes.
Gil ran with her longtime friend Jared Sher for six-plus miles. "He turned on the guns at the end," she said.
Leland Hao ran the race with his son, Kelvin Hao, 11. It was Kelvin's first 10k, and the smile on his face afterward suggested he'll have no problem finishing the Disneyland 10k in late August.
When Kelvin's younger sister was hospitalized for cephalitis, he met other kids his age fighting a rare childhood disease called ataxia-telangiectasia, also referred to as Louis-Bar syndrome, Leland Hao said. In Anaheim, Calif., Kelvin's race will raise money for the A-T Children's Project, which seeks a cure.
The race had a wave start to accommodate about 2,500 participants, and for the first time offered pacing teams. Bethesda's Danny George, typically a 36-minute 10k runner, helped about 10 runners meet their goal of breaking 45 minutes.
"I just wanted to stay even and give them a little head start," George said. "That way, once they got to the top of the hill, they could just coast right in."
0
Comments
By Brenda Barrera
Washington, DC
May 20, 2012
For the Washington Running Report
What is a classic race? It is an event that is judged over a period of time to be of the highest quality and outstanding and the NCB Capital Hill Classic 10K is just that – a quality event with a long tradition that dates back 33 years with proceeds benefiting the Capitol Hill Cluster, a public school with three campuses.
Ideal weather conditions greeted runners on Sunday as the number of participants increased from last year with 2,149 runners finishing the 10K.
The honor roll of winners for this classic May race include: Kean, Wardian, Gramsky,  Endale, and Wilson. Well, it took local standout Gurmessa Megerssa, 32, a few tries with runner-up honors in 2009 (30:56) and 2010 (31:31) but for 2012 he was finally able to add his name to the list of talented winners with his 31:37 finish.
Australian Alex Dreyer, 22, a 10,000M specialist out of Eastern Kentucky University, took the second spot in 31:54. Washington DC's Wilson Komen, 34, won the race last year in 32:23 but had to settle for third this year despite a faster finishing time of 32:05. It should be noted Komen also did the double. He ran the accompanying 3K, winning his age group in 9:35.
If Navy Lt. Amanda Rice is at the starting line, expect a standout performance. The 28-year-old dental resident based in Rockville, MD has been heating up the local competition since she arrived from the west coast. Rice handily won the women's race in 36:31 and certainly did not hide her enthusiasm. Rice finished almost a minute ahead of DC youngster Sheetaye Beneie, 19, who crossed the line in 37:30. Kaitlin Sheedy, 29, also from Washington, DC took the third spot with her 40:36.
The 3K event is a great introductory distance for newbie runners and attracted close to 500 runners this year. The shorter distance also serves as an opportunity for the swifter to test their leg speed. John Kingstedt, 19, from Huddinge, Sweden won in 8:54 and Tiringo Shiferaw, 27, from Washington DC was the first woman in 10:42.
                           10K Awards Listing
                    Age Group Awards Based on Net Times
MALE 
Place Name                    Ag City                  Time    
===== ======================= == ===================== ======= 
    1 Gurmessa Megerssa       32 Washington DC           31:37 
    2 Alex Dreyer             22 Perth Australia         31:54 
    3 Wilson Komen            34 Washington DC           32:05 
FEMALE 
Place Name                    Ag City                  Time    
===== ======================= == ===================== ======= 
    1 Amanda Rice             28 Rockville MD            36:31 
    2 Shetaye Beneie          19 Washington DC           37:30 
    3 Kaitlin Sheedy          29 Washington DC           40:36 

MALE AGE GROUP: NET TIME 1 - 14
    1 Willem Lensink          14 Falls Church VA         44:19 

FEMALE AGE GROUP: NET TIME 1 - 14
    1 Page Harrison           13 Washington DC           53:22 

MALE AGE GROUP: NET TIME 15 - 20
    1 Haydn Borghetti-Metz    15 Rogersville TN          36:02 

FEMALE AGE GROUP: NET TIME 15 - 20
    1 Rebecca Hinch           19 Leesburg VA             47:45 

MALE AGE GROUP: NET TIME 21 - 29
    1 Richard Andrews         25 Washington DC           33:28 

FEMALE AGE GROUP: NET TIME 21 - 29
    1 Jennifer Leehey         26 Washington DC           41:18 

MALE AGE GROUP: NET TIME 30 - 39
    1 Colin Fishwick          34 Willoughby OH           33:13 

FEMALE AGE GROUP: NET TIME 30 - 39
    1 Erica Solway            30 Washington DC           41:01 

MALE AGE GROUP: NET TIME 40 - 49
    1 John Zimmerman          45 McLean VA               35:05 

FEMALE AGE GROUP: NET TIME 40 - 49
    1 Kerry Rodgers           43 Washington DC           42:50 

MALE AGE GROUP: NET TIME 50 - 59
    1 Christopher Ryan        53 Washington DC           37:52 

FEMALE AGE GROUP: NET TIME 50 - 59
    1 Blake Rushin            50 Vienna VA               48:33 

MALE AGE GROUP: NET TIME 60 - 69
    1 Spider Rossiter         60 Washington DC           40:07 

FEMALE AGE GROUP: NET TIME 60 - 69
    1 Nancy Avitabile         64 Bethesda MD             51:09 

MALE AGE GROUP: NET TIME 70 - 79
    1 Ralph Bayrer            72 Washington DC         1:02:29 

FEMALE AGE GROUP: NET TIME 70 - 79
    1 Tami Graf               75 Lusby MD              1:08:15
                           3K Awards Listing
                    Age Group Awards Based on Net Times
MALE 
Place Name                    Ag City                  Time    
===== ======================= == ===================== ======= 
    1 John Kingstedt          19 Huddinge                 8:54 
    2 Eshetu Tjlahun          32 Washington DC            8:59 
    3 Seife Geletu            30 Washington DC            8:59 
FEMALE 
Place Name                    Ag City                  Time    
===== ======================= == ===================== ======= 
    1 Tiringo Shiferaw        27 Washington DC           10:42 
    2 Monica Kingstedt        50 Huddinge                11:44 
    3 Dionis Gauvin           37 Washington DC           11:58 

MALE AGE GROUP: NET TIME 1 - 14
    1 Adam Schans             13 Washington DC           11:10 

FEMALE AGE GROUP: NET TIME 1 - 14
    1 Anne Ryan               13 Washington DC           13:18 

MALE AGE GROUP: NET TIME 15 - 20
    1 Otto Kingstedt          17 Huddinge                 9:22 

FEMALE AGE GROUP: NET TIME 15 - 20
    1 Laura Montermann        19 Falls Church VA         16:51 

MALE AGE GROUP: NET TIME 21 - 29
    1 Tripp Southerland       27 Washington DC            9:22 

FEMALE AGE GROUP: NET TIME 21 - 29
    1 Kristy Carter           21 Olathe KS               13:55 

MALE AGE GROUP: NET TIME 30 - 39
    1 Wilson Komen            34 Washington DC            9:35 

FEMALE AGE GROUP: NET TIME 30 - 39
    1 Rachel Smith            32 Silver Spring MD        12:23 

MALE AGE GROUP: NET TIME 40 - 49
    1 Tom Mahr                47 Washington DC           12:32 

FEMALE AGE GROUP: NET TIME 40 - 49
    1 Elizabeth Festa         45 Washington DC           14:49 

MALE AGE GROUP: NET TIME 50 - 59
    1 Anders Kingstedt        53 Huddinge                13:10 

FEMALE AGE GROUP: NET TIME 50 - 59
    1 Linda Rotunno           52 Washington DC           14:10 

MALE AGE GROUP: NET TIME 60 - 69
    1 Robert Weiner           65 Accokeek MD             14:49 

FEMALE AGE GROUP: NET TIME 60 - 69
    1 Sarah Burke             60 Washington DC           19:40 

MALE AGE GROUP: NET TIME 70 - 79
    1 Lance Bush              77 Washington DC           15:38 

FEMALE AGE GROUP: NET TIME 70 - 79
    1 Carol Kelly             71 Washington DC           28:15
0
Comments