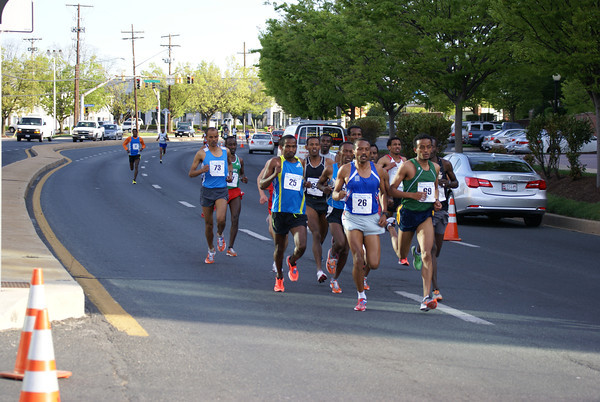 If tailwind and the downhill course weren't enough to get people rolling at the Pike's Peek 10k in Rockville, five days of pent-up tension led to a moment of silence on the starting line to honor the victims and their families affected by the Boston Marathon bombing.
[button-red url="http://www.mcrrc.org/pikes-peek-10k-5″ target="_self" position="left"] Results [/button-red]Race director Jean Arthur said that Monday's tragedy created anxiety for her with less than a week until the race.
"It added a few extra steps," Arthur said. "But it went off okay. People showed up and I'm happy about that."
An impressive group made up the elite competition and led the way through some heavy wind conditions and a cool breeze. But runners seemed to enjoy the near-ideal running conditions downhill along the Rockville Pike to White Flint Mall.
First place finisher Girma Gebre and second place finisher Ayele Feisa, both of whom came from New York
City to compete, pulled away from the leading pack near mile three. Less than a mile later, Gebre was able to widen the gap even farther and brought home a $1,000 check with a winning time of 28:23. Washington, D.C.'s very own Tumicha Horsa also had an impressive finish with a time of 28:45, placing third and winning $650.
The women's competition came down to Tsehay Getiso, a 19-year-old visiting from New York City for the race, and Jane Murage of Royersford, Pa. Both Getiso and Murage led the close-knit women's pack for the majority of the race.
Getiso, who recently overcame an injury, is currently working toward qualifying for the 2016 Olympics. And despite her best attempt to hang on, Murage took home the $1,000-winning prize money by crossing the finish line two seconds faster than Getiso. Trailing less than a minute behind the first two women was third-place finisher Hirut Mandefro of Washington, D.C. Mandefro brought home $650 with a fast finish of 33:13.
The race's additional security included K9 dogs at the start and finish and motorcycles that drove up and down the course. Though every year requires a strong police presence, which involves coordinating several large road closures, this year's race implemented heightened security measures in the wake of recent events.
Caroline Thompson of Rockville, Md., who has been running with a group of five other friends, said that she noticed some anxiety in the air.
"I think everybody had such a great spirit about it," Thompson said. "I didn't hear anyone wanting to drop out and not run."
While the 18th Annual Pike's Peek 10k marked Thompson's second time competing in the race, she ran the course seven minutes faster than she did in 2012.
Pike's Peek marked Calvin Baxter's first 10k race. A runner since 2001, Baxter of Silver Spring, Md. competed in a Superman t-shirt, the same shirt that his son wore for the Kids Fun Run. Though Baxter was a little nervous about competing in a race that he had signed up for only one day prior, he said he found himself wanting to pass people on the course.
"I just wanted to compete in the race to bring my son out here so that he could do the kid's race," Baxter said. "I didn't realize that when you get out here, it gets kind of competitive."
Tradition is important for Pike's Peek, a race that celebrates finishing with a festival area full of food, family activities and live music. Thirteen years ago, Lieutenant Pedro Meneses competed beside his recruiting class when he was enrolled in the Montgomery County Fire and Rescue Training Academy. On the day of the Pike's Peek 10k, Meneses led his own group of recruits to the race as head of the recruit fitness department for the Montgomery County Fire and Rescue Service, a tradition that he said has been going on for at least 13 years.
"This is culminating a lot of the training they've been going through at the academy," Meneses said with recruits around him. "They've got another 10 weeks to go."
Despite race security concerns throughout the country, the tradition and timeless racing spirit led to another successful  Pike's Peek. The event proceeds went to the Montgomery County Youth Recreation Fund, Rockville Youth Recreation Fund, Scleroderma Foundation of Greater Washington DC and the RRCA Road Scholars.
0
Comments
By James Moreland
Broadlands, VA
March 10, 2012
For the Washington Running Report
In its 20th year this popular 5 mile race upgraded yet again. First, they certified the course (over the years the race has started from a quite a few different sides of the course). The race has already been famous for its prolific random awards. This year the race expanded to five year age groups to make the age challenge even more fair. The food has always been fun with dozens of doughnuts and coffee to go along with the healthier apples and bananas. This year there were scores of commemorative cupcakes with eatable logos. Comparing the different types for taste was an enviable task.
Last year David Nightingale battled Karl Dusen for the title winning in 23:56. Dusen's 24:03 was solidly ahead of third place Gurmessa Megressa's 24:25. Last year the event was a week after the mammoth St. Patrick's Day 8K, which had been won by Demesse Tefera. Tefera started but dropped last year. This year Tefera battled New York's Teklu Deneke, pulling away in the final sixty meter down hill charge to finish in 24:55. Dusen finished third this year in 25:53, all alone with fourth place Charlie Ban arriving nearly two minutes later. The certified course was about 250 feet longer than last year but that hardly explains the slower times. The sunny day was cool with a more than just pleasant breeze. The top reason may be that tomorrow will be national class competition at the massive (7500 person) St. Patrick's Day 8K. Tefera will be there to defend his title.
On the women's side which has now become the larger of the two sexes in most races, the course saw seven runners more than a minute faster than last year's champion. Runner-up and former Runner Rankings champion Hirut Mandefro could not keep pace with Askale Merachi, a new face in town. Mandefro ran a very nice 29:02 but she was closely shadowed by two new faces, Anna Gosselin, 23, in 29:10 and Maura Carroll, 22, in 29:13. Merachi turned the final corner in seventh overall at 28:28. If the course had been a few meters longer she would have finished her rundown of sixth place man Bryan Young 28:26.
Peggy Yetman, 43 of Leesburg, VA was testing the waters again in her first race since surgery in December. Everyone in the field was amazed by her excellent 29:16, staying with the lead pack the whole way. She will tell you she was delighted with the race .She will thinking, "Another month of recovery and I could have one it all." One of her first races after she arrived from Texas was right here just five seconds short of the title in 29:01. Mandana Mortazavi, 48, (in photo) was the second master in 35:47.
After the race, there were lots of folks to thank for the race's continuous success and checks for Children's National Medical Center. The race won a special award to get an additional $75,000 to add to the already massive $106,000 they had gathered from the proceeds of the event.
Awards
FEMALE OVERALL
Place Num   Name                    Age City                  Time  
===== ===== ======================= === ===================== ===== 
    1     4 Askale Merachi           24 Washington DC         28:28 
    2   536 Hirut Mandefro           26 Washington DC         29:02 
    3   617 Anna Gosselin            23 Vienna VA             29:10 

MALE OVERALL
Place Num   Name                    Age City                  Time  
===== ===== ======================= === ===================== ===== 
    1     5 Teklu Deneke             32 New York NY           24:55 
    2     3 Demesse Tefera           29 Washington DC         25:00 
    3   615 Karl Dusen               29 Mt Airy MD            25:53 

FEMALE AGE GROUP: NET TIME 1 - 14
    1   556 Logan Cunningham         14 Ashburn VA            39:32 
    2   123 Campbell Brown           13 Herndon VA            44:21 

MALE AGE GROUP: NET TIME 1 - 14
    1   482 Jonathan Kerr            13 Ashburn VA            39:10 
    2   381 Andrew Bouras            13 Ashburn VA            39:29 

FEMALE AGE GROUP: NET TIME 15 - 19
    1   289 Melissa Saunders         19 Potomac Falls VA      32:04 
    2    26 Amelia Jones             17 Baltimore MD          33:16 

MALE AGE GROUP: NET TIME 15 - 19
    1   481 Alex Kerr                18 Ashburn VA            30:13 
    2   329 Steven Hurwitt           19 Ashburn VA            30:23 

FEMALE AGE GROUP: NET TIME 20 - 24
    1   613 Maura Carroll            22 Washington DC         29:12 
    2   270 Elisabeth Flores         21 Sterling VA           35:34 

MALE AGE GROUP: NET TIME 20 - 24
    1   107 John Baldwin             20 Reston VA             31:09 
    2   630 Jim Bradshaw Jr          20 Springfield VA        35:04 

FEMALE AGE GROUP: NET TIME 25 - 29
    1   616 Susan Hendrick           26 Washington DC         30:01 
    2   299 Jessie Yester            27 Richmond VA           30:31 

MALE AGE GROUP: NET TIME 25 - 29
    1   614 Charlie Ban              27 Falls Church VA       27:48 
    2   407 Nyandusi Omurwa          28 Kingston PA           28:02 

FEMALE AGE GROUP: NET TIME 30 - 34
    1   233 Erica Cline              33 Leesburg VA           35:59 
    2   247 Kathryn Hessen           32 Ashburn VA            37:07 

MALE AGE GROUP: NET TIME 30 - 34
    1   612 Brian Young              33 Washington DC         28:25 
    2   635 Ryan Parks               33 Fairfax VA            32:40 

FEMALE AGE GROUP: NET TIME 35 - 39
    1   239 Kathleen West            36 Chantilly VA          37:54 
    2   181 Sally Stevenson          38 Ashburn VA            38:38 

MALE AGE GROUP: NET TIME 35 - 39
    1   601 Gregory Stemberger       35 South Riding VA       28:43 
    2   602 Brian Szabos             38 South Riding VA       29:33 

FEMALE AGE GROUP: NET TIME 40 - 44
    1   494 Peggy Yetman             43 Leesburg VA           29:15 
    2   323 Jill Benhart             43 Broadlands VA         40:06 

MALE AGE GROUP: NET TIME 40 - 44
    1   467 Andrew O'Brien           41 Centreville VA        30:51 
    2   550 Atle Nesheim             43 Ashburn VA            32:42 

FEMALE AGE GROUP: NET TIME 45 - 49
    1   604 Mandana Mortazavi        48 Leesburg VA           35:27 
    2   487 Stephanie Cappiello      48 Ashburn VA            39:27 

MALE AGE GROUP: NET TIME 45 - 49
    1   619 Jim Nielsen              46 Ashburn VA            29:11 
    2   549 Jeff Gilliland           47 Clifton VA            32:34 

FEMALE AGE GROUP: NET TIME 50 - 54
    1    25 Judy Graham              54 Baltimore MD          37:03 
    2   399 Sarah Buckheit           51 Reston VA             37:59 

MALE AGE GROUP: NET TIME 50 - 54
    1   542 Martin Calhoun           50 Herndon VA            30:18 
    2    24 Nicholas Jones           52 Baltimore MD          32:37 

FEMALE AGE GROUP: NET TIME 55 - 59
    1    40 Elizabeth Baumgarten     55 Stone Ridge VA        38:14 
    2   497 Carol Beaupre            55 Ashburn VA            45:50 

MALE AGE GROUP: NET TIME 55 - 59
    1   129 Kevin Apsley             55 Herndon VA            35:22 
    2   448 Rob Colburn              56 Ashburn VA            37:01 

FEMALE AGE GROUP: NET TIME 60 - 64
    1   310 Linda Leatherbury        60 Great Falls VA        69:20 

MALE AGE GROUP: NET TIME 60 - 64
    1   334 Bill Koetter             63 Ashburn VA            42:36 
    2   434 Ting Yi Oei              63 Reston VA             43:56 

MALE AGE GROUP: NET TIME 65 - 69
    1   254 John Baxter              65 Fairfax VA            41:37 
    2   219 Donald Burnham           65 Aldie VA              48:42 

MALE AGE GROUP: NET TIME 70 - 99
    1   362 Chan Robbins             74 Arlington VA          40:20 
    2   125 James Chapman            71 Herndon VA            41:17 

MALE FIRST TIME RACER: NET TIME - NET PACE 1 - 99
    1   390 Dimitri Shanin          35 M Springfield VA       34:16

FEMALE FIRST TIME RACER: NET TIME - NET PACE 1 - 99
    1   389 Regina Pace             41 F Springfield VA       41:05
0
Comments