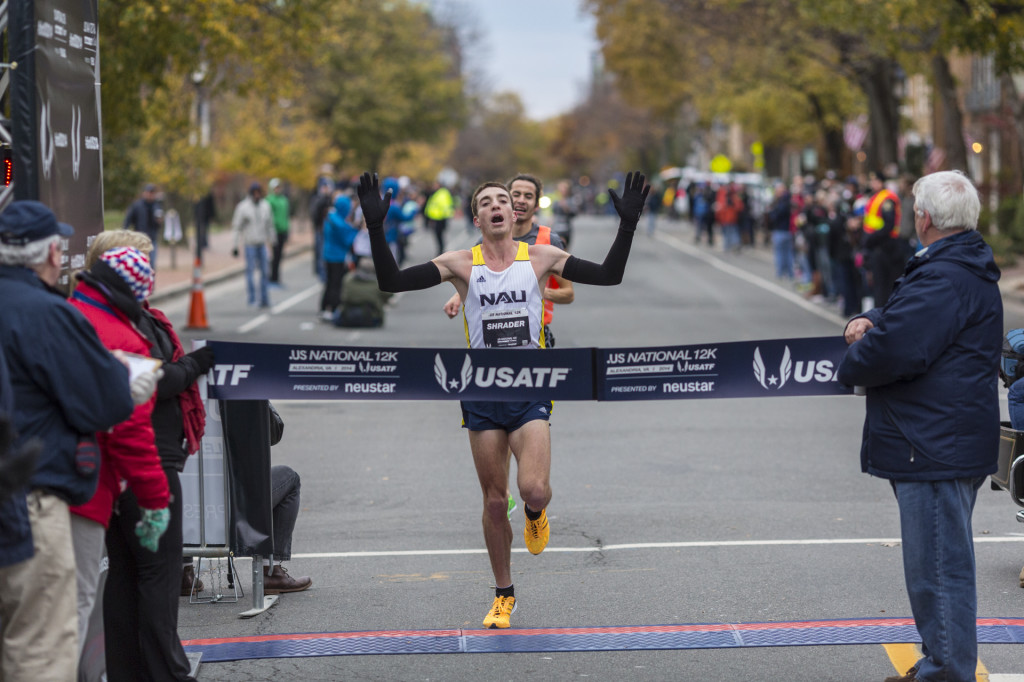 The word Brian Shrader kept saying over and over – to reporters, to friends, to race organizers, and to new fans seeking his autograph – was "shock."
For example: "I'm still in shock," he said, after winning the .US National 12k championship in Alexandria this morning. "I don't even know what to think."
[button-red url="http://www.national12k.us/Results.aspx" target="_self" position="left"] Results [/button-red]
There were a number of reasons Shrader felt this way.
For one, the top prize paid out $20,000, but the 23-year-old still has track eligibility left at Northern Arizona University. So unless he wants to turn professional, Shrader, according to NCAA rules, can only accept prize money "in an amount up to actual and necessary expenses for the calendar year." (See this Collegiate Running Association page for a more detailed explanation, but he could keep as much as he can document with receipts, including costs for travel, equipment and coaching.)
Before today, Shrader had never run a 10k, let alone a 12k. He had only run one other road race: the CVS Downtown 5k, the national championship, in September, where he was 4th in 13:59.
Shrader racing the 5k was Northern Arizona University alum Diego Estrada's idea. They both live, and occasionally train together, in Flagstaff, Ariz. That day, Estrada unleashed a strong kick to win his first national title, while Shrader qualified to have his expenses covered to compete in the 12k.
On a cold, overcast morning, Shrader, Estrada, and 22 other elite men started around 7:25 on S. Union Street, near Oronoco Bay Park. They headed south to Franklin Street and made a short climb and descent. There, not long after the mile mark, they turned left onto George Washington Parkway, which they followed out to the halfway mark, where they did a U-turn and retraced the same route.
Last year, Aaron Braun, of Alamosa, Colo., came here hungry to win his first national title, setting the tempo for a big lead pack and throwing in a series of surges that allowed him to gradually slip away. He broke the tape in a time of 34:26, which he found out later was just two seconds slower than Steve Spence's American record.
At yesterday's press conference, Braun said he was just as fit, if not more fit, than he was in 2013, but also knew he'd have more of a "target on his back."
That turned out to be true.
In the opening mile, a huge pack, 20-plus strong, formed around him. The consensus, it seemed, was that Braun would be the one pushing the pace while everyone else would be the ones trying not to get dropped.
As 4:40s in the early miles dipped down closer to 4:30 by halfway, the pack started to string out. After the U-turn, Braun threw in a 4:25, his goal being, as with his earlier and later surges, to "try and hurt people a little but also not hurt myself."
"I needed to be able to put them away earlier," Braun said, "and make them think it was too big of a gap."
But back on S. Union Street, when the finish line came into view, Braun, though he had successfully dropped most of the field, was still flanked by five other runners – Shrader, Estrada, Jared Ward, Girma Mecheso, and Parker Stinson – who were snapping out of survival mode and tapping into a far more positive notion: I can win this thing.
Shrader, wearing his NAU singlet, had been executing his strategy of keying off Estrada, hanging on to the lead pack as long as he could, and waiting to see what he had in the end. In the final miles, he tucked closely behind Braun.  The last 200 to 300 meters, for him, and for everyone involved, was a blur.
Shrader took the lead; and when his legs tied up, 50 meters or so before the finish, he expected to get caught, but no one came. He won in 34:11, averaging 4:35 per mile, as all six in the final chase pack dipped under what used to be Spence's American-record time.
Estrada, who had given Shrader the idea to test out road racing, and who missed training time recently due to a sinus infection, was just a second back in 2nd. He said the race played out as he expected.
"I assumed Aaron would push the pace, which happened. And then I figured there would be a few guys with a mile to go; then of course everyone would charge again … But I hesitated a little bit. I wasn't quite feeling it, and it cost me at the end because I ran out of room," he said.
Braun, just three seconds back, returned to the podium. "My goal, he said, "was to come back and get the title, number one, and get the record for number two. I got number two, but not number one."
Mecheso, 5th, gave Braun credit: "The way he ran, he deserved to win," he said, "because he was pushing all the way."
Stinson, two seconds behind Mecheso, was inspired by the result, calling it "one of my best races." Like Shrader, he still has track eligibility, though at University of Oregon.
On one hand, he would've liked to have been more competitive during the sprint finish. On the other, he doesn't envy Shrader.
"I'm glad I didn't make too much money," he said, "so I don't have to make any decisions."
***
Falls Church native Christo Landry knew his odds of winning his fourth national title  in 2014 weren't good. Five weeks ago he finished 13th in a new personal best of 2:14:30 at the Chicago Marathon, and was still feeling its effects. "I just don't have the top-end gears right now, coming off the marathon," he said after finishing 8th in 34:42. "And when you get dropped running 4:35, right after running a 4:32, [you know] they're running a great time. They ran great, and I just wasn't hanging with them today."
For Landry, through, today's 12k was also a way to celebrate a breakthrough 2014 that gave him an insurmountable lead in the USA Running Circuit (USARC) standings. After the top 10 men were announced, Landry was awarded the $25,000 overall USARC title. He had 82 points, 31 more than Estrada in second.
In the masters division, Arlington's Michael Wardian won a national title in 38:32. Philippe Rolly, of McLean, was second.
"I don't ever try to just look to win the masters, but it's exciting to be in a new age group," Wardian said.
In typical Wardian fashion, the ultra runner and marathoner was in the Bahamas earlier in the weekend getting in some heat training, he said, and on Friday will represent Team USA at the World 100k championships in Quatar.
"Our team is completely stacked," he said, "so I think we should win the team title."
0
Comments