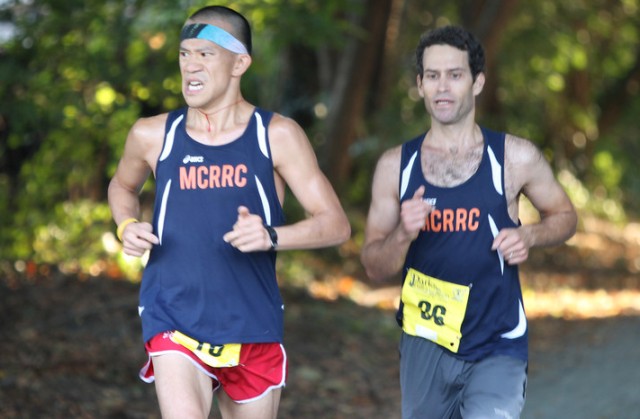 The debut of a grand pianist in a full tuxedo complete with tails at mile six was not the only new tradition that the Montgomery County Road Runner Club's Parks Half Marathon started in its eighth year. The runners themselves were determined to mark new ground by crushing the old course record by more than a minute.
Filled with hills, scenic parks and trails, the race included an elite class of runners, many from the local area.
Clocking in less than two minutes after the women's finish line tape broke, Etaferahu Temesgen of Silver Spring, Md. clenched second place followed by Tezata Dengersa of Washington, D.C., who took third. Meseret K Tolwak of New York, N.Y. won the women's competition with a time of 1:16:25.
Haile Teg Mengesha from New York, N.Y. took the overall first-place title with a time of 1:04:31, which was 20 seconds faster than Ernest Kebenei of Norfolk, Va., who finished second. The elite competition also featured professional ultra-marathoner Michael Wardian of Arlington, Va. 
But even with the cost of attracting more runners and providing unique entertainment, Race Director Mike Acuña and the Montgomery County Road Runners Club have not lost sight of the club's goal established eight years ago to provide a high-quality race at a good value.
"It's a local race with a big feel to it," Acuña said. "We've figured out a way to make it grow without making it too crowded."
Acuña also mentioned the race's other priority—giving runners a chance to get a race under their belt before the marathon season begins.
"We've got people who [want to] race half marathons," Acuña said. "And then we've got a lot of marathoners that use this race a tune-up for fall marathons."
Many runners who tuned up for a marathon hoped to achieve a certain time and looked to Run Farther & Faster coach Julie Sapper as their pacer. While celebrating her birthday with 13.1 miles and a ribbon filled with glitter, Sapper noted that the day was not about her.
"It's about everyone else," Sapper said. "You don't want to disappoint people and not have them get the time they want. Although you sometimes lose people along the way, you know there are some people that can see you from far away and are using you as a marker. So I just tried to stick with my pace."
Despite feeling the pressure, Sapper successfully led her group into the finish line to their goal time.
Among the thousands of athletes who competed on the hilly course through the parks, some competitors had a home-field advantage.
"I normally run on the trails during the week," said Robert Palmer of Silver Spring, Md. "So it's like a home course for me."
Rob Hannon also had a home-turf advantage.
"[The course] is in the neighborhood," Hannon said. "I can see my house from the trail."
The race started near the Rockville Metro station and winded through Chevy Chase and Bethesda, took runners along Rock Creek Park paths and Capitol Crescent and Georgetown Branch Trail. Finishing in Elm Street Park in Bethesda under humid conditions, runners were greeted at the finish with commemorative beanies, refreshments and massage therapists.
0
Comments
By James Moreland
Rockville, MD
November 6, 2011
For the Washington Running Report
The Rockville 10K big claim to fame is that it is the longest running event in Montgomery County. As noted by Maryland State Senator Jennie Forehand, the event started as a ten mile race. For many years the race was run from Montgomery College as only a 10K. After racing in the local neighborhoods until 1991, the race raced south on the Pike to the Rockville Town Center, which was still in an earlier iteration.  In 1995, the race added a 5K that circled the campus, while the 10K stayed on a similar path, though there were minor variations. That year the random prize was a week vacation and it was hoped that would bring the numbers up. The race had usually stayed around 500 finishers in good weather or bad.
By the late 90s the race moved to Piccard Drive near today's 2 mile mark in the 10K. King Farm was still really just a farm. The course meandered back and forth between Gude Drive and Gaither Road. Then King Farm was completed and the event raced back and forth through the new community. The course has changed a number of times for both the 5K and the 10K. Mercifully, the 5K starts after the 10K now and takes a different route so there is no longer as much confusion as runners get to the finish line.
The finish corral has its own balloon arch.
Now the race began to grow and in 2008 finally cracked 1,000 finishers in the combined events. The next year the race fell back to below 800 finishers before rebounding last year to a record 1206. In 2011, the weather was racing perfect at 40 degrees with a bright sun and no wind and the event cracked 1,000 finishers for the third time.
Parking became a tougher commodity this year. Runners who forgot to set their watch had an extra hour to secure the prime spots. The start/finish and the balloon arch by the awards stand started to fill with runners later but hundreds of runners gathered together in the back of the Safeway parking lot, effectively blockading the road. The race started promptly at 8:30 a.m. and whipped around the corner onto King Farm Boulevard. Jack rabbit Dee Nelson, 68, was among the early leaders. After more than 1400 races she still enjoys the thrill of starting the race. She would easily win her age group.
For the men, even before the next turn onto Gaither Road the top finishers were being decided. The gentle climb to Shady Grove is about ¾ mile. Andre Orr and Daniel Miranda came bolting back down the hill side by side as if it were the final mile. Thirty meters behind them Karsten Brown was loping along saving effort for the later push in the race. The race is a series of long up and down slopes, the stiffest being on Gude Drive.  Robin Lerner berated the course with, "Why is the fourth mile always the hilliest?" on the final steps of the climb the brought runners to Rockville Pike. We know Lerner changed her clock because she did her warm-up at the Anything is Possible 5K in Bethesda earlier that morning at 1:50 a.m. That syndicated event promotes the cutesy idea of finishing before you began, thanks to the change back to standard time.
Meanwhile, Brown was already more than halfway back down the hill and had already changed to a stiffer arm swing and a more frenzied pace. He had bolted away into the lead and he wanted to have some space by the time he crested the final hill at the corner of Piccard and Redland. Then it would be a final half way victory parade. Brown, who races about 100 races and close to a 1,000 race miles a year, had just raced his fastest 5 miler the day before finishing third overall at the Down's Park race in Pasadena, MD in 27:04. (That is slighter faster than his PR Rockville Rotary 8K in 26:55 this summer). Yesterday the top two finishers were out of his league. Today he paced himself to his first sub 34:00 10K, winning it all in 33:26.
Place four through six were all top masters runners. Dave Haaga, 50, was holding tight to Mark Neff, 49, at 4 miles with Jean Christophe Arcaz, 50, looking unhappy that he could not quite join the party.  Neff ran a very credible 35:38 to take the fourth spot by seven seconds with Haaga rounding out the top five.  Arcaz earned the masters title in 36:18. The oldest racer Jack McMahon, 80, still looks good, finishing in 59:10.
For the woman, homegrown talent Julie Sapper ran away with the race from the very beginning with an excellent 41:16. There was some confusion later as a man had mistakenly worn a tag assigned to a woman but that was fixed by the time awards were handed out. As with the men, top masters runners ran well with four of the top six being masters. Liliana Baron, 53, seemed to relish the hills bounding along to the runner-up spot in 44:58. Leah Birdwell, 17, finishing eight seconds ahead of Shelli Beard, 42 in 45:42 though both had identical net time. Gun times decide the top five while net times decide the age groups.
When they finish revising the results Phyllis Sevik, 47, will move up to fifth overall from top masters and Jen Norris, 40, will become the masters award winner. Alice Franks, 63, (in photo) joined Nelson as shoe-ins in the sixties. Barbara Scoggins may have had the best race at age 59 with a very nice 47:04.  Eighty-year-old Yvonne Aasen won the senior division.
The 5K is the younger brother for the event and though it is usually just as large, it does not draw as much recognition. Brown, who also races in Westminster, would recognize the race winner Greg Jubb, 21, who ran a nifty 15:58, which may be near Brown's next 5K goal of breaking 16:00. Bennett Stackhouse, 27 was the runner-up in 16:26. Two Gaithersburg residents, Paul Jacobson, 48, and Dan Lawson, 56 battled for top masters honors. Jacobson's eight-year difference was just enough to prevail by three seconds in 18:12.
Robin Stanley, 30, of Derwood, MD made it look easy winning in 20:07 with Teah Devan, 38, two minutes behind her. MCRRC president since 2009 Jean Arthur, 48, continues to astound this year with a third overall finish in 23:42.
After the race we met with racing legend Lou Shapiro, a sub 42:00 10K racer at age 69. This year he injured his hip and claims maybe by spring he will be able to run a 12 minute mile. Do not count out a much better comeback.
The 10K portion of the race is also one of the races in the Maryland RRCA series where running clubs from across the state compete.
0
Comments
By James Moreland
Kensington, MD
September 24, 2011
For the Washington Running Report
Julie Sapper finishes fourth overall.
Walking down Fawcett Avenue in old town Kensington towards the start of the race, two young kids were talking about the race. One said, "There must be a thousand runners here today," "No way," replied the older one. She was wrong and the little boy was right. The event has three parts and three different starts off the circular Carroll Place. At 7:45 a.m. close to five hundred 2 mile walkers and runners headed south around the circle. At 8:30 a.m., the main event 8K bolted from the south side of the Noyes Library toward Connecticut Avenue. They would cross the finish line for the first time at just less than a half mile. Three minutes after they got under way, the 1K fun run charged after them from the north side of the library.
Nearly everyone was in a good mood on the cool but humid morning for the first racing weekend of the fall. There were a couple of the hundreds of young runners that got overwhelmed by the pressure but all the fun runners collected a beaded necklace at the finish. Dry your eyes and keep on running. The rain rumored to be done around ten, missed the event entirely.
Many of the runners had run the Run! Geek! Run! 8K last week in West Potomac Park. All of them found the 4th mile hill on East Bexhill that climbed parallel to the Mormon Temple Hill shut out any possibly of matching last week's time. The race in its 18th year also had many returning runners. Perhaps the most often seen face is women's winner Cindy Conant, 50, of Kensington, MD. She admitted to knowing the course very well. After all she had run the race every year since at least 2002. She moved up to fifth in 2004 and after that never finished lower than second overall, winning in 2006 as well. This year when she won it all again was her fastest time of any of those years as she dipped under 32 to finish in 31:59. That was 17thrunner overall.
Edi Turco had run the Geek race, finishing solidly in fifth place in 26:55. Today in his 25th race since Memorial Day he battled Gareth Alberto and Steven Moore through most of the flat first three miles. By the time he charged past the starting line at 4.5 miles he knew he had the win. The final 100 meters up Armory Drive he weaved back and forth waving to the crowd. Alberto had a closer battle and charged through in 27:56 just ahead of Moore's 28:04. Keith Freeburn has not been racing a long time so he did not know that he was supposed to slow down on a hilly course and nearly matched his Geek time with a very solid 28:53.
After Conant finished there was a bit of a wait by the next three women rushed in like a fast conga line, behind each other but weaving up and back in an effort to change places. Trish Stone, 36, held the runner-up spot and ahead of Sandra Bonilla, 35, by three seconds 32:47 to 32:50. Fourth place Julie Sapper, 39, of Rockville was tops in her division.
While eight of the top nine women were from Kensington or Rockville, many runners came from as far away as Richmond (70-74 age group winner Mary Kate Berglund confessed that she has family in Kensington) and Fayetteville, PA, home of 79-year-old Bob Archibald. The oldest finisher in the race was Eileen Hobsongarcia, 81, who was joined by a contingency also from San Pedro, CA.
There race awards go three deep in ten year age groups but first there was a top master. Jean Christophe Arcaz had been at the race for the last six years. Often he finished just close enough to touch the shoulder of Ted Poulos just ahead of him. Always both of them finished faster than 29:00. This year Arcaz, now 50, gutted out the final yards to hold off Dan'imal' Murphy (left) 29:43 to 29:58 to win fifth overall and the top master award. Last year he had been fifth in 28:54 with Poulos tops in 28:51 and Murphy winning second age group in 29:26.
The top women master after Conant's overall victory was Kris Barner, 46 of Rockville in 36:44. After that there were some amazing age group times. The grandmaster women were all just 50, led by Sushila Nanda. Nanda has 14 age group victories since Memorial Day. For the men Roland Rust, 59, is taking his last few races in the fifties very serious, putting all the younger grandmasters away with a marvelous 31:09. Alice Franks put away the 60-69 women by more than a mile in 40:43. She gave us a pretty smile and said humbly something like, 'The times aren't very fast but after all we are just running for fun.'
Fourth place Keith Freeburn proudly noted that his mother Susan finished third in her division. Skip Grant, 76 of Washington, DC  ran an amazing 40:53 to top his division.
Before, during, and after the races Poison Ivy was the band playing music in the adjoining park.
                   Awards Listing (No Duplicate Prizes)
FEMALE
Place Num   Name                Ag City                  Time    
===== ===== =================== == ===================== ======= 
    1   114 Cindy Conant        50 Kensington MD           31:59 
    2   487 Trish Stone         36 Kensington MD           32:47 
    3    61 Sandra Bonilla      35 Kensington MD           32:50 
MALE
Place Num   Name                Ag City                  Time    
===== ===== =================== == ===================== ======= 
    1   517 Edi Turco           38 Arlington VA            27:41 
    2    13 Gareth Alberto      32 Annandale VA            27:56 
    3   348 Steven Moore        33 Kensington MD           28:04 

FEMALE AGE GROUP:  40 - 99
    1    42 Kris Barner         46 Rockville MD            36:44 

MALE AGE GROUP:  40 - 99
    1    24 Jean-Christophe Arc 50 Rockville MD            29:43 

FEMALE AGE GROUP:  1 - 12
    1   757 Adriana Rosas       11 Silver Spring MD        38:33 
    2   253 London Kazor         2 Kensington MD           44:52 
    3    80 Jordan Bryon        12 Alexandria VA           49:44 
    4   133 Maddie Deye         12 Kensington MD           53:50 

MALE AGE GROUP:  1 - 12
    1   134 Brian Diamond       12 Bethesda MD             43:07 
    2    83 Andrew Burklow      12 Kensington MD           45:35 
    3   476 Kemper Stearns      11 Kensington MD           46:50 

FEMALE AGE GROUP:  13 - 19
    1   496 Taylor Swift        17 Rockville MD            33:33 
    2    92 Sarah Caggiano      13 Bethesda MD             36:58 
    3   265 Charlotte Kirwan    17 Bethesda MD             38:25 

MALE AGE GROUP:  13 - 19
    1   236 Mark Jacobson       15 Rockville MD            31:32 
    2   266 Lewis Kirwan        13 Bethesda MD             33:29 
    3   100 Kasey Carroll       13 Bethesda MD             34:41 

FEMALE AGE GROUP:  20 - 29
    1   169 Miranda Forte       26 Gaithersburg MD         35:54 
    2   567 Chelsea Gibson      22 Bethesda MD             37:04 
    3    37 Briana Balsam       27 Gaithersburg MD         38:02 

MALE AGE GROUP:  20 - 29
    1   637 Micheal Fizdale     23 Bowie MD                31:44 
    2   151 Alex Emery          23 Rockville MD            32:11 
    3   331 Chris McGrath       23 Burtonsville MD         32:21 

FEMALE AGE GROUP:  30 - 39
    1   739 Julie Sapper        39 Rockville MD            32:53 
    2   127 Anne Delp           36 Kensington MD           35:36 
    3   257 Ellen Kennedy       39 Kensington MD           36:40 

MALE AGE GROUP:  30 - 39
    1   173 Keith Freeburn      37 Centreville VA          28:53 
    2   754 Marco Rosas Galicia 36 Silver Spring MD        30:01 
    3   610 Daniel Shanley      37 Chevy Chase MD          31:45 

FEMALE AGE GROUP:  40 - 49
    1   170 Lisa Fox            41 Bethesda MD             37:25 
    2    11 Ann Adkinson        42 Chevy Chase MD          39:20 
    3   582 Beth Krupinski      44 Kensington MD           40:47 

MALE AGE GROUP:  40 - 49
    1   352 Dan Murphy          47 Bethesda MD             29:57 
    2    22 Matt Anderson       45 Fairfax VA              31:06 
    3    21 Mark Anderson       45 Burtonsville MD         31:11 

FEMALE AGE GROUP:  50 - 59
    1   359 Sushila Nanda       50 Arlington VA            37:07 
    2   628 Patty Tschideser    50 Chevy Chase MD          39:02 
    3   627 Babby Landon        50 Chevy Chase MD          40:55 

MALE AGE GROUP:  50 - 59
    1   431 Roland Rust         59 Bethesda MD             31:09 
    2   737 Peter Cini          53 Fairfax VA              31:28 
    3   393 David Pinnick       54 Manassas VA             33:14 

FEMALE AGE GROUP:  60 - 69
    1   171 Alice Franks        63 Rockville MD            40:33 
    2   111 Vallerie Codrington 60 Lanham MD               48:43 
    3   174 Susan Freeburn      60 Kensington MD         1:00:13 

MALE AGE GROUP:  60 - 69
    1   110 Joe Coblentz        61 Silver Spring MD        42:19 
    2    74 Pim Brouwers        63 Silver Spring MD        45:51 
    3   303 Alan Madison        62 Gaithersburg MD         46:35 

FEMALE AGE GROUP:  70 - 79
    1    49 Mary Kate Berglund  70 Richmond VA             57:19 
    2   765 Jamie Wollard       73 Rockville MD          1:11:53 

MALE AGE GROUP:  70 - 79
    1   619 Skip Grant          76 Chevy Chase MD          40:51 
    2   498 Nils Borje Tallroth 70 Bethesda MD             48:12 
    3    25 Bob Archibald       79 Fayetteville PA         48:51 

FEMALE AGE GROUP:  80 - 99
    1   223 Eileen Hobsongarcia 81 San Pedro CA          1:30:57 

MALE AGE GROUP:  80 - 99
    1   333 Jack McMahon        80 Silver Spring MD        49:27
0
Comments