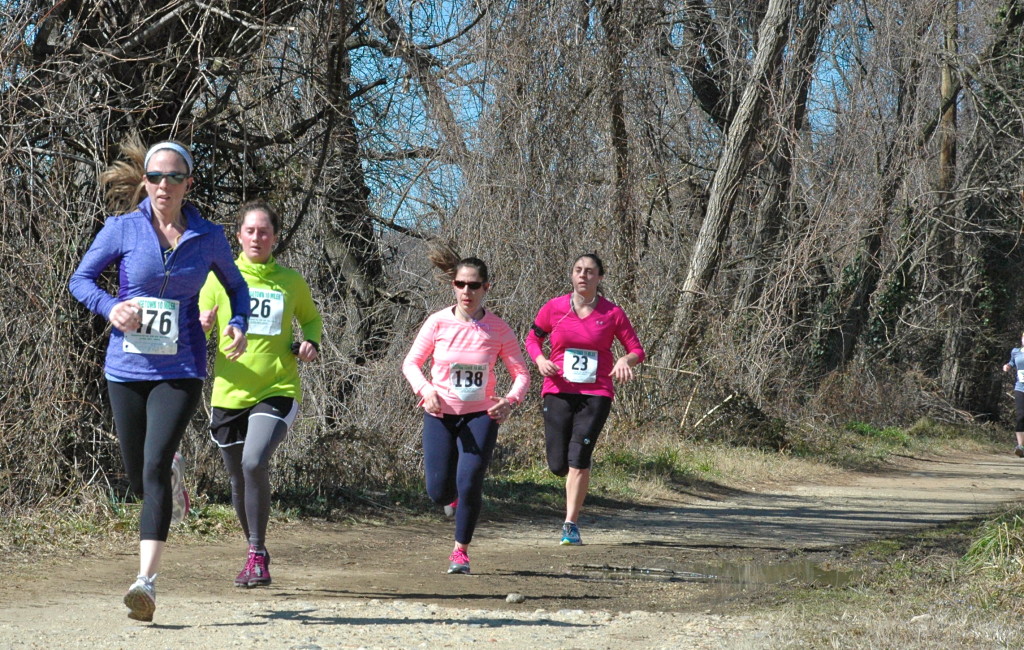 As Kristin Mitcham's feet hit the sandy Chesapeake and Ohio Canal Towpath in Georgetown for 10 miles, Kristin's brother's feet were hitting a treadmill nearly 7,000 miles across the globe — in Afghanistan. Her brother, Sean, who has been stationed in Afghanistan for nearly five months in the Army, told Kristin that he would run 10 miles on a treadmill at the same time of her race.
[button-red url="http://www.dcrunningclub.com/yahoo_site_admin/assets/docs/FINAL10MILERRESULTS_030913.67183300.pdf" target="_self" position="left"] Results [/button-red]"My brother bought me the registration," Mitcham, 33 of Reston, Va. said. "He buys us all presents over the internet when he's deployed around Christmastime and holidays."
Less than a week after "Snowquester" hit, runners who were lucky enough to snag registration for the inaugural DC Running Club Georgetown 10 Miler were all given a present: An out-and-back flat course along the scenic C&O canal path with clear blue skies, bright sun and 45 degree weather.
"A lot of runners today are asking for trails," said race director John Braithwaite. "We could have easily had 1,000 to 1,500 runners, based on folks calling and people inquiring about the event."
Since 2008, the DC Running Club has been holding races with a special twist throughout the area, including Take a Sick Day And Run a 5k and the Cupid's Single Mingle Sprint. In the fall, the club will also host a five-mile disco Roll or Run where athletes will have the option to rollerblade or run.
"Folks get tired of the same 5ks or 10ks," Braithwate said. "We like to come up with different themes for events."
Starting March 18 at 6 p.m., the club will kick off their free beginner running training program on Mondays and Tuesdays in Haines Point. On Wednesdays and Thursdays, the club also meets at 6 p.m. in Marlboro, Md.'s Watkins Regional Park.
First-place retired Marine, Alex Hetherington, 45 of Va., won the race by several minutes in 55:52. Hetherington, who will compete in the Cherry Blossom 10 Mile, said he has been running competitively since high school.
"Running has been an important tool for a lot of reasons," Hetherington said. "It gives you a reason to set goals."
The Georgetown 10 Miler attracted runners from all over, including New York City.
"I usually do the New York Road Runners races," said Neal Sussman, 30. "Those races are usually 4,000 runners. It's nice to get a small competitive field where you can actually have a chance to win a race–or come close to winning.
Though 550 runners seemed like a small crowd for Sussman, the DC Running Club had to start the athletes off in several different waves to avoid large crowds on the tight canal path, which remained open to the public. Runners who hadn't registered for the race however, were not able to enjoy the benefits of volunteers handing out water at various mile-markers along the course and a large, supportive crowd greeting them at the finish line.
0
Comments