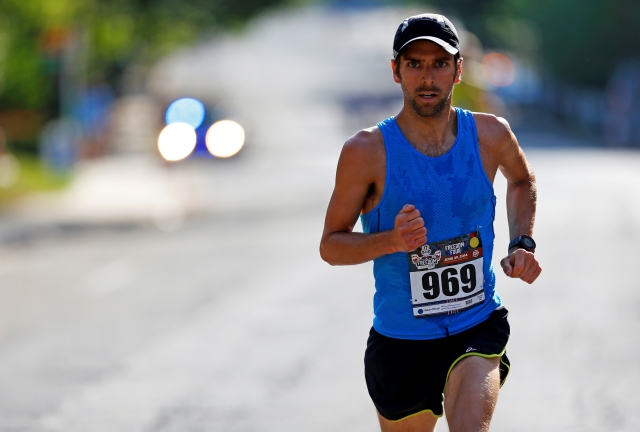 Running 500 miles in five days probably sounds like a crazy idea. That's exactly what Amos Desjardins wants people to think.
"Sometimes it takes doing something crazy if you really want to get people's attention," he said.
He's bound to get hungry with that kind of routine, but his discomfort is dwarfed by the cause he is promoting — the plight of one million Virginians, 12 percent of the population, without access to fresh and healthy food.
Each of the estimated million steps he will take will represent one of those hungry Virginians.
"I run a lot, obviously," he said. "It's a passion of mine. But food issues are also a really big passion of mine, and I really wanted to find a way to bring the two things together to bring awareness. People often don't necessarily realize the magnitude."
He grew up around farms, still grows his own fruits and vegetables and follows a vegan diet. Over the years, he has volunteered at Carpenter's Shelter, which works to serve more than 1,000 homeless and formerly homeless children and adults in Virginia each year.
Desjardins started planning and training for the run after he decided last summer that he wanted to use running to help Virginia residents in particular who are suffering from hunger.
Since then, he has partnered with the Federation of Virginia Food Banks, a nonprofit state association that supports food banks in providing food, funding, education, advocacy and awareness services and programs throughout the commonwealth.
The federation currently has seven food bank locations in Virginia, each of which distributes millions of pounds of food to hundreds of agencies every year.
Leslie Van Horn, the federation's executive director, has been working with Desjardins to help coordinate the route and ways they can work together to help spread awareness.
They thought September, Hunger Action Month, would be an appropriate time to hold the run.
"We're so honored that Amos chose to work with us," she said. "We've never had anybody do anything like this before in all of the federation's time. It's mind-boggling, really."
Van Horn's hope for the run is for it to eliminate stigmas that surround food issues in Virginia.
"Many people think that people who need assistance and go to food banks aren't doing their part to help themselves, but that simply isn't always the case," Desjardins said.
Additionally, according to the recently-released 2014 Food Deserts in Virginia Task Force Report, Virginia's low-access rate is 17.8 percent, which exceeds the national low-access rate of 7.3 percent. Food-insecurity rates are even lower than the statewide rate in more affluent areas in Northern Virginia such as Alexandria, Arlington, Fairfax and Manassas.
Desjardins will start Aug. 30 in Alexandria, at the corner of Union and King St. He'll head to Winchester, Harrisonburg, Charlottesville and Richmond, before heading back to Alexandria by Sept. 3.
Each day will start at about 5 or 6 a.m., and hit a 10:00/mile pace. That will work out to 16 hours and 40 minutes of running per day, each of which will likely end in a hotel bath tub ice bath.
In the time he can spare, he will be stopping at the federation's food banks in Along the way, Desjardins will be stopping to conduct meet and greets at four of the Federation's food banks—in Augusta County, Richmond, Fredericksburg and Lorton. He hopes people will donate food at each of his appearances, or anytime they see the grey Jetta that will serve as his support vehicle.
"Amos is determined and can really accomplish anything he sets his mind to," his wife Abigail said. "But it takes the help of friends and family to pull off something of this magnitude."
Amos' support team will include Abigail and his two of his close friends, Timothy Fitzgerald and Jeffrey Owens. Along the way, he will be followed by someone on a bicycle at all times and the support vehicle where roads allow; likely Owens.
"He texted me saying I was probably the only person crazy enough to come along for 500 miles on a bike, and I immediately agreed," Owens said. "Amos has always been incredibly driven, and I've always wondered how he was going to use his boundless energy."
The running joke among Amos' friends, he said, is that no one's ever seen him spent, even having run anywhere from 5ks to 70-plus-mile races.
When asked where he gets his energy to run, Amos responded without hesitation, "Life. Other people. I get a lot of joy and happiness from seeing others happy."
He runs several ultras a year, and hopes to run next year's Western States 100-Mile, one of the country's most renowned and increasingly coveted ultras. If he is accepted, Western States will be his first 100-mile race.
Well, his sixth. After Sept. 3.
Follow Amos' progress on his Facebook page.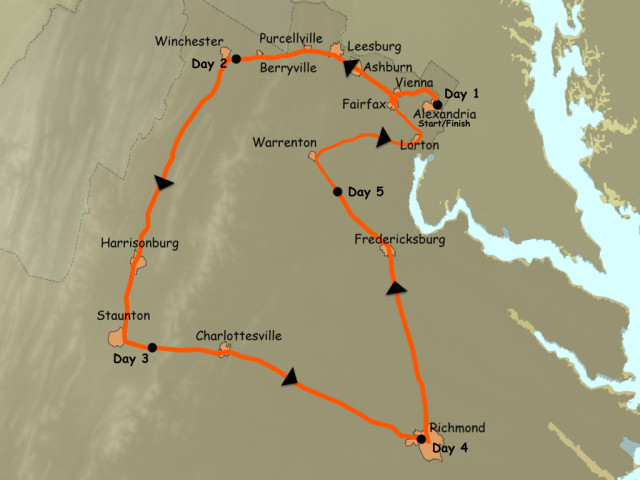 4
Comments