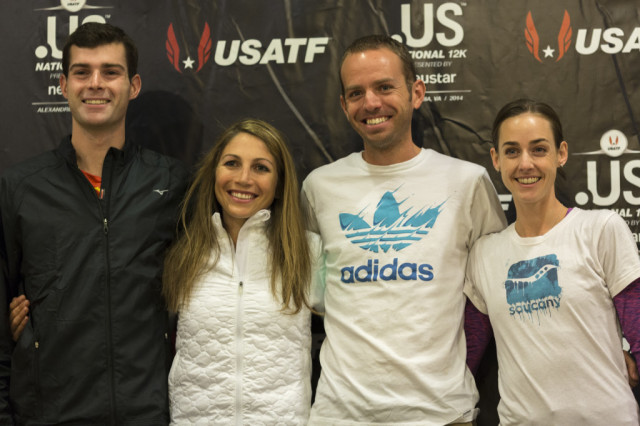 For the second year, the .US National 12K championships will be held in Alexandria, capping off the 2014 USA Running Circuit (USARC).
How it works: The USARC each year hosts national championships at distances ranging from one mile to the marathon. The first 10 U.S. runners at each race earn points, and also qualify for the 12K, which features $100,000 in prize money. Points are doubled at both the 12K and in the marathon.
***
Heading into tomorrow, Falls Church native Christo Landry, with 76 points, has an insurmountable lead in the men's standing. Landry is entered; Tyler Pennel, second in the USARC standings, is not.
Pennel established himself on the national stage at last year's 12k, finishing 3rd. In October, he won his first national title in his debut marathon.
For Landry, 2014 has been nothing less than a breakthrough year. In April, he won his first of three national championships on his home turf at the Cherry Blossom Ten Mile Run, prior to capturing titles at 10K and 25K. Five weeks ago, Landry was 13th in 2:14:30 at the Chicago Marathon. The result disappointed him.
Tomorrow, though, Landry, a graduate of Thomas Jefferson Science and Technology then William & Mary, who recently moved from Michigan to Charlotte, N.C., will give it his best shot, and, no matter the result, claim a USARC title and savor the opportunity to race in northern Virginia. "It's just great to come home," he said. "I grew up right nearby and anytime I get to come back to this area it just feels like coming home again, regardless of where I live at the moment."
During a press conference today, Kevin Ullman of RunnerSpace pointed out that Landry and Molly Huddle have a shot at becoming the first runners to ever claim four USA titles in one year.
Landry, after noting how special that would be, said, "It's more likely to be Molly's chance to do it first than mine tomorrow."
Huddle, the defending 12k champion and clear favorite, is just two points behind Sara Hall in the women's USARC standings. Both will race tomorrow.
"That's a pretty detailed stat," said the understated Huddle, to Ullman's question, "but I think it would be pretty special [to win four titles]."
Huddle has raced three USARC races and won as many times, claiming titles at 7 miles, 20K, and 5K. Last year, for Huddle, 12k, as a distance, seemed both strange and too long, even if she covered it in a national record time. This year, though, Huddle said she has a good "pace memory" for the distance and is focusing on winning a national championship. "Hopefully however fast we have to go I'm ready to do that," she said.
Hall, throughout her career, has had tremendous success in the middle distances on the track, but said she has had fun – not to mention success – experimenting with longer distances this year. She was the second American finisher at the Cherry Blossom Ten Mile Run, which hosted the national championship, and won and set a course record at the EQT Pittsburgh 10 Miler last weekend.
Had it not been for a burst appendix in August, Hall, who is married to American marathoner Ryan Hall, planned to run her debut marathon earlier this fall. That plan has simply been postponed.
"After this race I'll probably be turning the corner to more marathon specific training," she said.
***
After many near misses, Aaron Braun won his first national title at last year's 12k, "getting over the mountain," he said.
Braun added: "Once I know that I've done something once, then I have a lot more belief that I can do it again."
Braun's 2014 has been up and down. His debut marathon didn't go well. And in July, Braun, feeling overly fatigued, took a long break to recharge.
But Braun has since won the Great Cow Harbor 10K and San Jose Rock 'n' Roll Half Marathon, and is now focused on defending his 20K title. "I feel like I'm in as good of shape, if not better shape, than last year, so I should be able to pull it off again this year," he said.
Believing gait inefficiencies contributed to his difficulties in the marathon, Braun worked on his form, starting with a visit to Mark Plaatjes, a former world marathon champion and physical therapist, for video analysis.
"As soon as I watched the video, I was kind of like, 'Oh, gosh, that's pretty bad.' You always feel like you are the most beautiful runner, but when you actually see, actually critique yourself, it was kind of a good view into what was actually happening," he said.
Braun has been doing strengthening drills and has been more conscientious of not leaning too far back while running.
"Hopefully it pays off tomorrow and in my future marathons," he said.
***
A USATF spokeswoman said 1,300 runners will participate in tomorrow's race. It will be run on a different, and out-and-back, course, but will start and finish in the same place, near Oronaco Bay Park. (See map.)
The elite women will start at 7:15 a.m. The elite men, masters, and open race will start at 7:25. To watch online, see the live stream.
Lucas Meyer, a lawyer living in Washington, D.C., is in the men's elite field. See both elite fields.
RunWashington will cover both the elite men's and women's races. Follow @runwashington and @dicksonmercer for updates.
0
Comments
By Jim Hage
Washington, DC
April 3, 2011
For the Washington Running Report
After nine miles of a back-and-forth battle with Allan Kiprono at the Credit Union Cherry Blossom Ten Mile Run, Lelisa Desisa (left) appeared headed for a second straight photo finish. Last year's race came down to the wire and ended unhappily for Desisa when he was literally pushed aside by the winner, Stephen Tum, in a pell-mell sprint. Desisa finished second.
So this year the Ethiopian made his move with 800 meters to go, decisively dropping Kiprono and cruising alone to the tape as the undisputed champion in a event record 45 minutes 36 seconds – Ismael Kirui set the record of 45:38 in 1995.
Kiprono, from Kenya, finished second in 45:41.
"Last year I was happy," said Lelisa Desisa, 21, whose claim of interference in 2010 was denied. "Today, I am more happy."
Similarly, Julliah Tinega, the women's runner-up last year, earned vindication with her one second win over fellow Kenyan Risper Gesabwa. Tinega's time of 54:02 better reflected the cold and breezy conditions that made Desisa's record even more impressive.
Tgist Tufa ran 54:13 to finish third in a truncated women's-only field of just eight, who started 10 minutes before the men's and open field. Three-time defending women's champion Lineth Chepkurui was a late scratch.
Two-time men's champion (2008 and '09) Ridouane Harroufi, 29, from Morocco, ran with the leaders until seven miles before losing contact and finishing third in 46:27. "Today is my first race this year," Harroufi said. "The pace was very fast and my legs felt heavy. Maybe next race I feel better."
Lucas Meyer, 27, a third-year law student at the University of Connecticut, ran 48:26 and finished 13th. As the first American, Meyer earned $1,000. Local (D.C.) resident David Nightingale, 25, was one place back in 48:39 and earned $500.
Claire Hallissey, 28, (left) a native of Britain who lives in Arlington, finished fifth among the women in 56:17, good for $1,000 in prize money. Late-blooming Kelly Jaske, 34, from Portland, Ore., was the first American, sixth in 57:06. Jaske, a criminal defense lawyer, has been running competitively for less than five years. She was fifth at last year's race.
Nianxiang Xie, 83, from Rockville, was the oldest finisher in 1:58:26.
Ben Beach, 61, from Bethesda, ran 1:37:18 to extend his streak as the only runner to have completed every Cherry Blossom race. This year's 39th edition featured a record 15,968 finishers.
Top 25 Finishers
Men
Place Div  /Tot   Num    Name                   Ag Hometown             5 Mile  Gun Tim Net Tim Pace  
===== =========== ====== ====================== == ==================== ======= ======= ======= ===== 
    1     1/398        3 Lelisa Desisa          21 Ethiopia                       45:36   45:36  4:34 
    2     2/398       13 Allan Kiprono          21 Kenya                  23:08   45:41   45:41  4:35 
    3     1/1466       5 Ridouane Harroufi      29 Morocco                23:10   46:27   46:27  4:39 
    4     3/398       17 Lani Kiplagat          22 Kenya                  23:09   46:30   46:30  4:39 
    5     2/1466      27 Macdonard Ondara       26 Kenya                  21:41   46:52   46:52  4:42 
    6     3/1466      29 Tesfaye Sendeku        28 Ethiopia               23:15   46:53   46:53  4:42 
    7     4/1466      21 Stephen Muange         29 Kenya                  23:24   47:30   47:30  4:45 
    8     4/398       23 Simon Cheprot          21 Kenya                  23:14   47:32   47:32  4:46 
    9     5/1466      31 Josphat Boit           27 Kenya                  23:24   47:50   47:50  4:47 
   10     1/1075      25 Girma Tola             35 Ethiopia               23:27   47:56   47:56  4:48 
   11     5/398       47 Ezkyas Sisay           22 Ethiopia               23:34   47:58   47:58  4:48 
   12     6/1466      51 Tesfaye Assefa         27 Ethiopia               23:42   48:03   48:03  4:49 
   13     7/1466      33 Lucas Meyer            27 Ridgefield CT          24:06   48:26   48:26  4:51 
   14     8/1466     296 David Nightingale      25 Washington DC          24:10   48:39   48:39  4:52 
   15     9/1466      45 Augustus Maiyo         27 Colorado Springs CA    24:18   49:56   49:56  5:00 
   16    10/1466     107 Karl Dusen             28 N Bethesda MD          25:13   50:06   50:06  5:01 
   17     1/1326     105 Bert Rodriguez         31 Arlington VA           25:08   50:25   50:25  5:03 
   18     6/398      297 Sam Luff               24 Rockville MD           25:22   50:45   50:45  5:05 
   19     7/398      106 Jerry Greenlaw         23 Alexandria VA          25:19   50:55   50:55  5:06 
   20    11/1466     112 Brian Flynn            27 Weyers Cave VA         25:24   51:08   51:08  5:07 
   21    12/1466      49 Birhanu Alemu          28 Ethiopia               25:09   51:10   51:10  5:07 
   22     2/1075   20510 Michael Wardian        36 Arlington VA           25:20   51:16   51:16  5:08 
   23    13/1466     304 Joe Wiegner            29 Rockville MD           25:25   51:34   51:34  5:10 
   24    14/1466     109 Dirk De Heer           29 Silver Spring MD       25:44   51:40   51:40  5:10 
   25    15/1466     108 David Burnham          26 Arlington VA           25:37   51:49   51:46  5:11
0
Comments