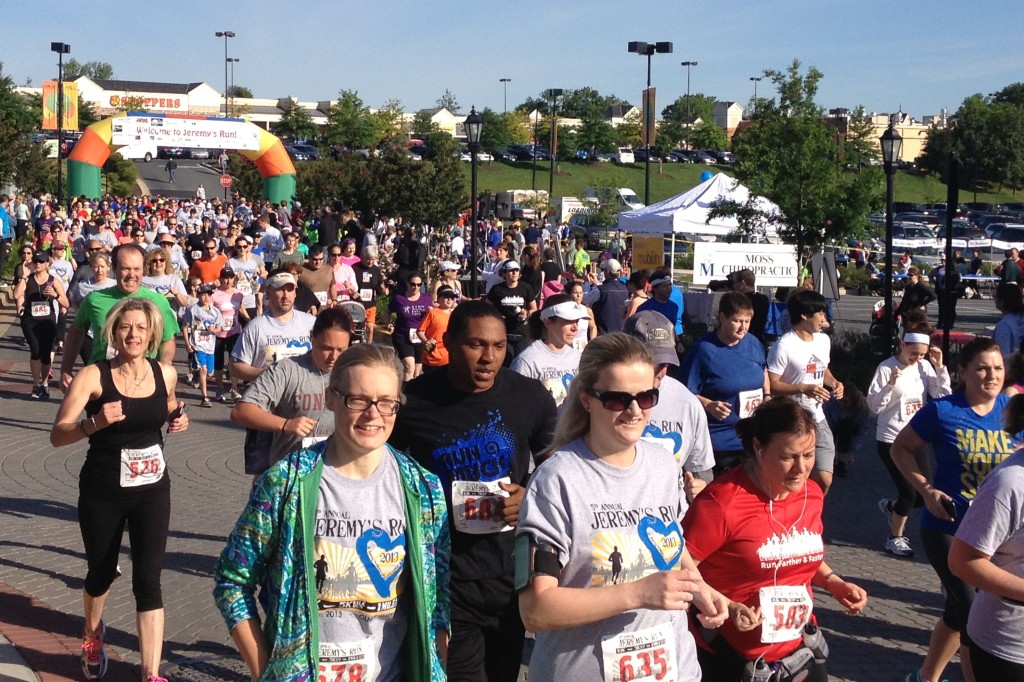 [button-red url="http://www.mcrrc.org/jeremys-run-10k" target="_self" position="left"] 10k Results [/button-red] [button-red url="http://www.mcrrc.org/jeremys-run-5k" target="_self" position="left"] 5k Results [/button-red]Just minutes prior to wiping off sweat, many runners were wiping tears. During an emotional pre-race ceremony, Jeremy's Run Race Director Cyndi Glass lit candles to honor those in drug addiction recovery and as a symbol of hope for those suffering from drug addiction.
The fifth annual Jeremy's Run consisted of a one-mile fun run, 5k and 10k. Hundreds of runners and members of the community came out to support the race and cause that was dedicated to Jeremy Daniel Glass and others who have died of complications from drug addiction.
Glass, who is Jeremy's mother in addition to race director, said she appreciated the turnout, which has continued to increase over the years.
"I want to help my cause," Glass said. "And having more people means more support for my cause. That's the reason I'm doing this."
This year marked Stephen Raye's second year participating in the race. Raye participated in the 5k and has a son who suffered from drug addiction. He said he came out to show his support for the important issue.
"Everybody thinks it's a weakness," Raye said. "And it's just…you'd be okay if you got your head together. But we learned a lot from our son going through the process of recovery and learned that it's a medical condition and it's got to be thought of that way."
Corey Graeves of Silver Spring, Md. took advantage of the first half of the downhill 5k course to take the lead within the first half mile. Though Graeves said the slight uphill on the way back to the finish sort of "broke" him, he finished 1st place with a time of 17:16.
In the women's division, Audrey Perlow of Arlington, Va. also held the lead for the majority of the race. Finishing with a personal best time of 19:41, Perlow said she was happy to see the community come out to support the cause.
The 10k overall winner, Aaron Anderson, of Germantown, Md., took the lead with one mile left to go. He finished with a time of 34:55. The 2011 1st-place finisher in the Jeremy's Run 5k said that he has recently increased his mileage because he is training for a shot to compete in the 2016 Olympics.
Vying for the overall women's 1st-place 10k trophy was Katelyn Rogus and Megan Llewellyn. Rogus had the home-turf advantage having grown up within a few blocks from the starting line and took home the 1st-place trophy.
"When you run a race, you're doing something for yourself," said Paula Galliani, Gaithersburg, Md. "But you're also doing something for somebody else and it feels really good."
Though Galliani has been running for nearly 25 years, she said that she felt a calling to compete in Jeremy's Race. A mother of teenagers, she added that the race website brought her to tears.
0
Comments
By James Moreland
Sterling, VA
May 26, 2012
For the Washington Running Report
Fun run start .
For the last nine years this special race that starts underneath the ladders of two fire trucks in Sterling, has acted like the official start of the summer season. Raced on Memorial Day weekend the region usually blasts out a ninety degree day to test the runners. The course is a two loop jaunt around the Community Center. After cresting the first long hill at the end of the second mile runners get to run under an uncapped fire hydrant. A quick look at the times will tell you that the first real scorcher of 2012 took its toll on the nearly 500 10K finishers.
Only one event record was broken and that was Christy Dannenberg's 19 & younger record of 42:22 set in 2004. Race winner Melissa Saunders, 19, took the crown in a very nice 41:21. The elite division for the Runner Rankings is 41:15. Only two others years, both extra hot, had a winner slower than forty minutes.
Katie Clarke, 19, got a late start finishing in 42:58 but her net time of 42:25 was near the former event record. Only one women in the top ten finishers returned from last year, sixth place Mandana Mortazavi, 48 in 45:16. Fourth place Kim Isler was the masters champion in 44:23.
In the men's race, Ray Pugsley, 43, was the consensus favorite to win it all. Pugsley cruised home in 34:37 for his third win in five tries. He had set the 35-39 record winning in 2006 with 33:29. The next year he was second to Jorge Pardo, 38, who took his record with 33:21. In 2008 he came to for revenge besting Pardo 33:21 with an excellent 33:02 but was again second as Philippe Rolly, 35, won it all in 32:49. All three broke the previous record. The next year Pugsley returned as a master to win it all in 33:02, again. Only one runner older than Pugsley has won the race. That was Linda Foley, 46, back in 2008.
In 2007, runner-up Max Werner, 23 , had the second fastest teen time in 35:41. Today he topped his best Cascades 10K with 35:39. The teen record was set by C.W. Moran with 32:34. The following year he joined Philippe Rolly in a blistering charge down the final hill finishing in an identical time of 30:40. Rolly got the victory by an eyelash, while Moran settled for the 20-24 record. Last year Ethan Pacifico (left) was fourth overall in a solid 37:53. This year he was fifth, improving to 36:57. He still has three more years to try for Werner's time.
For the older runners, Roland Rust, 60, continues his top ranked spring season with an excellent 40:24 for the second best age graded time, after Pugsley, in tthe event. It makes you realize how good Patrick Griffith was. Griffith is one of three runners, Moran and Rolly, with two age group records. He had a fabulous 38:46 back in 2005 at age sixty.
Four runners from the 50 Plus Club with a combined 161 races run so far this year came out to race. Jim Noone, 67, took another title with a solid 44:18. Bob Gurtler, 77, who normally prefers the 5K with 28 already this year, ran his fifth 10K of the year in 1:06:53. Karen Young, 43, and Bill Stahr, 51, have a combined 35 races each in the 5K and 10K.  Stahr, who won his age group in 44:12, ran a record 78 10K races in 2009. Young, who just missed running fifty or more for the third time with 49 in 2001, leads Stahr this year so far 19 to 17.
                   Awards Listing (No Duplicate Prizes)

OVERALL MALE  (GUN TIME)
Place Num   Name     Lname      Age City                  Time    
===== ===== =================== === ===================== ======= 
    1     3 Ray Pugsley          43 Potomac Falls VA        34:37 
    2   506 Max Werner           23 Potomac Falls VA        35:39 
    3   346 Douglas Haines       27 Centreville VA          36:28 

OVERALL FEMALE  (GUN TIME)
Place Num   Name     Lname      Age City                  Time    
===== ===== =================== === ===================== ======= 
    1   422 Melissa Saunders     19 Potomac Falls VA        41:21 
    2    44 Katie Clarke         19 Sterling VA             42:58 
    3   251 Mary Beth Chosak     33 Arlington VA            43:21 

MALE AGE GROUP:  1 - 19   (NET TIME)
    1   336 Ethan Pacifico      16 Potomac Falls VA        36:57 
    2   118 Patrick Wilson      19 Sterling VA             38:33 
    3   508 Zawad Chowdhury     18 Potomac Falls VA        38:43 

FEMALE AGE GROUP:  1 - 19   (NET TIME)
    1   499 Samantha Phillips   19 Potomac Falls VA        48:13 
    2   459 Kayla Grimmett      18 Sterling VA             48:23 
    3   283 Barbara Rion        19 Sterling VA             49:00 

MALE AGE GROUP:  20 - 24   (NET TIME)
    1   505 Kyle Kinnally       24 Ashburn VA              36:52 
    2   450 Matt Weber          21 Sterling VA             37:46 
    3   493 Tim French          20 Sterling VA             44:05 

FEMALE AGE GROUP:  20 - 24   (NET TIME)
    1   129 Emily O'Connor      22 Sterling VA             47:15 
    2   211 Erica Raggio        21 Sterling VA             50:41 
    3   307 Lauren Cummings     23 Olympia WA              53:05 

MALE AGE GROUP:  25 - 29   (NET TIME)
    1   119 Sean Wilson         25 Sterling VA             37:39 
    2    22 Mike Tosto          28 Sterling VA             41:14 
    3   306 William Fastenau    25 Olympia WA              43:11 

FEMALE AGE GROUP:  25 - 29   (NET TIME)
    1   453 Kristina Keller     29 Cleveland OH            45:11 
    2   514 Amanda Gould        29 Centreville VA          46:40 
    3   213 Heather Hanks       29 Clifton VA              48:08 

MALE AGE GROUP:  30 - 34   (NET TIME)
    1    87 Dennis Haeberle     31 Reston VA               42:10 
    2    18 Caldwell Clarke     33 Leesburg VA             42:19 
    3   370 Andy Gingrich       32 Centreville VA          42:42 

FEMALE AGE GROUP:  30 - 34   (NET TIME)
    1   105 Alison Slade        31 Odenton MD              46:00 
    2   491 Laura Portillo      30 Potomac Falls VA        46:37 
    3   466 Melanie Bell        30 Potomac Falls VA        49:37 

MALE AGE GROUP:  35 - 39   (NET TIME)
    1   327 Robert Osterried    39 Sterling VA             40:28 
    2   181 Robert Antonellis   36 Sterling VA             42:37 
    3    32 Thomas Luke         36 Potomac Falls VA        45:21 

FEMALE AGE GROUP:  35 - 39   (NET TIME)
    1    27 Keisha Voigt        39 Sterling VA             47:17 
    2    80 Kristy Persons      36 Potomac Falls VA        47:19 
    3   365 Laura Sibley        39 Potomac Falls VA        49:41 

MALE AGE GROUP:  40 - 44   (NET TIME)
    1   270 Alan Sherman        40 Silver Spring MD        37:06 
    2   431 Rob Meadows         40 Lansdowne VA            39:50 
    3    97 Bin Mu              43 Reston VA               40:14 

FEMALE AGE GROUP:  40 - 44   (NET TIME)
    1   295 Kim Isler           44 Oakton VA               44:20 
    2   529 Karen Young         43 Boyds MD                48:15 
    3    98 Jie Zheng           41 Reston VA               48:58 

MALE AGE GROUP:  45 - 49   (NET TIME)
    1   358 Craig Hymes         49 Reston VA               39:22 
    2   538 Ed Milenski         45 Potomac Falls VA        39:36 
    3   509 Mark Fanelli        48 Reston VA               41:46 

FEMALE AGE GROUP:  45 - 49   (NET TIME)
    1   533 Mandana Mortazavi   48 Leesburg VA             45:12 
    2   428 Annie Downer        48 Herndon VA              50:26 
    3   193 Cj Schwartzrock     45 Sterling VA             51:35 

MALE AGE GROUP:  50 - 54   (NET TIME)
    1   532 Bill Stahr          51 The Plains VA           44:10 
    2   168 Gregory Gould       51 Sterling VA             45:14 
    3   354 Alan Riggs          54 Lovettsville VA         50:42 

FEMALE AGE GROUP:  50 - 54   (NET TIME)
    1   382 Pamela Thomas       52 Sterling VA             53:15 
    2   169 Laurie Gould        51 Sterling VA             54:07 
    3   187 Suzanne Cooper      51 Sterling VA             55:50 

MALE AGE GROUP:  55 - 59   (NET TIME)
    1   163 Ken Krehbiel        58 Washington DC           46:12 
    2   345 Keith Hosman        57 Dale City VA            48:45 
    3   424 John Klemens        55 Potomac Falls VA        49:47 

FEMALE AGE GROUP:  55 - 59   (NET TIME)
    1   465 Kathie Brumbaugh    55 Herndon VA            1:03:09 
    2   218 Laura Carter        55 Sterling VA           1:11:55 
    3   225 Connie Boswell      55 Sterling VA           1:15:59 

MALE AGE GROUP:  60 - 64   (NET TIME)
    1   207 Roland Rust         60 Bethesda MD             40:23 
    2   258 Bill Koetter        63 Ashburn VA              55:30 
    3   482 Halle Overhamm      61 Germany               1:03:06 

FEMALE AGE GROUP:  60 - 64   (NET TIME)
    1   313 Jaine Summers       61 Annandale VA          1:07:42 

MALE AGE GROUP:  65 - 69   (NET TIME)
    1   290 Jim Noone           67 Fairfax VA              44:15 
    2   390 Patrick Brown       67 Reston VA               55:22 

FEMALE AGE GROUP:  65 - 69   (NET TIME)
    1   387 Pat Welch           67 Vienna VA             1:00:58 

MALE AGE GROUP:  70 - 99   (NET TIME)
    1   411 Chan Robbins        74 Arlington VA            53:58 
    2   507 Ken Quincy          74 Vienna VA             1:00:14 
    3   474 Bruce Wayne         75 Potomac Falls VA      1:05:16 

MALE FIRST TIME RACER: NET TIME - NET PACE 1 - 99
    1   186 Son Huynh           33 M South Riding VA       48:38

FEMALE FIRST TIME RACER: NET TIME - NET PACE 1 - 99
    1   211 Erica Raggio        21 F Sterling VA           50:41
0
Comments