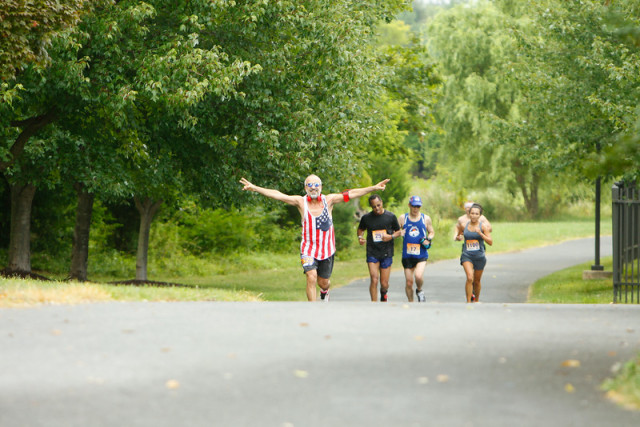 When most race registration websites encourage runners to sign up their particular event, Riley's Rumble Half Marathon cautions participants.
"Don't be seduced by the lush bucolic countryside of rural Montgomery County," it said. "This race will challenge the best runners. If you want the 3 H's (hills, heat, and humidity), this is the race for you."
[button-red url="http://www.mcrrc.org/rileys-rumble-1″ target="_self" position="left"] Half Marathon Results [/button-red]Despite all of this discouragement, more than 400 participants showed up to the starting line at 7 a.m. to conquer what they knew and expected to be a tough course. In fact, those words of warning were part of the draw.
"If another guy suggests to do something challenging or possibly stupid, I don't back away," Sasha Rourk of Washington, D.C. said. "It's definitely tougher on country roads with a lot more hills. But there's fewer tourists than the Mall."
Rourk said his colleague, Arie Heijkoop, recommended the race to him in preparation for the Marine Corps Marathon he plans to run in this fall.
"It's probably the toughest thing I'm going to do this year," Heijkoop said. "I think everything they say about these races are true — Park's Half Marathon is the 'nice half.' And this is the race 'your mother warned you about.'"
The race used to take place along the C&O Canal at Riley's Lock (the race's namesake). But after logistical difficulties, race director Joel Carrier said, the course moved to its current location in Boyds, near the South Germantown Recreational Park. Carrier said he prefers the new course but added "I wait until the fall to run it."
"It's the nicest day we've had in years," he said while talking about the temperatures, which were in the low 70's with a few sprinkles of rain. "Usually it's hot and humid."
Riley's Rumble is one of several events among MCRRC's low-key race series. While there were no awards, t-shirts or finisher medals, one of the temptations to sign up for the race was the low cost: free for club members or a $21.40 registration fee for everyone else—a steal for a half marathon near Washington, D.C.
The low cost was what lured Scott Smith of Bellaire, Md. into signing up. He's currently in the midst of attempting 13 half marathons in 13 months. He said he's running three of these halves in August, solely because they were the most affordable.
"This was a bargain and I try to do as many bargains as possible," Smith said.
Smith is also training for numerous marathons in between his half marathon challenge.
"It's gonna be a tough week," Smith, who has another half marathon coming up next week, said. "But Maryland in general is a hilly place and it will toughen me up for the marathons."
Though the race website recommended first timers steer away from Riley's Rumble, the event marked Nicole Dawson's first half marathon. She'll not only remember her first half marathon because of the course, but also because of the fact that she was the first woman to come through the finish.
At only 19 years old and a junior at the University of Maryland, Baltimore County, won the women's division by nearly two minutes, with a time of 1:32:28. She ran the first half of the race with her UMBC teammate, Sarah Zielinski, then broke away.
Megan Haberle of the Dojo of Pain was also among one of the top women to come through the finish. She felt like she was in a state of shock at staying upright for 13 miles after being dogged by injuries all spring. She added one of her favorite things about the low-key race series is how supportive the other runners in the race were.
"I'm a small town girl at heart and this recaptures that same feeling I remember when I watched my dad run small 10k races," Haberle said.
She added that she also enjoyed the rural scenery.
"It's a beautiful course," she said. "You're not breathing in car exhaust, you're just looking out in the landscape. It's a nice distraction."
Jim Dahlem of Silver Spring said he was quite surprised to see how rural Montgomery County actually was.
"This is by far the most rural half marathon I've ever done," he said. "We passed through farms and cows all on country roads."
That wasn't the only aspect of the race that surprised him.
"When you're going downhill in the beginning you don't realize how steep it's going to be coming back because you're not tired yet."
Though Dahlem had a few surprises, he still managed to finish third in his age group.
The top finisher in the race, who's now a back-to-back first place finisher winning this year's and last, MCRRC racing team member Nicolas Crouzier passed through the finish line at 1:17:03 — a 4:37 lead over second place finisher Miles Aitken. Crouzier said he aimed to run each mile a little quicker than his marathon pace.
"I started out with 5:45 per mile then eased up a little after a few miles," Courzier said.
The MCRRC competitive team recruited Courzier after he won this race last year . He added that the low-key races series put on by the club is a favorite of his.
"I just love these small local races," he said. "You don't have to worry about medals or anything like that, it's just pure and simple racing—and that's what I like."
2
Comment
Winds up to 30 miles per hour, snow flurries in 30 degrees, rolling hills and plenty of warm chili — it's all in preparation for springtime races and a long-time tradition for the DC Road Runners Club. At the 52nd annual Washington's Birthday Marathon and Relay, the club brought in more than 500 runners to race on some of Greenbelt's most challenging roads in an effort to get the athletes primed for the season ahead.
"You don't get the intensity if you train on your own that you do in a race," said overall marathon winner Miles Aitken, 29, of Washington D.C.
Aitken, who won with a time of 3:08:43, said he planned to come back next year. "It was a great course and well organized," he said. Though his specialty race is 5K, Aitken was using the DCRRC GW Marathon to train for the Rock 'n' Roll Marathon USA in March.
Aitken wasn't alone. Many runners who braved the gusts of wind and rolling hills were getting ramped up for springtime races.
Not all runners had to complete the entire 26.2 miles to lace up their racing shoes. In addition to the full marathon competition, the DCRRC also hosted a relay for runners who wanted to race a shorter distance. With more than 100 relay teams, Ben Richter, vice president of races for the DCRRC, said the relay teams made-up roughly half of the race participants. Richter said the relays tend to get more people involved.
Emily Buzzell, 27 of Washington, was the first of three runners to compete in the co-ed "Team Dojo" squad. Her team finished first in the co-ed relay series with a time of 2:52:20. Buzzell said the relay gave her something to run for.
"I turned a corner after the fifth mile mark and ran into a 30-mile-per-hour wind," Buzzell said. "I was exhausted and everything hurt but didn't want to slow down because my team was counting on me."
Buzzell's other motivating factor to race in mid-February is the Boston Marathon. "Everything's geared toward Boston," she said.
"Relays are good activities to help you be accountable for other bigger goals," said Buzzell's teammate, Kit Wells, 36 of Damascus, Md.
In addition to appreciating the atmosphere of teamwork, Wells enjoyed the course, which passed a federal agricultural research facility. One of the Greenbelt country streets was even named "Poultry Road."
"It's the closest thing I've come to experiencing anything dealing with poultry research," Wells said. "It's nice that the same footprint can be used for healthful recreational. That's a good mix," Wells said.
Among other relay teams and running clubs competing throughout the race, the American Hispanic Running Club had a strong showing in support at the finish. When talking about their favorite part of the course, many of the club's runners said the finish. The club, which is trying to bring more Hispanic members to the running community, took first in the Masters Male Relay team with a time of 3:15:35. The group is preparing for the Rock 'n' Roll USA Marathon in March and the Parks Half Marathon in September.
For Jane Lanford, 47 of Fairbanks, Alaska, the course was a refreshing way to experience the east coast.
"I have this impression of the east coast as entirely built up," Lanford said as she tried to warm her hands—even after she had been inside for an hour.  "It was very nice to be out in the country. I really enjoyed that."
Lanford traveled all the way from Fairbanks, Alaska, where she trains outside all year long. She finished first in the woman's masters at 3:54:04 and hit her goal: to break four hours. The Washington's Birthday Marathon marked the 15th race in which Lanford broke four hours. This is part of her goal to run 50 marathons in less than four hours.
"I'm not getting any younger so I might as well do them now the best I can," Lanford said.
Amanda An, 25 of Ellicott City, touted her Howard County roots and said she liked the hills.
"I actually like them better than the flat courses," An said. An was the first female finisher with a time of 3:35:02. She got her start in 2008 when she ran her first marathon. The  race marked An's 17th marathon.
"Once you get mixed up in the running community and get talking to other runners and their achievements—then you start questioning your own abilities and what you can give," An said. "It really motivates you to try to push your own limits."
An ran the marathon in preparation for her second 100-miler, the Boston Marathon and brought her one step closer to reaching her goal of completing at least 50 races a year—part of the 50-plus group.
It seemed that most runners had used the Washington Marathon as a training ground for their big up-and-coming race, but it was also clear this race was just as important as the big ones. Whether it was one more race closer to the 50 mark or another race allowing teammates to grow stronger, the Washington's Birthday Marathon allowed many runners to get back in the groove of racing and dust off their racing flats.
0
Comments