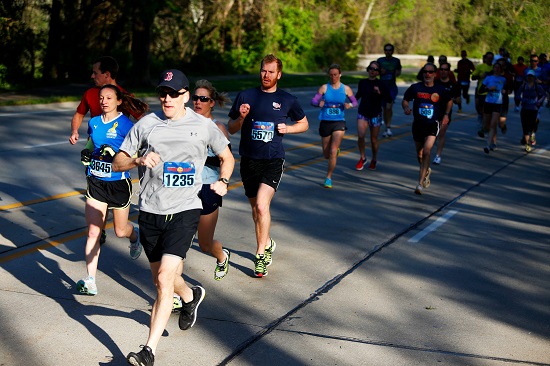 Back on Monday, James Davis was walking towards the finish line after completing his first Boston Marathon in 3:08:32. A block away, he heard the blast.
[button-red url="http://www.zippyreg.com/rwt/results/2013/0421gwpc/" target="_self" position="left"] Results[/button-red]
Before that moment, a Boston Marathon shirt expressed personal pride and achievement. It still does. But now, more than ever, the Boston Marathon shirt Davis and many others wore during the George Washington Parkway Classic expressed solidarity. It expressed love – for the race, for the city, for the people.
"I felt good to be out there with everyone," Davis said.
In the week leading up to the event, the race's organizers, Pacers Events, sent an email to runners letting them know that safety was their "number one concern."
Runners checked gear in clear plastic bags, and noticed more of a security presence near the starting line. The finish area was blocked off and closed to non-runners, with no re-entry allowed. Once runners exited the finish area, however, they entered a post-race party in Oronoco Bay Park that was as lively as ever.
Seth Hutchinson, who broke the tape in 50:56, appreciated the extra security measures, he said. But Hutchinson, 29, also appreciated the focus placed on remembering what had happened in Boston.
"I think they did a great job," he said.
The Charlottesville, Va., resident pinned a yellow ribbon, distributed before the race, to his Ragged Mountain Running racing team jersey, and went on to separate himself from Will Christian and Jordan McDougal by running the second half of the race in 25:00.
Christian, 29, of Norfolk, Va. was 2nd in 51:22, with McDougal 3rd in 52:18. The top master, Eric Makovsky, 40, clocked 59:53.
Shannon Miller, 28, of Arlington won the women's race in 1:01:04.
"Runners have that spirit," she said. "Definitely that spirit is here, which is really good."
Miller was followed by Laura O'Hara, 33, of Alexandria in 1:02:33. Kristen Henehan, 33, of Kensington, Md., was third in 1:03:41. Kristi Markowicz, 42, of Arlington, was the top master in 1:05:29.In addition to honoring Boston, runners bought back bibs to raise money for the recovery of Peter Laboy, an Alexandria police officer who was shot while on duty.
O'Hara was one of them. "I'm so grateful for the people who keep us safe here," she said.
O'Hara had to stop between the first and second miles to tie her shoe. From there, she struggled to find a good rhythm. Grinding along, she thought about Boston and people like Laboy whose jobs often put them in harm's way, and "tried to be tough," she said.
Ami Camardo, 42, also ran in honor of Laboy. She finished in 1:20:14, easily beating her pre-race goal of breaking 1:25, and was pleased to see what happened in Boston had not scared away spectators.
"They give you so much energy and adrenaline," she said. "So it was really nice to see everyone out there and see them supporting us."
Andrew Ellis, 54, of Falls Church, who finished in 1:24:42, raced with "Boston Strong" temporarily tattooed on both of his calves and also sported his 2011 Boston Marathon shirt.
The Boston area native used to live along the Boston course, and described running the race in 2011 with his daughter, then a senior at Boston College, as "the experience of a lifetime."
"It was personal," he said of the attacks. "Everybody knows somebody who ran, or was close to it, or was caught up in it, so it's been an awful week."
The race, on the other hand, was a highlight.
"This was a lot of fun," he said. "I wouldn't have missed it."
0
Comments