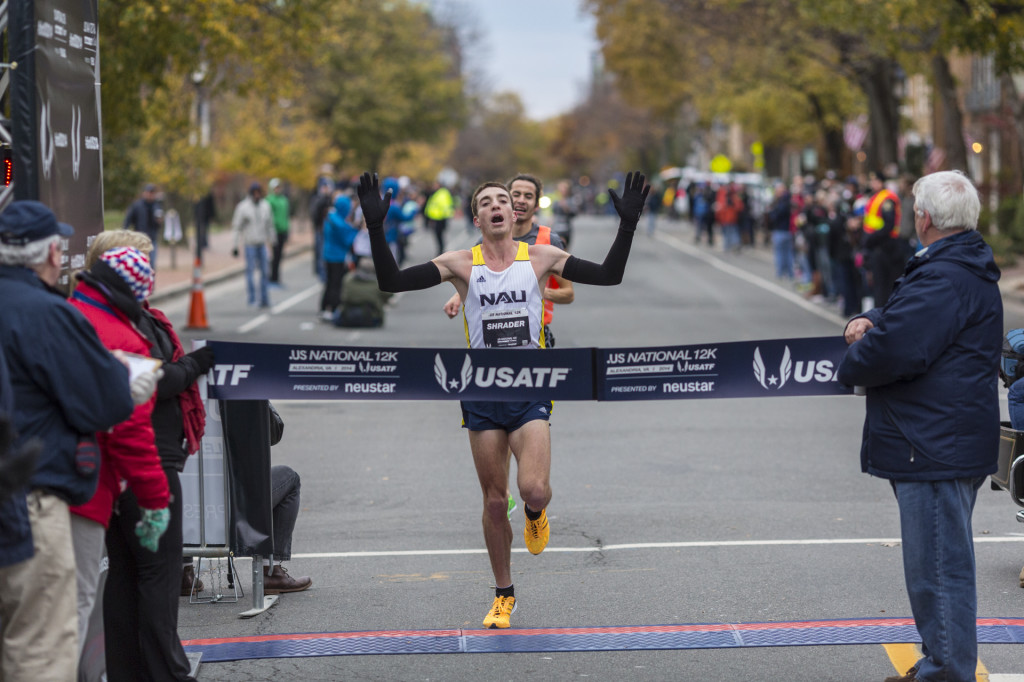 The word Brian Shrader kept saying over and over – to reporters, to friends, to race organizers, and to new fans seeking his autograph – was "shock."
For example: "I'm still in shock," he said, after winning the .US National 12k championship in Alexandria this morning. "I don't even know what to think."
[button-red url="http://www.national12k.us/Results.aspx" target="_self" position="left"] Results [/button-red]
There were a number of reasons Shrader felt this way.
For one, the top prize paid out $20,000, but the 23-year-old still has track eligibility left at Northern Arizona University. So unless he wants to turn professional, Shrader, according to NCAA rules, can only accept prize money "in an amount up to actual and necessary expenses for the calendar year." (See this Collegiate Running Association page for a more detailed explanation, but he could keep as much as he can document with receipts, including costs for travel, equipment and coaching.)
Before today, Shrader had never run a 10k, let alone a 12k. He had only run one other road race: the CVS Downtown 5k, the national championship, in September, where he was 4th in 13:59.
Shrader racing the 5k was Northern Arizona University alum Diego Estrada's idea. They both live, and occasionally train together, in Flagstaff, Ariz. That day, Estrada unleashed a strong kick to win his first national title, while Shrader qualified to have his expenses covered to compete in the 12k.
On a cold, overcast morning, Shrader, Estrada, and 22 other elite men started around 7:25 on S. Union Street, near Oronoco Bay Park. They headed south to Franklin Street and made a short climb and descent. There, not long after the mile mark, they turned left onto George Washington Parkway, which they followed out to the halfway mark, where they did a U-turn and retraced the same route.
Last year, Aaron Braun, of Alamosa, Colo., came here hungry to win his first national title, setting the tempo for a big lead pack and throwing in a series of surges that allowed him to gradually slip away. He broke the tape in a time of 34:26, which he found out later was just two seconds slower than Steve Spence's American record.
At yesterday's press conference, Braun said he was just as fit, if not more fit, than he was in 2013, but also knew he'd have more of a "target on his back."
That turned out to be true.
In the opening mile, a huge pack, 20-plus strong, formed around him. The consensus, it seemed, was that Braun would be the one pushing the pace while everyone else would be the ones trying not to get dropped.
As 4:40s in the early miles dipped down closer to 4:30 by halfway, the pack started to string out. After the U-turn, Braun threw in a 4:25, his goal being, as with his earlier and later surges, to "try and hurt people a little but also not hurt myself."
"I needed to be able to put them away earlier," Braun said, "and make them think it was too big of a gap."
But back on S. Union Street, when the finish line came into view, Braun, though he had successfully dropped most of the field, was still flanked by five other runners – Shrader, Estrada, Jared Ward, Girma Mecheso, and Parker Stinson – who were snapping out of survival mode and tapping into a far more positive notion: I can win this thing.
Shrader, wearing his NAU singlet, had been executing his strategy of keying off Estrada, hanging on to the lead pack as long as he could, and waiting to see what he had in the end. In the final miles, he tucked closely behind Braun.  The last 200 to 300 meters, for him, and for everyone involved, was a blur.
Shrader took the lead; and when his legs tied up, 50 meters or so before the finish, he expected to get caught, but no one came. He won in 34:11, averaging 4:35 per mile, as all six in the final chase pack dipped under what used to be Spence's American-record time.
Estrada, who had given Shrader the idea to test out road racing, and who missed training time recently due to a sinus infection, was just a second back in 2nd. He said the race played out as he expected.
"I assumed Aaron would push the pace, which happened. And then I figured there would be a few guys with a mile to go; then of course everyone would charge again … But I hesitated a little bit. I wasn't quite feeling it, and it cost me at the end because I ran out of room," he said.
Braun, just three seconds back, returned to the podium. "My goal, he said, "was to come back and get the title, number one, and get the record for number two. I got number two, but not number one."
Mecheso, 5th, gave Braun credit: "The way he ran, he deserved to win," he said, "because he was pushing all the way."
Stinson, two seconds behind Mecheso, was inspired by the result, calling it "one of my best races." Like Shrader, he still has track eligibility, though at University of Oregon.
On one hand, he would've liked to have been more competitive during the sprint finish. On the other, he doesn't envy Shrader.
"I'm glad I didn't make too much money," he said, "so I don't have to make any decisions."
***
Falls Church native Christo Landry knew his odds of winning his fourth national title  in 2014 weren't good. Five weeks ago he finished 13th in a new personal best of 2:14:30 at the Chicago Marathon, and was still feeling its effects. "I just don't have the top-end gears right now, coming off the marathon," he said after finishing 8th in 34:42. "And when you get dropped running 4:35, right after running a 4:32, [you know] they're running a great time. They ran great, and I just wasn't hanging with them today."
For Landry, through, today's 12k was also a way to celebrate a breakthrough 2014 that gave him an insurmountable lead in the USA Running Circuit (USARC) standings. After the top 10 men were announced, Landry was awarded the $25,000 overall USARC title. He had 82 points, 31 more than Estrada in second.
In the masters division, Arlington's Michael Wardian won a national title in 38:32. Philippe Rolly, of McLean, was second.
"I don't ever try to just look to win the masters, but it's exciting to be in a new age group," Wardian said.
In typical Wardian fashion, the ultra runner and marathoner was in the Bahamas earlier in the weekend getting in some heat training, he said, and on Friday will represent Team USA at the World 100k championships in Quatar.
"Our team is completely stacked," he said, "so I think we should win the team title."
0
Comments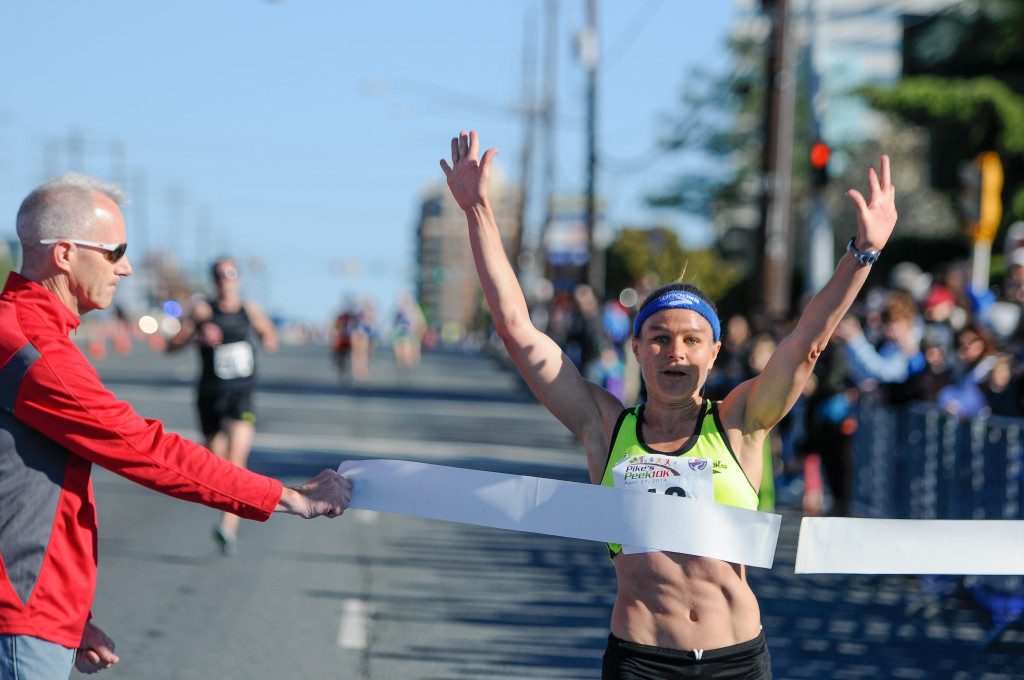 The fourth try was the charm for Christine Ramsey, who broke the tape at the Pike's Peek 10k Sunday morning in 34:43.
The Baltimore runner debuted here in 2008, finishing 5th in 36:19.  Four years later, she returned, running more than 90 seconds faster but finishing two spots lower. Last year, another solid showing got her 11th.
Enter 2014.  This morning, two miles in, Ramsey, 31, found herself in the lead pack with about half a dozen women all running well under six minutes per mile. "I felt pretty strong, so I picked it up," she said. "They were still pretty close behind me, but nobody went with me."
[button-red url="https://www.mcrrc.org/pikes-peek-10k-8″ target="_self" position="left"] 10k Results [/button-red] At mile 4, Ramsey surged again, holding onto a slim lead over Alexandria's Lindsay O'Brien, on the way to a new personal best of 34:43 and a $500 pay day. "It was great because we pushed each other," she said of her competitors.
Ramsey, as of late, has been more focused on reaching the finish line of her PhD program than on trying to win races. She recently turned in her dissertation; the defense is in two weeks. "So it felt good to have a good race," said Ramsey, who will move to New Haven, Conn., soon to start a post-doctoral position.
All but 70 seconds separated Ramsey from Selamawit Lemma in 5th. O'Brien was 2nd; it was her second-straight sub-35-minute showing here. Columbia's Julia Roman-Duval was 3rd in 35:05, followed by Loring Crowley of Winston Salem, N.C., in 35:23. Kensington's Cindy Conant, 53, was the top master in 38:08.
On the men's side, Nahom Mesfin, running his first Pike's Peek, took the lead early and never looked back. He was all alone, pumping his arms on the long downhill to the finish line and waving to the crowd, winning in a net time 28:28, 22 seconds off Julius Kogo's event record set in 2011.
Mesfin, a former Olympic steeplechaser, is living in Alexandria, and is transitioning to longer races, he said.  To that end, he recently returned from a four-month training trip to his native Ethiopia.
Early in the race, Mesfin questioned the feedback he was getting from his watch, he said. He was seeing kilometer splits in the low 2:30s, but the pace felt a slower than that, he said. "I was not in a good mood."
Less than a half hour later, his mood had changed.
"I am so excited, and so happy," said Mesfin, who had been disappointed with his performance at the Cherry Blossom Ten Mile Run earlier this month.
Baisa Moleta, also of Alexandria, was 2nd in 29:04, followed by Dereje Deme of Silver Spring in 29:09. Gurmessa Megerssa, a Washington, D.C., resident via Ethiopia who reigned supreme over the local roads in 2006 and 2007, closed hard down the final straight to clock 29:19. Getachew Asfaw of Silver Spring rounded out the top five.
Bethesda's Conrad Laskowski, 7th in 30:12, ran with the lead pack early on alongside Gaithersburg's Chris Sloane, 8th in 30:33.
"I was trying to run under 30," Laskowski said. "Came up a little short, but I am happy with it. It's a PR."
Philippe Rolly, 41, of McLean, was top master in 31:37.
Downhill, fast, and cool
For Pike's Peek, runners start on Redland Road near the Shady Grove Metro station, make a quick left on Route 355 and bee-line it south past the White Flint station, where a big downhill covers the last .2 miles. "It is probably the fastest 10k you can get without going on the track," Ramsey said.
That, as it happens, is only part of its appeal. In addition to professional-level competition, former race director Jean Arthur can only remember two years when this Montgomery County Roads Runners event had bad weather. This year, the temperature was cool, and the way the finish line banner was flapping, you knew the wind was at runners' backs.
"I ran it for the first time last year, and I thought it was so good I came back again," said Brian Carlson, a nine-time marathoner who started running in 1988. The Reston Runners member, who is 67, likes the net-downhill course. Plus, he said, "It's a very well-run race."
"You know it's net downhill, so you know you're going to get a pretty good time," said Jody Gil, who came close to achieving her goal of breaking 53 minutes.
Gil ran with her longtime friend Jared Sher for six-plus miles. "He turned on the guns at the end," she said.
Leland Hao ran the race with his son, Kelvin Hao, 11. It was Kelvin's first 10k, and the smile on his face afterward suggested he'll have no problem finishing the Disneyland 10k in late August.
When Kelvin's younger sister was hospitalized for cephalitis, he met other kids his age fighting a rare childhood disease called ataxia-telangiectasia, also referred to as Louis-Bar syndrome, Leland Hao said. In Anaheim, Calif., Kelvin's race will raise money for the A-T Children's Project, which seeks a cure.
The race had a wave start to accommodate about 2,500 participants, and for the first time offered pacing teams. Bethesda's Danny George, typically a 36-minute 10k runner, helped about 10 runners meet their goal of breaking 45 minutes.
"I just wanted to stay even and give them a little head start," George said. "That way, once they got to the top of the hill, they could just coast right in."
0
Comments
By James Moreland
Leesburg, VA
August 14, 2011
For the Washington Running Report
As Michael Wardian was finishing his preparations he had a big grin on his face. He noted that he had just won a 10K but the race was "almost too short." This year would be his fifth time racing the 20K and he had won the last three years. There were three other submasters in the elite field. Frenchman Philippe Rolly who back in 1999 had won the St. Patrick's Day 10K in 30:27, well ahead of Wardian's 30:55 PR. Rolly had dappled in Wardian's forté winning a fifty miler in 2008 in just over seven hours. Wardian had won the JFK 50 Miler in 2007 in 5:50:34.
Italian Edi Turco loves to run. He told us at the DCRRC Landon Cross Country Saturday night that he looks for a race every Friday, Saturday, and Sunday. Like Michael he runs fifty plus races a year. Often onlookers wonder if these guys would not be faster with fewer races. Perhaps Wardian might improve on his 14:55 PR, which does seem a little out of touch with his new marathon PR of 2:17:49 set this year. And of course he always maintains, "I love to toe the line."
Third in that group of mega runners is Karsten Brown of Front Royal. About ten years ago, he was just getting started and trying to quit his clove cigarettes. Now he runs a hundred miles a week and will race close to a thousand miles this year. After falling in one 50K in July he bounced back on August 6 to run fifth overall at the Dahlgren Heritage Rail Trail 50K. The next day he took on the Dog Days Cross Country 8K. Still, more than 75 races already this year and a really busy week of racing, he was not feeling to optimistic about a victory.
Tall and slender with his cap on backwards Wardian stayed right with the 10K leaders as the masses roared down Harrison Street. The next three miles plus are all up hill and the wheat, which was a little soggy from the morning's rain, would soon get separated from the chaff. Jared Abuya, 34, of Gainesville, VA  had the best of the race coming up the final hill alone in a 1:05:50 for the second fastest time ever on the course. Aaron Church set the record in 2006 with 1:04:29. The next runner was Wilson Komen of Washington, DC. The lanky Komen has run sub thirty for a 10K and been ranked number one in the Washington Running Report Running Rankings. Though he loves to run, lately he had not been racing as much. His 1:06:19, the third fastest time for the event, proved he still has his stuff. Wardian floated in next in 1:08:10. It will probably mean he will have to go and find another long race to run. He has scheduled the North Face Endurance Challenge Kansas City 50K on August 27.
The next two runners ran close together and almost did not seem aware they were in a battle. Neither surged, and Matt Logan bested Oberst Enzian by five seconds in 1:10:36 to round out the top five. The top master was hard charging Derik Thomas who always seems to finish near the top. At 45, his 6:02 pace on a very muggy day was marvelous. As Rolly crested the hill in 1:13:45 he did not seem to be aware that Edi Turco was coming up behind him in 1:13:57. But the savvy racers always know where their competition is. Brown rolled in just behind Thomas in 1:15:17 and at least at that point it looked as if he might be considering a day off. By Tuesday we expect to see him back out running the Paul Thurston 4.5 miler at Burke Lake.
For the women, Elena Orlova eschewed the 20K in favor of the 10K. That would have been a battle royale. Orlova had set the submaster record in 2009 in 1:17:34 while finishing second overall, followed by Meghan Ridgley. Last year on the short course (12 miles), Orlova won it all at an identical pace with Lisa Thomas of Vienna, VA less than a minute behind. This year Thomas was being pushed ever so close to the record. Ridgley was again third overall with a very nice 1:19:21. The battle for the gold was not decided until the final meters as Lindsay Wilkins, also of Vienna, clung on tenaciously. Thomas touched down in 1:17:40 with Wilkins five seconds behind. Erin Swain out dueled Sarah Bard for the fourth spot 1:20:35 to 1:20:47.
The 20K event is in its 8th year. This year the two races combined for the second largest crowd behind the perfect weather 2008 event which produced 137 ranked runner times, which is 10% of the field. Normally the course is very hot and the bright sun can whittle down the runners. This year the weekend was wet. The early morning rain cooled the air but left it drenched. There were no new records set in the 10K. In the 20K there were two. Grandmaster DeeDee Loughran, 53, finished ninth overall knocking 35 seconds off her record set in 2008. Right behind her Lanie Smith, 19, of Reston, VA (left) set the new teen standard with 1:26:55 and that was with a 30 second late start.
The 10K race is similar to the fabled Greasey Gooney 10k, the first 5K plus is a winding uphill that gets steeper as you go. When you turn around all but the final hundred meters is downhill ride to the finish. Even the four mile marker was eager to get to the finish line. It ended up about a quarter mile closer to the finish line by the time runners caught up with it. While that made for an awful long fourth mile split, mile five was really, really fast. For those hurrying back to the front of the Tuscarora Mill Restaurant at the finish line, there were no worries. The crew that supports the food and drink know their work. For nearly ten years, they have made a science of producing lots of great snacks and plenty of cold drinks. One runner looked at all the iced drinks and said, "They all have sugar in them."  Yes!!
The race always brings out the elite racers and especially the durable ones. Charging down past mile four the race was not yet decided. Lucinda Smith, 29, of Darnestown, MD had a slim lead but Julia Webb easily had Smith in her sights. They were racing with the top men as well, Smith winning in 37:23. That was one spot behind masters winner John Zimmerman's 37:18. Webb came in soon after as sixteenth overall in 37:33. Speaking of masters, top ranked master and today's race director Ray Pugsley said of Elena Orlova's race, "Once you reach, forty everyone is aware of age." Peggy Yetman, 43, of Leesburg, VA is nearly back to full form and held off Orlova for third place in 38:15. Orlova, 41, finished in 38:24, the same pace she ran the last two years in the 20K. Melissa Rittenhouse, 35, was next among the seven runners who qualified for the open division of the Runner Rankings.
For the men, everyone said that the winner looked like a kid. Joshua Hardin is a junior at William and Mary. Last year he struggled on the hot and hilly Cascades course in 36:47, finishing second among the five teens in the top six. The year before he was Rookie of the Year, breaking 31 minutes twice with a 30:37 10K best as a freshman. Today, he blasted ahead a prerace favorite Seife Geletu to a crushing 32:23 victory. Geletu's worse race of the summer had been a 16:04 Run through History 5K overall win. He had won his age group at the prestigious Rockville Rotary Twilight 8K in 25:28. His runner-up finish in 33:18 had some runners eyeing their Garmins. Kevin Shirk was third with a solid 33:44. Top teen Patrick Spahn had run the Twilight 8K in 26:47 (34:01 10K equivalent). At Leesburg, he mustered a 35:47 for sixth overall.
Ronnie Wong and Jim Noone both belong to the 50 Plus Club. Wong turns 65 in September and won his division in 44:57. Noone, 67, easily won his division in 45:45. For the even older, jovial Leesburg resident Terry McCarthy, 76, bested mega racer Bob Gurtler, 76. Gurtler projects to again finish with more than fifty 5Ks and 100 races in a year. Of the 11 men older than 70 in the race, Dixon Hemphill, 86, is the oldest by a decade. Hemphill is still the race director for the popular Goblin Gallop 5K, which is run of the Let Freedom Run 5k  course in the fall.
With all the food and drink after the race, some runners were hoping for some beer to fill the classy commemorative pint glasses each runner received in their packet. The race course has changed a few times over the years but after 23 years, the race is still a summer classic.
Awards Listing for the 10K (No Duplicate Prizes)

MALE OVERALL
    1   477 Joshua Hardin         20 Sterling VA             32:23 V 
    2   803 Seife Geletu          29 Washington DC           33:18 V 
    3   785 Kevin Shirk           31 Winchester VA           33:44 V 

FEMALE OVERALL
    1   105 Lucinda Smith         29 Darnestown MD           37:25 V 
    2   537 Julia Webb            28 Charlottesville VA      37:33 V 
    3   536 Peggy Yetman          43 Leesburg VA             38:15 V 

MALE AGE GROUP: NET TIME 1 - 14
    1   745 Tyler Lichtenberg     14 South Riding VA       40:04 V 
    2   433 Joe Haberlin          14 Ashburn VA            50:33 V 
    3   266 James Wroe            14 Ashburn VA            51:19 V 

FEMALE AGE GROUP: NET TIME 1 - 14
    1   267 Annie Akagi           10 Leesburg VA           61:55 V 

MALE AGE GROUP: NET TIME 15 - 19
    1   697 Patrick Spahn         18 Fairfax Station VA    35:44 V 
    2   361 Ian Rappaport         19 Vienna VA             37:00 V 
    3   462 Jarret Cutsail        18 Warrenton VA          38:49 V 

FEMALE AGE GROUP: NET TIME 15 - 19
    1   618 Karissa Love          17 Leesburg VA           48:06 V 
    2   663 Abbey Cademartori     16 South Riding VA       48:53 V 
    3    85 Jaclyn Shepherd       18 Leesburg VA           50:07 V 

MALE AGE GROUP: NET TIME 20 - 24
    1   521 Rich Saunders         23 Alexandria VA         34:14 V 
    2   346 Keith Flanders        24 Silver Spring MD      36:22 V 
    3   149 Michael Nordlund      24 Arlington VA          37:40 V 

FEMALE AGE GROUP: NET TIME 20 - 24
    1   109 Jillian Pollack       22 Winchester VA         40:53 V 
    2    30 Kailey Gotta          22 Steubenville OH       42:21 V 
    3   733 Erin Landy            21 Burke VA              44:19 V 

MALE AGE GROUP: NET TIME 25 - 29
    1   168 Brennan Feldhausen    26 Baltimore MD          35:58 V 
    2   750 Andrew Ciarfalia      28 Reston VA             36:44 V 
    3   780 Timothy Snyder        25 Frederick MD          38:06 V 

FEMALE AGE GROUP: NET TIME 25 - 29
    1   518 Kelly Swain           26 Vienna VA             40:36 V 
    2   671 Tamara Shear          25 Washington DC         42:37 V 
    3   736 Bre Morton            27 Centreville VA        44:03 V 

MALE AGE GROUP: NET TIME 30 - 34
    1    45 Hugh Toland           30 Fairfax VA            34:06 V 
    2   784 Matthew Lofkin        32 Winchester VA         35:52 V 
    3   783 Sean Allen            31 New Market MD         36:52 V 

FEMALE AGE GROUP: NET TIME 30 - 34
    1   636 Andrea Cardy          31 Reston VA             42:02 V 
    2   644 Meredith Samson       31 Chantilly VA          42:06 V 
    3   637 Tasha Stryker         31 Arlington VA          42:16 V 

MALE AGE GROUP: NET TIME 35 - 39
    1   659 Keith Freeburn        37 Centreville VA        37:25 V 
    2   576 Aaron Holley          36 Washington DC         39:17 V 
    3   273 Giovanni Cordova      35 Reston VA             41:22 V 

FEMALE AGE GROUP: NET TIME 35 - 39
    1   652 Melissa Rittenhouse   35 Harrisonburg VA       40:09 V 
    2   299 Tatiana Sheptock      35 South Riding VA       44:45 V 
    3   718 Cristina Burbach      37 Washington DC         45:23 V 

MALE AGE GROUP: NET TIME 40 - 44
    1   789 John Zimmerman        44 McLean VA             37:17 V 
    2   289 Craig Chasse          41 Reston VA             38:44 V 
    3   571 Matteo Mainetti       41 Fairfax VA            38:57 V 

FEMALE AGE GROUP: NET TIME 40 - 44
    1   575 Elena Orlova          41 Gaithersburg MD       38:23 V 
    2   459 Kim Isler             43 Oakton VA             41:58 V 
    3   746 Cheryl Young          42 Reston VA             44:40 V 

MALE AGE GROUP: NET TIME 45 - 49
    1   798 Matt Anderson         45 Fairfax VA            40:08 V 
    2   540 James Darling         46 Falls Church VA       41:54 V 
    3   172 Mark Peterson         49 Purcellville VA       45:52 V 

FEMALE AGE GROUP: NET TIME 45 - 49
    1   737 Kristen Barner        46 Rockville MD          47:49 V 
    2   626 Marsha Demaree        46 Marriottsville MD     49:30 V 
    3   710 Judy Swain            46 Purcellville VA       52:07 V 

MALE AGE GROUP: NET TIME 50 - 54
    1   153 Harry Linde           52 Sterling VA           40:50 V 
    2   283 Rhys Williams         50 Reston VA             43:45 V 
    3   274 David Lee             53 Arlington VA          45:57 V 

FEMALE AGE GROUP: NET TIME 50 - 54
    1   207 Nina Van Winkle       51 Vienna VA             51:10 V 
    2   309 Betty Sutter          53 Reston VA             54:27 V 
    3   621 Susan Manning         51 Virginia Beach VA     56:28 V 

MALE AGE GROUP: NET TIME 55 - 59
    1   417 Roland Rust           59 Bethesda MD           39:43 V 
    2   800 James Lee             56 New Market MD         48:24 V 
    3   557 Dennis Doyle          56 Arlington VA          49:34 V 

FEMALE AGE GROUP: NET TIME 55 - 59
    1   531 Peggy Davis           59 Vienna VA             52:40 V 
    2   510 Leslie Kash           55 Round Hill VA         54:00 V 
    3   680 Carla Bourgeois       58 Montclair VA          60:53 V 

MALE AGE GROUP: NET TIME 60 - 64
    1   678 Ronnie Wong           64 Baltimore MD          44:54 V 
    2    24 Robert Ring           63 Harrisonburg VA       54:38 V 
    3   666 Chris Wells           60 Sterling VA           55:32 V 

FEMALE AGE GROUP: NET TIME 60 - 64
    1   458 Linda Kearney         64 Oak Hill VA           52:35 V 
    2   410 Freyda Greenberg      62 Falls Church VA       53:06 V 
    3   530 Laurel Clement        62 Haymarket VA          55:39 V 

MALE AGE GROUP: NET TIME 65 - 69
    1   450 Jim Noone             67 Fairfax VA            45:40 V 
    2   572 Bob Chase             66 Falls Church VA       47:41 V 
    3   709 Paul Holley           65 Ashburn VA            62:48 V 

FEMALE AGE GROUP: NET TIME 65 - 69
    1   342 Pat Welch             66 Vienna VA             60:40 V 

MALE AGE GROUP: NET TIME 70 - 74
    1   451 Chan Robbins          74 Arlington VA          55:07 V 
    2   682 Ken Quincy            73 Vienna VA             56:47 V 
    3   812 Warren Pitts          73 Baltimore MD          59:01 V 

FEMALE AGE GROUP: NET TIME 70 - 74
    1   463 Ecris Williams        72 Reston VA             64:21 V 

MALE AGE GROUP: NET TIME 75 - 99
    1   814 Terence McCarthy      76 Leesburg VA           64:18 V 
    2   366 Robert Gurtler        76 The Plains VA         65:51 V 
    3   272 Dick Coogan           79 McLean VA             80:18 V
             Awards Listing for the 20K (No Duplicate Prizes)

MALE OVERALL
    1  2518 Jared Abuya           34 Gainesville VA        1:05:50 X 
    2  2572 Wilson Komen          33 Washington DC         1:06:19 X 
    3  2652 Michael Wardian       37 Arlington VA          1:08:10 X 

FEMALE OVERALL
    1  2504 Lisa Thomas           35 Vienna VA             1:17:40 X 
    2  2505 Lindsay Wilkins       33 Vienna VA             1:17:45 X 
    3  2118 Meghan Ridgley        32 Ashburn VA            1:19:21 X 

MALE AGE GROUP: NET TIME 01 - 19
    1  2701 Thorpe Lichtenberg    17 South Riding VA       X 1:12:25 
    2  2694 Brady Guertin         15 Ashburn VA            X 1:17:17 
    3  2574 Austin Lushinski      16 Ashburn VA            X 1:18:31 

FEMALE AGE GROUP: NET TIME 01 - 19
    1  2292 Lanie Smith           19 Reston VA             X 1:26:25 
    2  2712 Alexandra Ludtke      18 Purcellville VA       X 1:35:25 
    3  2186 Laura Kinley          19 Jefferson MD          X 1:41:26 

MALE AGE GROUP: NET TIME 20 - 24
    1  2719 Oberst Enzian         24 Charlottesville VA    X 1:10:40 
    2  2636 Alec Saslow           23 Arlington VA          X 1:27:06 
    3  2656 Christopher Smith     24 Centreville VA        X 1:38:28 

FEMALE AGE GROUP: NET TIME 20 - 24
    1  2260 Juhie Kumar           24 Great Falls VA        X 1:35:20 
    2  2454 Victoria Butler       24 Ashburn VA            X 1:37:25 
    3  2634 Liz Cresswell         24 West Chester PA       X 1:38:16 

MALE AGE GROUP: NET TIME 25 - 29
    1  2739 Matt Logan            25 Washington DC         X 1:10:36 
    2  2216 Mark Buschman         27 Ellicott City MD      X 1:12:09 
    3  2611 Brian Carnes          26 Leesburg VA           X 1:16:27 

FEMALE AGE GROUP: NET TIME 25 - 29
    1  2509 Erin Swain            29 Vienna VA             X 1:20:33 
    2  2639 Sarah Bard            27 Leesburg VA           X 1:20:45 
    3  2507 Annie Feldman         29 Vienna VA             X 1:25:07 

MALE AGE GROUP: NET TIME 30 - 34
    1  2288 Jeremy Lynch          31 Falls Church VA       X 1:22:26 
    2  2334 Tim Soltren           34 Fairfax VA            X 1:25:35 
    3  2654 Matthew Van Auken     31 Alexandria VA         X 1:27:53 

FEMALE AGE GROUP: NET TIME 30 - 34
    1  2580 Megan McNew           32 Baltimore MD          X 1:25:43 
    2  2225 Laura Ramos           32 Silver Spring MD      X 1:26:41 
    3  2311 Jessica McGuire       31 Arlington VA          X 1:27:36 

MALE AGE GROUP: NET TIME 35 - 39
    1  2736 Philippe Rolly        38 McLean VA             X 1:13:44 
    2  2264 Edi Turco             38 Arlington VA          X 1:13:56 
    3  2716 Karsten Brown         37 Front Royal VA        X 1:15:15 

FEMALE AGE GROUP: NET TIME 35 - 39
    1  2132 Tenley Ludewig        36 Washington DC         X 1:29:03 
    2  2021 Nancy Eiring          38 Washington DC         X 1:30:13 
    3  2007 Jennifer Zimmerman-Ra 38 Purcellville VA       X 1:36:02 

MALE AGE GROUP: NET TIME 40 - 44
    1  2062 Kevin Bell            42 Reston VA             X 1:19:57 
    2  2679 Christopher Green     42 Sterling VA           X 1:24:17 
    3  2638 Chris McKee           42 Vienna VA             X 1:24:58 

FEMALE AGE GROUP: NET TIME 40 - 44
    1  2018 Tonya Stotler         44 Leesburg VA           X 1:33:16 
    2  2635 Billie Boersma        40 Alexandria VA         X 1:35:15 
    3  2397 Diane Lathom          40 Ashburn VA            X 1:39:28 

MALE AGE GROUP: NET TIME 45 - 49
    1  2553 Derik Thomas          45 Alexandria VA         X 1:14:54 
    2  2655 Eugene Holmes         46 Arlington VI          X 1:20:26 
    3  2690 Howard Frost          45 Falls Church VA       X 1:24:42 

FEMALE AGE GROUP: NET TIME 45 - 49
    1  2479 Mandana Mortazavi     47 Leesburg VA           X 1:32:43 
    2  2005 Amy Perkins           47 Leesburg VA           X 1:42:33 
    3  2297 Anna Bradford         47 Vienna VA             X 1:47:26 

MALE AGE GROUP: NET TIME 50 - 54
    1  2740 Bob Ferry             51 Vienna VA             X 1:20:55 
    2  2541 Kevin Dix             52 Manassas VA           X 1:27:09 
    3  2585 Elias Tinta           53 Rockville MD          X 1:28:53 

FEMALE AGE GROUP: NET TIME 50 - 54
    1  2503 Deedee Loughran       53 Oak Hill VA           X 1:25:48 
    2  2230 Carole Jones          54 Ashburn VA            X 1:34:28 
    3  2304 Ellen Mannion         50 Herndon VA            X 1:42:58 

MALE AGE GROUP: NET TIME 55 - 59
    1  2686 Bruce Halpin          55 Ashburn VA            X 1:24:17 
    2  2587 Richard Morgan        59 Silver Spring MD      X 1:28:31 
    3  2276 Clyde Rollins         56 Herndon VA            X 1:33:15 

FEMALE AGE GROUP: NET TIME 55 - 59
    1  2352 Marcy Foster          57 Reston VA             X 1:47:38 
    2  2561 Maria Nusbaum         59 Reston VA             X 2:01:03 
    3  2178 Marilee Seigfried     59 Purcellville VA       X 2:02:28 

MALE AGE GROUP: NET TIME 60 - 64
    1  2567 John Bolton           60 Leesburg VA           X 1:43:24 
    2  2565 Richard Kaplar        60 Herndon VA            X 1:47:48 
    3  2598 Robert Lewis          63 Washington DC         X 1:48:14 

FEMALE AGE GROUP: NET TIME 60 - 64
    1  2711 Linda Mills           61 Salisbury MD          X 1:50:19 
    2  2023 Mary Fredlake         61 Washington DC         X 1:59:52 

MALE AGE GROUP: NET TIME 65 - 69
    1  2122 Bill Vislay           65 Bumpass VA            X 1:43:16 
    2  2545 Lou Shapiro           69 Silver Spring MD      X 1:45:33 
    3  2362 Patrick Brown         66 Reston VA             X 1:51:59
0
Comments