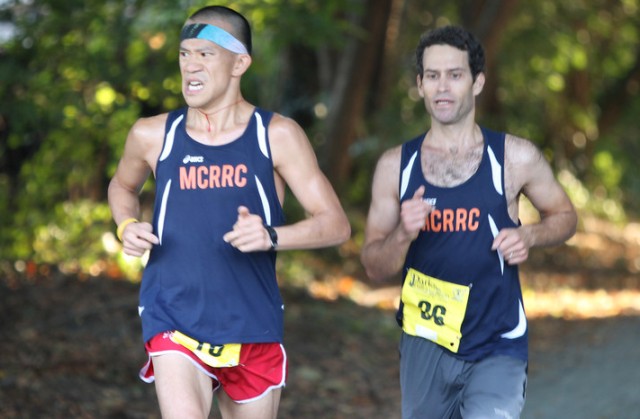 The debut of a grand pianist in a full tuxedo complete with tails at mile six was not the only new tradition that the Montgomery County Road Runner Club's Parks Half Marathon started in its eighth year. The runners themselves were determined to mark new ground by crushing the old course record by more than a minute.
Filled with hills, scenic parks and trails, the race included an elite class of runners, many from the local area.
Clocking in less than two minutes after the women's finish line tape broke, Etaferahu Temesgen of Silver Spring, Md. clenched second place followed by Tezata Dengersa of Washington, D.C., who took third. Meseret K Tolwak of New York, N.Y. won the women's competition with a time of 1:16:25.
Haile Teg Mengesha from New York, N.Y. took the overall first-place title with a time of 1:04:31, which was 20 seconds faster than Ernest Kebenei of Norfolk, Va., who finished second. The elite competition also featured professional ultra-marathoner Michael Wardian of Arlington, Va. 
But even with the cost of attracting more runners and providing unique entertainment, Race Director Mike Acuña and the Montgomery County Road Runners Club have not lost sight of the club's goal established eight years ago to provide a high-quality race at a good value.
"It's a local race with a big feel to it," Acuña said. "We've figured out a way to make it grow without making it too crowded."
Acuña also mentioned the race's other priority—giving runners a chance to get a race under their belt before the marathon season begins.
"We've got people who [want to] race half marathons," Acuña said. "And then we've got a lot of marathoners that use this race a tune-up for fall marathons."
Many runners who tuned up for a marathon hoped to achieve a certain time and looked to Run Farther & Faster coach Julie Sapper as their pacer. While celebrating her birthday with 13.1 miles and a ribbon filled with glitter, Sapper noted that the day was not about her.
"It's about everyone else," Sapper said. "You don't want to disappoint people and not have them get the time they want. Although you sometimes lose people along the way, you know there are some people that can see you from far away and are using you as a marker. So I just tried to stick with my pace."
Despite feeling the pressure, Sapper successfully led her group into the finish line to their goal time.
Among the thousands of athletes who competed on the hilly course through the parks, some competitors had a home-field advantage.
"I normally run on the trails during the week," said Robert Palmer of Silver Spring, Md. "So it's like a home course for me."
Rob Hannon also had a home-turf advantage.
"[The course] is in the neighborhood," Hannon said. "I can see my house from the trail."
The race started near the Rockville Metro station and winded through Chevy Chase and Bethesda, took runners along Rock Creek Park paths and Capitol Crescent and Georgetown Branch Trail. Finishing in Elm Street Park in Bethesda under humid conditions, runners were greeted at the finish with commemorative beanies, refreshments and massage therapists.
0
Comments