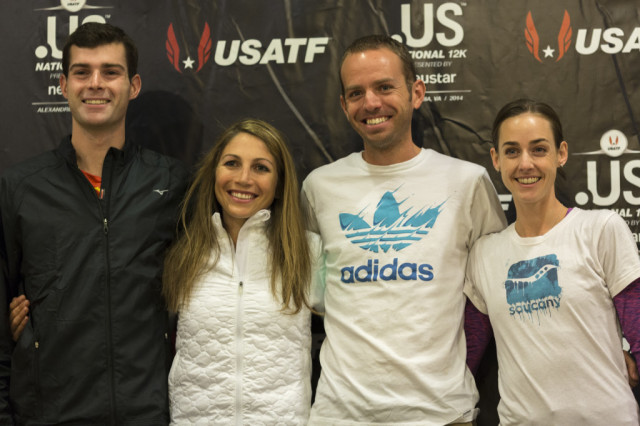 For the second year, the .US National 12K championships will be held in Alexandria, capping off the 2014 USA Running Circuit (USARC).
How it works: The USARC each year hosts national championships at distances ranging from one mile to the marathon. The first 10 U.S. runners at each race earn points, and also qualify for the 12K, which features $100,000 in prize money. Points are doubled at both the 12K and in the marathon.
***
Heading into tomorrow, Falls Church native Christo Landry, with 76 points, has an insurmountable lead in the men's standing. Landry is entered; Tyler Pennel, second in the USARC standings, is not.
Pennel established himself on the national stage at last year's 12k, finishing 3rd. In October, he won his first national title in his debut marathon.
For Landry, 2014 has been nothing less than a breakthrough year. In April, he won his first of three national championships on his home turf at the Cherry Blossom Ten Mile Run, prior to capturing titles at 10K and 25K. Five weeks ago, Landry was 13th in 2:14:30 at the Chicago Marathon. The result disappointed him.
Tomorrow, though, Landry, a graduate of Thomas Jefferson Science and Technology then William & Mary, who recently moved from Michigan to Charlotte, N.C., will give it his best shot, and, no matter the result, claim a USARC title and savor the opportunity to race in northern Virginia. "It's just great to come home," he said. "I grew up right nearby and anytime I get to come back to this area it just feels like coming home again, regardless of where I live at the moment."
During a press conference today, Kevin Ullman of RunnerSpace pointed out that Landry and Molly Huddle have a shot at becoming the first runners to ever claim four USA titles in one year.
Landry, after noting how special that would be, said, "It's more likely to be Molly's chance to do it first than mine tomorrow."
Huddle, the defending 12k champion and clear favorite, is just two points behind Sara Hall in the women's USARC standings. Both will race tomorrow.
"That's a pretty detailed stat," said the understated Huddle, to Ullman's question, "but I think it would be pretty special [to win four titles]."
Huddle has raced three USARC races and won as many times, claiming titles at 7 miles, 20K, and 5K. Last year, for Huddle, 12k, as a distance, seemed both strange and too long, even if she covered it in a national record time. This year, though, Huddle said she has a good "pace memory" for the distance and is focusing on winning a national championship. "Hopefully however fast we have to go I'm ready to do that," she said.
Hall, throughout her career, has had tremendous success in the middle distances on the track, but said she has had fun – not to mention success – experimenting with longer distances this year. She was the second American finisher at the Cherry Blossom Ten Mile Run, which hosted the national championship, and won and set a course record at the EQT Pittsburgh 10 Miler last weekend.
Had it not been for a burst appendix in August, Hall, who is married to American marathoner Ryan Hall, planned to run her debut marathon earlier this fall. That plan has simply been postponed.
"After this race I'll probably be turning the corner to more marathon specific training," she said.
***
After many near misses, Aaron Braun won his first national title at last year's 12k, "getting over the mountain," he said.
Braun added: "Once I know that I've done something once, then I have a lot more belief that I can do it again."
Braun's 2014 has been up and down. His debut marathon didn't go well. And in July, Braun, feeling overly fatigued, took a long break to recharge.
But Braun has since won the Great Cow Harbor 10K and San Jose Rock 'n' Roll Half Marathon, and is now focused on defending his 20K title. "I feel like I'm in as good of shape, if not better shape, than last year, so I should be able to pull it off again this year," he said.
Believing gait inefficiencies contributed to his difficulties in the marathon, Braun worked on his form, starting with a visit to Mark Plaatjes, a former world marathon champion and physical therapist, for video analysis.
"As soon as I watched the video, I was kind of like, 'Oh, gosh, that's pretty bad.' You always feel like you are the most beautiful runner, but when you actually see, actually critique yourself, it was kind of a good view into what was actually happening," he said.
Braun has been doing strengthening drills and has been more conscientious of not leaning too far back while running.
"Hopefully it pays off tomorrow and in my future marathons," he said.
***
A USATF spokeswoman said 1,300 runners will participate in tomorrow's race. It will be run on a different, and out-and-back, course, but will start and finish in the same place, near Oronaco Bay Park. (See map.)
The elite women will start at 7:15 a.m. The elite men, masters, and open race will start at 7:25. To watch online, see the live stream.
Lucas Meyer, a lawyer living in Washington, D.C., is in the men's elite field. See both elite fields.
RunWashington will cover both the elite men's and women's races. Follow @runwashington and @dicksonmercer for updates.
0
Comments
By Brenda Barrera
Virginia Beach, VA
September 4, 2011
For the Washington Running Report
Yoko Miyauchi wins in 1:11:49, three seconds off the state record.
Labor Day weekend may signal the 'official' end of summer; but for the 11,219 runners who toed the start line at today's Dodge Rock 'n' Roll Virginia Beach Half Marathon, it was the start of a festive race featuring live bands at every mile and a fun-filled weekend of activities that included a post-race party on the beach and free pass to the American Music Festival. Two new champions were crowned: Benson Barus, 31, from Kenya won the overall title in 1:02:22 and Japan's Yoko Miyauchi, 28, led the women's field in 1:11:49.
Barus is certainly having a good year, going back to May when he won the Prague Marathon in 2:07:07. Under cloudy skies with low humidity, he led a men's field that included countryman Solomon Busendich, 27, who finished 13 seconds behind him in 1:02:35. It looked as if American Ryan Hall was going to take the third place but he got edged out by one second at the finish line by Kenyan Samuel Ndereba and had to settle for fourth place. They finished 1:03:01 and 1:03:02, respectively(in photo).
"Hats off to the guys," said Hall who was certainly a crowd favorite. The top U.S. contender did not seem disappointed but admitted although he tried, he could not hold off Busendich those last 30 yards. Next up for Hall is the Bank of America Chicago Marathon in October. Fredericksburg native Tim Young, 24, running for the Brooks-Hanson Distance Team, took 11th place in 1:07:23, well off the PR he set in February at the Rock 'n' Roll Mardi Gras Half Marathon (1:04:21).
The top Mid-Atlantic finisher was Andrew Budiansky, 21, (who grew up in Leesburg) from Williamsburg, VA, who finished in 1:12:18.
Russian Vyscheslav Shabunin, 41, dominated the men's masters competition. He not only ran 1:04:49, but also cracked the top 10 with his 9th place finish. Gideon Mutisya, 42, from West Hartford, CT was next in 1:12:09 followed by top local favorite John Piggott, 46, who did not have to travel far (Williamsburg, VA) to take the next spot in 1:16:33 and win his age group.
Tony Nogueira, 43, of Glen Ridge, NJ won the men's wheelchair division in 48:24. The top local wheelchair racer was Shannon Franks, 34, of College Park, MD (1:05:59).
Japanese runners took eight of the top 10 places, dominating the women's elite field. Miyauchi did not take the lead under after the 10 mile mark; but once she did, she held onto it to win the top spot. Kenyan Jane Kibii set a PR with her 1:12:04 second place finish and Olympian Yurika Nakamura, 25, from Japan was right behind her in 1:12:10. Nuta Olaru, 44, the 2004 Rock 'n' Roll Champion from Romania, was the top masters in 1:14:05 and finished 9th among the women. The top American was a teenager–at just 14 years of age, Alana Hadley, from Charlotte, NC finished in 11th place with a remarkable time of 1:17:14.
The top Mid-Atlantic runner in the women's competition was Alexandria's Lisa Thomas, racing for the Pacers.
"We had a nice pack for seven miles," said Thomas who picked up the pace the second half and started to pick off runners on her way to a 1:19:02 finish. Afterward she and teammate Lyndsay Wilkins noted the efficiency of the race start. "We were impressed it went off so smoothly, there weren't any delays," she said.
Another top regional finisher was Elyse Shimada, 23, who ran 1:23:09. Shamada just moved from California to Washington, DC last month and started law school.
"I used this as a tune-up for the Chicago Marathon," said Shimada who noted she is still getting used to the east coast humidity. Lucky for her this was one year where the humidity level was actually lower than usual for this event.
One of the most popular runners in the race was not an elite, nor a speedy local, but a relay team participant who ran in a pair of torn up jeans and cowboy hat. Yes, many runners spotted that flowing mane of blond hair from under the signature cowboy hat and sped up to run with Josh Renager, whom they thought was rock star Bret Michaels (above). The resemblance was pretty remarkable.
What would a Rock 'n' Roll race be without Elvis? Jeff Brillhart, 48, from Chesapeake, VA finished in 1:49:59 and this marked his second time running this event in an Elvis costume. "It sure is easier to a run a half marathon than a marathon in this costume," said Brillhart adding that the black wig was rather hot.
Rose Polyakova, 41, from Silver Spring MD  (below women's times) has run a few of the Rock 'n' Roll races this year and thought she was registered for this one but she was not. Luckily, she was able to sign up on Saturday at the Expo and showed up wearing a buccaneer costume for the race. She finished in 2:33:49.
Virginia Beach is one of the most popular vacation destinations in the country so it is not surprising that Katie Farmer (Ashburn, VA) who is getting married this fall would pick this for her bachelorette weekend. "Team Bride" included Farmer, Terese Hereford (Columbia, SC), Sara Bontuccelli (VA), and Caitlin Marshall (Woodbridge, VA).
Next year's Dodge Rock 'n' Roll Virginia Beach Half Marathon is scheduled for September 2, 2011.
Women
| | | | | | | |
| --- | --- | --- | --- | --- | --- | --- |
| Place | Name | Age | Hometown | Net Time | Pace | Gun Time |
| 1 | Yoko Miyauchi | 28 | Japan | 1:11:48 | 5:29 | 1:11:49 |
| 2 | Jane Kibil | 26 | Kenya | 1:12:04 | 5:30 | 1:12:04 |
| 3 | Yurika Nakamura | 25 | Japan | 1:12:10 | 5:31 | 1:12:10 |
| 4 | Fumiko Hashimoto | 22 | Japan | 1:12:19 | 5:32 | 1:12:20 |
| 5 | Risa Shigemoto | 24 | Japan | 1:12:34 | 5:33 | 1:12:34 |
| 6 | Hiroko Shoi | 31 | Japan | 1:13:16 | 5:36 | 1:13:16 |
| 7 | Mao Kurodo | 21 | Japan | 1:13:37 | 5:37 | 1:13:37 |
| 8 | Yumi Soto | 34 | Japan | 1:13:40 | 5:38 | 1:13:41 |
| 9 | Nuta Olaru | 41 | Romania | 1:14:05 | 5:40 | 1:14:05 |
| 10 | Korei Omata | 24 | Japan | 1:14:22 | 5:41 | 1:14:22 |
| 11 | Alana Hadley | 14 | Charlotte, NC | 1:17:14 | 5:54 | 1:17:15 |
| 12 | Lyubov Denisova | 39 | Russia | 1:17:40 | 5:56 | 1:17:41 |
| 13 | Leah Thorvilson | 32 | Little Rock, AR | 1:17:56 | 5:57 | 1:17:56 |
| 14 | Lisa Thomas | 35 | Alexandria, VA | 1:19:02 | 6:02 | 1:19:03 |
| 15 | Renee High | 29 | Virginia Beach, VA | 1:19:25 | 6:04 | 1:19:26 |
| 16 | Nicky Archer | 25 | Great Britain | 1:20:04 | 6:07 | 1:20:05 |
| 17 | Lindsay Wilkins | 33 | Arlington, VA | 1:20:42 | 6:10 | 1:20:43 |
| 18 | Elyse Shimada | 23 | Washington, DC | 1:23:09 | 6:21 | 1:23:11 |
| 19 | Kristen Lawrence | 31 | Virginia Beach, VA | 1:23:12 | 6:21 | 1:23:13 |
| 20 | Lydia Carrick | 26 | Greenville, DE | 1:24:05 | 6:25 | 1:24:06 |
| 21 | Amanda Scott | 24 | Boulder, CO | 1:24:31 | 6:27 | 1:24:33 |
| 22 | Catherine Seaton | 32 | Raleigh, NC | 1:24:41 | 6:28 | 1:24:42 |
| 23 | Jillian Pollack | 22 | Winchester, VA | 1:25:21 | 6:31 | 1:25:23 |
| 24 | Courtney Chapman | 27 | Mc Lean, VA | 1:25:49 | 6:33 | 1:25:50 |
| 25 | Fabiana Perlingeiro | 34 | Norfolk, VA | 1:25:54 | 6:34 | 1:26:01 |
Men
| | | | | | | |
| --- | --- | --- | --- | --- | --- | --- |
| Place | Name | Age | Hometown | Net Time | Pace | Gun Time |
| 1 | Benson Barus | 31 | Kenya | 1:02:21 | 4:46 | 1:02:22 |
| 2 | Solomon Busendich | 27 | Kenya | 1:02:35 | 4:47 | 1:02:35 |
| 3 | Samual Ndercba | 34 | Kenya | 1:03:01 | 4:49 | 1:03:01 |
| 4 | Ryan Hall | 28 | Mammoth Lakes, CA | 1:03:01 | 4:49 | 1:03:02 |
| 5 | Reid Coolsaet | 32 | Canada | 1:03:16 | 4:50 | 1:03:16 |
| 6 | Eric Gillis | 31 | Canada | 1:03:34 | 4:51 | 1:03:34 |
| 7 | Josphat Boit | 27 | Kenya | 1:04:31 | 4:56 | 1:04:32 |
| 8 | Hironori Arai | 31 | Japan | 1:04:32 | 4:56 | 1:04:33 |
| 9 | Vyscheslav Shabunin | 41 | Russia | 1:04:49 | 4:57 | 1:04:50 |
| 10 | Koichi Sakai | 25 | Japan | 1:06:18 | 5:04 | 1:06:19 |
| 11 | Tim Young | 24 | Rochester Hills, MI | 1:07:23 | 5:09 | 1:07:23 |
| 12 | Kazuki Onishi | 24 | Japan | 1:07:34 | 5:10 | 1:07:34 |
| 13 | Brian Lyons | 30 | St. Louis, MO | 1:07:46 | 5:11 | 1:07:47 |
| 14 | Ben Fletcher | 0 | Albuquerque, NM | 1:08:13 | 5:13 | 1:08:14 |
| 15 | Bryce Livingston | 24 | Tucson, AZ | 1:11:17 | 5:27 | 1:11:18 |
| 16 | Chad Carr | 35 | Cambridge, MA | 1:11:22 | 5:27 | 1:11:24 |
| 17 | Christain Hesch | 32 | Hollywood, CA | 1:11:41 | 5:29 | 1:11:42 |
| 18 | Gideon Mutisya | 43 | West Hartford, CT | 1:12:09 | 5:31 | 1:12:09 |
| 19 | Andrew Budiansky | 21 | Williamsburg, VA | 1:12:18 | 5:31 | 1:12:18 |
| 20 | Kyle Carrick | 30 | Greenville, DE | 1:12:18 | 5:31 | 1:12:19 |
| 21 | Luis Gutierrez | 26 | Austin, TX | 1:12:32 | 5:32 | 1:12:32 |
| 22 | Blaine O'Reilly | 22 | Hayes, VA | 1:12:45 | 5:33 | 1:12:46 |
| 23 | Matt Hoerner | 20 | Harrisonburg, VA | 1:13:12 | 5:35 | 1:13:14 |
| 24 | Tim Surface | 32 | Raleigh, NC | 1:13:40 | 5:38 | 1:13:41 |
| 25 | Juan Martinez | 33 | Syracuse, NY | 1:14:36 | 5:42 | 1:14:37 |
Wheelchairs
Place    Name           Sex    Age    City  State    Time
1    Tony    Nogueira    M    43    Glen Ridge NJ     48:24
2    Aaron    Pike       M    25    CHAMPAIGN IL      51:45
3    Chad    Johnson     M    36    Charleston IN     54:07
4    Shannon   Franks    M    34    College Park MD  1:05:59
5    Paul Kelly-Crank    M    55    BEAUFORT NC      1:53:32
6    Christopher Levari  M    33    CHESAPEAKE VA    3:01:24
0
Comments