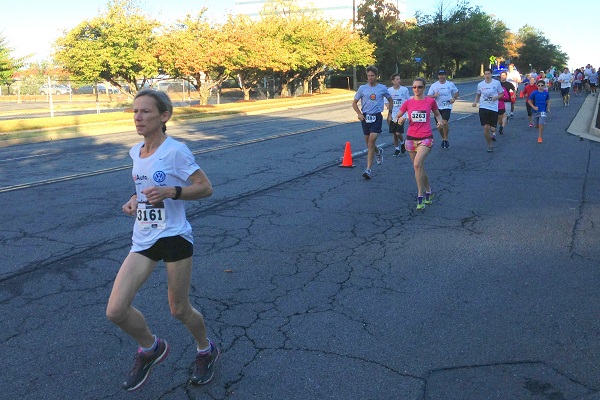 Finishers of the 10th running of MedStar National Rehabilitation Hospital's (NRH) Super H  5k had more than one reason to celebrate on Sunday. Their participation and fundraising contributions will benefit MedStar NRH's community-based athletic programs for disabled adults and children.
The race kicked off at 8 a.m. outside of Tysons Sport & Health in McLean, Va. in perfect low-60 degree temperatures. Winding around Tysons Corner, the course eventually looped onto a rolling route 684 and finished back in front of the sports complex.
Wade Harris of Herndon captured first place after out-clipping second-place finisher and early-race leader Ted Poulos of McLean in a sprint-to-the-finish. Harris steadily reined in Poulos over the final stretch, finishing in 19:36.
Andrea Meuser, who hails from Germany and resides in Vienna, easily won first in the women's division and finished eighth overall in 20:59. A 2:59-marathoner and 2014 Boston Marathon qualifier, Meuser bided her time behind the early leader – who had two dogs in tow – before she dropped the hammer at the mile marker.
But for Meuser, the ultimate prize was supporting her son Alex, who participates in MedStar NRH's community programs and competed in the race's wheelchair division. Making it a real family affair, Alex's dad, Thomas, ran as a member of the race's corporate sponsor, Volkswagen Group of the America, which is headquartered in Herndon.
Thomas was one of several Volkswagen employees who came out to benefit the cause. Carsten Krebs, a communications specialist at Volkswagen, estimated that more than 100 Volkswagen workers – a whopping 20 percent of the company – participated in or raised money for the race. "It's a great thing to do for charity, and it's also a great way to engage employees," he said.
MedStar NRH employees also turned out with enthusiasm. Catholic University senior and MedStar NRH intern, Kaitlin Ekert convinced her boyfriend Ryan Michael to run the road race.
"It's a great way to come out and advocate for people with disabilities," Ekert remarked of her first 5k. Despite finding the hills "challenging," she and Michael are both eager to train for and compete in more.
The real stars of the day were MedStar NRH's program participants, who completed the course in wheelchairs and hand cycles, and with prosthetic limbs. They navigated the difficult course while onlookers and fellow racers cheered them on.
"It's amazing to watch them get up those hills," said Walter Beckwith of West Palm Beach, Florida. Beckwith ran as part of the unofficial "Team Dave," a group supporting a friend Dave Cohen, who finished the wheelchair race in 48:02. Despite having after completed the Bug Eye Triathlon in Cambridge, Maryland just one day prior, Beckwith was encouraged by "the great weather and the great cause" and finished in a respectable 24:48.
Dana Crisan, vice president and chief philanthropy officer of MedStar Health and one of the race's lead organizers, recruited her daughter Killian to come out and support the cause. The pair sported matching pink tops and said they were motivated by the disabled participants and spectators' cheering. Both hope this will be just the first of many road races together.
For others, the race offered an opportunity to celebrate their own health. MedStar NRH physical therapist, Katie Bryson of Arlington ran to support her patients, and also felt fortunate to be able to compete pain-free. As collegiate field hockey player at Misericordia University, Bryson developed serious back problems, which doctors said could have caused paralysis. She kicked it in the final stretch to finish in 29:01.
"I didn't stop to walk once," she said.
0
Comments
By James Moreland
Ashburn, VA
May 22, 2011
For the Washington Running Report
May is the month of maybe. It may be really hot (2009). It may be real humid (2010). Or it may be both (2011). Running is still booming so the field drew 25% more than last year race for the two events, 5K and 10K. The awards expanded out to two deep in ten year age groups.
Before the race Bernie Gallagher, 70, proudly announced he would be running the 5K with his granddaughters. Gallagher, always near the top of his division when healthy, claims he has recovered from an injured humerus (like he needs an arm to run a race), and will soon be mounting a charge for the division crown. He allowed Greer to step on the ChronoTrack mats a second ahead of him. Her older sister Taitumn jetted on ahead to finish eighth overall in 24:11.
The race is very well marshaled and policed. Still with the 5K and 10K going off together a half block from the first turn onto Ashburn Village Boulevard, bodies jammed the racing lane. The 5K turnaround comes around 2K into the race. As runners fold back, longer distance racers now have clear sailing.
Last year the 5K race was won overall by Katherine Hoenig in 21:22. Before the race Ted Poulos was lining up for the race. Having finished the Atoms 5K yesterday in 17:25, it seemed unlikely that Hoenig would get a repeat. With nearly 5,000 races in his résumé, Poulos saw the hand writing on the wall. Six months shy of fifty, he was not going to take down Justin Fritzius, 26, for the win. As he approached the turnaround he was right with second place Robert Jones, 41, but nobody else. A quick, measured look around and a shot of adrenaline and he whipped past the turnaround to take the lead in the 10K race.
Like most of us Poulos likes to win. In his case, usually about fifty races a year. He had 39-year-old Rob Meadows riding his wake to keep him honest. He would not get to coast to victory today. Christopher Green, 42, was not too far behind hoping to mop up if the heat altered their second half tempo.
Poulos returned to finish line around the last corner alone to win it all in 37:59. Meadows piled in 25 seconds later.
Five of the top eight finishers in the 10K were masters. The first grandmaster was Mark Drosky in 41:02, seventh overall. Coming in next was the first woman 52-year-old DeeDee Loughran (41:46). Comparisons have been made with this race and Pike's Peek, mostly because both races have been run on the same date, (2009) and killer heat made for some slower times. "Don't write that this course is flat or fast," was the refrain heard at the end of the race.
No, the course is not flat but the rolling hills are not monsters that you hear about on the "scenic" courses. None of the little rises were enough to even slow your pace. They just gave you incentive to glide by the runner in front of you that was feeling the reverse placebo effect. Indeed the courses many turns helped because as you turned a corner if you fired up the after burners for a couple hundred meters, the competition would round the corner and think you were gone.
Last year's woman's winner in the 10K would have been fifth this year. Runners do go to www.runwashington.com and read race results. When the winning times are soft, the next year there is much stiffer competition. Coming in for her 53rd race of the year, people might think last year's runner up Karen Young would be due for a vacation. Rumor has it she is going across the pond next week but that she has already lined up four races for next week. She won handily yesterday in Annandale but had to settle for third in her age group today. Tonya Stotler, 44, was the masters winner in 44:16. Stotler won the 5K in 2007 as nearly every year a master runner takes the top spot.
Back to the 5K, Katherine Hoenig repeated as the women's winner in 21:34, though she was tenth overall this year just behind 59-year-old Dan Eddy, 21:34 (10K equivalent of 44:59). The answer to whether it was hot or slower than Pike's Peek can be answered by Eddy's 41:26 at Pike's Peek. The second woman was also a masters, Susan Winklosky in 22:10.
The 10K race had five runners with a combined 250 races run already this year. Top with 61 races was second grandmaster Bill Stahr, followed by Poulos with 57. Young has 53 races which keeps her just behind 76-year-old Bob Gurtler who has 55. Normally it would not be fair to have an extended 60 and older division. Today, Al Rider, 75, looked around at the finish and said, "I didn't see any other old guys. I may have won an award." He did, first place, followed by Gurtler in second.
Karen Young and Bill Stahr relax after a combined 114 races in 2011.
MALE OVERALL
    1     9 Ted Poulos           49 McLean VA               37:59 X 
    2   593 Rob Meadows          39 Ashburn VA              38:24 X 
    3   636 Christopher Green    42 Sterling VA             38:47 X 

FEMALE OVERALL
    1   438 Deedee Loughran      52 Oak Hill VA             41:46 X 
    2   617 Meredith Samson      30 South Riding VA         42:37 X 
    3   634 Tammy Tribett        38 Manassas VA             43:20 X 

MALE AGE GROUP: NET TIME 01 - 12
    1   426 Jack Knibb           11 Washington DC           54:10 X 

FEMALE AGE GROUP: NET TIME 01 - 12
    1   311 Kate Brunotts        11 Ashburn VA              53:22 X 

MALE AGE GROUP: NET TIME 13 - 19
    1    59 John Baldwin         19 Reston VA               41:33 X 
    2   483 Kyle Czech           14 Ashburn VA              54:35 X 

FEMALE AGE GROUP: NET TIME 13 - 19
    1   425 Taylor Knibb         13 Washington DC           45:25 X 
    2   259 Alison Mabery        16 Ashburn VA            1:04:01 X 

MALE AGE GROUP: NET TIME 20 - 29
    1    71 Gregory Mihalik      27 Ashburn VA              40:20 X 
    2   378 Adam Jones           25 Ashburn VA              47:41 X 

FEMALE AGE GROUP: NET TIME 20 - 29
    1   233 Allyson McKechnie    22 Oakton VA               46:13 X 
    2    51 Natalie Nguyen       29 Leesburg VA             51:19 X 

MALE AGE GROUP: NET TIME 30 - 39
    1   266 Rui Rodrigues        35 Ashburn VA              40:46 X 
    2   320 Sergey Yudkovsky     35 Reston VA               41:45 X 

FEMALE AGE GROUP: NET TIME 30 - 39
    1   641 Jennifer Schwartz    39 Bethesda MD             47:42 X 
    2   468 Rebecca Walter       32 Washington DC           50:22 X 

MALE AGE GROUP: NET TIME 40 - 49
    1   194 Bryan Tenney         43 Ashburn VA              39:03 X 
    2   153 Chris Stotler        43 Leesburg VA             42:59 X 

FEMALE AGE GROUP: NET TIME 40 - 49
    1   424 Leslie Knibb         47 Washington DC           44:07 X 
    2   267 Tonya Stotler        44 Leesburg VA             44:16 X 

MALE AGE GROUP: NET TIME 50 - 59
    1   506 Mark Drosky          50 Alexandria VA           41:01 X 
    2   630 Bill Stahr           50 The Plains VA           42:57 X 

FEMALE AGE GROUP: NET TIME 50 - 59
    1   435 Jan Merna            51 Fairfax VA              53:03 X 
    2   269 Carol Beaupre        55 Ashburn VA              54:51 X 

MALE AGE GROUP: NET TIME 60 - 99
    1   603 Alan Rider           75 Reston VA               57:04 X 
    2   601 Robert Gurtler       76 The Plains VA         1:04:38 X 

FEMALE AGE GROUP: NET TIME 60 - 99
    1   491 Pat Welch            66 Vienna VA               59:31 X
0
Comments