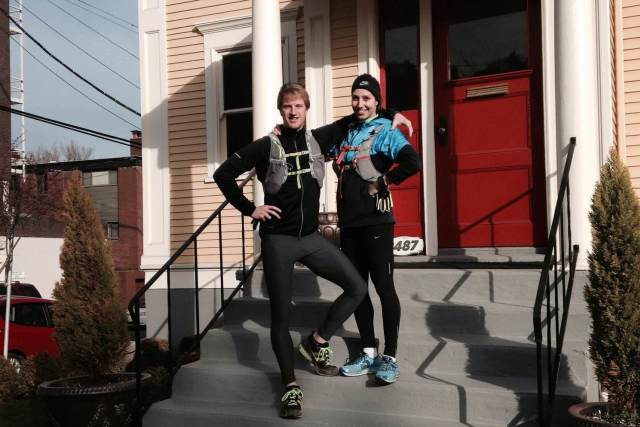 There's no doubt that completing a marathon is an achievement. But completing a marathon 120 days in a row to run across the country from Portland, Oregon to Washington, D.C. is just flat-out nuts.
Ashley Donovan, who plans to knock out a marathon a day with her friend Adam Meyer, would be the first to agree. That was her reaction when Meyer, who has wanted to run across the country for more than a decade, asked her to join him.
"One day, Adam casually mentioned he wanted to run across the country," Donovan said. "I had your reaction, 'that's nuts.' But it kept coming up again and again. So finally one day, I called his bluff: 'Alright, what would this take?'"
Near the end of last year, Donovan and Meyer began planning a run from Portland, Oregon to Washington, D.C. But during the initial discussions, they discovered they wanted to get more out of the experience other than just running. They wanted to create an organization that focused on unique ways that connected them with other people and different communities.
They went on to officially create a non-profit called "Run to Connect," and set out a goal to meet with others in various communities along their route.
"I am never more at home then when I am learning and speaking with someone who shows an interest in improving their world," Meyer said, who has worked at a number of organizations in Washington, D.C., including Transportation for America and Pew Charitable Trusts. "I live off my interactions with others."
In addition to the public policy angle, Donovan looks forward to connecting with members of the education community during the trip.
"Whether it's teachers, students, school board members or local officials, I want to talk to them and see what's working and what's not from both a pedagogical and a policy angle," Donovan said, who is in the final stages of earning a Ph.D. in theoretical chemistry from Princeton University. "In the meantime, we're reaching out to people in organizations and other networks. So hopefully when we get to these places along the route, they know we two idiots are coming."
Albeit connecting with others is their main goal, that's just one aspect of the trip. From late July to November, the two aspire to conquer 3,000 miles by foot, averaging about a marathon a day, with a few built-in rest days.
"Day two we're already going up Mt. Hood so early in the run we'll be doing a little less than a marathon a day," Donovan said. "But once we get to the Midwest, it's very flat…so we'll be able to pick up some more mileage there."
After conquering Mt. Hood, they'll continue east through the rest of Oregon to make their way to Idaho and Wyoming. From there, the two will make run across Nebraska, Iowa, Illinois, Indiana and Ohio. The last of their trip will take them through Pennsylvania, and then on over to Maryland, which takes them to final destination, Washington, D.C.
"Keeping our bodies healthy will require substantial training," Meyer said. "There is no particular day during the run that is unmanageable, but when you stack marathons back to back for over 100 days, it will expose us to the most intense physical challenge we will likely ever experience over the length of our lives."
But both agree, that's an exciting prospect.
Meyer and Donovan have been running for several years. Meyer ran track at the University of Oregon and has also completed multiple marathons. Ever since Donovan finished Philadelphia Marathon in 2012, she too has run recreationally and competitively.
But even with a running background, preparing for a 3,000-mile run across the country is no easy task. That's why they've pulled in experts and coaches—including ultrarunner Marshall Ulrich, who ran across the country in just 52 days in 2008.
According to Donovan, Ulrich recommended to not "over do it" in the months prior to their trip. With that advice, Donovan said, she'll be keeping her mileage around 50-miles per week for the few months leading up to the trip.
With the challenge of keeping their bodies and minds healthy, the two also have to organize visiting nearly 50 locations, fundraise, meal-plan and recruit family, friends and colleagues to join in on aspects of the project. The two also plan on having a support vehicle to help them along the way. They strive to keep web and social media updated as well.
"There are days when I wake up and wonder if running across the country and trading ideas with others will accomplish anything," Meyer said. "I don't have an answer to that.  What I do believe to be true is that if we do nothing in the face of political and societal challenges that face our country, we will not make progress.  We hope that the run shows how positive changes can be made, one step at a time."
To find out more information about Run2Connect, visit their website. 
0
Comments