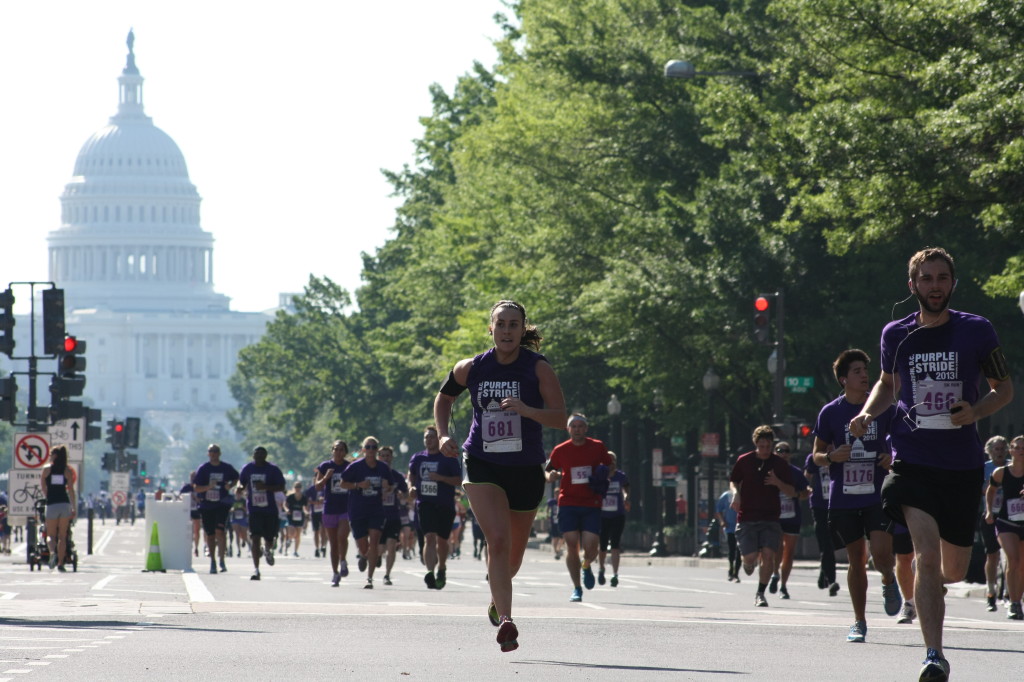 Sweat can cure many of life's minor ailments, but not pancreatic cancer. More than 4,000 runners and walkers raced down sunlight-studded Pennsylvania Avenue on June 15 in support of research for pancreatic cancer in the PurpleStride 5k, held by the Pancreatic Cancer Action Network.The 5k provided a venue for local runners and for more than 90 cancer survivors, plus families and friends of people affected by the disease. T-shirts and signs in honor of loved ones filled the street, as did anything purple — tutus, dyed beards, glittering wigs.
[button-red url="http://www.runwashington.com/PS_5K_Results.TXT" target="_self" position="left"] Results [/button-red]
Although the walk has been part of the D.C. scene for four years, the race was added just last year.
"It's a way to bring people into our movement and learn about pancreatic cancer that aren't necessarily impacted, people who are just runners and want to have a good run on Saturday morning," said Julie Fleshman, president and CEO of the California-based Pancreatic Cancer Action Network.
Men's overall winner Travis Boltjes, who lives in D.C., was part of that group. He said he doesn't know anyone affected by pancreatic cancer, but he recognized that the race supported an important effort.
"Great course, good cause, beautiful day," he said.
His time of 16:28 represents his best effort of the year, even though the race wasn't necessarily circled on his calendar.
"I try to have fun and enjoy the summer," he said. "These [races] are part of that."
However, overall women's winner Megan Heidt, Silver Spring, had felt the life-altering effects cancer brings to a family. She ran for an aunt, also a runner, whose stage IV pancreatic cancer was diagnosed last year.
"I have a lot of aunts and uncles, but we're the closest," Heidt said. "We thought we'd show our support. This one was important to us."
Heidt competes for the Potomac River Racing Team in about 10 events each year. Her 18:47 winning time is consistent with other finishes.
"Not my best," she said, "but I'm happy with it for right now."
Both winners pulled away in the final stretch toward Freedom Plaza, with the Capitol on the horizon at their backs.
Boltjes ran with second-place finisher Marshall Martin to within a few blocks of the finish before pulling ahead. Heidt stayed with a small lead group of women for most of the race. Her kick put her in first place within a few hundred meters of the finish.
For all the competitiveness, the mass of purple-clad runners were part of an effort much bigger than any 5k. The Pancreatic Cancer Action Network's DC affiliate raised $740,000 dollars for cancer research this year, a new record and the highest grossing event in the history of the national organization. Last year the local effort topped $500,000.
Team Andra raised $35,000 for the D.C. event, the top fundraising team. Andra Tamburro, D.C., learned her diagnosis in January.
"It's overwhelming to have all my friends and family here running on my behalf," she said. Chemotherapy treatments held her back from joining the group on the course, but she said she walks as much as she can in preparation to run again.
"Next year," she said.
Peter Cashion, Tamburro's husband, said the disease has changed the outlook for races.
"You're usually here to run for a good time," he said. "It's a bigger reason for being here."
The American Cancer Society estimates that more than 45,000 new cases of pancreatic cancer will be diagnosed this year in the United States. The pancreas sits behind the stomach. It provides enzymes needed to break down food and also supplies some insulin, which controls sugar levels in a person's blood.
This form of cancer is so deadly because symptoms can be minimal and no good tests exist for early diagnosis. After five years, less than 15 percent of stage I pancreatic cancer patients survive, compared with 88 percent of stage I breast cancer patients.
Washington resident Jessica Bernstein didn't have cancer, but she developed a tumor in her pancreas.
"It was summer, and I couldn't walk," she said. "I was skipping out on things with my friends."
Her doctors thought her stomach pain might be a reaction to the anxieties of high school life.
Instead, she had surgery at age 16. She said she hasn't experienced any further side effects in seven years.
"I started running when I moved to D.C.," she said. "I didn't know a lot of people. I had time to do something. I feel like everyone in D.C. runs."
The capital is definitely a running town, but not everyone runs, including Noelle Perillo. She'd tried to embrace the sport several years ago. Then she got pregnant. When her dad's pancreatic cancer was diagnosed, she said she found renewed motivation.
"I never expected to run a 5k," Perillo said, "but I never expected my dad to be diagnosed with cancer."
Perillo, of Silver Spring, completed her first race while her dad watched. Yet even as a newcomer to the running family, she shares a common story with Julie Weiss, the California "Marathon Goddess," whose father  also had pancreatic cancer.
Qualifying for the Boston Marathon headlined her list of goals in 2010.
"It was my biggest dream that he would be there to see me qualify," she said. "He was very athletic. When I started running, we got much closer."
She hit the qualifying mark a week after her dad died.
Weiss decided to try for 52 marathons in 52 weeks as a personal challenge that would also raise money and awareness. She finished the feat at the Los Angeles Marathon in March.
Her new goal is to collect $1 million. The money will benefit needed research, but events like the PurpleStride 5k still revolve around the people, not the science.
"This is my family," she said. "This is my why. These people. These are my heroes: the survivors, the family members, the caretakers.
"You see all these people who've lost someone or are going through it themselves. They're turning that pain and that grief into something so powerful and so positive."
Hundreds of those runners, survivors and supporters returned to Pennsylvania Avenue in the week after the race to talk with members of Congress and advocate for more research funding.
0
Comments