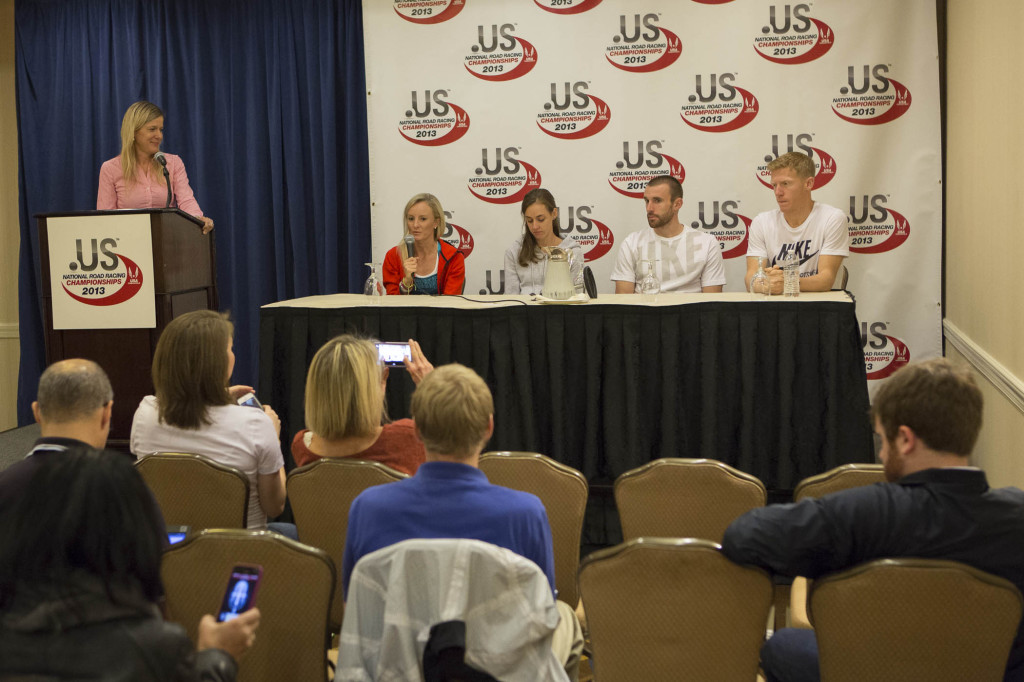 The 2013 USA Running Circuit (USARC) will culminate tomorrow morning on the streets of Alexandria, where some of America's best distance runners will compete for $100,000 in prize money, including $20,000 for the winners. The inaugural .US National Road Racing Championships – USA Track and Field's first wholly owned-and-operated road race – will take runners of all abilities on a 12k journey starting and finishing near Oronoco Bay Park, a spot local runners know well.
How it works: The road racing series includes national championships for races ranging from a mile to the marathon. The first 10 U.S. runners at each race earn points, with 15 points awarded for 1st, 12 for 2nd, and 10 for third. Tomorrow the top 10 finishers will earn triple points, which provides extra incentive for runners farther down on the leaderboard.
The top three on the men's side – Matt Tegenkamp (60 points), Shadrack Biwott (52), and Josphat Boit (50) – are entered. Among the top three women in the standings – Mattie Suver (47), Janet Bawcom (45), and Annie Bersagel (30) – only Bawcom is not entered.
As for tomorrow's favorites, keep an eye out for Shalane Flanagan (15) and Molly Huddle (15). On the men's side, Tegenkamp will be joined by training partner Chris Solinsky. Both fields are deep.
Brian Pilcher of Ross, Calif., and Kathryn Martin of Northport, N.Y., rank among the top entrants in the national masters championship.
Not Your Average Distance
Quick question for everyone running tomorrow: What's your 12k PR?
Exactly.
So how do you approach such an unfamiliar race distance?
Do you – as was suggested in a question to Huddle at a press conference this morning – race 10K and try to hang on for two more?
"More or less," said Huddle, who won the national 5k championships in September and the NYRR Dash to the Finish 5k two weeks ago (Flanagan was 3rd).
"This is pretty long for me," she said, "but I am excited to see what I can do over 12k and I think it is a pretty interesting distance for everyone else to try."
Asked to share his advice for taking on the 12k, Solinsky said to "find that comfortable rhythm that you are very confident you could do 10K or more at." If you feel good at halfway, go for it.
"Through the training," Tegenkamp said, "you have learned what you can handle in terms of pace." Late in the race, though, when things get tough, turn on the competitive switch. "That's what racing is all about," he said.
Flanagan won a national title this summer at 10,000 meters and went on to finish 8th in the world in Moscow. Tomorrow marks her debut at 12k.
"I am in the same boat as they are," said Flanagan, referring to the many runners who will race 12k for the first time tomorrow.
"It's a distance that I've never done. It's a brand new PR – so you have to just embrace it for the fun factor."
Flanagan's plan is similar to Tegenkamp's and Solinsky's: "I try to be smart the first half and then I switch over to being competitive – and that usually helps me pull out all the extra energy I have."
USATF spokesperson Jill Geer said 12k allows 5K specialists and marathoners to "compete on relatively even footing." But it's also a great distance for an event designed to celebrate both our sport's best runners and the many participants of all ages, levels of seriousness, and talent.
If you haven't run a 12k before, it's hard to cross the finish line, see the clock, and be disappointed. Take it from the first American to ever break 27 minutes for 10,000 meters.
"I've never run a 12k before so I know I'm going to get a PR tomorrow," Solinsky said.
Details
The women's championship race starts at 7:15 a.m. The men's championship, master's championship, and open race (also being referred to as the "community race") starts 10 minutes later. A 5k race starts at 7; a half-mile "Kids' Fun Run" starts at 9:30.
The 5K will include about 30 girls from the local Mount Vernon Woods Elementary School. The girls trained together for the race and Olympian Deena Kastor said she plans to meet them at the starting line for a pre-race pep talk. ("I think our greatest job as elite runners," she said at the press conference, "is to be able to inspire the Olympians of tomorrow.")
The race will be streamed live at USATF.TV.
RunWashington will cover both the men's and women's races.
0
Comments