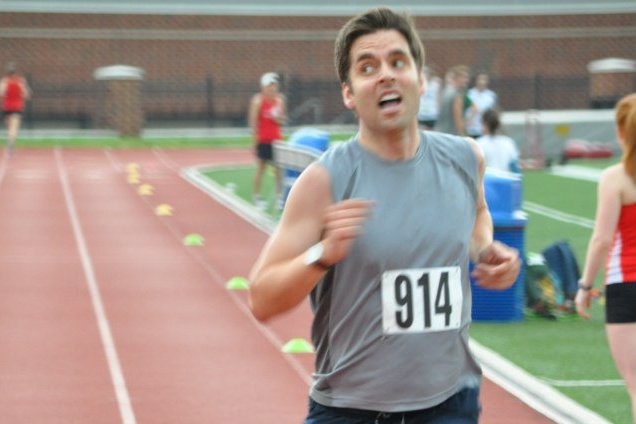 The fastest miler at the DC Road Runners One Mile and 3k Track Championships knew the area well, but a five-hour drive preceded his win.
Sandy Roberts broke the meet record (4:13.67, set in 2013 by David Chorney) with his winning time of 4:09:35 in the men's elite heat.
[button-red url="http://www.dcroadrunners.org/races/race-results/2014-results/2412-2014-dcrrc-track-championships-mile-heats.html" target="_self" position="left"] Mile Results [/button-red]Roberts raced collegiately for the Georgetown Hoyas, including an All-American status as part of the distance medley relay. He'd just arrived back in familiar territory from Raleigh, N.C.
His brother and coach, Logan, ran as a rabbit for the early part of the race. He said the mile proceeded as planned.
"Because he's racing hard next week, we wanted to get a simulation, go through 1,000 at race pace," Logan said. "He executed pretty well. Ideally, he would have been able to cruise a little more on that middle 400, but he had some competition."
Roberts out-kicked Dan Quigley, of Eugene, Ore., in the final 200 meters to secure the victory.
"We've been working on the final kick," Roberts said. "I think Dan's a really talented runner. I didn't know who that was, just like, holy cow, there's someone here."
The celebration will be short-lived for the Roberts brothers. They headed for the car after the meet to drive to a race in Charlottesville in preparation for Sandy's shot at breaking an elusive track mark.
"All this is moving toward a sub-four mile attempt next Friday night in Raleigh," he said. "Hopefully, in little over a week from now, I'll have conquered a sub-four. That's the goal."
The new men's meet record continues a trend of dropping times every year for the past three, said race director Brian Danza.
On the women's side, Susanna Sullivan missed the meet record (4:48.70, by Alisa Harvey) by less than a second after an unusually short warm up.
Her professor granted her an absence for 80 minutes in the middle of a four-hour graduate class at Marymount University. In that short time, she traveled to the race, pulled on a bib and jersey, and proceeded to run away from the competition for a 4:49:65 finish and a win for the second year in a row at the championships.
"I was a bit surprised," she said. "I thought it would hurt more. I knew what the record was, and I wanted to give it a shot. But when I got here and only had a couple minutes to warm-up, that basically went out the window and the goal was just to compete. It's a track PR."
Sullivan has run faster but did so on a road course with a slight downhill in Winchester.
"We'll call this a legitimate PR," she said, with a laugh. "I feel really good about it. I'm in the middle of marathon training right now. It's real encouraging to see that I can turn over even when my body should be dead. I've been feeling really good throughout the marathon training."
Sullivan has already qualified for the Olympic marathon trials with a B standard. She's preparing for the Medtronic Twin Cities Marathon, in Minnesota, in what will be her first full 26.2 and an attempt at the Olympic A standard.
Her success was partially responsible for Sullivan's excused absence.
"That was in the email today. 'Hey, I qualified for the Olympic trials. Can I run a mile tonight?' He was really understanding. This is always a really fun event. I'll know next year I can't have class on Wednesday."
Due to conflicts with other Arlington County sites, this year's meet was held at T.C. Williams High School track in Alexandria instead of the usual site at Washington-Lee High School in Arlington.
Danza estimated the move created a 20- to 30-percent drop in participation but that the competitive races still pleased him.
"We had a great night," he said. "I think it's an event that caters to people who like running for the race aspect. They can come here, toe the line, and go out really hard for four minutes for the elite guys or seven minutes for some other people, and push themselves."
Track meets don't happen in the DC metro area as often as garden-variety 5ks or even nationally known marathons.
That's what makes the meet so important.
The future stars opened the night in the kids mile, and several returned to the start line to run against women their mother's age and men with white hair in the various heats of the mixed miles that ran before the elites.
Other athletes jumped into the four-lap test wearing everything from compression club kits to cheap shorts and race shirts from area events.
"Coming to a mile and going all out is a good way to determine how fit you actually are," Danza said. "It's a good place for local runners to come run a fast mile."
Will Viviani said the fitness aspect appealed to him.
"I didn't know where I was fitness-wise," he said. "I wanted to see where everyone else was before I made a move."
Viviani pulled into first with 300 meters to go and ran to the heat win in 4:35.96. He used the race as a way to jump back into competitive racing after a hiatus from hard training of more than two years.
Other racers learned how the mile can dish out disappointment. Ben Garthwaite tried to break five minutes in his heat.
"I was on it through three laps," he said. "I knew it when I tried to kick it in at 200. I'm like, OK, you just need to finish hard and you got this. My legs just didn't do what they were supposed to."
He crossed the line in 5:01.80 behind the heat winner Mark Walchinsky, who did break five minutes, in 4:58.07.
"That was the goal in the back of my head," Walchinsky said, "but if I didn't break five, that was cool. But I actually met my expectations. It was a short enough race that the humidity didn't come in and kick me like it does if you do a half marathon in these conditions."
Eunja Rau won the master's division for women in her first track mile in 8:30.34. She's getting ready for the Marine Corps Marathon, which will be her first at that distance.
"i've done some track training, but not just the one mile," she said. "It's always hard to run fast, but it was doable because it was short."
Rau started running two years ago when she met members of the DC Road Runners club at a library event for a couch-to-5k program.
And in the spirit of the track championships, Rau not only raced but also volunteered during the meet, giving back as much as she's receiving from the sport.
0
Comments