In the months leading up to 2015's Fall marathons, RunWashington will follow several local runners as they prepare for their races. We'll chart their progress as they train their legs, lungs and minds for the challenges they'll race on race day. Each week, we'll catch up with our runners and see how they're doing. First up is Burtonsville, Md.'s William Etti.
---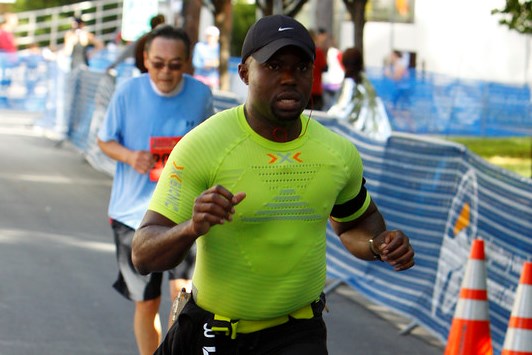 Calling William Etti's return to running a comeback is just the beginning.
He first saw runners doing track workouts when he was in the fifth grade, and was intrigued.  "I tried it," he said, "and I sucked."
Etti came back to track in high school, and as a freshman, admits some of the girls beat him in early workouts, but he strove to improve.
Running year-round at Parkdale high school helped him get below the 5:00 mark for the mile, though Etti admits that he burnt out after years of training seven days a week, doing two-a-days, tying tires and parachutes to his waist.  He competed in the 4×400, 4×800, mile and two-mile during indoor and outdoor track, plus cross country, running with summer teams and training on his own mornings and weekends.  He ran at University of Maryland briefly, but, after finding it difficult to balance the demands of school and social life, he stopped running.
Life, without running, went on.  After a field trip to National Institutes of Health in high school, he realized "there are all sorts of ways to help people without being a doctor."  After what felt like 100 applications, he volunteered to work for free to gain experience, went back to school to get a masters, and continues to work where he set his sights back in high school today.  He started a family.
Will kept working out, hitting the gym and lifting weights, but he was pretty sure he'd never run again.
Then, in 2009, Will was rear-ended by a drunk driver, rendered unable to walk or even speak without pain.  His doctor warned him of lifting weights due to lower vertebrae damage, and in the ensuing path of recovery, doing physical therapy to come back to a new normal, Will packed on some pounds – carrying 217 pounds on his 5"7' frame. His doctor recommended he focus on cardiovascular health when he was well enough to run again, since his previous lifting regimen would aggravate the injuries to his vertebrae.
In 2012, he started running with a fun run group in Silver Spring.  It was unstructured, with a mix of different paces.  More than anything, it was fun.  He began to enjoy the camaraderie.  Even when he's out on the trails by himself, he enjoys the fellowship of runners, high-fiving strangers on the trails, gleaning inspiration from their miles.
The road back from the accident and its aftermath made Etti "a lot more appreciative" of being able to simply run.  Winning and being the fastest are not his goals.  He originally joined the Montgomery Country Road Runners with the idea that he might do a 5k or two. At the time, it seemed to be the right distance for him.
"I would never do a marathon," he said of his early plans. "Why would you put yourself through that?"
Well, the 5k was a gateway race. One that led to a 10k, then a 10k to a half, and eventually he signed up for the First Time Marathoners program and the 2014 Marine Corps Marathon.
When asked how Marine Corps went, he laughs and said, "sometimes you learn more from your failures than from your mistakes."
He went out fast, sticking with the 4:45 pace group, but got hit with cramping at mile 16 that he never recovered from.  He ended up walking significant portions of the remainder of the course, but in that span made the effort to experience the marathon – the spectators, the other runners, the stories on the course.  Even in pain, he was able to find inspiration around him.
He's signed up for the Baltimore Marathon this year, because as a lifelong Marylander (and Ravens fan), he says he wants to support his home state.  But, Marine Corps falls on his birthday this year, so he's signed up for that, too.  A week apart, he's not planning on doing both.
Coach Conroy Zien said that, due to previous race times, Etti was placed in the 9:40 pace group, but that Will has moved himself back to the 11:30 group.  Zien was surprised at the seemingly drastic drop back, but considered it indicative of Will's overall approach.  That fits in nicely with the First Time Marathoners approach. "He enjoys running, and he buys into our philosophy – he's not looking to set any records for speed," Zien said.
Zien also comments on the energy that Etti brings to the group.  Zien notices that Etti is an inspiration to the other runners who participate.  That's at the core of what keeps Etti out on the trails, whether solo or with his pace group – he says that he gains inspiration from other runners and that he hopes that he in turn provides the same to them.
Etti notices that his sons have taken in the idea of persistence by observing him doing his training runs, working through injury, and making it through his first marathon even though it didn't go as planned. He had a bout with IT band syndrome last season that took a lot of foam rolling and some limping races to come back from.  After seeing him hobble through the Rock 'n' Roll D.C. Half Marathon, his sons asked him why he did it.  He sat down with them and they watched You Tube videos of people running, including athletes with prosthetics, and told them that the important thing wasn't to win, it was to try.
"Running doesn't mean that you have it all or you're perfect, just that you push yourself," he said in summation to his sons. "You can always challenge yourself."
Etti's hope is that by just running, he can add value to other people's lives.  He's been known to high five strangers on the trails on his regular runs, and offer encouragement to his fellow runners in training.  "I meet so many people through running. Even when I just see other people out on the trails it inspires me, just the love of running," he said.
He says he'll be happy just to finish without injury, but he also has in mind that a sub 5:00 hour finish is within reach.  He's working on using different fuel to prevent cramping, including a camel pack full of coconut water on his long runs and various types of Gu and other fuel. Zien thinks Etti has the chance to see a great improvement over last year's marathon, but shares the primary goal for him of finishing without injury.
5
Comments