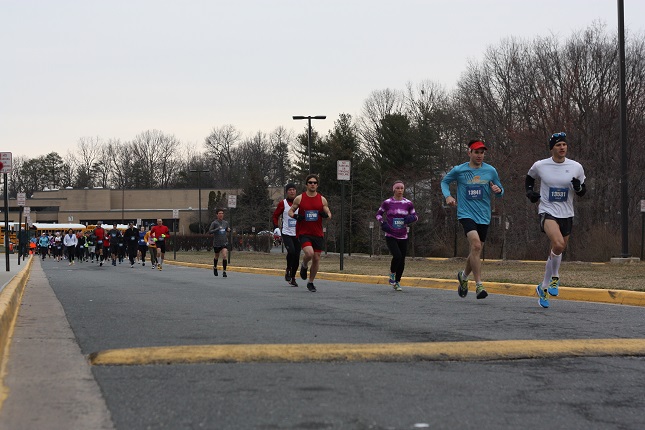 It wasn't Metro accessible, there weren't bands every mile and the race might not have had the panache of a national series, but sure enough, a marathon went off Saturday morning in Northern Virginia.
The inaugural Runner's Marathon of Reston and accompanying half marathon took charge of the streets and trails in a race that billed itself as being "designed by runners, for runners."
Two sisters, Devin and Alex Nehill, had hatched a plan over Thanksgiving to run their first marathon together. They chose Reston because of the proximity to their hometown and ease of pre and post-race logistics. At the time, they had no goals other than to finish.
As Devin, 17, a senior at Bishop O'Connell, entered the home stretch around the South Lakes High School track, passing half marathoners still finishing, tears were streaming down her face. She took the female win and finished in an impressive 3:09:49, amidst cheers from her entire lacrosse team.
Wearing a shirt that said "The faster you run. The faster you are done," she had a hard time putting into words how she felt as tears still streamed down her face from the shock and joy of the win.
Though Devin is an amazing runner, lacrosse is her best sport. She was a first-team WCAC and Division I all-state lacrosse player and an honorable mention All-American, as chosen by U.S. Lacrosse, she will be attending Division I Drexel University to lacrosse.
While Devil was roaring down the home stretch, her sister Alex, 19 and a student at Virginia Tech, was still on course. Winning your first marathon is nothing short of amazing. Devin however didn't bask in her accomplishment, she quickly ran back on course to cheer on her sister.
Local masters runner DeeDee Loughran, 54, took 2nd in 3:15:14.  Alex Nihill rounded out the top three females with a time of 3:43:21.
On the men's side of the marathon, 20-year-old Lee Kaufman clinched the win with a 2:52. Second place in 2:59, was 48-year-old Ian Clements. Clements, a veteran of 14 marathons, described the course as "extremely challenging." He knew it was hilly but felt it was much harder than expected. His goal was to run around a 2:57 but early in the race knew that was not going to be possible on this course.
"There are trails and there are "trails," he said, "The C & O Canal is flat and straight. The W & OD is straight and relatively flat. The trails in Reston aren't straight, and they aren't flat. It really takes a lot out of you as a runner."
He had planned to run the Rock 'n' Roll USA Marathon but when a work tripped forced his to make other plans, the Alexandria resident said the Reston race was a no-brainer.
The half marathoners took off 30 minutes after the start marathon, and ran the same loop the marathoners did twice. Nate Spong, of Reston, took the win on the men's side with a time of 1:24:03. Close behind him was Mike Honicker of Sterling, in 1:24: 55. Honicker and Spong are both prepping for triathlon seasons. Both felt the race logistics wise was well run, but did note that there were a lot of false flats and the course was extremely hilly.
Spong sung praises of the new race. "Well marked, the volunteers were awesome, Reston really needed a good half marathon and full marathon and Reston Runner's delivered on that."
On the women's side, Kristen Herring took first in 1:32:08. Reston resident Sharon Adams, who eight days ago became the mother of an adopted 8-year-old from Haiti, took second with a time of 1:35:21. Adams said the race was very special for her. Having her third child there cheering her, screaming "go mommy go" was the icing on the cake to a fun race morning in her home town. Robin Witlin rounded out the top three women with a time of 1:35:48, finishing on her former high school track.
The Reston Runners decided last year to start a half marathon and marathon in Reston, to complement its variety of road races and triathlons. Dennis Hayes, Reston Runners club president and co-race director of the race, boasted of the tremendous community support the race not only had in the planning stages but also on race day. "Reston has needed a full marathon and a half marathon for a number of years and we are excited to make this a reality today."
Hayes and his team of six co-race directors put together the race with runners in mind. "We wanted a race where we took the good parts of races we have run and improved upon issues we have encountered at other larger marathons." Free pasta dinner the night before, morning packet pick up, and a buffet of post-race food that included pizza, buffalo wings, corn bread, oranges, bagels muffins and more, were a few of the perks of this low key long distance race.
The club chose the March date, so as not to compete with other large fall marathons, and to ensure relatively cool weather for participants.
Volunteers were plentiful at the race, making everything run smooth for participants. Mary Mullaney of Reston believes as a runner and triathlete it's important to give back. "Volunteers make these races happen, and I participate in many throughout the year, so I also volunteer my time on the ones I'm not racing." Aprille Sherman of Sterling, a member of Reston Runners, was really excited to be volunteering. The spirit here today is infectious; it makes you want to sign up to run another race. Sherman who is training for the Cherry Blossom 10 Miler also felt that it's important for runners to not just participate but to also give back to the sport they love.
Post-race, runner's enjoyed the plentiful food in the South Lakes Cafeteria, staying warm while sharing their stories of what may become a favorite race of many.
0
Comments
Starting off the New Year on the right foot has become a tradition of many at the Leesburg Rotary Resolution 10k and 4k.
The course, described as challenging by winners Alex Hetherington and Peggy Yetman, starts at Ida Lee Park and runs through [button-red url="http://www.amazingracetiming.com/results/2013/rehau-rotary-resolution-10k-and-4k/165-results-10k.html" target="_self" position="left"] Results [/button-red]Historic Morven Park. The recent snow created a damp, muddy cross country type course for the 700 or so runners in both races.
Yetman, who won the Ringing in Hope 5k the day before was one of many runners who chose to race both on the last day of 2012 and also the first of 2013. She has been taking time off from serious training, but is racing anyway. Ending her 2012 season with an Ironman in October, Yetman hasn't run more than eight miles. Though she was pleased with her time of 38:44, she knew the course slowed her down. Once she knew had clinched the women's victory, she started to chase down some of the men to see how high she could finish overall. She was less than two minutes behind the overall winner Alex  Hetherington.
Hetherington, a Vienna resident and a father of four thought "the course was great – very challenging."
Having also run the day before at the Fairfax Four Miler, he said his time was on par for what he has been running lately.
"At my age the goal is to stay the same pace, I don't want to slow down, but I know I'm not getting any faster," he said.
His resolution for the New Year is to, "be more patient with my kids. Things can get a little crazy with four kids that include 11 year old triplet boys. Running is my chance to be alone doing something I love." The late start time was a draw for him as well as the lure of coming to Leesburg for the first time. "I'd definitely run this race again."
Carol Shuford, of Alexandria, and her friend Gina Welc both ran the Fairfax Four Miler the night before, but really wanted to start a new tradition of starting off the first day of the year by doing something healthy. Both women are Ironman finishers and will be training for Ironman Wisconsin in 2013. When asked why they chose to run the Leesburg race, "Because we can. It also keeps us out of trouble." Carol who raced the Rotary Resolution Race for the eighth time loves the race because it is low key and the terrain is unique from other local races. The pair of friends will be back in 2014 for the 17th running of the race.
For the Ashworth family the race was truly a family affair. Gary and Kim, parents' to 11-year-old twins Hannah and Jakoblove doing races together. Kim and Hannah chose the 4k, while Gary and Jakob ran the 10k. Leesburg locals, they chose this race because they wanted to "start the New Year off right and stay fit together as a family."
On course Kim, was seen cheering for her son and husband after her race was over. Running together is not the only family tradition this foursome has. They individually come up with their resolutions for the year and share them with each other before dinner that night. Not wanting to ruin their tradition they kept their goals and resolutions for the upcoming year closely guarded.
As the sound of the guitar echoed in the gym, runners like Paula Fergusson laughed when asked what her resolutions were for 2013.
"Hold on, let me think, I know I have one," she said. "Complete another half marathon!"
Was this a last minute goal or one she had in mind before? One can't be sure, but maybe sharing her goal, will help her achieve it in 2013. Fergusson's husband Ernie ran his first 10K. What better way to ring in the New Year than by accomplishing a goal in the first 12 hours.
Race Co-Director Carole Maloney wants to grow the race in 2014. The race raises money for eight different charities each year raised over $20,000. Unique to this year's race was every participant being toasted with sparkling cider as they entered the Ida Lee Gym after the race.
"We really pay attention to the small details and make this race one that participants want to return to year after year," she said. "Vie De France donated all the cookie dough for our post-race cookies and a gentleman in our Rotary Club baked them fresh New Year's Eve!"
The music, provided by Dave Berry, added to the hometown feel of the race and created an atmosphere of joy as runners shared their running dreams and goals for 2013. Berry, a former local, who started providing the race entertainment in 2004, drives up from South Carolina every year because of the numerous requests from participants.
"Overall we want to create an experience runners won't soon forget," he said.
0
Comments