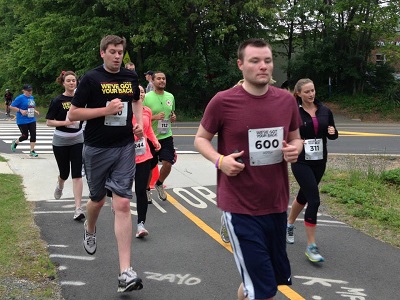 While Josef Tessema and his three pursuers were sprinting through the streets of Reston in hopes of first prize at the We've Got Your Back 5k, Carly Rebeiz of Sterling, Va. was thrilled to just be running.
[button-red url="http://prracing.racebx.com/files/results/4d9205ce-7a0c-46c1-8929-4f56c0a86522/51978d1c-157c-4a3e-845b-7d23c0a86524/2013%20We've%20Got%20Your%20Back%20Overall.htm" target="_self" position="left"] Results [/button-red] Three years ago, she ran into a goalie while playing soccer and herniated two discs in her neck. Her husband, Alex was there and saw her fly back six feet. After 10 months of testing and conservative treatment options, she opted for spinal fusion surgery, and bone from her hip replaced those discs. With therapy, strengthening and additional treatment, she has reclaimed her life and gotten back to [button-red url="https://www.facebook.com/media/set/?set=a.660884560605446.1073741847.189448104415763&type=1″ target="_self" position="left"] Photo [/button-red]where she can play soccer several nights a week.
"It got to the point where it was so painful, you have to do something about it," she said.
"My life was on hold for a few years, but I missed soccer too much to give it up, it was too much of a part of my life."
Having that treatment option motivated her to come out to run the race, which benefitted the Spinal Research Foundation. Alex ran with her, a partner to her accident, treatment and recovery.
"I ran the whole time, I completed it," she said. "Alex was with me through this whole three year journey: driving me to appointments, taking care of dinner, walking the dog. He was there for so much."
She was excited by the number of people who came out to the race, and hopes they took the cause's message to heart.
"It's so important to have the right treatment options," she said. "Living with that kind of pain should not be necessary you just want to live your life.
Up front, Tessema, of Springfield, gunned it, with good reason. With $300 in prize money, he was anxious to see if he had shaken an illness that had kept him under the weather for two weeks. He found out less than four minutes in that he was just fine. Splitting 4:30 for the mile and 9:11 for the two mile, he eased in to finish in 14:49, 21 seconds ahead of Reston's Abu Kebede and Washington's Demissia Gulti, who edged Washington's Takele Gebrelul by one second to shut him out of the prize money.
Barbara Fallon Wallace of Alexandria returned to the race and retook her top spot in 17:27 from Vienna's Anna Holt–Gosselin, who had defeated her here the year before. Holt-Gosselin moved up in the second mile ahead of Clifton's Jackie Gruendel.
Fallon Wallace, a physical therapist, sends some of her patients to the Spinal Research Foundation and wanted to celebrate the cause.
Some of the foundation's physicians helped bring the Stanciu family from Vienna out to the race. Michelle brought her children, Victoria and Daniel, who impressed her with their efforts.
"I'm so proud of them," she said. "They didn't train for it other than their normal daily activity, they got up early, chose to run the 5k instead of the mile, it's so incredible."
Victoria, who loved the portion of the race on the W&OD Trail, was so enthusiastic about finish that she sprinted from her mom, who was left holding her long-sleeved shirt with her timing bib on it, prompting Michelle to chase after her so her finish could be recorded.
Daniel ran ahead of them, capitalizing on the fitness he gained playing basketball and reveling in the event.
"I mostly like the running part," he said. "I got to see my friends, it was fun."
0
Comments
[button-red url="http://results.bazumedia.com/event/results/event/event-3922″ target="_self" position="left"] Results [/button-red]
Despite high humidity Sunday morning, runners came out en force for the 34th annual Capitol Hill Classic 10k, enough that the morning-of demand for bib forced the start back by 15 minutes.
Once the race got started, Abu Kebede, Takele Gerbreljul and Teresa Fekaensatakele wasted no time blowing away the field for a 90+ lead over fourth place finisher Evan Jurkovitch. The three finished in 31:33, 31:34 and 31:35, with Kebede having run 15:10 the day before at the We've Got Your Back 5k in Reston.
"Great morning for a little 10k," Jurkovitch said. "That hill on the way back was rough, but it was a dood hard effort."
Women's winner Tera Moody of Boulder, Colo. was in town for her cousin's graduation from Georgetown University. Having finished third the week prior at the USATF 25k championships, Moody had less urgency during this race—she won 34:13 over Kensington's Kristen Henehan's 37:19—but it was not without a challenge. The humidity, the likes of which she does not see in the Rocky Mountains, left her drenched and feeling like she had earned her victory, though she ran without a watch.
"Even if I'm doing a workout, it's much more fun to run with other people," she said. "We had miles marked out, that's better than blindly running places I don't know. I was so glad I was able to make it part of my trip."
Moody finished fifth at the U.S. Olympic Marathon Trials in 2008, but sat out last year because of an injury. Along with her 25k finish, she's matched her 5k PR and come close to her half marathon PR this spring.
"Things have really finally come together," she said. "I'm just thrilled to be run. I love to race. People out there were so supportive."
Jonathan Ackaoui of Arlington ran to support his wife, who was making her 10k debut, but find himself motivated to see just what he could do.
"It was awesome, brutal," he said. "I just sprinted, collapsed at the finish line. There's no feeling like it."
He was on pace for five miles, but another half mile in, he felt himself slow. That's when he launched into the kick that helped him finish 10 seconds faster than his goal.
"I actually made up some ground on the hill, I just ran through it," he said.
Though a track man in high school Ackaoui started road racing in March when he ran the Myrtle Beach Half Marathon with  his uncle.
"I got the bug," he said.
0
Comments