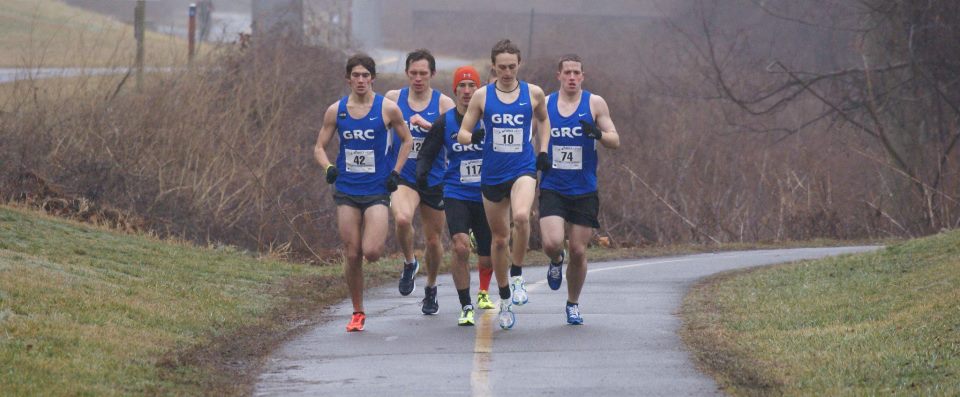 Friendly competition among teammates helped make the Have a Heart for Boston-Hoffman Elementary School 5k a fast race, despite chilly temperatures and a light drizzle.
[button-red url="http://www.safetyandhealthfoundation.org/20130223.html" target="_self" position="left"] Results [/button-red]The Georgetown Running Club came out en force for the second straight year, sweeping the top five men's spots and five of the six top women's spots, including the top three. They showed up to support teammate and race director Samantha "Kirby" Cole, a teacher at the school. Cole credited Suzanne Paul with bringing the race together.
[button-red url="http://youngrunner.smugmug.com/Race-Photo-Galleries/Have-a-Heart-for-Hoffman/i-v7c92fh" target="_self" position="left"] Photos [/button-red]Alex Benway, of Reston, led the blue-clad harriers out in a pack that split close to five minutes for the first mile of the out-and-back course on the Four Mile Run and W&OD trails, starting and ending in Arlington's
Bluemont Park. The group slowed in the rolling middle mile, and Benway (15:47) took his leave of defending champion Arlingtonian Dave Wertz (16:00) with a mile to go. Third-place finisher Matt Hassett (16:11), of Washington, predicted as much before the race, "It will wind up being a two-mile warmup and one mile race," he said.
"It is rare to find a person that enjoys racing when it is cold and raining," Benway said. "But when your team comes out and does it with you, it makes it a lot more manageable."
Centreville's Keith Freeburn, off a two-week respite with a back injury, came to the race with a pair of buddies from The Running Store's racing team. He was familiar with the course after having run the Kinhaven 5k and gave it high marks.
"It's a straightforward course and you can run pretty fast on it if you do it right," he said after finishing.
Fourth place finisher Natalie Young(18:15), of Dumfries, led the five-woman GRC pack through the first half beforeCatherine Campbell (18:01) of Bethesda moved ahead on the way back and and Lindsey O'Brien (18:08) and Maura Carroll (18:12) of Washington caught her in the stretch.
"It was a great opportunity for us to test out racing shape and gague what work needs to be done come spring," Campbell said. "I particularly enjoyed having a great group of girls to run with for over half of the race."
Boston-Hoffman teacher's aid Liz Houston, who lives close enough to the park to run there regularly, finished her first 5k race that morning. She volunteered in 2012 and decided to run as part of her effort in the school's "biggest loser" fitness challenge.
"It was very exciting to finish," she said. "They put down mile markers, so I knew where I was in the race and it let me know I was pacing myself well."
She ran by herself, tagging along with other runners at times but focusing on her music to motivate her. Nerves before the race forced her to forgo breakfast, so she appreciated the heart-shaped bagels awaiting finishers.
The experience has her sold on racing again.
"It made the rest of the day more cheerful," she said. "All those endorphins…"
The race raised money for physical education equipment and to help fund Can You Imagine Me, an after school program which encourages children to make healthy choices and help them train toward running a 5k.
0
Comments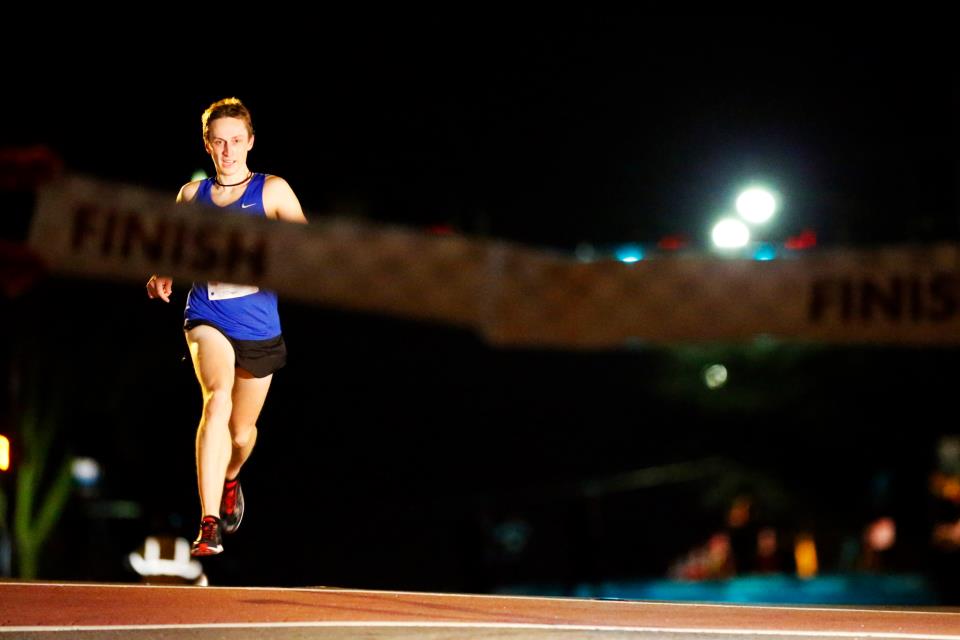 Whether or not they noticed the symbolism on the starting line, more than a thousand runners sprinted into the darkness at the Fairfax Four Miler, a scant six hours before the new year began.
[button-red url="http://results.bazumedia.com/event/results/event/event-626″ target="_self" position="left"] Results[/button-red]The circumnavigated the George Mason University campus and headed back to the finish line in old town Fairfax. The latest-scheduled of the many New Year's Eve races, it gave runner a chance to take a stab and a rarely-run distance and a chance for a PR before they went about celebrating the new year however they chose.
About 20 minutes after he left sight, Alex Benway, of Reston, careened down the hill to break the tape in 20:46, ahead ofEdmund Burke's 21:10 .
Benway ran without a watch and spent two miles catching up with Burke, of Burtonsville, Md.
Again, was it symbolism, the spry 22-year-old passing a man who could legally drink champagne the day he was born? Perhaps not, but it gave the recent Clarkson University graduate the kind of race he needed, firm pavement after spending 10k picking his feet out of mud three weeks prior at the USATF Club Cross Country Championship in Lexington, Ky.
"I was comfortable out there," he said. "I didn't catch any splits, but I tried not to get in trouble going out too hard. I didn't expect (Burke) to go out so fast, so I just spent two miles working my way up there and by mile three I felt pretty good."
Benway, nicknamed "Viking" for his Nordic skiing pastime, was recently named rookie of the year for the Georgetown Running Club.
On the women's side, Anna Corrigan, a graduate student at the University of California, outlasted course record holderMindy Sullivan of Woodbridge, 22:36 to 22:47.
Corrigan never really got an idea of her positioning during the race.
"It was so dark, I couldn't figure out who was a guy and who was a girl," she said. "I just kept running."
A 10k specialist while an undergrad at the University of Virginia, Corrigan was pleased to run four miles, rather than 5k. She and her friends chose the race earlier in the day. A Burke native, she ran at Lake Braddock High School, which recently won a state cross country title.
Katie Sheedy, of Washington, D.C. came back to the race after trying it out in 2011, and brought a few friends along before they convened for a potluck.
"It was well lit, but looking out for potholes is a challenge I'm not used to," she said. "I'm usually a morning runner, so this is a novelty for me."
She ran faster than last year, despite not fully committing to racing at the time.
"It was just a great way to finish of 2012 and get ready to start 2013," she said.
Her friend Joe Coyne, of Washington, managed to edge Jennifer Leehey, bringing his record against her this year to 1-7, or 1-8.
"Usually when she beats me, it's by more like 15 minutes," he said. "But I got her tonight!"
The runners in the crowd had a variety of new year's resolutions related to their running.
Kristina Mickey, of Fairfax, Va., hopes to be able to maintain 8:00 pace for 5k.
"We'll see how that training mixes with my Crossfit," she said.
0
Comments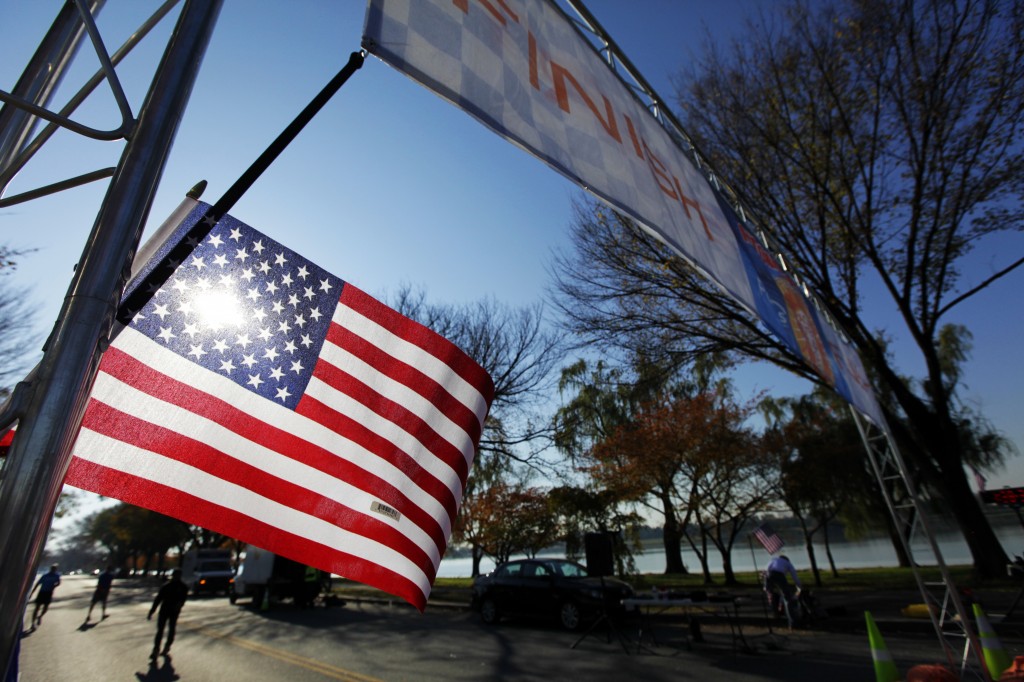 While racing the Veterans Day 10k last Sunday, runners felt a strange sensation as they rounded Hains Point — still air. It was a rare-enough occurrence that some may have wondered if they would later dine on a breakfast of dodo eggs and unicorn steak.
[button-red url="http://old.runwashington.com/veterans10k/race-history/event-records.htm" target="_self" position="left"] Results [/button-red]Just two weeks prior, runners dealt with four miles of variable winds as they rounded West Potomac Park, vulnerable to the breezes coming off the Potomac River in the middle of the Marine Corps Marathon. This morning, a pack of Pacers Racing Team members cruised along in the sun, exerting a measured effort that blew away last year's times.
Chris Kwiatkowski, a recent University of Oregon graduate in town to train under coach Matt Centrowitz, started to pull away after 5k on his way to a 29:47 victory.
In his first post-collegiate year, Kwiatkowski, of Chevy Chase, is trying to adjust to the lack of cross country racing to which he's become accustomed. The distance certainly isn't an issue for him, not with a 49:09 sixth place finish at the Army Ten Miler to his credit.
"I guess the closest thing to cross country is long races that force you to get strong," he said.
Columbia, Md. resident Joey Thompson edged last year's winner Frank DeVar to the finish line in just under 30 minutes, well ahead of his DeVar's 30:23 time then.
Kwiatkowski, DeVar, Jeff Brannigan, Matt Barressi and Kerri Gallagher led the Pacers New Balance team over the Georgetown Running Club, consisting of Jerry Greenlaw, Sam Luff, Ryan Witters, Alex Benway and Beth Young.
Canadian middle distance runner Carmen Hussar's family was in Washington for the weekend, which led her to the race. She's putting in high mileage between track seasons and the race fit comfortably into her schedule, as she won in 33:45 over Army Ten Miler champion Gallagher.
"I loved the course," Hussar said. "Running into the sun, the nice weather, and I had a good group to run with."
0
Comments