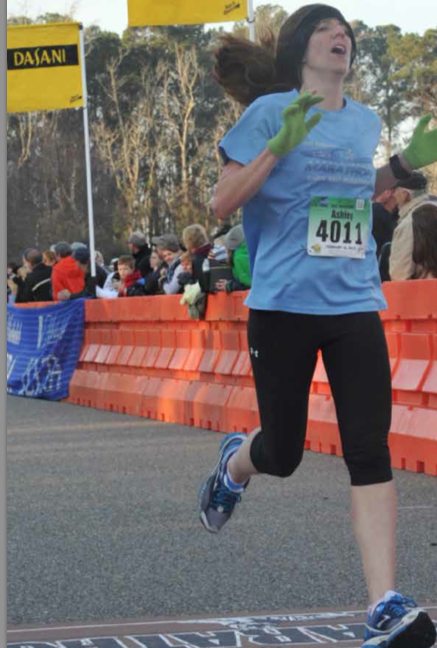 Soccer player. Elaborate cupcake decorator. Sub-1:30 half marathon specialist. Engineer. U.S. Corporate Athletic Association track star. Mother of two. A 5:45 a.m. out-the-door multiple-days-a-week dedicated running club member.
This may sound like three or four or seven people, but really it's just one local superstar who excels at balancing it all.
"I don't sleep much!" Ashley Flick of South Riding, Va. admits. Like so many adult runners, Flick came to running by way of another sport; in her case through the Lafayette College Division I soccer team.
"Everyone else ran a lot more during the games," the former goalie explains. "And at practice sometimes it was hard to keep up."
Not one to be left behind, she took matters into her own hands and started running solo outside of practice.
After college, she exchanged her cleats for running shoes full time and entered her first race, the Disney Half Marathon, in January 2004. She trained alone, had her parents come to watch and finished in a very respectable 1:46. Surprised and inspired by how well the race went — she was pleasantly shocked — she continued to run and improve at the half marathon distance.
Since moving to the Washington area five years ago, Flick has run 15 half marathons, plus three full marathons.
"I like the half because you can still run it pretty fast and the training is not quite as intense as it is for a full marathon."
Her half marathon PR is 1:29:23, and her full marathon is no joke, either – she earned her 3:23:36 PR in her third try at the distance in the 2008 Marine Corps Marathon.
"There are so many runners around here," Flick says. "And I love that there are a lot of big races – Marine Corps, Cherry Blossom – right here in our backyard."
In addition to road races, Flick's done a bit of track work. Before having kids, Flick competed two years in a row for Lockheed Martin and Booz Allen Hamilton at the Corporate National Championship Track Meet in California. She ran the 5k and 10k, running 19:35 and 39:30 PRs, respectively, impressing her co-workers.
"Training around here in the heat of July, then racing in California definitely helped," she says. "Now that
I have a family it's too hard to leave, so I probably won't do that again. But I am hoping to get back down to those times."
As if running and kids and a full-time job weren't enough, Flick has developed a unique hobby. In the little spare time she has, she makes elaborate cupcakes, decorated to portray different animals or people or things. She started decorating mid- 2008 shortly after moving to the area, and has created everything from aliens to shoes to pirates to hamburgers in frosting and candy.
"I'm an engineer in my full-time job," she said. "But it doesn't have a lot of creative elements, so the cupcake thing is just a fun way for me to be creative. I enjoy the challenge of 'engineering' how to design the cupcakes to fit the occasion or party."
She had her son Kellen in 2010 and her daughter Addie in late 2011, which has added a wonderful but extra degree of difficulty to her lifestyle.
"I don't sleep very much, which I think is why my times have not been that great recently." Her family is a major part of what keeps her motivated, and the support of her husband Jeremy allows Flick to keep up with her training.
"[My husband] does not understand why I want to run at 5:30 or 5:45 in the morning, but he does understand that it is a huge and important part of my life and I am much happier because of it, so he helps make it happen."
Her kids are supportive too. "Every time I come in the house wearing anything other than work clothes, my son asks if I'm sweaty. And my daughter and husband cheer me on when I'm doing workouts on the treadmill, and if my son sees a runner he points and says, 'Mommy your friend!'"
To stay motivated and keep running fun, Flick regularly meets friends from the South Riding Running Club, getting up before her kids and work and the sun to squeeze in the miles.
"It's been amazing, I can't even imagine going back and running alone. My PRs have all come down since moving to D.C. and finding a running group. It's a lot easier getting up at 5:45 when you know people are waiting for you."
The balance of it all is a constant puzzle, and Flick doesn't hesitate to admit that "as much as I still love running and running competitively, work and family life has taken a toll on my racing." With work and kids she can't manage a strict high-mileage plan, so Flick focuses on quality runs by doing tempos, track workouts, and a long run every week.
"Only time will tell, so for now I will just keep training and see what happens," she said.
Her advice for other runners: "I am not great at following training plans – as much as I'd like to, life inevitably seems to get in the way and you have to be flexible. It's about finding a plan or general outline of a plan/schedule that works for you – not every plan works for every lifestyle."
Now that her daughter is 1 and setting a more consistent schedule for the family, Flick is adjusting her own lifestyle and hoping to go for some PRs. This year her goals include getting back under 1:30 in the half marathon and setting personal bests in the 5k and 10k. Most of her races are local for family reasons, and also because "we live in a great area weather-wise, with so many runners and such good races. Just think, people come from all over the world to run here, and we live here!"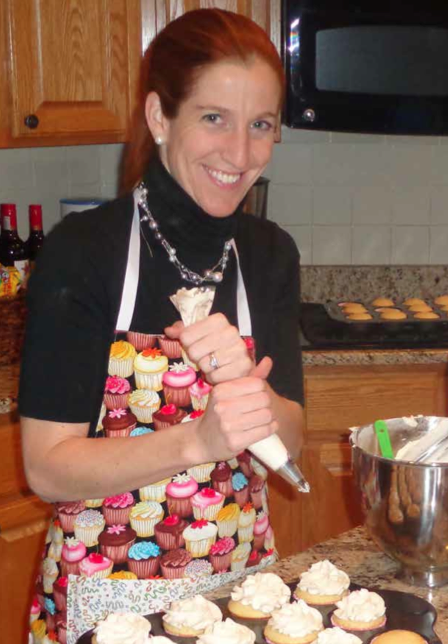 CARAMEL FRAPPUCCINO CUPCAKES
Ashley Flick shares a recipe for one of her latest cupcake creations.
Cupcake:
–  Box white cake mix
–  Half Starbucks Caramel Iced Coffee VIA Pack(add more coffee for stronger coffee flavor)
–  1 1/4 cup water
–  1/3 cup vegetable oil
–  3 eggs
–  3 TBSP Caramel Macchiato creamer
–  1 Cup butterscotch chips
In measuring cup, combine VIA coffee mix and water
Pour coffee mix and all other ingredients intomedium bowl
Mix with blender for 2-3 minutes
4. Add butterscotch chips, combine with spoon 5. Portion batter into cupcake pan with 24
cupcake papers,
6. Bake cupcakes for 15-17 minutes at 375, set out to cool
Icing:
– 1 stick butter or margarine – 1/2 stick Crisco stick
– 1 tsp vanilla
– 4 cups powder sugar
– 2TBSP Caramel Macchiato Creamer
1. Beat butter and Crisco,
Add vanilla and continue beating.
Slowly mix in powder sugar
4. On low combine sugar and butter mix
5. Add Caramel Macchiato and beat on high until
fluffy and smooth.
6. Pipe on with icing bag and tip or spread with knife
(OPTIONAL: Top with caramel sauce and green straw for full Frappuccino effect 🙂
0
Comments