Every day, more runners transition from casual to competitor, from I'm in it to finish to I want to PR or place in my age group.
At any point in this progression, a coach might be helpful–whether as an advisor or a cheerleader or an accountability partner–and there is something especially powerful about the coach-athlete relationship that lasts over time. The dynamic changes as each person gets to know the other better. Coaches tailor training programs to unique athlete needs, know better when to push and when to rein in a zealous competitor and better understand the athletes' challenges outside running that might affect their training, attitude or motivation. On the other side, athletes learn their coaches' particular training philosophies, build trust in their coaches' advice and in many cases gain a friend and mentor who, though primarily focused on running achievements, helps them in other parts of their lives.
Most runners will never win a race. They'll never make the front page of the results; they'll never qualify for Boston. Sometimes they're last, or close to it. But they run, and they keep showing up.  
They're "back-of-the-packers," meaning simply, "whatever distance, or whatever race you're running, you're at the very end." As the volume of runners has almost doubled over the past 10 years, the number of back-of-the-packers has followed. The increase in charity running, local running clubs, and surge in "X Weeks to a Marathon" training plans has fueled this growth.
While many people run their first race at the back of the pack and then eventually move up in the standings, some runners identify as lifetime back-of-the-packers. Bethesda's Steve Ferguson is one, and he explains his "commitment" to slow running as an unintentional "reflection on my athletic ability…maybe I'll be reincarnated as a fast runner." Ferguson exemplifies that as a back-of-the-packer, "You can't take yourself too seriously" and "you have to, by definition, have a good sense of humor." He jokingly describes his race strategy as "the model of start out slow and fizzle out altogether."
Benefits at the Back of the Pack
Ferguson, who runs five or six marathons per year plus a couple halves, had major heart surgery a few years ago and leads a group for the Montgomery County Road Runners. He's a strong advocate of the back-of-the-pack approach to running.
"People are starting to realize that if you're going to race competitively you only have a few years, but if you're looking for something sustainable you can have for your whole lifetime," he says.
He sees it as a "lifestyle thing" not a "competitive thing," and points out that he has "nothing to worry about in the world, so I really don't have to worry about where I finish in a race."
Ferguson runs for the mental and physical benefits, and runs races for the camaraderie and sight-seeing.
"It's fun, it's social; you can actually talk to people," he says.
He points out that seeing a city while slowly running is very different from what you might notice on a competitive run or when speeding by in a car. For Ferguson running is all about the experience — "90 percent of the population doesn't get off the couch, so I figure as long as I'm getting out there I'm doing pretty well," he says — and being a back-of-the-packer is just a necessary part of his experience. "It is what it is, so you have to enjoy the moment."
Arlingtonian Ted Hobart has finished toward the back of the pack in 79 marathons.
"After the first time I came last place," he says, "I was like, ok I've done that, now I can keep going."
He echoes Ferguson's points about the back-of-the-pack culture. "It's a unique group and we have a great time," he says. "It's a lot of camaraderie and wonderful conversations." Ted made it clear that when he says he's at the back of the pack, he means "the waaaaaay back of the pack. Not four or five or six hours; we're talking seven plus hours marathons."
Every outing is a "race for survival," he says. "You can't let the sweeper pass you because if they do, you're done. There's no way you can catch up since you're going so slow. You'd better know the route because directional signs may be taken down."
He's asks locals on the street what way the runners were going earlier to find the route — and he carries his own water and supplies because he never knows if aid stations will still be manned by the time he gets there.
Though most back-of-the-packers have a positive attitude about their experiences, there are challenges beyond logistics that they face. Valerie Silensky takes on running as a challenge "because no matter how much I do it I still suck at it."
She runs races for the sense of accomplishment and community, but notes that "it can be really lonely and discouraging." While people in the front and middle of the pack experience races full of cheering crowds and ample support, back-of-the-packers often have to stay motivated long after the crowds are gone and the volunteers have left their stations.
"Back of the pack, to me, means dedication," she says. "It means not getting crowds, not getting a finish line, often not getting respect from fellow runners. But despite all that, we're still out there doing it."
However, she says that the D.C. area is uniquely supportive of slower runners. After racing all over the country, Silensky notes that most races here make you feel like you're a part of the community regardless of your pace and make concessions enabling runners of all speeds to participate. "Just because we're slow doesn't mean we don't have goals, we still want to PR," she wants race directors and faster runners to know. "It matters to us and we're doing our best too."
Preparing the Race for the Runners
Just as back-of-the-pack runners have to think about things that many other runners don't, race directors must also consider back-of-the-packer needs as they plan logistics and coordinate volunteers for their races.
Local race organizer Jay Wind sympathizes with the needs of back-of-the-packers.
"Everyone deserves a chance to have their marathon," he says.
To make this possible, he organizes multiple heats, thus allowing the 6-hour marathon people to start early and provide an opportunity for them to run and finish. He also secures two shifts of volunteers to make sure the course and aid stations are adequately covered while runners are still on the course.
As a sometimes-back-of-the-packer himself — one of his claims to fame was that he was recently on the very last page of the Boston Marathon results — Wind understands that group's needs; however he is also pragmatic about the precautions that race directors must take. For example, especially at the back of the pack there might be health-related issues that might cause someone to be particularly vulnerable, so all volunteers must be trained in first aid. Additionally, coordinating communications between race directors and volunteers — and simply figuring out mid-race who is the last runner — is a constant challenge. He emphasizes the need for the runners themselves to be self aware.
"If someone starts in the wrong start, that means everyone has to wait for that person, since we can't shut everything down until the last runner comes in," he said. "I know what it's like, but you have to start early enough so you don't cause undue hardship on the aid stations and race organization."
Wind has noticed significant growth in the back of the pack over the last few years, and advocates for the importance of race directors to be conscious of the unique needs of that group.
Hobart agrees, emphasizing the issue of posted finish time limits in the running world. Slow runners have to check the time limits in advance to ensure that they're able to complete the race in the allotted interval.
"If a race advertises a certain amount of time, it's critical to know if that time limit starts when a runner crosses the starting line, or when the gun goes off for elite runners," Hobart says.
For example, he ran the San Francisco Marathon and it took over an hour just to get to the start line. Luckily in that instance the clock started ticking when he crossed the start line, but in many races that's not the case, and that one-hour difference can be the make-or-break on whether a back-of-the-packer is allowed to finish a race.
Even when back-of-the-packers do finish a race, there is often not much left for them. "Races advertise free massages, food, Gatorade in the finish area," Hobart says, "but in reality you may have 3,000 people in the race, and they gave all the bananas to the first 200 people."
Hundreds of people were behind him when he ran the New York Marathon, but when he got to the finish area everything was being taken down. In contrast, he fondly recalls one race director in North Dakota who saved pizza for the last group of runners.
"That pretty much never happens, and after you've run a whole marathon someone saving pizza for you makes a huge difference." He goes on, "Anyone who runs knows that it's the little things that you really appreciate."
Why do they do it?
Non-runners and speedy runners alike may wonder, why do they do it? "I do it for the fun, for the social elements, for health. Just doing it is enough!" Ferguson says. At one race, Hobart recalls elites—"people with natural talent"— saying I can't imagine being out there for six hours! But he responds that he's "thankful to have workable legs and a great heart and be able to go out and do these races." People ask him all the time if he finds it gets easier the more he runs. "Maybe it does for some people," he says, "but for me, nope, it never gets easier."
Silensky notes that no matter how slow you are, there are both local and online running communities and Facebook groups that can become your teammates. She started running with Black Girls Run in DC, now runs with the November Project, and usually meets up with online teammates in starting corrals at races outside of this area. Even if they can't run together in the race she appreciates the camaraderie and support.
"Some people feel like they can't race and be accepted unless they're a certain pace per mile," she laments, "but [Black Girls Run] just want people out there moving forward and I love that."
Though he's not competitive in the traditional sense, Hobart appreciates the value of racing.
"Even if I'm feeling really awful, I start sprinting at the end. It's not a fast sprint, but it feels great when I cross the finish line."
He tells first-time marathoners: "when you get to the end, don't look down at your watch and calculate your pace. When you cross the line put your hands up in the air and get that picture."
This article originally appeared in the Winter 2016/2017 issue of RunWashington
Parents: The Built-in Cross Country Fans
As a new high school cross country season begins, there are things parents of aspiring runners need to know to best support their child's budding interest in this glorious sport. Cross country is its own unique (and painful) animal. And high school cross country, with its range of talent, experience, and intensity among athletes, parents, and coaches, requires some advance preparation and understanding before diving in.
First, the setting matters. Races can range from tri or quad meets with just a few teams lining up in a parking lot, to a massive invitational with colorful tents, banners flying and packs of kids running around in every possible shade of bright matching singlets. It can feel more like a medieval fair than a modern day sporting event.
Pack Your [Kid's] Bags
More food than you think they need

More water than you think they need

An extra pair of dry socks

Racing spikes or flats

A blanket or sleeping bag to spread across the ground

Hat

Bandana or tissues

Sunglasses

Top and bottom layers

A plastic bag for dirty clothes
"The pageantry of it really struck me," says Margaret Carpenter, a Virginia-based cross country mom of her first cross country meet for George Marshall High School. "It's really beautiful, almost military." At a small meet you will find your kid no problem, but a bigger race may require more coordination. Tim Haight, another local cross country parent, advises parents to "arrive extra early — plan for traffic and parking — you don't want to miss your child running." Know the cell phone numbers of other parents, as your athlete may be warming up and unreachable when you arrive at the meet.
The weather is also a critical factor both in how you support your child and your own spectating comfort. Cross country can start as early as August, with temps and humidity at their most sweltering. If this is the case, a prepared parent will bring lots of cold water—enough for themselves and extra for their kid—and even a cooler full of ice to help the runners cool down before and after the race. Parents coming from work should ditch the suit and pumps and bring a change of comfortable clothing (running clothes encouraged!) and sensible shoes to deal with the dirt and grass of the typical cross country course.
Later in the season the tables will turn and layering will be the name of the game. Runners will want to keep their sweats on until just before the gun goes off, so one parent (check with the coach first) might volunteer to take all the kids' sweats right as they step to the starting line. After the race, wet or sweaty-cold clothing will chill an athlete quickly, so encourage your kids to do their cool down jog immediately and then change into something dry. "It's a long day for your child," Haight says of Saturday invitational meets, "so send them with the food and clothing they will need to be comfortable in all weather circumstances."
Perhaps the most important part of coming to support is having a cheering plan. Look at a map of the course in advance and identify a few places where you can watch. While cheering at the finish line is great, support throughout the race is even better, so look where a course figure-8s, loops (and you can take a shortcut across), or doubles back to maximize the number of times you see your runner. "When you get there, scope out earlier races so you can figure out the good spectating spots so you know where to look for your child," Haight suggests.
Supporting high school cross country is about encouraging your kids and their teammates to have fun. As a parent you set the sportsmanship tone, so cheer for everyone on your team. "There are a lot of names to know, so write them down to learn them," Carpenter advises. "By the end of your fourth season this is your family." She advises parents become familiar with MileSplit.com, a high school running website with Virginia and Maryland sites. "Use it to educate yourself about some of the top runners, the ones your own kid is competing with…as well as the top teams in the state and what colors they're wearing so that you can enjoy watching them outdo themselves at the front of the pack."
If your kid is on the JV team, stick around for the varsity race. If they're on varsity, show up in time for the JV events. "It's such an easy sport to watch," Haight says. "Just a few 20-minute races." Mid-cross country race, an athlete can reach a mentally dark place, so tell them they look awesome! Tell them they're doing great! Tell them they look strong! "They have a coach," Carpenter says, "so it's up to you to be their cheerleader."
There are many ways you can support your kids physically and mentally outside of the race itself. "By junior year, when schoolwork becomes more intense, realize how much the sport takes out of your runner each practice and pick up the pieces," says Carpenter. "Get him to gear down for earlier sleep each night…we asked him often how we could help him [and] did some planning out loud to help him manage the full days and full load." Fueling your runner is a good place to focus, so talk to the coach and consult other running resources to learn about the best eating habits for young athletes. "As my son got more serious about his sport, I saw him go for fuel more than snacks so I tried to support that."
Before the season even begins you can start preparing for the demands of cross country. "You have to go to a running store and buy the appropriate shoes," advises Haight. "Also go to the coach for advice and look into summer running options," as many teams have casual running meet-ups, often organized by team captains, throughout the summer. Carpenter recommends sending your kid to a running camp if possible to give them the opportunity to discover and fall in love with running culture independent from parental involvement.
Burnout is a danger for any athlete. Haight points out that, "when kids think running is not fun, it's really the parents and coach making it not fun." Supportive parents should "encourage all the good parts about running and hopefully then your kid matures into someone who wants to continue to run and run and run." Carpenter echoes his sentiments. "Tune into the identity of being a runner and what being a part of this really glorious thing is all about, and the times will probably take care of themselves."
When it comes to race day, immediately before the race pressure is building, so it's likely best to leave your athlete alone. Running is an intense sport, and your child will be dealing with pre-race jitters, focus, and team dynamics. Don't add pressure by asking too many questions or fixating on how good (or not good) they feel. If you are nervous for them (which, as a parent, you very likely are), those nerves will rub off and add additional pressure to an already high-pressure situation. As a supporter, you are there to tell them they feel great and will be awesome. If anything, remind them before the race to trust in their training and to have fun.
Afterwards, if they had a good race, celebrate with them! And if they had a rough day, celebrate with them! As long as they tried their best, it counts as a win. Success in cross county takes time. That's time on a daily basis—time to train, time to rest, time to sleep—and also over the course of years. Focus freshmen on enjoying the experience. As they mature and build mileage and endurance they will inevitably improve, but none of that will happen if they're not having fun.
Finally, "Go to as many meets as you can," Carpenter's first point of advice, is echoed by many parents. "They're long days, so you give up Saturday, but you only have so much time with the kids and it's so beautiful what they do." Pointing to the life lessons—sportsmanship, dedication, diligence, joy in exercise—gained from participating in cross country, she notes, "they're finding their character in this and it's great to see a young person discover that it's a lifelong sport." Haight agrees and advises parents to "nurture the interest because running is a habit and a hobby that they can live with forever."
The cones are out. The flyers are up. Volunteers are milling around and bibs and t-shirts are in a stack, just ready to be claimed.
Is anybody going to claim them?
That's what any race director invariably wonders when they put a first-time race on the calendar. Usually, especially in race-crazy D.C., people do show up.
Each arrived at this position for a different reason and brought a different level of experience to the role, but all agree that, in the words of one, "It's really something to see it all come together!"
A myriad of factors affects races. Everything from training in the months prior, to sleep during the week before, to weather on race morning can make or break a runner's experience. But among these factors, one often underappreciated but critical component is the race organization itself. Behind the scenes, as we runners stress about stretching and warming up and pre-race nutrition, a whole other set of people are tirelessly coordinating the logistics and communication for a hoard of volunteer staff to make the day a success for us.
"It is so much fun! Absolutely worthwhile," said first-time race director Juliet Neal. Neal's first experience was launching the Turkey Trot for Parkinson's at Burke Lake Park last year. "Race day was fantastic. Since it's a holiday I wanted it to be really family friendly and fun, so we did a 5k run or walk and a 1-mile 'gobble wobble' if people wanted to walk and push their joggers."
The race was so successful she had to turn people away.
"We didn't anticipate having that many people, but hopefully this year we'll find a venue that is still family friendly but can accommodate more people," she said. She is already planning the 2016 event, scouting out courses.
Neal's motivation was two-fold: to provide a fun race for her community that was close enough to home so that families could easily participate and not miss out on Thanksgiving festivities, and more importantly, to raise money for a cause she is passionate about. Neal's brother-in-law, who lives in Boston, learned he had Parkinson's a little over a year ago.
"There's not much I can do to support their family when they're far away," she explained. "So this is my way of supporting them."
Selflessness, whether that's fundraising for a cause, supporting a local institution, or donating time and energy back to the running community itself, is a strong motivator for race directors.
Much like Neal, Judith Goodstein also came to the race director position to support a cause. A long-time runner, Goodstein volunteered to organize a run for her son's school.
"Running friends have always been my best friends, so putting on a running event was a natural way for me to volunteer."
And also like Neal, I could feel her passion and enthusiasm for her race coming through the phone. "It was far more challenging than I expected just because I didn't know all the things I needed to do, but in the end it was really fun! Everyone was cheering, the principal came and handed out medals and everyone had a great time!"
A third local race director, Karen Kincer, has now been directing races for seven years. The past Montgomery County Road Runners Club president recalls her first time directing an event, the Jingle Bell 8k, when another director retired and asked her to step up. "Eventually when you take part in the sport enough, especially when you're out of college and all that, it becomes evident that this sport is in great part run by volunteers." As a long time runner, she started volunteering by initially handing out cups at a water stop to eventually directing race events.  For Kincer, race directing was "the right thing to do, to give something back."
Though ultimately rewarding, directing a race is not all smiling runners and smooth sailing. "I had no idea what I was in for," laughed Goodstein. "I said I'd do it in October, we had one meeting, then I did a whole lot of nothing for most of winter." She realized late in the game that there were many, many bits and pieces to bring together—race bibs, insurance certificates, trash collection, t-shirts, safety pins—"for the last few weeks there was a lot of scrambling since a lot of the stuff needed to be done weeks ahead of time, and I just didn't know!"
In preparation for next year's event, Goodstein "wrote it up at the end so we' have documentation. And as I wrote it up, I thought, it's really not so bad! Successfully directing a race is just knowing what needs to be done." She talked about getting the big things out of the way earlier and involving more volunteers in the process to prevent so much last minute confusion.
While Goodstein wished she'd just Googled "how to put on a 5k," Neal was fortunate enough to have supportive ties in the running community to get her started on her way. As a coach for Road Runner's Club of America, she took an online race director certification course to get her started. She worked closely with Metro Run and Walk, which puts on running events in the area, and relied on them for finding a timing company, registration system, and ordering t-shirts. "Those things are a ton of work if you don't already have that set up!"
Because she wanted to support a cause, Neal called Team Foxx, a Parkinson's research charity she'd raised money for while running her 11th Marine Corps Marathon. "It's really easy," she said. "You pretty much just call them up and tell them you want to raise money. Then they were really supportive, sending things like water and fliers and helping with how to make donations."
Like Neal, Kincer had a strong support network to help her on her way to becoming a race director. For her first race she had a "headstart" because someone was closely advising her who had done it before. Now, after seven years of directing races, Kincer often mentors new race directors. "It's helpful to have someone to show you the ropes a bit," she explains.  "For me it wasn't too bad because I had enough people in the club who I could go to to ask questions."
While the directors themselves are often volunteers, they also take on the huge responsibility of coordinating the many volunteers required to make a race successful. Among all three, the lesson of effective volunteer coordination is a common theme.
Kincer stresses that "Volunteer labor is a wonderful, wonderful thing and they make this sport happen. But they can cause some kinks too. When you're coordinating a couple hundred volunteers, someone is going to fall down, not going to show up, whatever it might be. So you have to be prepared." She advises that a race director's biggest job is to delegate and encourages new race directors to surround themselves with good people. "You should have nothing to do yourself by race morning. You're there to help your people and put out fires if they should arrive."
Reflecting on her first race directing experience, Neal echoed Kincer's advice. "You need to get some key people to help you—like a board or race committee—even
if it's just you and your best friend or your spouse."  She relied on her running group to try out potential routes, and acknowledged that she "probably needed more people" to delegate some of the work.
Perhaps the most important part of the race director's role is ensuring the experience is good for those participating. "You have to put yourself into the shoes of a runner," advises Kincer. "Imagine yourself as a runner coming to a race and envision everything you see. For example, they get out of their car, and do they know which way to go? You need good communication beforehand, but a lot of that goes out of runners' heads on race morning so it's up to the race director to anticipate what they're going to need."
For Goodstein's target audience, kids and friends of Hearst Elementary School, she has slightly different priorities to think about. "I think next year we'll have a shorter run for pre-K and kindergarten, since more kids will probably do it if they only have to run a mile." She told the story of a pre-K boy who ran the whole thing, in comparison to her son who, "like a lion," sprints then stops and preferred to cheer from the sidelines than participate in his mom's race.
Neal is looking forward to her 2016 Turkey Trot, because this year her brother-in-law, her fundraising inspiration from the start, will actually be able to attend. Goodstein schemes how to expand participation by getting the word out in advance as well as including a 1-mile run for the younger children. And Kincer, after directing many races, looks forward to putting on the inaugural Suds and Soles 5k in Rockville, Md. this June and "making it a good experience so that people want to come back the next year and bring a friend!"
As D.C. area runners look forward to the summer and fall racing seasons, these three race directors remind us to appreciate the behind-the-scenes organization a good race requires and the volunteers that make our running possible, and maybe even inspire us to take a race off running-wise and consider contributing our time and volunteer energies instead.
I wasn't approaching a normal running club.
That much was clear as I cautiously approached a group of runners convening near a D.C.-area metro station. No one glared down at a Garmin, willing it to load data. I saw no race t-shirts and no new shoes (sporting either is a punishable offense with this group). And instead of a 40-person group stretch, a chorus of raucous voices sang an unprintable song while doing what might be  considered, generously, a silly dance.
Yep, after five years of running in the D.C. area — a hashing hotbed and location of the first hash in the United States — I finally  went out for a run with the Hash House Harriers. A local group was generous enough to welcome me, a "race-ist" (as in, I run races) and member of the media, to their 1,651st weekly hash, and I'm happy to report that I lived to tell the tale.
The Hash House Harriers, if they chose to identify as a running club, would be one of the oldest and largest running clubs in the world. "We identify more as a social group, not an athletic one," commented one D.C. member as he took a sip of beer on a mid-run break. "It's exercise, but don't say that word too loud," noted another.
Hashing originated in 1938, when a group of British expats and military members posted in Kuala Lumpur got bored enough to start  scavenger hunt-style game in which a pack of "hounds" chased a "hare" leaving a trail. Hashing groups today are called "kennels,"  as in a kennel of hounds. The Hash House was their nickname for a local restaurant with terrible food, where they ended the game with drinks. Their founding tenants were: "to promote physical fitness among our members…get rid of weekend hangovers… acquire a good thirst and to satisfy it in beer… [and] persuade the older members that they are not as old as they feel."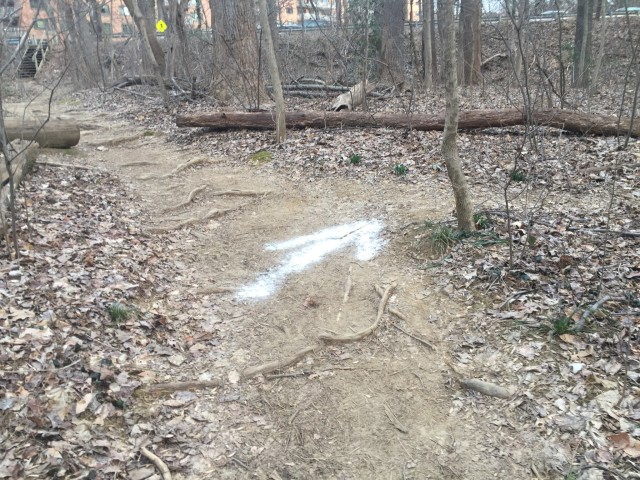 After taking a break for World War II, hashing picked back up first in Italy then Singapore. By the 1970s there were over 30 hashes in 14 countries, and today there are approximately 2,000 kennels worldwide, including two in Antarctica. Hashing has become the sport of choice for many military and foreign service members and provides an accessible social network for those abroad. Not surprisingly, with its military and internationally-minded population, the greater D.C. area has become one of the largest hashing communities in  the United States. It started in 1973 with a men-only kennel that still hashes in the area, but has expanded and diversified to include somewhere between 12 and 18 kennels (depending on how widely you define the D.C. area) and well over 1,000 participants. A search for hashing in D.C. yields a schedule of hashes almost every day of the week, year-round. "Yep, we're out here rain or shine," one man boasted during the hash. "We hashed during Snowmageddon, during Hurricane Sandy," proudly declared one  couple. "The hash is pretty adaptable, all it takes is a couple people saying, 'let's do it!'"
Though they share a name and some hashing lore (they even have a patron saint, one of the original hashers who was killed as a prisoner of war in WWII), each group's traditions vary. For example, a visiting hasher from Abu Dhabi noted that her group cannot do the Red Dress Run, a hashing tradition in which everyone wears red dresses, because a wearing a dress is a crime in the United Arab Emirates. One hasher I met ("we're huge travel hashers!" she said of her and her husband) has hashed in Panama, Austria, Germany, and all over the United States. "Each kennel is different, but they all have the some things in common: frivolity, drinking, trails," she explained. "And one thing I've found universally is acceptance. Hashers are very welcoming people."
"I tell my friends it's an uninhibited crowd," noted an avid hasher who first hashed in Ukraine in 1996, then went on to try it in Armenia and eventually D.C. "Double life" and "alter ego" were terms he used to describe his hashing self. "When I'm at work I'm  much more buttoned up of course, but at the hash it's a little different."
"This isn't a 'family-friendly' environment," he went on to explain. "But there are a couple kennels in the area that do family-friendly hashes. You can bring your kids to this, but we're not going to tone it down." One woman, carrying her infant for the walking hash, cautioned that "Hashing is not for everyone. It's raunchy humor and we like to make fun of ourselves and make fun of each other.  But it's all in the spirit of acceptance and getting together for a good time."
The hash I attended was definitely not of the family-friendly variety. As the mostly-costumed members of the group milled about, my trusty accomplice and I approached a woman with a sign-in sheet. "First timers!? You're both virgins! That's great! Who made you come?" she exclaimed as she marked a large "V" next to each of our names. Regulars sign in with their hashing names — all double-entendres, mostly unprintable — while I was "Just Mollie" for the day.
This is definitely not an activity for the sensitive or prudish.
Before the hash could begin, we gathered in a semi-circle around a member of the "mismanagement" team for the "chalk-talk." He called up virgins and visitors in two groups to be sung scandalous songs and mocked (I was heartily but not hurtfully booed for my association with this competitive-oriented magazine.) Then with a brief explanation of the rules, we were off!
The normal drill is for one or more "hares" to mark the approximately four-mile running and two-mile walking routes in advance. They sprinkle chalk or flour in symbols on the ground for the group of hashers (or "hounds") to follow. The route is designed to keep the faster runners searching for the trail while the slower runners catch up because, though this may sound crazy to many readers of this magazine, it's not a race! According to participants, it's about fun, not competition, and anyone trying to "win" the hash is called out as an "FRB," which is a derogatory hasher term for the frontrunner. To keep the group together, regular hashers carry whistles around their necks to signal the trail, and or shout "On! On!" as they find the way.
It is no mean feat to put on a scavenger hunt for 40-plus people, both walkers and runners of varying speeds, every week. "When you're the hare, you pick an area you want to explore and go out scouting," said one hare. Hashes can take place in urban settings, or off the road in mud and reeds. Off-road trails are known as "shiggy" hashes, for these hashers wear tall socks to protect their legs from briars and brush. "The challenge is to try to time it out so that runners and walkers break and finish at the same time," she explained. Some kennels have runners and walkers on the same trail, but "I like that our kennel has a shorter trail for the walkers. We try to keep the running pack together and make sure that the runners and walkers all get to the checks and the end at the same time."
About halfway through there is a "beverage check," and there also might be one or more "shot checks" along the way. Running and drinking are activities I usually enjoy in a very specific sequence. But for hashers, running and drinking followed by more running and more drinking is par for the course. "I mean really, it's not that different from having a Gatorade before you run," explained one hasher as he jogged alongside me. "Raceists drink beer after their runs; we're just one step ahead and do it during the run!" Though drinking is encouraged, this isn't a fraternity — if you prefer to stick with water no one objects.
"I was in the Army when I first heard about hashing," one woman started her story. Some of her fellow Marines suggested she try hashing, "but I hated running, I said no way would I ever run for fun." Years later she was again asked to hash and at first she demurred, afraid of embarrassing herself. "But they said, 'no problem you can walk,' so I said ok why not." Now, five years later, she has progressed from walking to run-walking to running six half-marathons. "Even as slowest runner in the pack, I'd never be alone. I don't feel compelled to run, but the more you do it, the further and faster you want to go."
The hash ends with a circle, which can better be described as a communal roast. The hashing virgins are brought up to be temporarily named, mocked, and sung raucous and ribald songs reminiscent of hashing's rugby roots (I promised the hashers that their lyrics would be kept off the record). Visitors are given the same treatment, while hares are made to explain why their trail was so bad. Then the hashers begin calling out one another for "violations," all in the most friendly and welcoming way possible, considering the jokes are 100 percent scandalous. However, I'm happy to report that the hashers are equal-opportunity slanderers both men and women are the butt of lewd sexual jokes — as long as you're ok with dirty humor it is good silly unclean fun.
"This is a group of very serious people who don't take themselves too seriously," seemed to be the theme. The ages ranged from a  couple teenagers to people in their 40s and 50s — from what I could tell the usual DC mix of government, military, non-profit, and consulting employees, but a decidedly unusual lack of suits and seriousness. Said one man at the finish, beer and a cup of potato chips in hand, "The great thing about hashing is the diversity. You can have a general, an ambassador, and you know, whatever,  the janitor, and we don't care about that stuff at all, we're just here for the hash."
Soccer player. Elaborate cupcake decorator. Sub-1:30 half marathon specialist. Engineer. U.S. Corporate Athletic Association track star. Mother of two. A 5:45 a.m. out-the-door multiple-days-a-week dedicated running club member.
This may sound like three or four or seven people, but really it's just one local superstar who excels at balancing it all.
"I don't sleep much!" Ashley Flick of South Riding, Va. admits. Like so many adult runners, Flick came to running by way of another sport; in her case through the Lafayette College Division I soccer team.
"Everyone else ran a lot more during the games," the former goalie explains. "And at practice sometimes it was hard to keep up."
Not one to be left behind, she took matters into her own hands and started running solo outside of practice.
After college, she exchanged her cleats for running shoes full time and entered her first race, the Disney Half Marathon, in January 2004. She trained alone, had her parents come to watch and finished in a very respectable 1:46. Surprised and inspired by how well the race went — she was pleasantly shocked — she continued to run and improve at the half marathon distance.
Since moving to the Washington area five years ago, Flick has run 15 half marathons, plus three full marathons.
"I like the half because you can still run it pretty fast and the training is not quite as intense as it is for a full marathon."
Her half marathon PR is 1:29:23, and her full marathon is no joke, either – she earned her 3:23:36 PR in her third try at the distance in the 2008 Marine Corps Marathon.
"There are so many runners around here," Flick says. "And I love that there are a lot of big races – Marine Corps, Cherry Blossom – right here in our backyard."
In addition to road races, Flick's done a bit of track work. Before having kids, Flick competed two years in a row for Lockheed Martin and Booz Allen Hamilton at the Corporate National Championship Track Meet in California. She ran the 5k and 10k, running 19:35 and 39:30 PRs, respectively, impressing her co-workers.
"Training around here in the heat of July, then racing in California definitely helped," she says. "Now that
I have a family it's too hard to leave, so I probably won't do that again. But I am hoping to get back down to those times."
As if running and kids and a full-time job weren't enough, Flick has developed a unique hobby. In the little spare time she has, she makes elaborate cupcakes, decorated to portray different animals or people or things. She started decorating mid- 2008 shortly after moving to the area, and has created everything from aliens to shoes to pirates to hamburgers in frosting and candy.
"I'm an engineer in my full-time job," she said. "But it doesn't have a lot of creative elements, so the cupcake thing is just a fun way for me to be creative. I enjoy the challenge of 'engineering' how to design the cupcakes to fit the occasion or party."
She had her son Kellen in 2010 and her daughter Addie in late 2011, which has added a wonderful but extra degree of difficulty to her lifestyle.
"I don't sleep very much, which I think is why my times have not been that great recently." Her family is a major part of what keeps her motivated, and the support of her husband Jeremy allows Flick to keep up with her training.
"[My husband] does not understand why I want to run at 5:30 or 5:45 in the morning, but he does understand that it is a huge and important part of my life and I am much happier because of it, so he helps make it happen."
Her kids are supportive too. "Every time I come in the house wearing anything other than work clothes, my son asks if I'm sweaty. And my daughter and husband cheer me on when I'm doing workouts on the treadmill, and if my son sees a runner he points and says, 'Mommy your friend!'"
To stay motivated and keep running fun, Flick regularly meets friends from the South Riding Running Club, getting up before her kids and work and the sun to squeeze in the miles.
"It's been amazing, I can't even imagine going back and running alone. My PRs have all come down since moving to D.C. and finding a running group. It's a lot easier getting up at 5:45 when you know people are waiting for you."
The balance of it all is a constant puzzle, and Flick doesn't hesitate to admit that "as much as I still love running and running competitively, work and family life has taken a toll on my racing." With work and kids she can't manage a strict high-mileage plan, so Flick focuses on quality runs by doing tempos, track workouts, and a long run every week.
"Only time will tell, so for now I will just keep training and see what happens," she said.
Her advice for other runners: "I am not great at following training plans – as much as I'd like to, life inevitably seems to get in the way and you have to be flexible. It's about finding a plan or general outline of a plan/schedule that works for you – not every plan works for every lifestyle."
Now that her daughter is 1 and setting a more consistent schedule for the family, Flick is adjusting her own lifestyle and hoping to go for some PRs. This year her goals include getting back under 1:30 in the half marathon and setting personal bests in the 5k and 10k. Most of her races are local for family reasons, and also because "we live in a great area weather-wise, with so many runners and such good races. Just think, people come from all over the world to run here, and we live here!"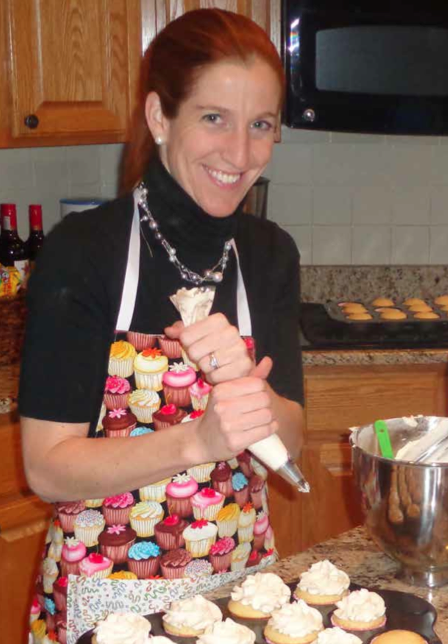 CARAMEL FRAPPUCCINO CUPCAKES
Ashley Flick shares a recipe for one of her latest cupcake creations.
Cupcake:
–  Box white cake mix
–  Half Starbucks Caramel Iced Coffee VIA Pack(add more coffee for stronger coffee flavor)
–  1 1/4 cup water
–  1/3 cup vegetable oil
–  3 eggs
–  3 TBSP Caramel Macchiato creamer
–  1 Cup butterscotch chips
In measuring cup, combine VIA coffee mix and water
Pour coffee mix and all other ingredients intomedium bowl
Mix with blender for 2-3 minutes
4. Add butterscotch chips, combine with spoon 5. Portion batter into cupcake pan with 24
cupcake papers,
6. Bake cupcakes for 15-17 minutes at 375, set out to cool
Icing:
– 1 stick butter or margarine – 1/2 stick Crisco stick
– 1 tsp vanilla
– 4 cups powder sugar
– 2TBSP Caramel Macchiato Creamer
1. Beat butter and Crisco,
Add vanilla and continue beating.
Slowly mix in powder sugar
4. On low combine sugar and butter mix
5. Add Caramel Macchiato and beat on high until
fluffy and smooth.
6. Pipe on with icing bag and tip or spread with knife
(OPTIONAL: Top with caramel sauce and green straw for full Frappuccino effect 🙂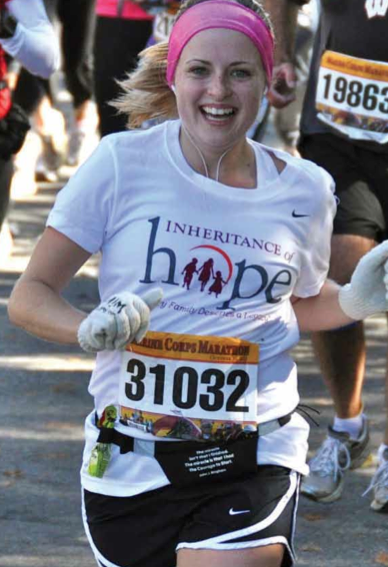 For runners who missed out on general registration for the Marine Corps Marathon, the Charity Partners Program offers a chance to enter late and raise money for a good cause.
Marine Corps is unique among marathons because it does not require its participating charities to pay any kind of fees or premiums, meaning all money raised through the charity program running goes directly to the organizations. This year, 4,674 runners will raise money for 101 different 501 (c) (3) organizations, from the longstanding MCM team for Injured Marines Semper Fi Fund to the brand new to MCM Alergy & Asthma Network Mothers of Asthmatics team.
"The partners can really do it however they want," says MCM Public Relations Coordinator Tami Faram. "We just direct people to our website and they can choose a team, we don't have any preferences."
The race is put on by the U.S. Marine Corps, runners race for honor rather than prize money, and satellite races (called MCM Forward) at military bases and on aircraft carriers around the world meant that in 2011 a total of 30,000 runners were able to participate in this momentous marathon event.
Though raising money may seem like a lot of work, Faram explains that new technologies make the process much easier than in the past. "People are not having to pound on doors any more, they can Facebook and email their friends to raise money and spread the word."
Runners at this year's MCM will see Charity Partners organizations setting up tents and booths in two locations: teams as small as 25 and as large as 800 will meet on "Charity Hill" at the start near Iwo Jima Memorial, and on "Charity Street" (i.e. Kent Street) in the finish festival in Arlington.
The opportunity to snag a much-coveted entry into this prestigious race, the coaching and support provided by an organized team, and of course the venue to raise money for a good cause, draw many runners into the Charity Partners Program.
"I did my first marathon back in 2009 just because I wanted to do it," said local runner Perry Rosen. "But I wish I'd done that one for charity because it's such a strong motivating force to have a cause you believe in in the back of your mind while you're running."
Rosen will lead one of the Washington Humane Society teams in their third year of raising money through MCM. He coaches 30 runners who all believe in the WHS cause. The $35,000 raised by his team will fund law enforcement investigations, a justice fund to stop animal cruelty, education in local schools, and WHS's shelters and foster care program.
"Our team has a whole range of people, from those who have run 10 plus marathons to novices," he said. "I jumped at this opportunity be- cause marathons are a daunting task. It can be easy to lose focus, but having the animals as a motivating force and knowing that the money we raise goes directly towards their benefit really helps."
The Charity Partners Program has proven itself beneficial to runners and MCM alike. Farrah explains that the charities are "really great about disseminating information to their runners and guiding new marathoners through the process." And like many of the charity runners in this year's MCM, Rosen's primary goal is not a personal record (though he'd like to run in the 3:30-45 hour range), but a more selfless goal — to raise money for a cause he cares about and to support his teammates.
By Mollie Zapata
December 3, 2011
National Harbor, MD
For the Washington Running Report
This event certainly had some problems. WRR plans to follow up on these in our upcoming Jan/Feb issue.
More than 15,000 runners competed in the Inaugural Hot Chocolate 15K and 5K at National Harbor just across the Woodrow Wilson Bridge from Washington, DC on Saturday, December 3. The Hot Chocolate race series, tagged as "America's sweetest race" already exists in five major U.S. cities and made a chocolate splash at its 2011 DC debut. Runners' packets include racing jackets. The post-race party promised Ghirardelli hot chocolate and a chocolate fondue fountain for all competitors in both the 15K and 5K races.
But before the chocolate party could commence, the runners had to complete the beautiful course, located along the Potomac River at the National Harbor.
First place out of 10,150 total finishers in the 15K went to top local Stefan Kolata, 30, of Washington, DC who led for most of the race and finished in 49:25.
"The course was good, very hilly, but it was nice having so many people cheering," commented Kolata on the switch-back format of the route. Dustin Whitlow, 25, of Arlington, VA took second place in 51:24, and Mark Torres, 36, of Chevy Chase, MD finished third in 5:38.
Lisa Thomas, 35, of Alexandria, VA handily won the women's division of the 15K race in 54:50 and it was also fast enough to place her 10th overall.
"It was tough, that's a killer hill at the end," said Thomas who is training for the U.S. Olympic Marathon Team Trials in Houston, TX this January. She described her race strategy as, "staying strong on the up hills and pushing it on the down hills." Behind her, Felicity Brower, 22, of Cincinnati, OH took second in 57:21, and Barb Fallen-Wallace, 38, rounded out the top three in 57:36.
The only downside of the day was due to a combination of bad luck and race logistics. A traffic accident blocked the main route to the start, causing race organizers to delay both the 15K and 5K start times. Due to limited parking, race organizers provided a shuttle service from Crystal City Metro Station and required carpools for anyone parking at the National Harbor.
The 5K, which was scheduled to start at 7:30 a.m. went off at 8:15 a.m., which caused the scheduled 8:00 a.m. start for the 15K to be pushed to 9:00 a.m. Runners huddled and shivered and jumped and jiggled to stay warm as they waited for the gun on a brisk December morning. Despite the logistical setbacks, spirits remained high among many participants and an enthusiastic DJ kept the crowd excited.
In the 5K, 5,293 runners and walkers completed the course. Bert Rodriguez, 32, of Arlington, VA won the men's' race in 16:54, and Kelly Swain, 26, of Washington, DC won the women's competition in 18:46. Both noted problems with course markings. "I didn't feel really warmed up until a mile and a half in," commented Swain. "I wasn't quite ready to race a 15K, but maybe next year if they get the logistics figured out I'd do it."
While there were a portion of runners disgruntled at the delayed start, one runner noted, "You had to look on Facebook, they actually did notify us of all the important information."
Though 15K (9.3 miles) is not a common race distance, runners embraced it as a comfortable mid-way between 10K and Half-Marathon. Both races started on a downhill and ended with an uphill, adding an extra challenge to the event. "It's probably the hilliest race in the area," noted Swain.
"Once we got started, the course was beautiful and it was actually perfect running weather," commented DC runner Cristina Burbach who competed in the 15K. "I wanted to get a good training run in," she said.
Her sentiments were echoed by many of the runners, most who came with the goal of running a fun and pretty race. The entire morning was festive, with competitors running in costumes that ranged from cups of hot chocolate to Santa hats – "Why not? It's fun and functional for the cold!" said 15K runner Patrick Kelly of Washington, DC.
One team of four particularly enthusiastic high school runners from the Osborne Park Cross Country Team ran the race in matching decorated T-shirts to celebrate the end of their racing season. "We loved it. It was a really fun time and people loved our outfits!" said Rachel Labella.
And, of course, the post-race party provided a well-deserved sugar high for all. Runners meandered around tents, enjoying fondue platters, and sipping hot chocolates. Most agreed that it was worth the effort, "It was the first year, so next year the logistics should be better. I'd definitely do it again," concluded Burbach.
By Mollie Zapata
Washington, DC
November 6, 2011
For the Washington Running Report
More than 2,200 people from 34 states plus the District of Columbia gathered to show support, raise money, and compete in the National Race to End Women's Cancer 8K and 1 Mile Walk in Washington, DC on Sunday, November 6, 2011. The event, in its second year, marks the 20th anniversary of the Foundation for Women's Cancer and raised funding to prevent, detect, treat, and defeat cancers unique to women.
Chris Juarez, 41, of Alexandria, VA, dominated the race, leading the field by more than a half-mile, winning in 26:13.
"The race felt comfortable, I ran 23 [miles] yesterday," explained Juarez who used this race in preparation for the upcoming Philadelphia Marathon.
As with so many in the crowd, Juarez had a personal connection to the cause. "My mom is a breast cancer survivor, 17 years," he said.
Second and third in the men's race went to Diaa Nour, 31, of Washington, DC who finished in 29:21 and Jon Elvrom, 38, of Seattle, WA following in 30:04.
Michelle Cunningham, 36, of Centreville, VA won the women's race in 32:57. Her running accomplishment was made even more impressive by the fact that she is a cervical cancer survivor.
"I want to show everyone that not only can you survive cancer, but you can thrive," said Cunningham who had surgery in 2009. She crossed the finish line with a glowing smile on her face.
"A win is always special," she said. "But this race is so much more meaningful to me."
Phoebe Markle, 27 of Alexandria, VA finished soon after Cunningham in 33:10. Arlington's Caitlin Murphy, 26, took third place in 34:42.
The race pavilion included a survivors' tent where those who had experienced cancer first hand were encouraged to make signs. Posters lined the tent with statements: "Running in memory of Joan Lyons," "Lydia's Legacy," "Cindy, we wish you were here. We love you!"
One mother made a sign for her daughter, who was an ovarian cancer survivor of 13 years. "There is no detection method and we need one now to save lives," she said. "I was here when they had the first race and I'll be here every year so that we can have more survivors." Both women participated in the 1 mile walk this year.
Before the race started, runners, survivors, and supporters gathered in front of the stage and the announcer asked, "Who can say they're here because this [women's cancer] has touched them directly?" Hands all over Freedom Plaza raised and a cheer went through the crowd.
At 9:00 a.m. they took off down Pennsylvania Avenue towards the Capitol – running, walking, jogging, and rolling (stroller-pushing parents were a common sight at this family-friendly event) a new course for this year that went by the Capitol, Smithsonian Museums, and within sight of the Washington Monument.
In addition to individual runners, there were 50 teams entered. Jennifer McDonald of Catonsville, MD noted, "It was so cool to see the teams supporting each other through the race. The way the course was set up, you got to pass your teammates a lot and cheer." McDonald is studying oncology, and ran on the neon t-shirt-clad, "Team Rock."
"Every time I see a survivor finish, I tear up. This race is such an inspiration," said McDonald.
The tone of the event was much more supportive than competitive. No age group prizes were offered since the emphasis was on survivors. In all, 47 women's cancer survivors, aged 27 to 60, completed the 8K.